Apply for Texas State Financial Aid Without a Hitch
Texas State University is one of the top research schools in the U.S. To ensure your attendance, you may have to apply for financial aid at this college.
Since the application procedure, deadlines, and eligibility requirements are typically different for every school, DoNotPay is here to give you the details on Texas State financial aid. If you get rejected or receive an unsatisfactory offer, our app can help you write a compelling appeal letter!
You Can Apply for Different Types of Financial Aid at Texas State
Texas State financial aid for undergrad and grad students comes from federal, state, and private sources in the form of:
Grants—they represent a gift for students with financial difficulties and don't have to be repaid
Work-study programs—Texas State provides eligible students with jobs to help them cover (a part of) college expenses. The amount a student will earn depends on the number of work hours
Loans—They represent borrowed money that students have to repay after graduation. Specific types of student loans typically come with low-interest rates and favorable payment arrangements
Students who need additional funds to complement their financial aid package can also apply for alternative student loans. Since they come from private sources, alternative loans typically have higher interest rates, so they should be treated as a last resort.
The amount of award you'll get depends on your estimated:
Cost of attendance—the average amount a student needs to cover the price of attending Texas State
Expected family contribution—funds the student and their family are expected to provide for education expenses during one academic year
Once your financial need is established, you'll be offered a grant, then a work-study program, and, eventually, a loan.
Am I Eligible To Apply for Texas State University Financial Aid?
Applicants for financial aid at Texas State University have to meet specific standards, including:
Having a valid citizenship or residency status
Being enrolled or accepted for enrollment in:

Undergraduate degree-seeking program
Post-baccalaureate teacher certificate program

Making adequate academic progress
Having a valid Social Security number
Being enrolled at least half the time in courses that count towards the degree (six hours for undergraduates)
Making regular payments for any other potential federal loan
Not owning a refund on any federal financial aid grant
Owning a high school diploma, GED, or having completed a state-approved homeschool program
Not having a federal or state conviction for drug sale or possession
Applying for Texas State Financial Aid—A Step-by-Step Guide
Have you decided to apply for financial aid at Texas State? Take a look at the table below for a detailed description of the process:
Steps
Explanation
Fill out an eligibility form
Wait for your application to be processed

Texas State financial aid office will receive the application within five days of submission
Review process lasts from three to four days (you may need to provide additional documentation to verify the information on FAFSA)
Once all necessary updates are performed, the financial aid office will either:

Grant the award
Deny your request—in that case, you can send them an appeal letter using DoNotPay

Accept your award

You will get an email regarding your financial award
The email will contain the link to the Texas State Self-Service Login page, where you can view and accept your award if you:

Look under the Financial Aid sector
Click Awards
Tap on Accept Award Offer

You should follow all additional steps to make the aid available to you
Note that you must complete the FAFSA and TASFA according to established deadlines. To maximize your financial aid, you can submit FAFSA anywhere between October 1st and January 15th (which is the college's priority deadline) of the upcoming academic year. The priority deadline for submitting TASFA is March 1st.
Consult DoNotPay in Case of Denied or Insufficient Financial Awards
Applying for a grant at Texas State can have a disappointing result if the financial aid office rejects your plea or gives you a modest sum. Luckily, you can appeal its decision with DoNotPay and ensure a higher award the next time around!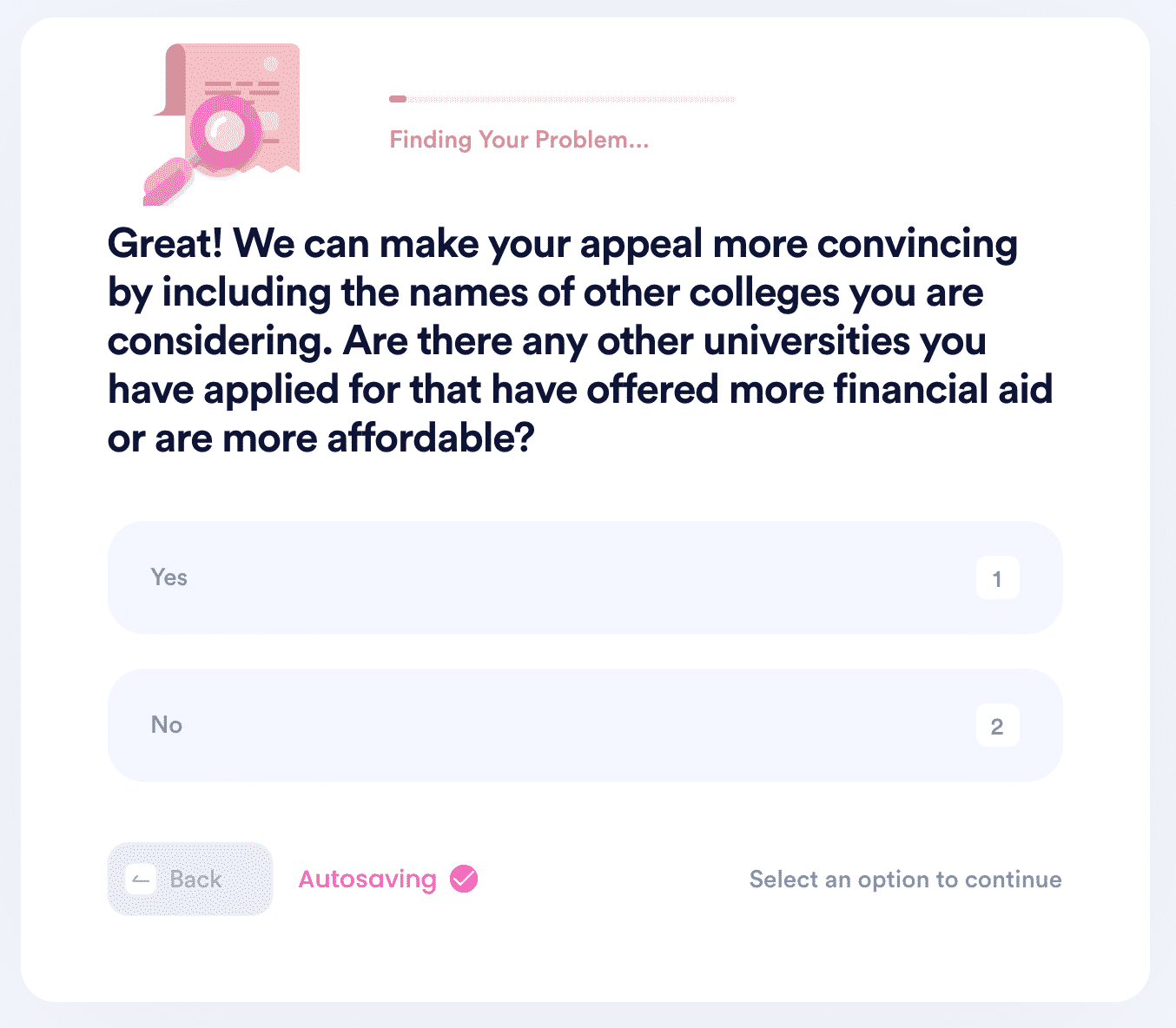 Our app will use your personal data to generate a comprehensive and convincing appeal letter. We will make sure to:
Address the letter appropriately
Use a polite, yet assertive tone
Explain your financial situation in detail
Include all other necessary details
To initiate the process, you must:
Click on our Appeal for More Financial Aid tool
Fill us in on your financial status and other circumstances
DoNotPay will take mere minutes to create and send the letter to Texas State and ensure you get a second chance!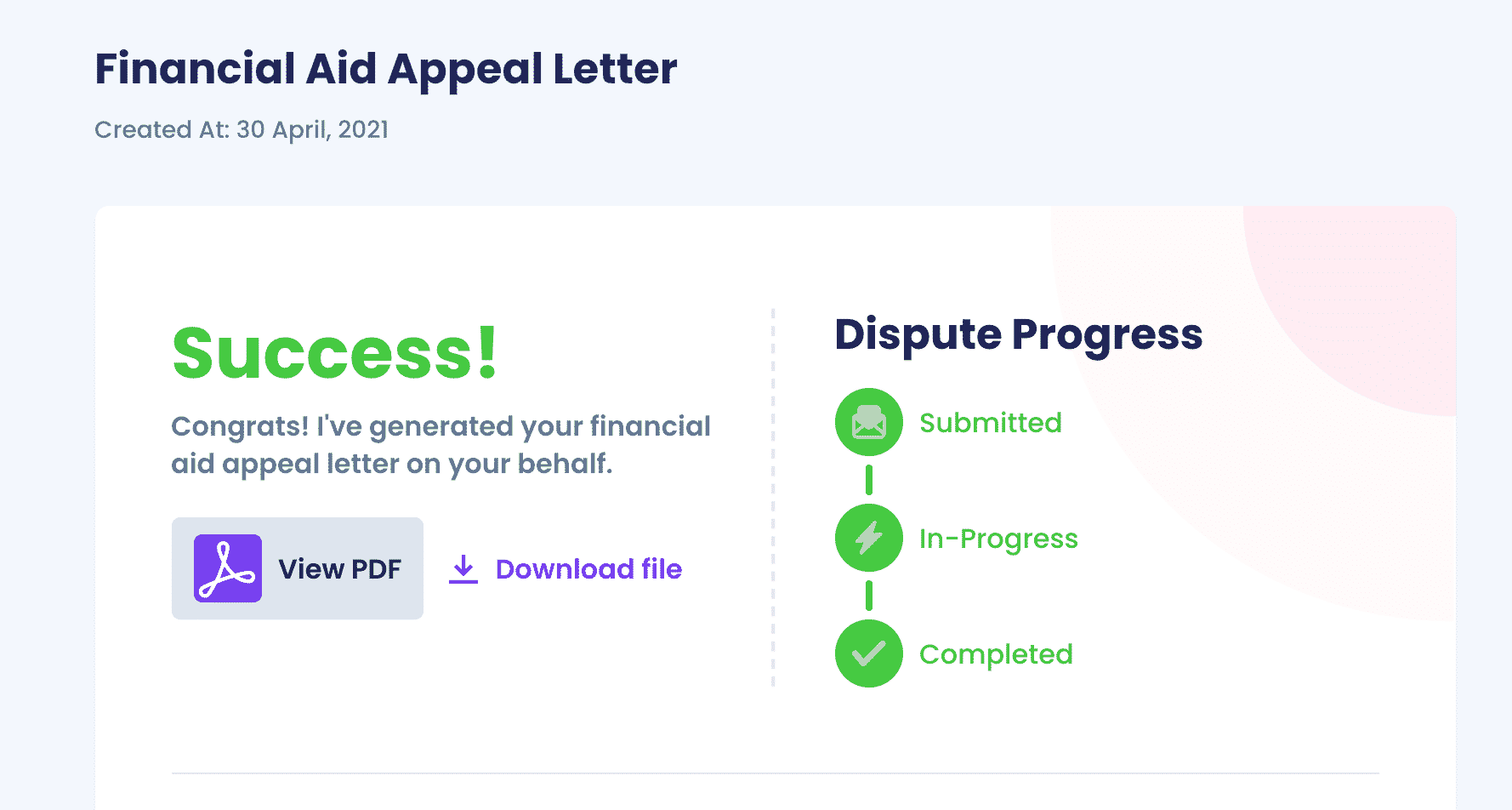 Have you considered applying for a backup college? Here's what you can expect in terms of financial aid at some of the most renowned U.S. universities:
DoNotPay Makes Your Troubles Go Away
If you want an app that gets the job done, subscribe to DoNotPay! We have various features that can help you with almost anything—from canceling subscriptions and filing insurance claims to getting in touch with inmates!
It doesn't matter if you need help with bureaucracy issues or with everyday struggles because DoNotPay is your go-to app! We can help you:
Protect Your Customer Rights With DoNotPay
Have you been wronged by a company? Why not sue it in small claims court with our AI-based app? We can also help you claim any warranty or file an item return request in a few clicks! Trying to reach customer service representatives, but the phone keeps ringing? Your virtual assistant can help you jump the queue for any company in the blink of an eye!