Reliable Tips and Tricks for Getting Rutgers Financial Aid
Rutgers is one of the top schools in the U.S. If you are eager to apply but are not sure if you can afford the attendance, know that Rutgers University offers generous financial aid to its applicants.
Would you like to know how the Rutgers financial aid works? DoNotPay is here to provide answers and give you instructions on how to apply for financial relief at this university. If you get rejected or receive a disappointing financial aid offer, we can help you write an appeal letter!
Types of Financial Aid You Can Apply for at Rutgers
Rutgers financial aid office is dedicated to providing an affordable college experience for students who:
Are academically deserving
Can't afford the tuition
Apart from these factors, the university's decision to grant financial aid depends on the funds available at the federal, state, and school levels.
Rutgers University offers to finance your education via several types of financial aid. Some of them don't need to be repaid, while others have affordable repayment possibilities. When choosing the appropriate option for financial aid, you should consider both the short and long-term consequences of each.
Types of financial aid available at Rutgers University include:
Grants—They can be offered at the federal, state, and university level. Grants are based solely on students' financial needs and don't have to be repaid. Students who wish to apply have to complete the Free Application for Federal Student Aid (FAFSA) form
Scholarships—Students admitted to Rutgers who submit FAFSA are automatically considered for a wide range of Rutgers-awarded scholarships. Since scholarships are considered a gift to financially challenged or academically deserving students, they don't have to be repaid
Loans—Rutgers offers several types of student loans, which must be repaid. Students and their families should consider the advantages of each loan and choose the most suitable one
Student employment—The Rutgers Study Employment Office (in collaboration with Federal Work-Study Program and Job Location and Development Program) helps students find jobs to earn extra money and gain work skills
Eligibility Requirements for Financial Aid at Rutgers
Students who want to apply for financial aid at Rutgers have to fulfill specific requirements. The elementary criteria include:
Demonstrating financial difficulties
Being a U.S. citizen or an eligible non-citizen
Making satisfactory academic progress
Being enrolled in an eligible degree or certificate program
The amount of financial aid students may get depends on the institution granting financial assistance. Take a look at the table below for more details:
| | |
| --- | --- |
| Pell Grants and Direct Loans | They are established based on the student's need and determined according to the details from FAFSA and federal regulations |
| State Aid | The Higher Education Student Assistance Authority determines the amount of financial aid at the state level |
| Institutional Aid | Institutional aid can be based on need and merit. Admissions or the student's school determine the merit-based aid, while the need-based aid is established by the Office of Financial Aid |
How To Apply for Rutgers University Financial Aid
The first step for getting financial aid at Rutgers is filling out the Free Application for Federal Student Aid (FAFSA) form.
Once the verification is completed, all financial aid funds (including student loans) will be paid to the student's tuition account at the beginning of the semester.
Students applying for Rutgers Biomedical and Health Sciences (RBHS) programs have to take additional steps besides completing the FAFSA form, such as:
Fill out the RBHS financial aid application
Complete a master promissory note and entrance counseling (if applying for federal loans)
Before applying for financial aid at Rutgers, you should be aware of important deadlines and complete the FAFSA by priority. You can visit the university's website and get informed about the Rutgers financial aid deadlines and state grant deadlines for the 2021–2022 and 2022–2023 school year.
If you applied for a grant at Rutgers and it has awarded you a smaller amount than expected, you shouldn't despair. Subscribe to DoNotPay, and we will generate an appeal letter explaining why you should get higher financial relief!
Get the Most Out of Rutgers Financial Aid With DoNotPay
While Rutgers may offer generous financial aid to its deserving students, it might not be enough to enable you to attend the university. You can appeal the Financial Aid office's decision easily with our help!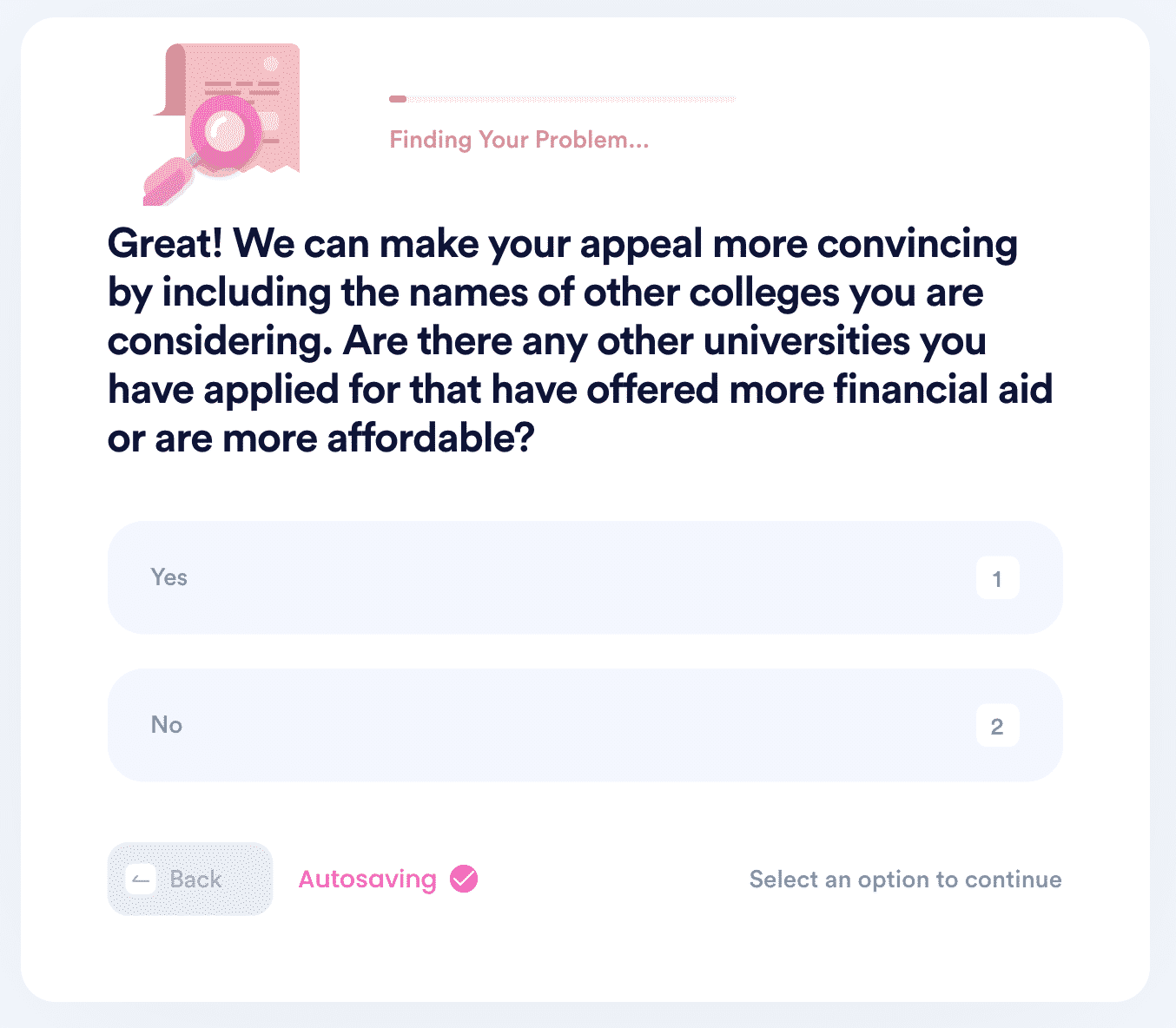 All you need to do is provide details of your financial situation to help us make your case. We will incorporate them into a professional and comprehensive letter and send it in your stead!
To start the process, you should:
Find the Appeal for More Financial Aid product
Answer our chatbot's questions
It will take us minutes to generate the letter and send it to Rutgers or any other backup university you applied to.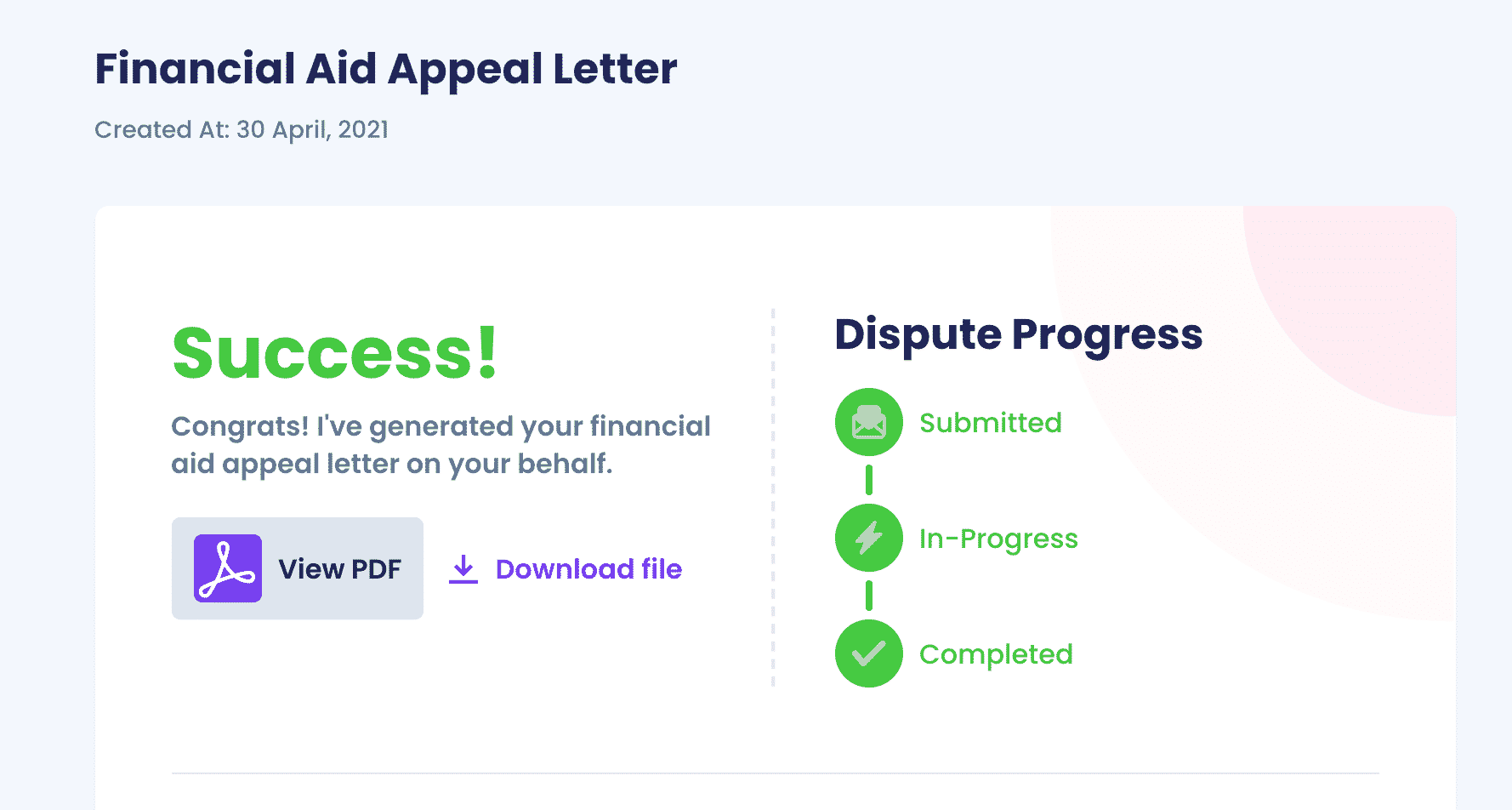 Applying to backup colleges will allow you to assess which one provides the most acceptable financial awards. Check out the financial aid offers of the most sought-after colleges in the U.S.:
To get fully informed, check out our articles about financial aid for grad students and possible time limits on using financial aid.
DoNotPay Makes Your Troubles Go Away
If you want an app that gets the job done, subscribe to DoNotPay! We have various features that can help you with almost anything—from canceling subscriptions and filing insurance claims to getting in touch with inmates!
It doesn't matter if you need help with bureaucracy issues or with everyday struggles because DoNotPay is your go-to app! We can help you:
Protect Your Customer Rights With DoNotPay
Have you been wronged by a company? Why not sue it in small claims court with our AI-based app? We can also help you claim any warranty or file an item return request in a few clicks! Trying to reach customer service representatives, but the phone keeps ringing? Your virtual assistant can help you jump the queue for any company in the blink of an eye!