The Crucial Info About Applying for Georgia Southern Financial Aid
Georgia Southern University, founded in 1906, offers its students over 140 different academic majors. There are around 26,000 students currently enrolled at this university. If you want to become one of them, we're happy to provide you with all the info about financial aid and explain how to make your tuition less expensive by applying for it.
Use DoNotPay's guide to discover helpful tips on applying for Georgia Southern financial aid and appealing a rejected aid application, if need be!
Types of Financial Aid at Georgia Southern University
Like most other schools, Georgia Southern University offers a variety of financial aid programs for its undergraduate and graduate students. Consult the table below for details about each financial aid type:
Financial Aid Type
Programs
Loans

Subsidized Federal Direct Stafford Loan
Unsubsidized Federal Direct Stafford Loan
Additional Unsubsidized Federal Direct Stafford Loan
Federal Direct Parent Loan for Undergraduate Students
Georgia Student Access Loan (SAL)
Georgia National Guard (GNG) Service Cancelable Loan
Private/Alternative Loans

Grants

State Grants
Federal Pell Grant
Federal Supplemental Education Opportunity Grant (FSEOG)
Teacher Education Assistance for College and Higher Education (TEACH) Grant
Iraq and Afghanistan Service Grant (IASG)

Scholarships

Honors College Scholarships
On-Campus Housing Award
Out-of-State Fee Waiver Scholarship
External Scholarships

Student employment
Georgia Southern University Financial Aid Qualifying Criteria
Students enrolled at Georgia Southern University have to meet a certain set of requirements to be eligible for financial aid. If you aren't sure whether you qualify or not, check out the list below and see if you meet the requirements:
Being a U.S. citizen or an eligible non-citizen
Having a valid Social Security number
Maintaining satisfactory academic progress
Being enrolled in a degree-seeking program
Having a high school diploma or a recognized equivalent
Not owing a repayment of Title IV funds
Being registered with the Selective Service
Demonstrating financial need
Having all the required documentation on file prior to financial aid disbursement
Although the above-listed requirements are general criteria, some of the financial aid programs may require additional paperwork. To stay on the safe side, it's best to visit the Georgia Southern University website and find specific requirements for each aid program.
If you're wondering how long you can keep getting financial aid or how many credits you need for financial aid, you can find answers on the website as well.
Applying for Georgia Southern Financial Aid
To apply for financial aid, all students must fill out and submit the Free Application for Federal Student Aid (FAFSA). You will provide all the necessary details about your income and financial circumstances using this application. The Georgia Southern University board will determine the amount of financial aid you're eligible to receive based on the information you provided.
Are you not sure when you should submit your financial aid application? Even though you can apply any time from October 1 to June 30, it is best to do it sooner rather than later. Sending your financial aid application when applying for admission will leave you with enough time to receive an answer about financial aid before enrolling.
How Can I Contact the Georgia Southern University Financial Aid Office?
If you have any unanswered questions regarding your financial aid application, contact the Georgia Southern University financial aid office. Here are the available contact options:
Over the phone—Call 912-478-5413 and ask for information you need
By email—Email your request to the Georgia Southern University financial aid office at finaid@georgiasouthern.edu
Online—Submit your request online by visiting the Georgia Southern University website
In person—Visit one of the offices at Statesboro, GA 30460, USA, and speak to a financial aid counselor about your request in person
Received a Low Georgia Southern Financial Aid Offer? Appeal It With DoNotPay Easily!
We know that receiving a low financial aid offer isn't a pleasant experience, and that is why we jump in with a perfect solution to this issue! Instead of accepting the insufficient financial aid amount a university offers you, use DoNotPay to appeal the decision! The process is super simple and takes minimum time and effort since we do most of the work! All that it takes on your part is completing the simple instructions, and you're golden:
Use the Appeal for More Financial Aid tool
Give us the required info about the college you want to attend and your family's financial situation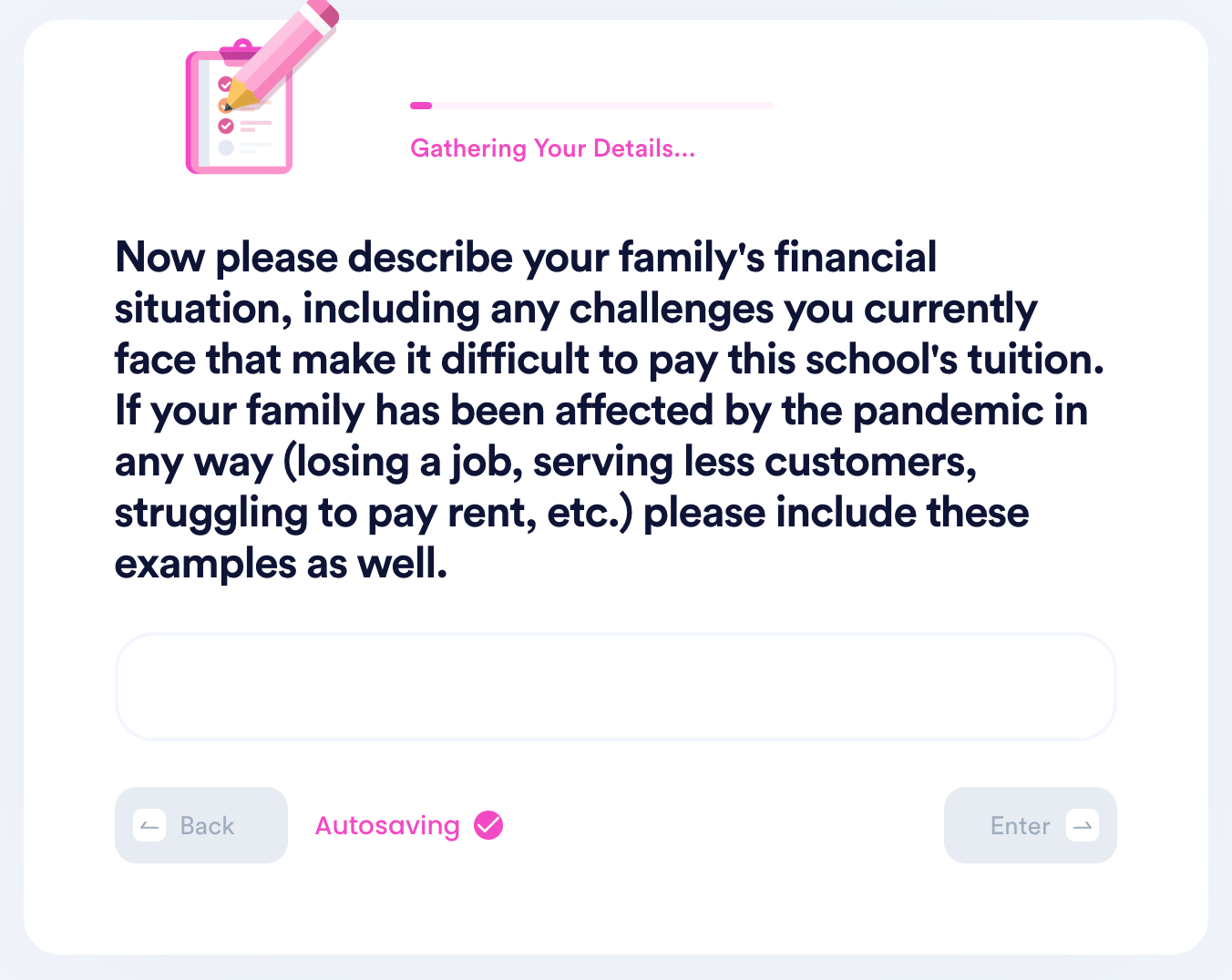 Once you complete our instructions, we will generate your appeal letter and send it to Georgia Southern University on your behalf!
If you are still on the fence or not content with the amount proposed by Georgia Southern University, why not check other schools and see if they offer more financial aid? In the following table, you can find some of the schools DoNotPay can help you with:
DoNotPay's Features Are Here To Make Your Life Easier
To simplify confusing bureaucratic procedures, we developed a number of features you may find super useful. Sign up for our app and let us assist you in:
DoNotPay Doesn't Stop There!
Assisting you with bureaucratic tasks is only a fragment of what DoNotPay can do—we have a lot more nifty features to offer! We can show you how to:
Struggling to draw up a financial aid appeal letter, an HR complaint, or a child travel consent form? DoNotPay is here to do it in minutes!