Do Part-Time Students Get Financial Aid? Get an Answer With DoNotPay
Attending college part-time makes more sense for many students because enrolling in fewer courses each semester results in a lower tuition fee. The question begs itself—do part-time students get financial aid?
There is a common misconception that part-time students do not qualify for financial aid. Fortunately, that's not true. As a part-time student, you may still be eligible for different types of financial aid, but keep in mind that you won't get as much money as students enrolled full-time.
If you want to get the best offer possible, sign up for DoNotPay and have us write an appeal letter to any school!
Who Is Considered a Part-Time Student?
While a full-time student is required to take at least 12 credits per semester, a part-time one is anyone taking less than that—more precisely, you're a part-time student if you have 2–11 credits.
To be eligible for receiving financial aid—especially some types of federal aid—you must take at least six credits per semester (half as many as a full-time student). If you happen to drop below the part-time status, you will lose your eligibility for financial support. Another way you can lose the right to financial aid is if you're not doing well academically.
Make sure to check your criteria for the part-time status if you are:
Graduate student
Online student
The criteria for the part-time status for graduate and online students might differ from the ones for standard undergraduate students.
What Aid Types Are Available for Part-Time Students?
If you are planning to enroll half-time, you may apply for many of the same types of financial help that full-time students are eligible for, such as:
Grants
Loans
Scholarships
Work-study programs
Tuition reimbursement
To get more detailed information about each of the categories, take a look at the table below:
Type of Aid
Explanation
Federal grants
Under normal circumstances, they don't need to be repaid. The best grant for part-time undergraduate and graduate students is the Pell Grant (a need-based grant)
Federal loans
If you can't get aid from other sources, federal loans are your best bet. You can choose one of the following loan types:

Direct Subsidized Student Loans
Direct Unsubsidized Student Loans
Direct PLUS Loans

Private loans
You should avoid taking out private student loans because they often have higher interest rates and offer fewer payment alternatives and protections
School-based financial aid
Need-based scholarships and grants awarded by colleges or universities
State-based financial aid
Scholarships or educational grants awarded by the state
Tuition reimbursement
You can fund your part-time education by seeking tuition reimbursement from your employer
Federal work-study
This program offers part-time jobs to undergraduate and graduate students who demonstrate financial need. You can work:
Not all schools offer the same financial aid programs, so you may want to check with your institution to see which types of aid you can apply for as a part-time student. Keep in mind that graduate students do not qualify for subsidized loans.
How To Apply for Financial Aid if You Are a Part-Time Student
To apply for federal financial aid—grants and loans—all part-time students must fill out the Free Application for Student Aid (FAFSA). It requires you to provide your financial information, such as your family's income and savings. After you submit it to your desired college or university, it will assess what kind of federal aid you are eligible for.
When it comes to deadlines for submitting your FAFSA, each college and state may have a different one. You can check them out on the FAFSA Application Deadlines page. The federal deadline is June 30, but you should submit your form as soon as possible because many scholarships and grants are awarded on a first-come, first-served basis.
If you are a graduate student, you are considered financially independent, which means you won't need to write down your parents' financial information.
You may also need to fill out a CSS Profile, depending on which school you'll be attending. It is a comprehensive application used by several colleges and institutions to determine whether you're eligible for institutional need-based aid or scholarships.
Useful Tips for Part-Time Students Seeking Financial Aid
If you are planning to enroll part-time and apply for financial support, consider the following advice:
Consider getting a federal student loan only after you've exhausted all other funding sources, such as grants and scholarships
Ask your financial aid office if you can pay for your classes in installments if you're working while attending college or grad school.
Do not give up straight away if an institution declines your application for financial aid or gives you a low offer. You can always appeal the decision
Make sure you also learn more about:
Let DoNotPay Write an Appeal Letter on Your Behalf
If you don't have the time, will, or knowledge to write a good appeal letter, rely on DoNotPay. Sign up for our service, and we will create a personalized appeal letter in a matter of minutes.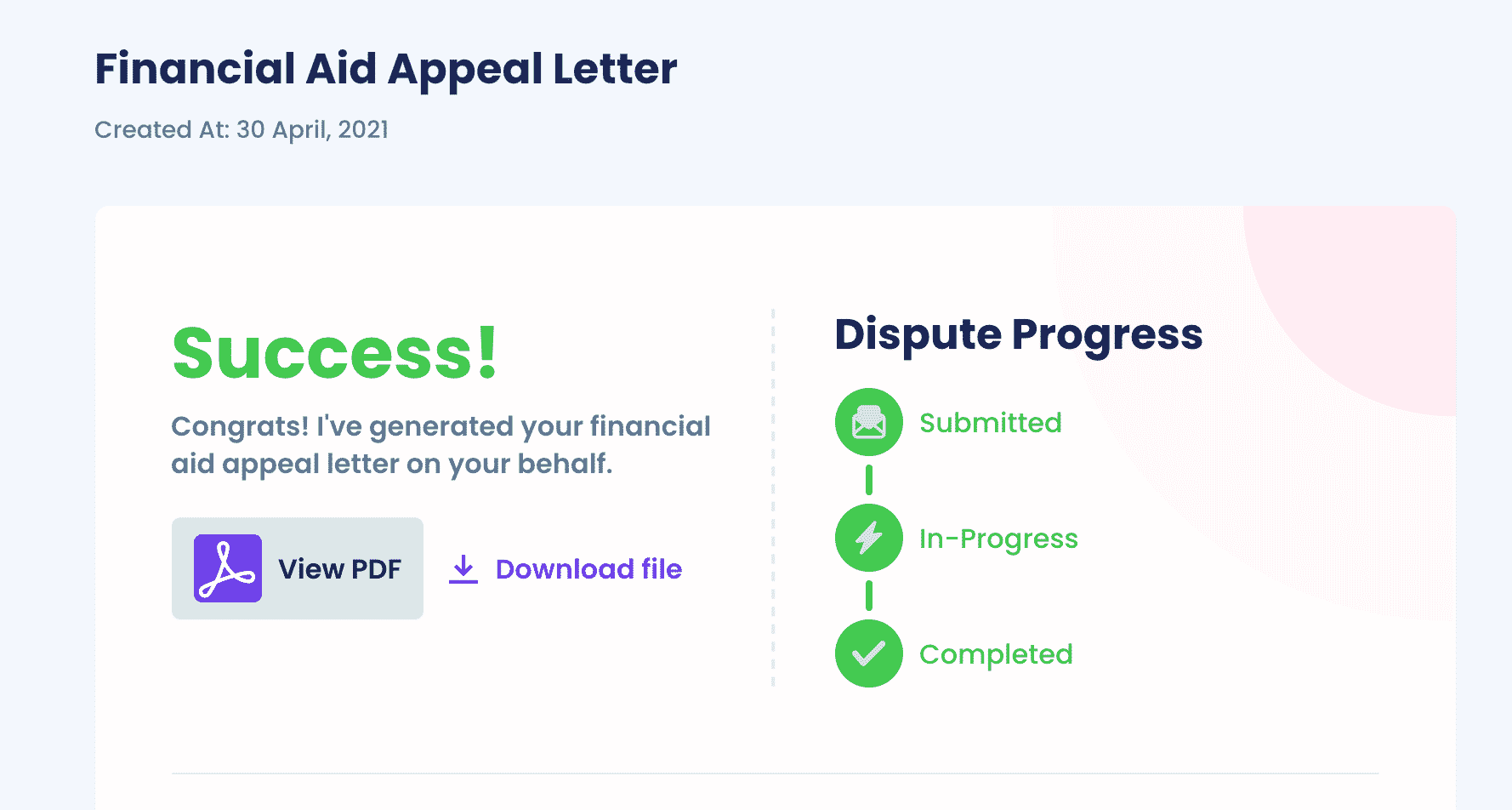 Here's what you need to do once you sign up:
Look for the Apply for More Financial Aid product
Enter the name of the university you want to attend and tell us which grad schools or colleges made a better offer
Disclose a few details about your family income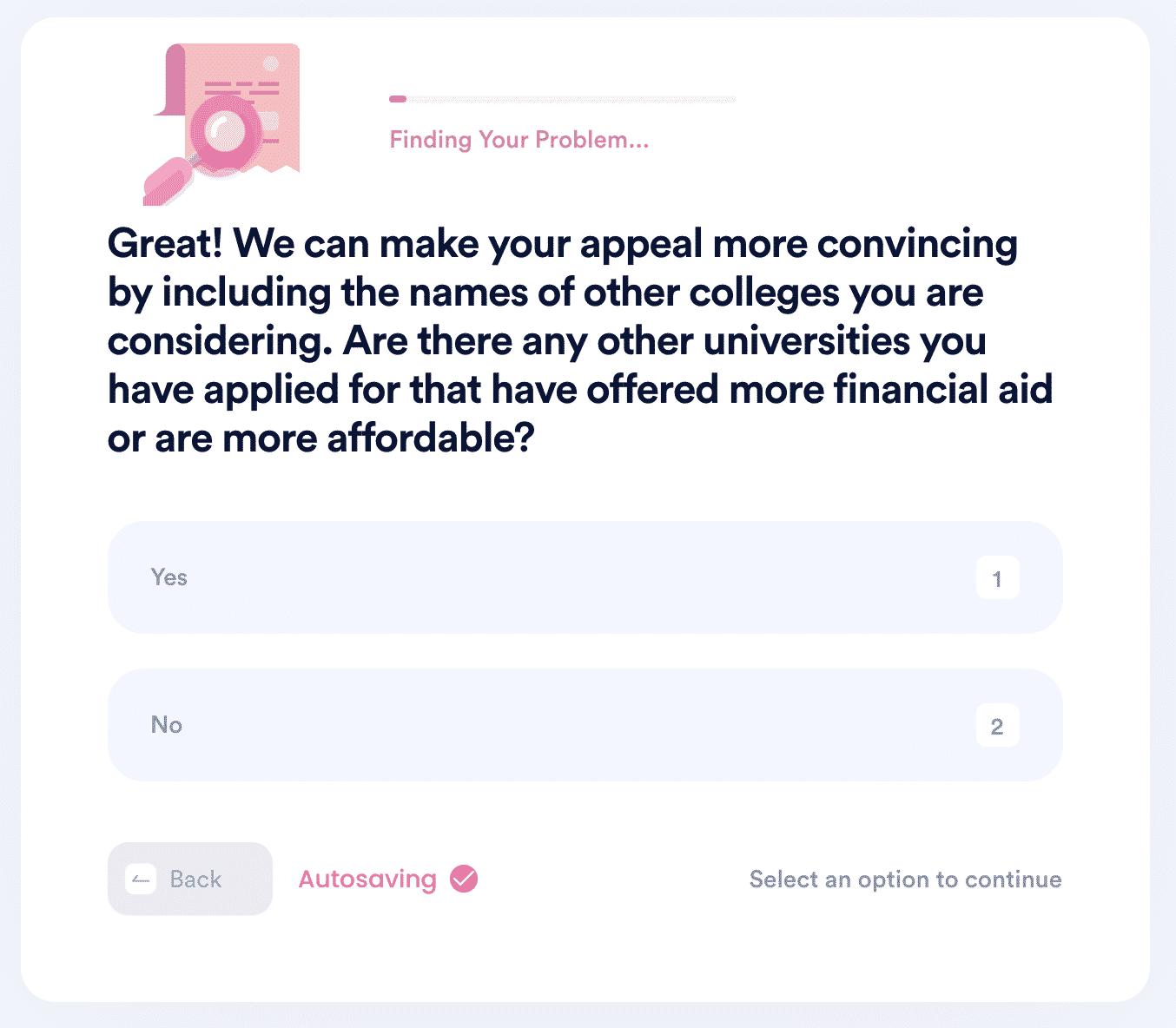 Once you've completed all four steps and the appeal letter is generated, we can send it to your email or straight to the university or college in question.
Do you want to learn more about how other institutions' financial aid programs work? You can find some of our guides in the table below:
Tackle Any Legal Task With Our Lawyer App Like a Pro!
Why bother with tedious legal tasks on your own when you can let DoNotPay cut your work in half? No more worrying about how to draft legal documents or sue a company in small claims court—we'll guide you through it effortlessly!
There is no shortage of tasks our Al-powered app can help you with. Once you sign up, you'll learn how to:
Fight Scammers in a Few Clicks!
Is your phone buzzing incessantly, and you can't take it any longer? Use DoNotPay to stop annoying robocalls and fight scammers with ease!
Having a company spam you with unwanted emails about their products isn't uncommon, but that doesn't mean you have to put up with it. DoNotPay helps you create a burner phone number, fight email spam, and stop spam text messages in a snap!
You can also find our features super useful when requesting a refund, filing insurance claims, and locating your missing USPS, UPS, or other parcels.