Learn How To Get More Financial Aid for College
Do you have your heart set on a specific college that doesn't offer enough financial support to make attendance affordable for you? Even though you may consider giving up on it and choosing another institution, you should check all the available ways to get a more generous offer.
This guide will explain how to get more financial aid by searching for alternatives and appealing the institution's decision using DoNotPay.
How To Get Financial Aid Money by Submitting FAFSA
Federal Student Aid (FSA) provides a specific application form known as FAFSA (Free Application for Federal Student Aid) for those who qualify.
It's a document containing questions related to you, your parents, your family's income and tax details, and the list of colleges you are considering. The form may also require personal information from some of your documents, such as your ID, Social Security card, or financial statements.
There are specific federal, college, and state deadlines by which you should file your application, and you should check them in time to avoid being late.
To apply for federal college financial aid, you must fill out FAFSA and submit it to the institution. There are three ways to do it:
Online—via your FSA account
By mailing a printed and completed form
This type of application covers:
Federal grants
Federal scholarships
Work-study jobs
Student loans
After filing your FAFSA, you will receive a Student Aid Report (SAR). It's a paper or digital document that lists all the details you provided in your application. Its purpose is to help you revise the submitted information and fix mistakes or incorrect details, if there are any. This procedure must be repeated every year as long as you want to keep receiving financial aid.
Ways To Get More Financial Aid From Other Sources
Besides the federal student aid program, there are other ways to apply for additional financial support. These are listed in the table below:
| | |
| --- | --- |
| Method | Explanation |
| State student aid programs | At times, applicants not eligible for federal college aid may apply for state financial aid. The best way to check this is to contact a grant agency in the state you live in and inquire about the qualifications and conditions |
| School aid programs | Some colleges and schools provide financial support for their students from their own funds. Get in touch with your college financial aid department and ask what options you have |
| Aid offered by various private and non-profit organizations | Many of these institutions also have ways to finance the selected group of students. They usually require you to file specific applications, but they can sometimes use the info you provided in FAFSA. This is another great opportunity for students who don't qualify for federal aid |
| Programs for veterans, military service members, and their families | If you or any of your family members are a past or present military service member, there may be certain education-related financial benefits for you |
Another option is to consider some other colleges that may be offering a higher financial aid amount. You can pick another university from the table below and learn everything about its financial support programs:
How To Request More Financial Aid From a College
If the college you want to attend offered an aid amount that can't cover the costs of your education, you can appeal their decision and make them reconsider it. This process requires composing an appeal letter by:
Explaining the financial difficulties you are experiencing
Listing the offers of the colleges that can provide a more generous financial support
Stating the exact amount that could cover all your college expenses
The problem arises when you want to appeal decisions of multiple institutions, which automatically means you must submit a personalized letter to each of them. This can be quite a burdensome and time-consuming task. You may also easily forget to include some significant details.
Send a Top-Level Appeal Letter Within Minutes Using DoNotPay
Why file multiple complaints and waste your time on manual appeal request drafts when DoNotPay can create a letter for this purpose in less than five minutes? Whether you are unhappy with the offered amount from a college or graduate school or you were rejected, rely on our app and get the matter solved effortlessly!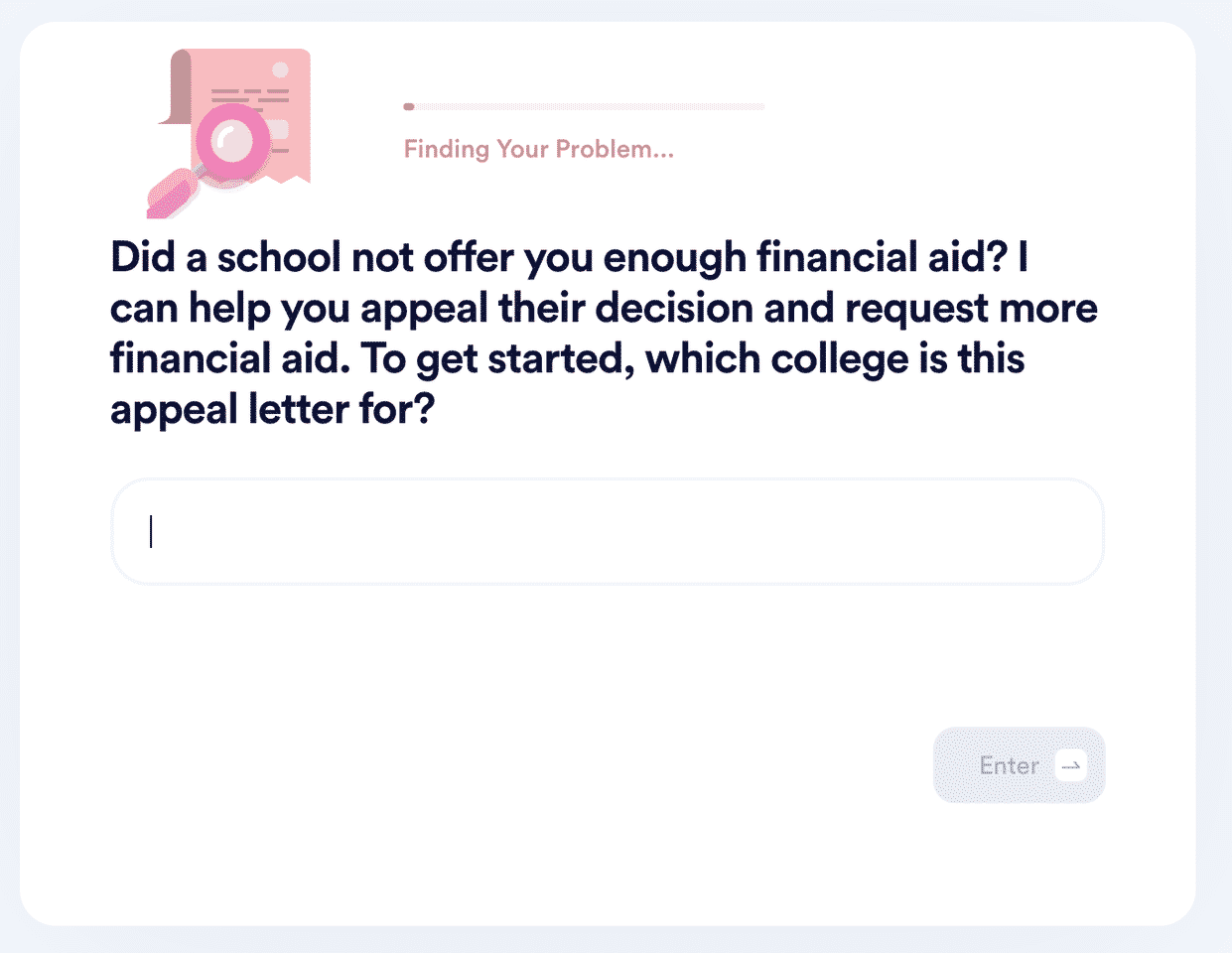 Here are the instructions you should follow:
Create an account with DoNotPay and sign in to it
Search for the Appeal for More Financial Aid option
Provide the name of the college you want to attend and a list of other colleges that made better financial aid offers to you if there are any
Give us more details about your family's financial situation and describe the difficulties you are facing
After receiving your personal, family, and income info, we will file an appeal with a specific college financial aid office in your name. This way, we will save you tons of time and help you avoid administrative hassle!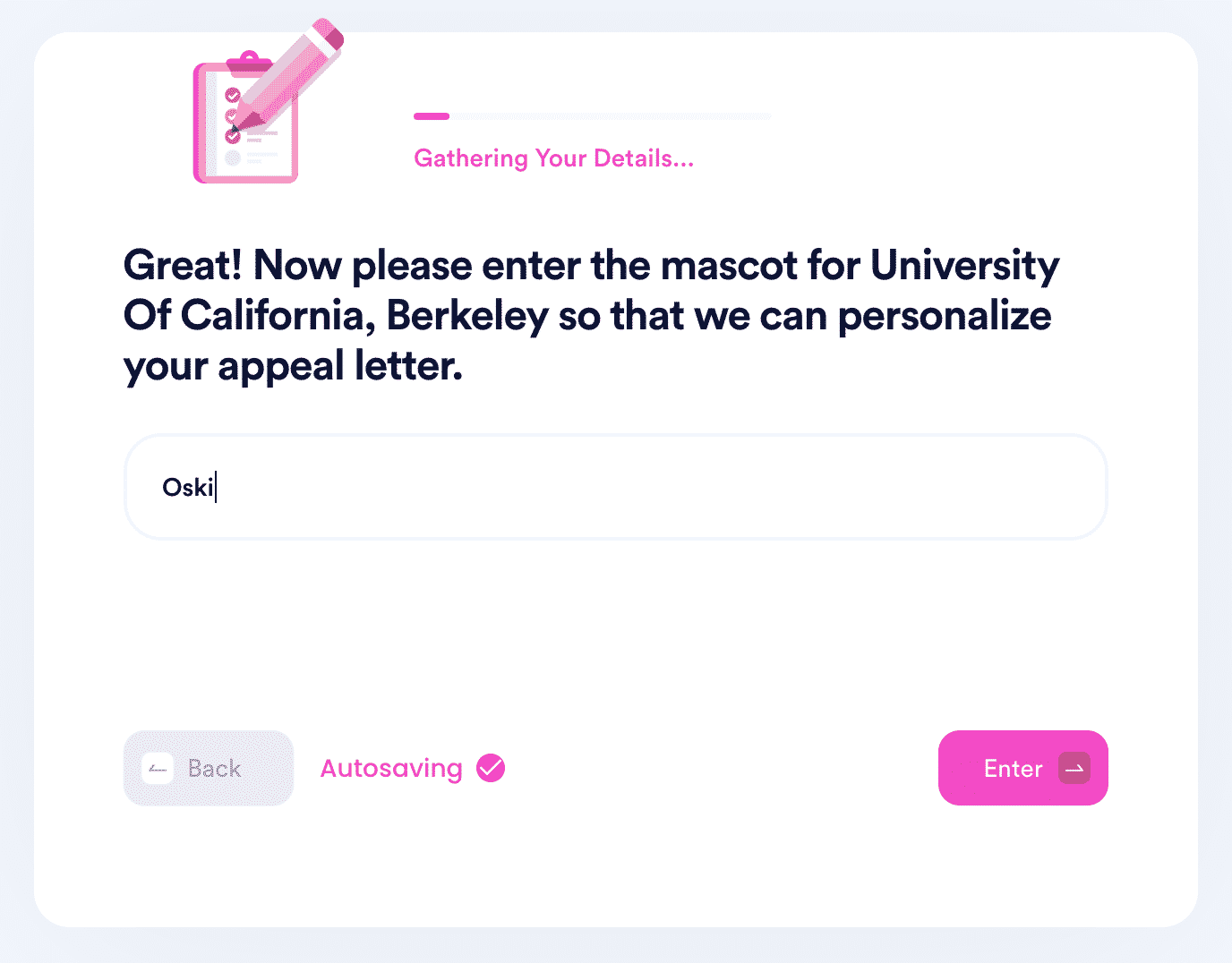 Is Bureaucracy Giving You a Headache? DoNotPay Can Help!
Bureaucracy is a big part of our lives that we can't escape. We understand the struggle over at DoNotPay—that's why we've created various features that can help you out! The world's first robot-lawyer app can assist you with:
DoNotPay's Arsenal of Features Doesn't Stop Growing
DoNotPay's number of handy features keeps growing by the day. Our platform can help you with various issues ranging from filing insurance claims to finding clinical trials. Want to save money on unused subscriptions? DoNotPay has got your back! We can help you cancel them and fight any subscription spam email that you get. Your AI assistant can also get you free raffle tickets or find any missing money in no time!
With DoNotPay, you'll have access to countless features that grow in numbers by the day! You'll be able to block robocalls, deal with tedious neighbors, and much more!