The Nitty-Gritty of the NYU Financial Aid Program
Being recognized among the top 10% of schools in the United States, the New York University (NYU) is a great option to consider education-wise—that is until the annual tuition—which can go as high as $76,000—doesn't make you change your mind.
With this guide, you will learn how to apply for NYU financial aid and if you're not satisfied with the response you get.
NYU Financial Aid Program—The Basics
The New York University awards financial aid based on:
NYU prioritizes financial needs and bases only 1–2% of financial aid decisions on student merit.
The NYU offers the following categories of financial aid:
Grants
Scholarships
Work-study
Loans
Grants Offered by NYU
NYU offers the following federal and state grants to its students:
Federal Pell Grant—Provides funding for students with immense financial need
Teacher Education Assistance for College and Higher Education (TEACH) Grant—Offers financial aid for students seeking a career in teaching
Senator José Peralta New York State DREAM Act—Gives undocumented students and students with unresolved citizenship status a chance to access higher education through funding
Federal Supplemental Education Opportunity Grants (FSEOG)—Provides additional funding to students eligible for a Pell Grant
New York State Tuition Assistance Program (TAP)—Offers New York families with a net taxable income of $80,000 and less additional financial support
Aid for Part-Time Study (APTS)—Supports students with New York citizenship attending part-time programs
Veteran's Benefits—Include financial assistance for veteran families
NYU also allows you to acquire and compete for additional funding from other grants. The University will count that additional funding toward your financial aid package to calculate the total amount of aid.
Available Scholarships at NYU
Check out this list of scholarships you may be eligible for when applying for NYU:
September 11 scholarships—This program enables students who lost their parents or guardians on 9/11 to get additional educational funding and includes five scholarships:

Wachtell, Lipton, Rosen, and Katz Scholarship—Offers dependents of firefighters, police officers, and emergency medical personnel additional funds for higher education
Helen and Martin Kimmel Scholarship—Provides grants for dependents of late emergency and law enforcement workers
Barclays 9/11/01 Memorial Scholarship—Supports spouses, children, and dependents of 9/11 victims by offering financial support when they apply for a higher education institution
Sol and Margaret Berger Foundation Scholarship—Helps students achieving exceptional results in the fields of law of evidence or civil procedure
9/11/01 Memorial Scholarship—Provides aid to families of emergency workers tragically affected by 9/11/01

Undergraduate scholarships—These scholarships are divided into two categories:

Scholarships for incoming students

AnBryce Scholarships
Lenape Scholarship
Lewis Rudin City Scholarships
Phi Theta Kappa Scholarships
Yellow Ribbon Scholarships

Scholarships for current students—Differ between NYU schools and colleges

Merit-based scholarships—The NYU will consider you a candidate for merit-based scholarships as soon as you enter
NYU will also take any external scholarships you acquire into account.
NYU's Work-Study Program
If you opt for federal work-study, NYU will provide a fund representing a fixed amount of money you can earn by working between 15 and 20 hours per week. You will receive your wage once every two weeks.
Available Loans at NYU
If you still have a financial gap despite other means of financial aid, you can opt for two types of loans when applying for NYU:
Federal loans

Federal Direct Loans
Federal Nursing Student Loan
Health Professions Student Loan Program

Non-federal private loans
When and How To Apply for NYU's Financial Aid Program
If you want to apply for financial aid at NYU, you should know that:
All U.S. citizens and eligible non-citizens must complete the FAFSA form
Students applying for NY State aid should also include a completed TAP application
Students whose parents divorced or separated need both parties to fill out a CSS profile as well
If you wonder when to apply for financial aid, check out this list of NYU financial aid deadlines:
Early Decision I—11/15 of the current year
Early Decision II—1/15 next year
Regular Decision—2/20 next year
Fall/Summer Transfer Student Applicants—4/1
Spring Transfer Student Applicants—11/15
For additional information, you can contact NYU's Financial Aid Office by calling 212-998-4444 or sending an email at financial.aid@nyu.edu.
Did NYU Respond Unfavorably to Your Financial Aid Application? Appeal the Decision With DoNotPay!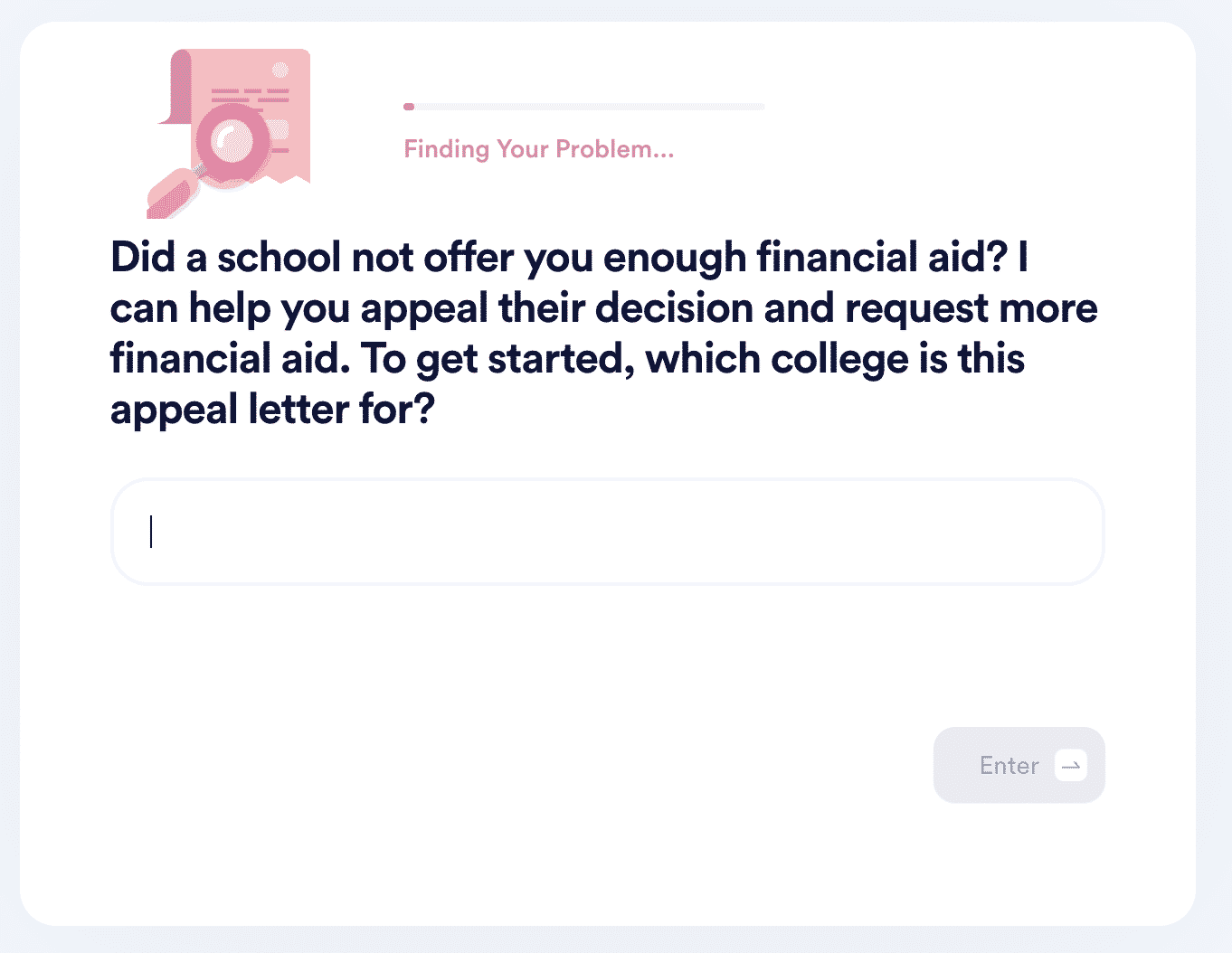 If NYU didn't offer enough financial aid or rejected your application, you can appeal the decision in no time with our easy-to-use tool!
To send an appeal letter in just a few clicks:
Search for Appeal for More Financial Aid
Answer a few questions about your financial aid application and NYU's response
When you complete the final step, we will use the information you provided to generate a custom financial aid appeal letter. You can have us send the letter to NYU or do it yourself!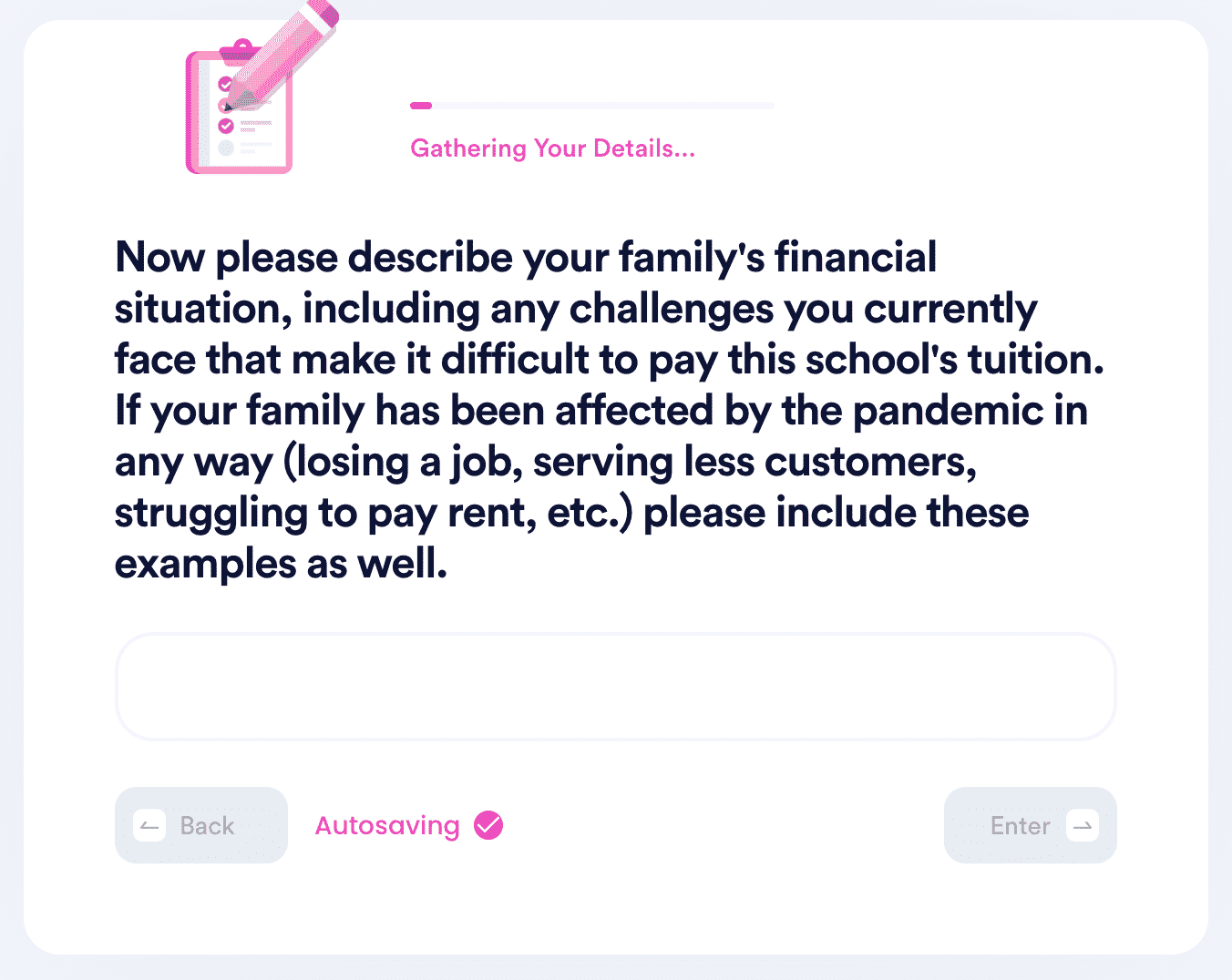 After you send your appeal letter to NYU, explore our knowledge base to find answers to questions such as:
Explore Other Universities and Their Financial Aid Programs With Our Guides
Before you apply for NYU, check out some of our guides on other universities' financial aid programs worth considering:
Solve Any Issues Like a Pro With DoNotPay
DoNotPay is an AI assistant that is able to solve almost all issues you're facing. Whether that be your noisy neighbors, the annoying text and email spam you're receiving, or the frustrating robocalls that won't leave you alone. We'll even cancel your unneeded subscriptions and get you a few extra bucks you've been cheated out of.
The world's first robot lawyer app can help you get:
DoNotPay Helps You Deal With Any Administrative Issue Effortlessly
Tedious administrative tasks are always headache-inducing, but they don't have to be if you use DoNotPay. With our AI-powered app, you will be able to: