Great Tips on How To Apply for Financial Aid as a Student
Finding the necessary financial assets for your college education may be challenging since most tuitions are ridiculously expensive. The good news is that you don't have to take a year off until you earn the money because there's a special kind of financial aid for college you can take advantage of.
This article will teach you how to apply for financial aid for students by offering a simple, step-by-step guide to this procedure! You will also find out how subscribing to DoNotPay can help you appeal the college's decision in under five minutes without bureaucratic hurdles.
How To Apply for College Financial Aid
The first step of requesting student aid for college is completing a Free Application for Federal Student Aid (FAFSA). This is a free form used for the assessment of college financial aid eligibility. Before filling it out, you must:
Consider federal and state financial aid application deadlines—Most states and colleges have specific time limits for submitting FAFSA. If you fail to meet the deadline, your application won't be accepted
Prepare the necessary documents and records—To complete the form, you need various types of information found in your:

ID or driver's license
Social Security card or green card
Bank statements and other financial records
Income tax return paperwork

Create an FSA ID—This procedure takes a few minutes, and it enables you to sign the FAFSA form electronically. All you should do is create your username and password and sign in before you decide to fill out the form
There are four ways to submit FAFSA:
Federal Student Aid Programs
P.O. Box 7654
London, KY 40742-7654
Dialing (800) 433-3243 and asking for a printed form to be mailed to your home address so that you can complete it and send it back
Do I Apply for College Financial Aid With FAFSA Only?
In most cases, yes. Some private colleges also require an additional form—CSS Profile—to provide their own student financial aid. It costs $25.00 along with the first college, while adding another college to the list will cost $16.00.
What Information Do I Need for Completing FAFSA?
The FAFSA form has around 100 questions you must answer. These are divided into a few categories, which are described further in the table below:
Parts
Details
Student info
The introductory part includes the basic info about the student, such as:

Full name
Date of birth
Contact details
Marital status
Citizenship details
Potential convictions
Education information

Taxes and income

IRS income tax return details
Tax filing status
Gross income
Untaxed income
Savings and accounts
Investments and real estate
Other financial information

Parental info

Names
Birth dates
Marital status
Marriage length
Contact details
Social Security Numbers of both parents
Parents' income and tax information

Household info

Number of family members in the household
Previous federal benefits—if there are any

Colleges

List of colleges to whose financial aid program you want to apply
Federal school codes
Housing plans

Final section

Signatures of the applicant and both parents
Form completion date
Notes
What Happens After Submitting FAFSA When Applying for Financial Aid?
Upon sending the application, you will receive a Student Aid Report (SAR) by mail or email if you provided your email address in the form. This is a document that summarizes all the disclosed information from your FAFSA, including:
Estimated Family Contribution (EFC)
Estimated eligibility for the desired student loans or other types of aid
Whether your application has been eligible for verification
SAR should reach your inbox or home address within three to 21 days, depending on the application submission method.
Once you receive it, you should revise the reported details and see if the form requires any corrections. If everything is alright, keep the document for your records. In case of any mistakes, you must update the application with the correct details and resubmit it. When it's done, all you should do is wait for the institutions to make their offers.
Appeal the Dissatisfying College Financial Aid Decision With DoNotPay
Does the offered college student financial aid amount seem too small to cover all your education-related expenses? You can write an appeal letter and explain why you should get more money, but it requires too much effort and time.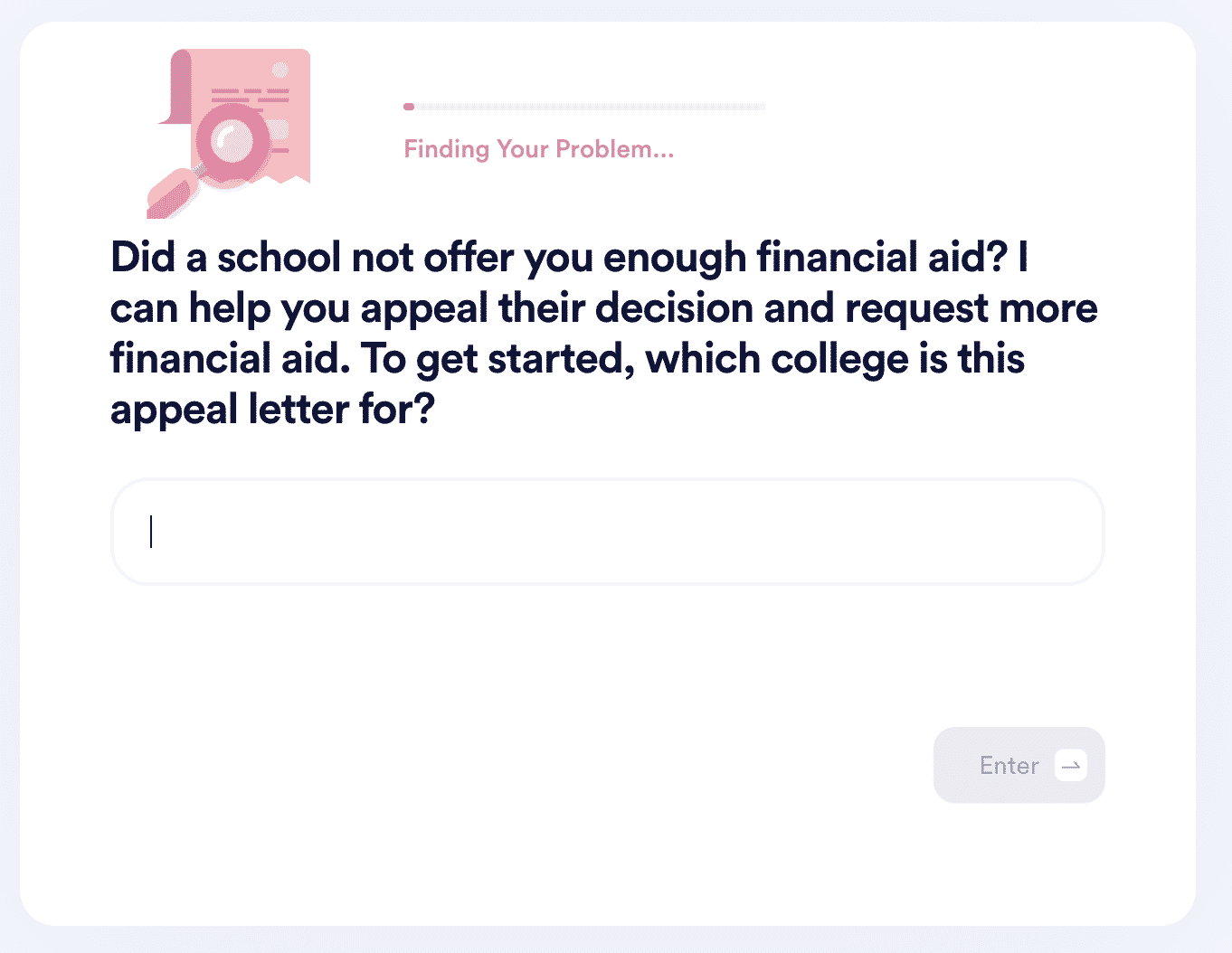 Instead of complaining separately to each college, use DoNotPay and create a personalized appeal letter you can send to all institutions! Here's how to do it with our app:
Subscribe to DoNotPay and sign in to your account
Look for the Appeal for More Financial Aid product
List the colleges you are considering that offer more aid than the one you are writing to
Answer a few questions about your family's financial situation and potential related difficulties
That's it! Our system will create a customized letter based on the information you provided. All that remains is to send it to the college in question, which DoNotPay can do on your behalf!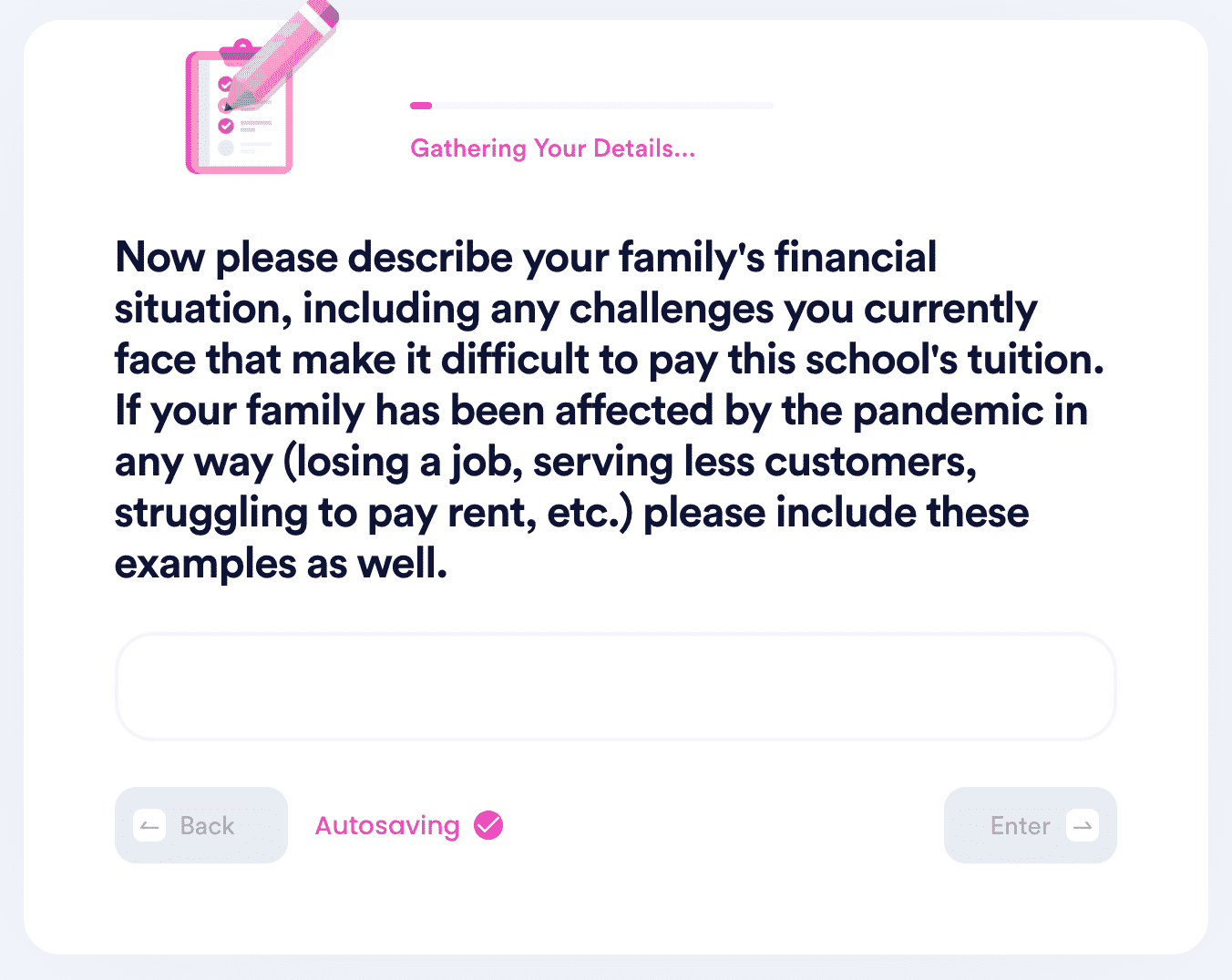 Another option to consider if you aren't satisfied with the offered amount is applying for other financial aid programs provided by other colleges, including:
Thanks to DoNotPay's learning center, you can also access numerous guides that can help you learn all about:
Only the Sky Is the Limit for DoNotPay
DoNotPay has an insane number of features that keeps growing. Our platform can help you:
Say Goodbye to Spam Mail With DoNotPay
DoNotPay has designed a feature that will put a stop to the flood of junk and spam mail into your inbox! We can help you join a class action against a spammer or take any person or company that's wronged you to small claims court!
Need a virtual credit card number or a fake phone number to protect yourself from scammers? We've got you covered! We can help you fight text spam or even assist you in sending mail without any chance of error.
Our users' safety is our number one concern, so we've developed a feature that will protect you from cyber stalking or harassment!