How To Get Sam Houston Financial Aid Without Trouble
Sam Houston State University, also known as Sam or the SHSU, was founded in 1879. This public University has over 20,000 students and comes with local tuition of $8,536 and domestic tuition of $18,664.
If you can't afford to cash out that much money, you should apply for Sam Houston financial aid. DoNotPay will introduce you to the options available and help you file an appeal if you apply for financial aid and get rejected or the offer is insufficient and you want more.
Which Types of Financial Aid Does Sam Houston State University Offer?
The SHSU offers various types of financial aid to its students, including:
Grants
Loans
Scholarships
Work-study programs
Which Grants Can You Apply for at Sam Houston State University?
Grants are a type of financial aid that does not require repayments. Take a look at the table below to see what grants you can apply for at Sam:
Grant
Brief Explanation
Pell Grant
This grant is awarded to undergraduate students who demonstrate financial need. You will need to complete the FAFSA form every year you're in school to maintain eligibility for Pell Grant
Supplemental Educational Opportunity Grant (SEOG)
This grant has limited funding and is meant for undergraduate students who have a strong financial need
Teacher Education Assistance for College and Higher Education (TEACH) Grant
Students who intend to teach in public or private schools that serve students from low-income families can apply for this financial aid. It is available only for juniors, seniors, and graduate students
TEXAS Grant
This is a state grant program for students who have completed the:

Recommended High School Program or
Distinguished Achievement Program in High School

Texas Public Educational Grant (TPEG)
This grant exists to help students in Texas with financial need attend public:

Community colleges
Technical colleges
State colleges
Which Loans Can You Apply for at Sam Houston State University?
Unlike grants, loans are a type of financial aid that needs to be repaid. You can apply for various types of loans, including:
Federal loans—The lender is the U.S. Department of Education
State loans—One of the most important requirements is that the student is a Texas resident
Alternative loans—A good option when the federal loans don't offer enough money or when the student is not eligible for federal funding
Semester loans—Help students with educational expenses, like books, for example. Semester loans are also known as:

Emergency Tuition & Fees Loan (ETFL)
Short-term Loan (STL)
Which Scholarships Are Available at Sam Houston State University?
Scholarships are another financial aid form that doesn't require you to repay the funds. At the SHSU, the two most popular scholarship options are:
Bearkat Transfer Scholarships
Smith-Hutson Scholarships
Work-Study Programs Available at Sam Houston State University
Work-study programs allow students to have part-time jobs that will help them pay for their education at the SHSU. You can either apply for:
Federal work-study—Jobs are available both on and off campus
Texas work-study—Jobs are located on campus
How To Receive Financial Aid at the SHSU
To receive financial aid at Sam Houston State University, you will need to follow the specified procedure. It is necessary to follow the deadlines and meet the eligibility criteria as well. The steps required are as follows:
Complete the FAFSA each year
Seek your Student Aid Report (SAR) from the Department of Education
Meet the SHSU eligibility requirements
Check your status
Accept or decline the financial aid offers
The FAFSA Deadlines page provides you with the list of the federal deadlines for submitting the FAFSA form for the academic years of 2020–2021 and 2021–2022.
Not Satisfied With the Financial Aid Offers? File an Appeal!
In case you are not content with the amount offered or your application is rejected, you can file an appeal. The school will reconsider its decision if you create an airtight financial aid appeal letter.
You don't have to go through the ordeal on your own—DoNotPay can help as soon as you !
Use DoNotPay To Create a Financial Aid Appeal Letter
If you want a financial aid appeal letter that includes all the relevant information, DoNotPay is the right choice!
Our app will make sure the school knows you are not satisfied with its decision. The entire procedure is straightforward and will only take a few minutes of your time. Heed these instructions:
Choose our Appeal for More Financial Aid product
Include the amount of financial aid other schools offered you if you applied to more than one
Inform us of your family's current financial status
DoNotPay will send the appeal letter to the SHSU on your behalf as soon as possible!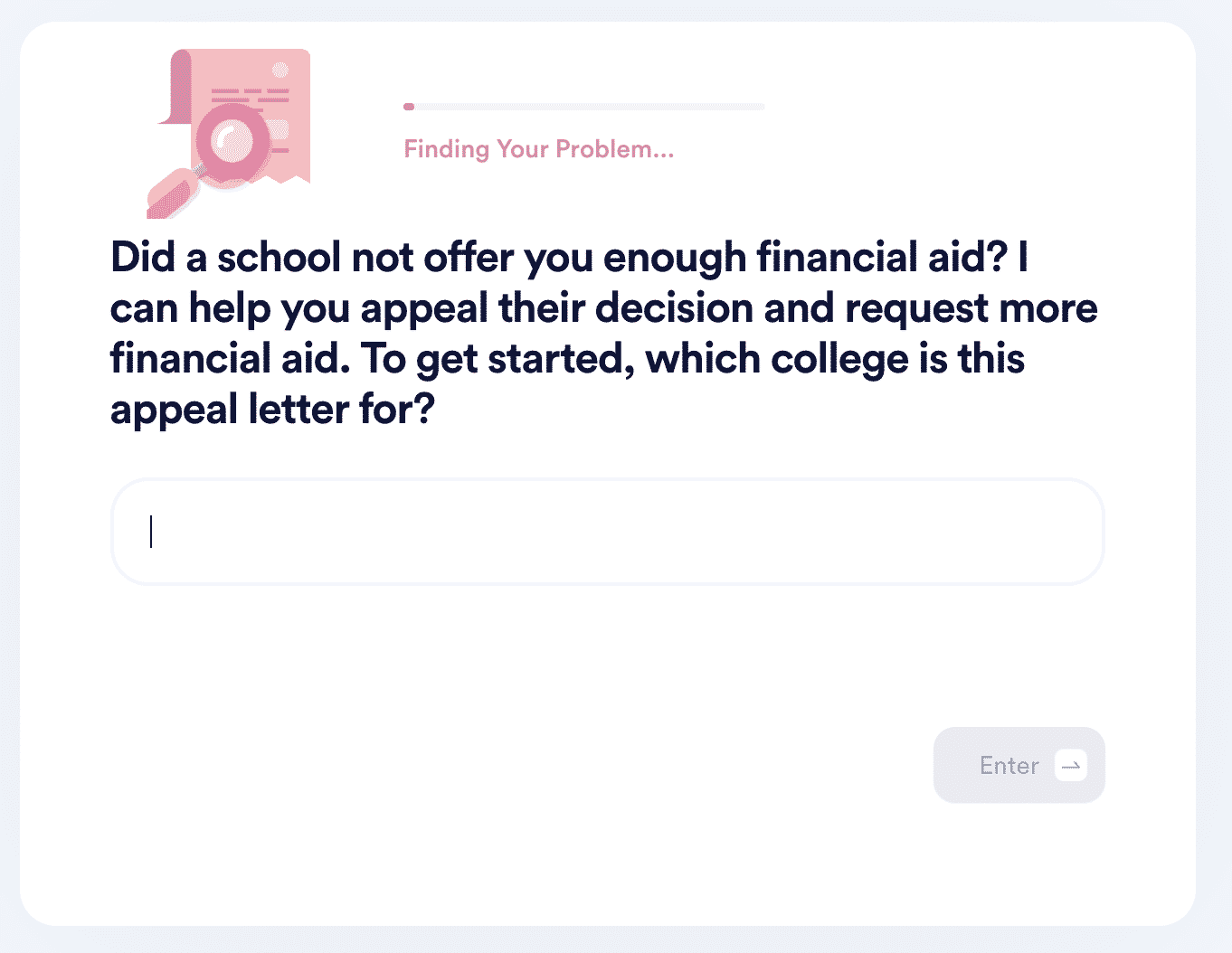 DoNotPay can also tell you everything you need to know about the financial aid options for graduate school and the financial aid duration.
Check out other universities' support options:
Work Smarter, Not Harder!
Although there are certain tasks that are a pain but can't be avoided, such as paying your property taxes, you don't have to do them the hard way. There is always a way to make the overbearing bureaucratic procedures a bit easier. DoNotPay can find a loophole and help you cut through the red tape!
Reducing your property taxes is only one in the sea of tasks our app will make super easy to do! You can also use DoNotPay to:
Draft legal documents

(such as

POAs

)
Explore DoNotPay's Other Neat Features
DoNotPay offers a plethora of useful products to make your day-to-day life easier and enjoyable! Consult the list below to see what you can do using our app: