The Essential Steps to Getting UCLA Financial Aid
The University of California, Los Angeles (UCLA) is ranked as the best-value university in the U.S. Approximately 55% of UCLA undergraduates get financial aid in some capacity.
If you'd like to know how the UCLA financial aid works, make sure you read this comprehensive guide and find out how much financial aid you can get.
if you need our help with appealing a rejected financial aid application. We can even help you find out how long you can get support!
Types of Financial Aid Offered at UCLA
At UCLA, financial aid is available for:
Undergraduate students
Graduate students
Undergraduate Students
Types of financial aid for undergraduate students include:
Grants—Gift aid from the federal government, state, or university. Students don't have to repay them, and they are given based on the students' financial need
Scholarships (full or partial)—They don't have to be repaid and are divided into three categories:
Merit-based
Need-based
Non-need-based
Federal Work-Study (FWS)—Program for students who demonstrate financial need. Work-Study funding is limited, and eligible students are selected based on financial need and timely application submission
Loans—Financial aid that allows students and parents to borrow money from state governments, the federal government, or private lenders. There are eight loan options at UCLA:
Federal Direct Subsidized Loans
Federal Direct Unsubsidized Loans
University Loans
Federal Perkins Loans
California DREAM ACT Loan Program
Federal Direct Parent PLUS Loans
Private Loans
Corbett Disclosure Statement
You can find all available UCLA undergraduate grant programs in the table below:
Types of Grants
Available Programs
Federal grants

Federal Pell Grant
FSEOG
Teach Grants
Iraq and Afghanistan Service Grant
Children of Fallen Heroes Scholarship

State grants

Cal Grant A
Cal Grant B
California Middle Class Scholarship
California Chafee Grant
Cal Grant A & B Competitive

University grants

Blue & Gold Opportunity Plan
University Grant
USHIP
Grant for Parenting Students
Graduate Students
Graduate students may apply for:
Aid
Teaching & Research Assistantships
Fellowships & Grants
Teach Grant
Work-Study
Loans
Federal Direct Unsubsidized Loans
Federal Direct PLUS Loans
Private Loans
California DREAM Act Loan Program
Corbett Disclosure Statement
How To Apply for UCLA Financial Aid
If you are a U.S. citizen or a permanent resident, you must complete a Free Application for Federal Student Aid (FAFSA) to apply for financial aid. If you qualify for a non-resident tuition waiver under AB-540, you must fill out the Dream Act Application.
To be eligible for federal, state, or university grants, students must be U.S. citizens or permanent residents. UCLA can't provide support to international students with these visa types:
F-1 or F-2 Student
G Series, H Series
J-1 or J-2 Exchange Visitor
International students may be eligible for scholarships, fellowships, and loans. To apply for a scholarship, create a profile in UCLA's Scholarship Portal. If you are a graduate student and want to apply for a fellowship, use UCLA's Graduate & Postdoctoral Extramural Support (GRAPES) Database.
Students who want to enroll in summer sessions can also apply for financial aid.
What if the UCLA Financial Aid Office Rejects My Application?
UCLA's Financial Aid Office may reject your application for numerous reasons. One of the most common ones are:
Changed family income
Changed cost of education
To ask for more support, you can send an appeal letter to UCLA's Financial Aid Office. The deadline is three weeks before the end of the academic year.
The University will review your appeal in 10–15 business days. During summer, the evaluation may take longer. If it gets approved, you will get a notification on MyUCLA, and if it gets denied, you will receive an email explaining the reasons for the rejection.
You can always call the UCLA Financial Aid Office at 310-206-0400 or send a message via Message Center to inquire about your application.
Appeal the University's Decision With DoNotPay and Get a Better Offer!
Writing an appeal letter is a process that few people have time for. If you don't know how to write an appeal, are too busy, or don't have the will to do it yourself, sign up for DoNotPay! Our app will save you the hassle and help you appeal the decision of UCLA's Financial Aid Office quickly and easily and get you more aid!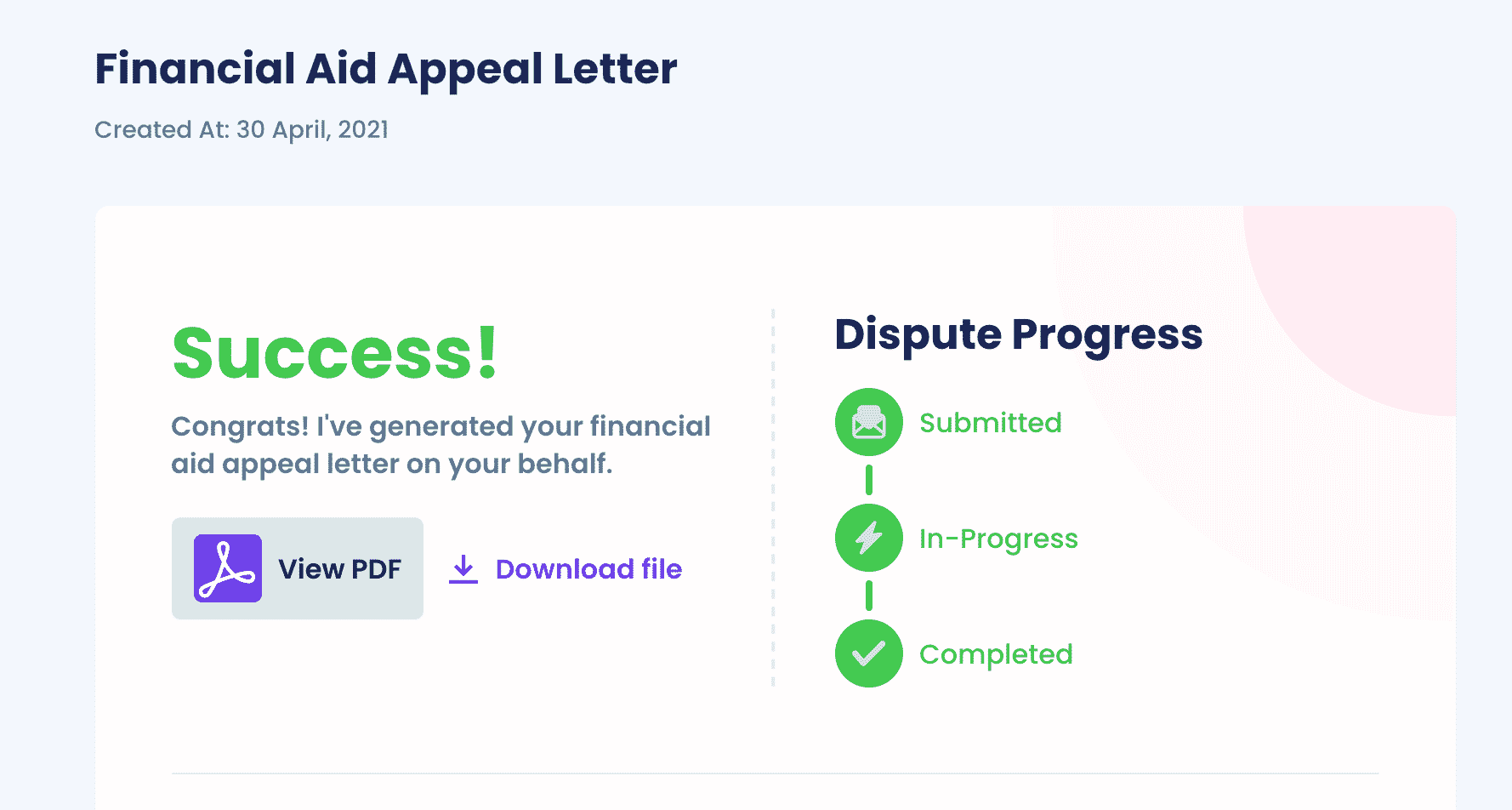 All you have to do is follow four simple steps:
Search for the Apply for More Financial Aid feature
Enter the name of the university
Answer a few brief questions from our chatbot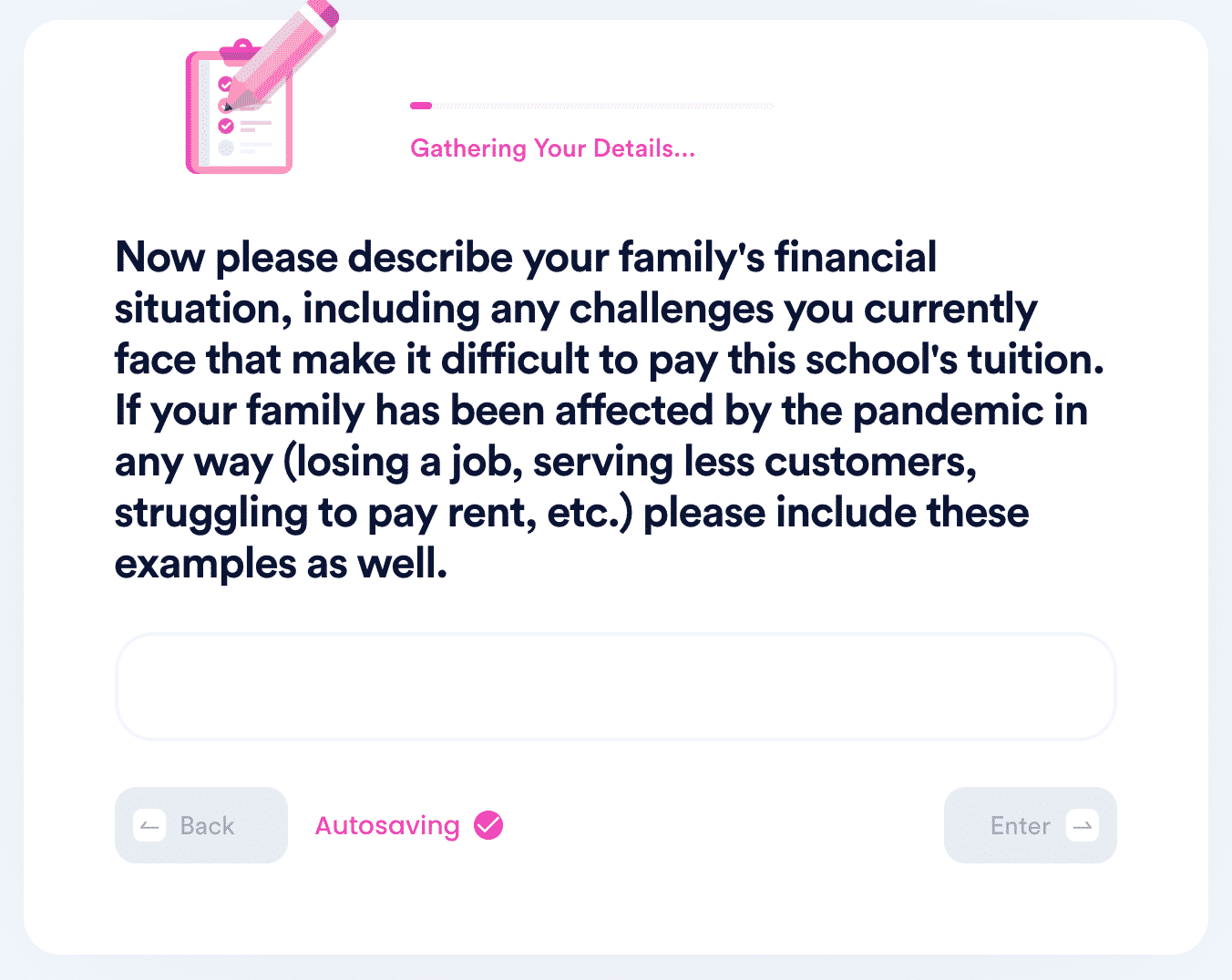 After you complete all the steps, our app will generate a customized appeal request letter that will reach the UCLA Financial Aid Office in minutes.
Wondering if you can get financial aid as a grad school student? We can help you find out!
Examine the aid packages offered by some of the most prestigious institutions in the United States:
DoNotPay Is the Robot Lawyer You Need!
Dealing with the law and understanding legal protocols is difficult if you're not used to doing it on a daily basis. That's why DoNotPay comes to the rescue!
Assisting you in drafting legal documents, creating a neighbor complaint letter, and suing companies in small claims court is what we do best.
That's not all! With us, you can tackle any legal task head-on, no matter how big or small, including:
Deal With Companies Hassle-Free
If you love to shop and you want to make the experience as easy and enjoyable as possible, you're in the right place! DoNotPay provides you with various features that allow you to accomplish just that.
You don't have to struggle trying to reach customer support or figuring out how to claim a warranty or file an insurance claim by yourself. You can cancel any subscription, sign up for free trials, and discover how to use every last penny from your gift cards in minutes!
In case you made a purchase, but your package is missing, don't fret! Finding your missing parcel is only a few clicks away.