The Ins and Outs of Trinity University Financial Aid
Trinity University was founded in 1869 and is located in San Antonio, Texas. This private school has around 2,500 students eager to learn. What they are not as eager to do is pay $44,680 for tuition. If you can't afford to give that much money, you can apply for Trinity University financial aid.
will explain the details of the financial aid application process and the types of aid offered at Trinity. Our app can also help you send an appeal letter if the school rejects your application or you wish to get more money.
Trinity University Financial Aid Office Contact
If the process of applying for financial aid seems too complicated, you can get in touch with the Office of Student Financial Services. Financial aid advisors will answer all of your questions. Here's the contact info you will find useful:
Phone number—210-999-8898
Fax—210-999-8316
How To Apply for Trinity University Financial Aid
If you wish to be considered for all the financial aid options offered at Trinity University, you have to complete the necessary steps. See more details in the table below:
Steps To Take
What You Should Know
Submit the Free Application for Federal Student Aid (FAFSA)

Info from the FAFSA is used to determine eligibility for state and federal aid
United States citizens and permanent residents are the only ones who can submit the FAFSA to apply for federal financial aid
Trinity's FAFSA code is 003647

Submit the College Board's CSS Profile

Trinity institutional aid is awarded based on the CSS Profile info
You need to complete the CSS Profile only the first time you apply for aid
All students can submit the CSS Profile
Trinity's CSS Profile code is 6831
The deadline for submitting both forms for the academic year 2021–2022 is October 1.
Eligibility Criteria for Financial Aid at Trinity University
The FAFSA and CSS Profile are there to help determine who gets the aid and how much. Factors that are taken into account include:
Adjusted gross income
Federal and state taxes paid
Assets and holdings
The size of the family
The number of siblings enrolled in college
The type of aid you are applying for and additional eligibility criteria will determine for how long you can keep receiving aid.
Types of Aid You Can Count on at Trinity University
As much as 56% of students at Trinity graduate without debt, thanks to generous scholarship and aid packages. You can apply for different types of aid, including:
Grants
Scholarships
Loans
Student employment
Grants Available at Trinity University
Funds reserved for grants are limited, but they do not have to be repaid. You can apply for:
Federal grant programs—Federal Pell Grant and Federal Supplemental Educational Opportunity Grant (SEOG)
State grant program—Texas Tuition Equalization Grant - TEG
Institutional Grant Program—Trinity University Grant
Whether you can keep receiving grants depends on funding levels, continued demonstrated need, and satisfactory academic progress.
What Are the Scholarships You Can Apply for at Trinity University?
Scholarships are another form of financial aid that does not require repayment. All annual Trinity scholarships can be renewed for up to eight semesters of undergraduate study. If you meet the required criteria, you can apply for:
Academic Merit Scholarships
Need-Based Scholarships
Community and Service Scholarships
Tuition Exchange and Legacy Scholarships
STEM Scholarships
Humanities Scholarships
Fine Arts Scholarships
Business and Social Science Scholarships
National Academic Scholarships and Fellowships
Each of the groups listed offers around ten scholarships you can apply for.
Students Loans You Can Apply for at Trinity University
Unlike grants and scholarships, loans are funds you borrow but need to repay with interest. The eligibility criteria for this type of financial aid are usually less demanding. You can apply for:
Federal loans—FAFSA required
Institutional loans—FAFSA and CSS Profile required
Private student loans
What You Should Know About Student Employment Available at Trinity University
The U.S. Department of Education provides funds to Trinity for Federal Work-Study (FWS). If you apply for this program, you can get part-time jobs both on- and off-campus.
Use DoNotPay To Send a Financial Aid Appeal Letter if Your Are Unsatisfied With the Offer
In case Trinity University doesn't offer you enough aid or refuses your application, you can count on DoNotPay to file an appeal. Our app will save you a lot of time and energy by completing the task for you. You only need to complete these steps:
Find our Appeal for More Financial Aid product
Inform us about the amount of financial aid other universities offered you if you applied to more than one
Give us the necessary info related to your family's income
Check out the table below for detailed guides to the financial aid programs on different universities: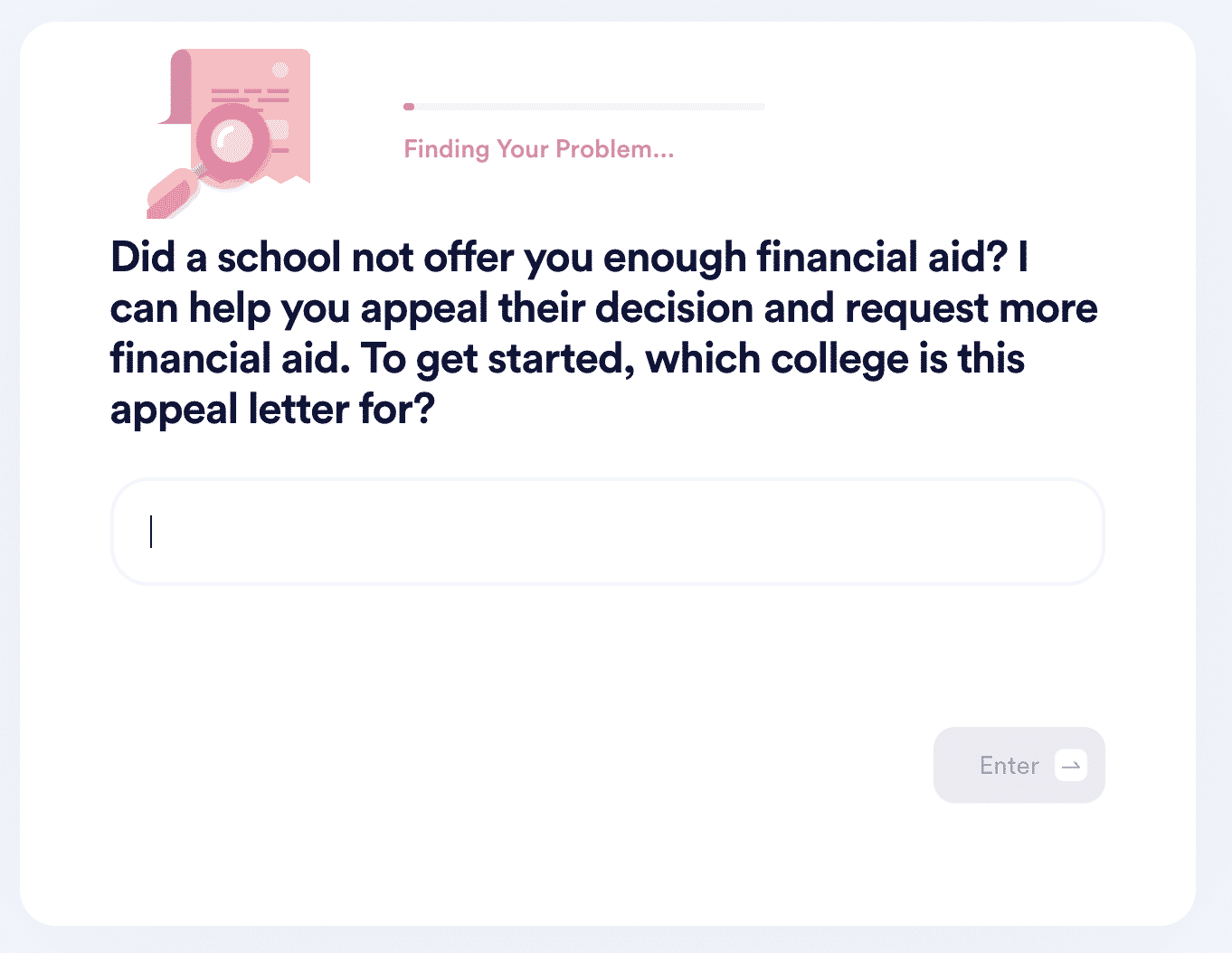 DoNotPay is here to help you explore graduate school financial aid options as well.
Let DoNotPay Be Your Virtual Assistant!
Why bother with deciphering legal terminology or figuring out how to write a legal document when you can let us do it for you? You don't have to waste your time any longer. Once you sign up for DoNotPay, we'll do much more than draft your legal documents or help get them notarized!
DoNotPay will show you how to perform a number of tasks with ease, including suing any company in small claims court, filing insurance claims, claiming warranties, creating passport photos, and sending your neighbor a complaint letter!
Should you need assistance with requesting a refund for a delayed flight or fighting workplace discrimination, our virtual assistant shows you how it's done.
There's More We Can Do!
Tired of dealing with mundane tasks and spending hours running dull errands? We offer the perfect solution!
DoNotPay can assist you in completing tedious tasks with ease! The best part is that you will spend significantly less time on them, and you can get them done from the comfort of your home!
Paying bills, getting a free trial, canceling subscriptions, getting revenge on robocalls, requesting refunds, or making a DMV appointment is only a few clicks away!