The Essential Info About UT Dallas Financial Aid
The University of Texas at Dallas (UTD or UT Dallas) was founded in 1961. Around 30,000 students at this public research university need to pay tuition of $13,442 (in-state) or $38,168 (out-of-state). In case these figures are more than your budget can afford, don't hesitate to apply for UT Dallas financial aid.
to understand how the application process works and what your aid options are. If the attempt to receive financial aid goes south, you can use our app to file an appeal!
UT Dallas Financial Aid Office Contact
If you have any questions about the financial aid process, you can pose them to the UTD Financial Aid Office staff. Here's the contact information that you will find useful:
Mailing address—800 W Campbell Rd ROC22, Richardson, TX 75080-3021
Fax—972-883-6803
Phone—972-883-2941
You can get in touch with the financial aid advisors from Monday to Friday between 9 a.m. and 5 p.m.
UT Dallas Financial Aid Types You Can Apply For
UTD students have a wide variety of options to choose from when it comes to financial aid. The type of aid you get will determine the amount of financial assistance you will receive and the period you can get it for. You can apply for these types of financial aid:
Grants
Loans
Work-study programs
Scholarships
Grants Available at the University of Texas at Dallas
UT Dallas has plenty of grants available for its students coming from federal, state, and institutional sources. This type of aid does not require repayment. Take a look at the table below for more information:
Type of Grant
You Can Apply For:
Federal

Federal Supplemental Education Opportunity Grant (FSEOG)
Pell Grant
Teacher Education Assistance for College and Higher Education (TEACH) Grant
Iraq and Afghanistan Service Grants
Children of Fallen Heroes Scholarship

State

Toward EXcellence, Access and Success (TEXAS) Grant

Institutional

Texas Public Education Grant
Undergraduate/Graduate Assistance Grant
Tuition Promise
Loans You Can Apply for at the University of Texas at Dallas
Unlike grants, loans are a form of financial aid that needs to be repaid with interest. You can apply for:
Federal Direct

Subsidized loans
Unsubsidized loans
PLUS loans

State loans

College Access Loan (CAL)
Work-Study Programs You Can Apply for at UT Dallas
UT Dallas provides students with many opportunities to gain employment experience. You can apply for the following programs:
Regular Hourly Student Assistants
Federal Work-Study Student Assistants
Federal Work-Study Off-Campus
Comets Serve Program
Stipend
Retail Employment
Research, Teaching, or Graduate Assistants
Scholarships You Can Apply for at the University of Texas at Dallas
Scholarships are a type of aid that does not require repayment and usually comes from non-federal sources. UT Dallas offers 82 scholarships to its students. You can check them all out by visiting the UTD Scholarship Listing page. This page contains the info you need to know, such as deadlines to keep in mind and schools and academic programs scholarships are available for.
How To Apply for Financial Aid at UT Dallas
If you want to apply for financial aid at the University of Texas at Dallas, you need to:
Fill out the Free Application for Federal Student Aid (FAFSA)—The FAFSA is used to determine students' financial aid eligibility if they are U.S. citizens. This form needs to be completed each academic year using the UT Dallas school code—009741
Complete the Texas Application for State Financial Aid (TASFA)—Only Texas residents who are not U.S. citizens should complete this form. A TASFA will determine who is eligible for state financial aid
You need to bear in mind the deadlines for submitting both forms. A FAFSA needs to be submitted by June 30, 2022, for the 2021–2022 school year. You need to complete the TASFA by January 15 for all state programs.
Didn't Get the Offer You Expected From DTU? File an Appeal With DoNotPay
In case DTU denies your financial aid application or doesn't offer you enough money, you should file an appeal. DoNotPay can write an appeal letter for you in a matter of minutes and send it to DTU right away. You only need to follow these steps:
Find our Appeal for More Financial Aid product
Provide us with the info related to financial aid offers from all the schools you applied to
Inform us about your family's income and financial status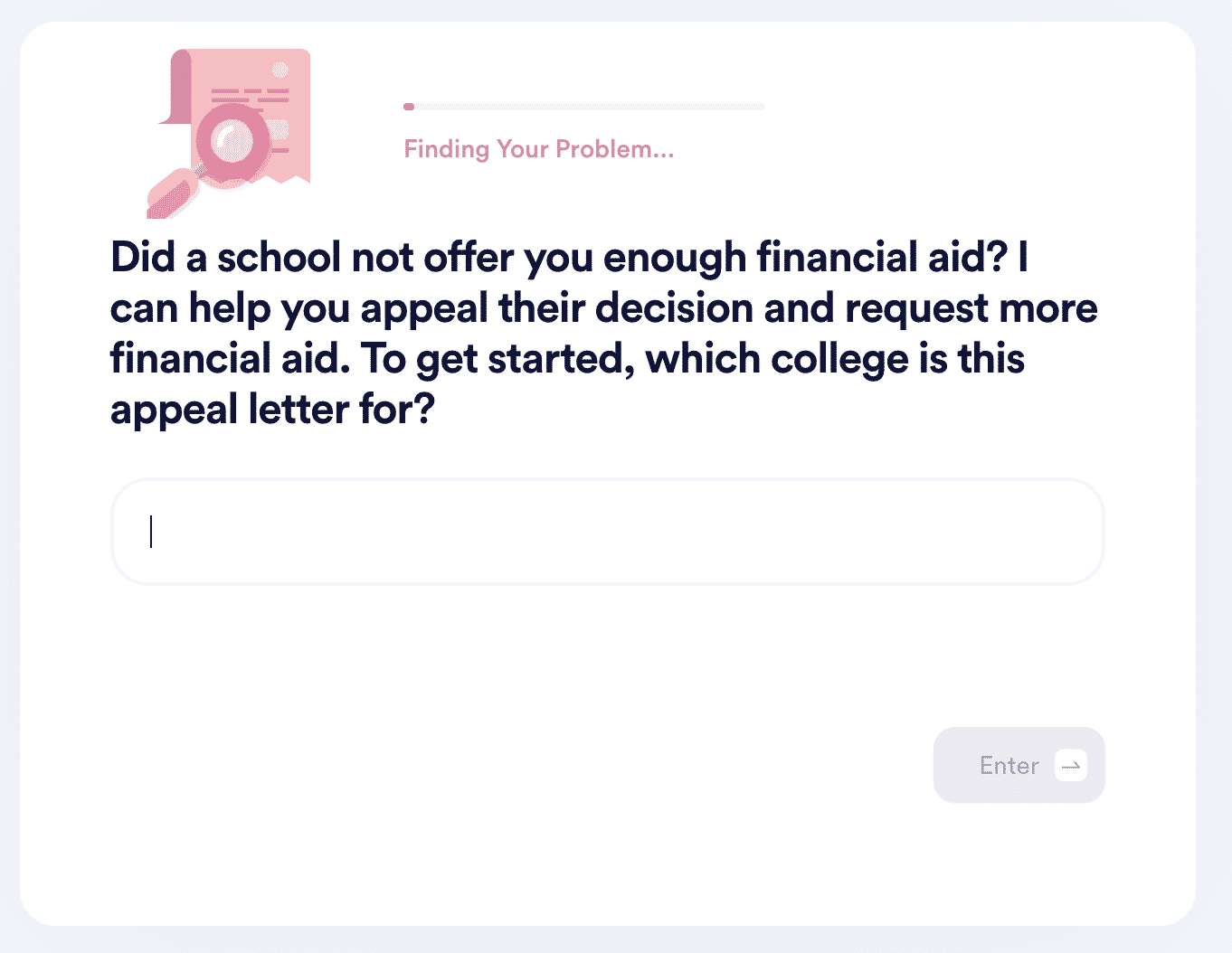 DoNotPay is here to provide answers for the following questions as well:
DoNotPay's Guides for Financial Aid From Other Universities
You can see what other U.S. universities have to offer when it comes to financial aid before deciding to go with UTD. See some of the most popular options in the table below:
DoNotPay Is the Best Solution for Your Bureaucratic Problems!
A wide range of handy features DoNotPay offers can assist you in resolving administrative issues without breaking a sweat! Our app provides the easiest way to:
Submit a property tax assessment appeal

Compose power of attorney documents
Get What You're Owed in a Few Taps!
Shopping is fun, but retailing companies can sometimes be difficult to negotiate with, especially when things go wrong. With DoNotPay, you can reach their customer service without spending hours on hold and get a refund fuss-free! Should the merchant refuse to collaborate, we can help you get justice by suing them in small claims court.
Our app can also file an insurance or warranty claim in your name, request gift card cash back, or initiate returns for dissatisfying products.
If you want to check whether you have any unclaimed money in old bank accounts, using DoNotPay is the easiest way to do it!