When Will I Get My Financial Aid Award Letter?
Applying for the preferred colleges or graduate schools usually entails filing financial support requests. Once you submit your student aid application and the required documents, all that remains is to wait—but for how long?
If you are too impatient or keep wondering, "when will I get my financial aid award letter and find out how much money I got", this article provides answers! It will introduce you to the financial offer contents and reception time frame and show you how to dispute the awarded amount you don't want to accept!
How Does the College Determine Your Financial Aid Amount?
A complete Free Application for Federal Student Aid (FAFSA) is the primary source of financial info for the colleges you apply to. It must be filled out and sent to Federal Student Aid (FSA) each year during the predetermined time frame provided by the agency.
By analyzing your income, tax returns, and household circumstances, the colleges that received your application assess your Expected Family Contribution (EFC). This is a sum that indicates the family's financial strength and shows how much you can pay for college costs in a year. This part is especially significant if you are applying for need-based awards, such as loans or grants.
Your EFC will then be subtracted from the overall Cost of Attendance (COA) at the particular college. COA includes, but is not limited to:
Tuition
Books
Supplies
Room and boarding
Transportation
Health-related expenses
Computers and technology access
The result the financial aid team gets is your financial need. It helps determine your eligibility for available student aid programs and calculate the approximate support amount you can receive.
How Long Does It Take To Get Your Financial Aid Award Letter?
According to the information provided by FSA, most financial award letters are sent at the beginning or in the middle of April, but this doesn't apply to all institutions. Many colleges propose their due dates, which may vary depending on:
Academic year
Specific time of the year
Exceptional occasions that may affect the college's decision
In most cases, you should receive the letter from your preferred institution within one to three months after sending your FAFSA form.
What Will Your Financial Aid Award Letter Contain?
Your financial award letter represents the official student aid offer made by the college you applied to. Its structure may depend on the institution sending it, but some basic parts include:
Estimated COA including all direct and indirect expenses
Calculated EFC based on your FAFSA
Specific financial aid programs you qualify for
Certain costs, such as off-campus housing and food or particular student club memberships, aren't included in the COA. Consider these expenses as well when analyzing the offer and comparing it with the ones you get from other colleges.
What Should You Do After Receiving a Financial Aid Offer?
The first step is reviewing the offer carefully and determining whether it's fair.
If you believe the amount you have been awarded is reasonable, you should accept it as soon as possible. Some institutions let you accept the offer via online forms on e-platforms, while others require a written response.
At times, the allocated amount may seem too small to cover your educational costs, or you may notice discrepancies in your EFC. If this is the case, the best way to get more financial support is to submit an appeal to the college.
Here are the instructions you should follow:
Compose an appeal letter emphasizing the reasons for disputing your offer
Mention all financial difficulties that can make you eligible for a higher aid amount
Provide extra documentation to support your request
Mail the letter to the official address of the college's financial aid office
If you don't have enough time to deal with letter drafts, and create a customized appeal within minutes!
No Good News in Your Financial Award Letter? File an Appeal With DoNotPay
The best way to negotiate the offer with the college is to entrust the entire process to DoNotPay. We will help you skip the bureaucratic hurdles by generating a proper appeal letter in your stead. All you need to do is answer some questions to help us choose the relevant information to include in your claim. A ready-made request will be immediately sent to the desired institution!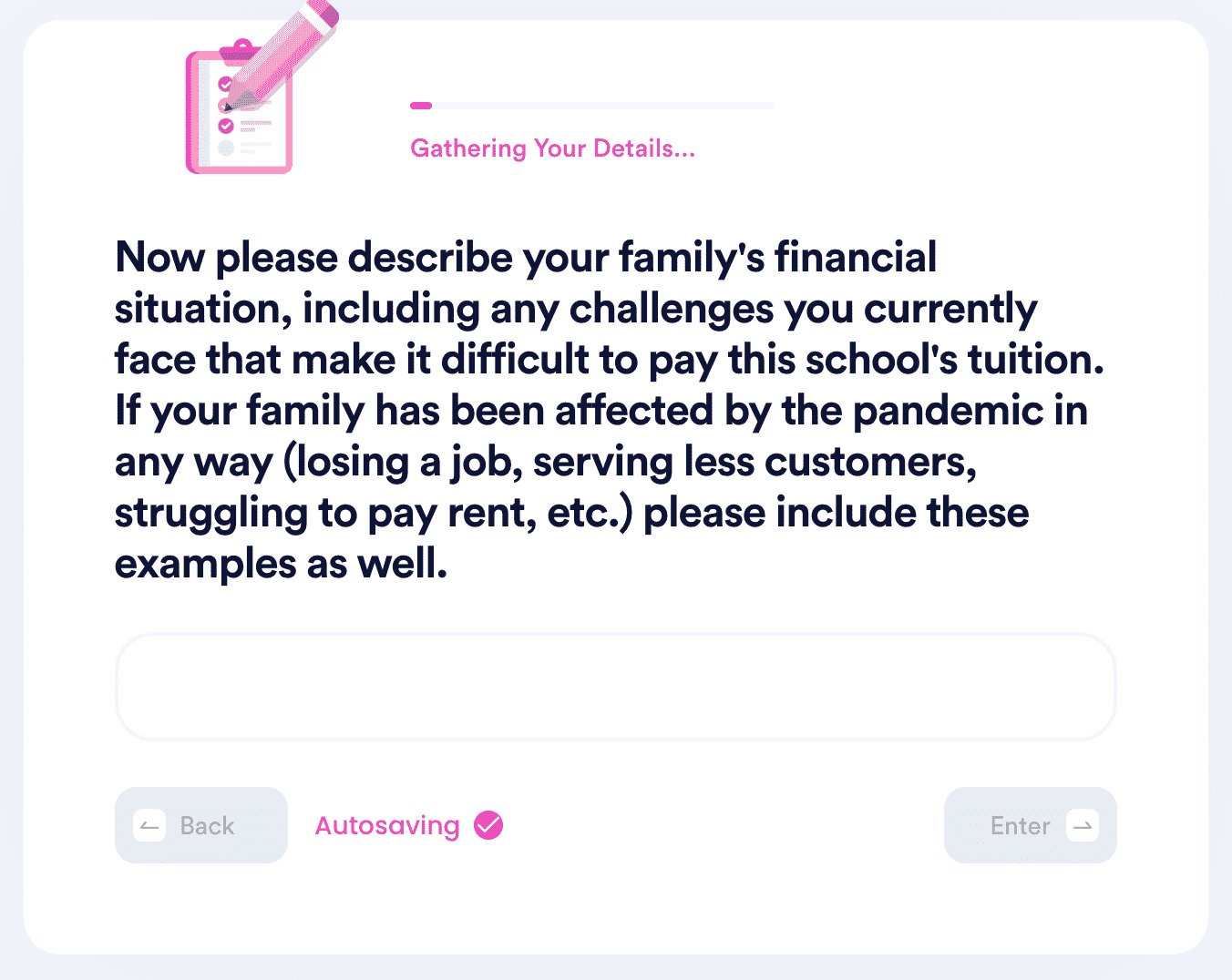 Here's what the procedure looks like:
and log in
Navigate to the Appeal for More Financial Aid feature
Name the college you want to enroll at and list the proposals you received from other universities
Give us more details about your financial circumstances
Besides filing an appeal on your behalf, we will assist you in finding accurate information about various financial support programs across the U.S. Learn all about receiving student aid from many renowned private and public colleges, such as:
DoNotPay Crosses All Your Tasks Off Your List
Whether you need help with preparing for government tests, online faxing, or getting your documents notarized—DoNotPay will be able to help! Whatever problem you're facing, we'll turn it into a breeze!
Sign up now if you want an easy solution to stop email spam, cancel unneeded subscriptions, schedule DMV appointments, and draw up agreements from the comfort of your home.
We can also help you reduce property taxes, pay bills, appeal parking tickets, and find any unclaimed money.
Improve Your Quality of Life With DoNotPay
The beauty of our platform is that besides bureaucratic issues, it can also assist you with numerous other struggles! To name a few, we can help you:
The list could go on for days!