Who Qualifies for Financial Aid for College—Everything You Need To Know
Getting financial aid when you're a student can be crucial because most colleges have sky-high tuition fees. DoNotPay provides valuable information on who qualifies for financial aid for college and answers any questions that you might have about financial aid, such as how to:
You can to draft an appeal letter if your college of choice rejects your financial aid application.
What Is Financial Aid for College?
College financial aid refers to the money that students get as help for paying education-related expenses. There are several financial aid options, as explained below:
Grants—Financial aid of this sort doesn't need to be paid back and is usually provided by the federal or state government
Scholarships—Students don't need to return this type of financial aid either. Scholarships are based on talent or merit and are usually offered by:

Schools
Employers
Individuals
Private companies
Nonprofits

Student loans—This financial aid option requires you to return the money back, along with the interest that is accrued during the loan period
Work-study jobs—You can use this option if you are a graduate or undergraduate student who can do part-time jobs to help pay their tuition or other fees
What Are the Eligibility Criteria for Getting Federal Financial Aid?
Most U.S. citizens are eligible for financial aid in college, but it is essential to understand the criteria first. You must:
Qualify to get a college education either by having:

A high-school diploma
A General Educational Development (GED) certificate
Completed homeschool education program approved under state law

Be enrolled as a regular student in an eligible degree or certificate program
Be registered with Selective Service (only for males between 18 to 25 years of age)
Have a valid Social Security Number unless you are from:

Republic of the Marshall Islands
Federated States of Micronesia
Republic of Palau

Sign a statement on the FAFSA (Free Application for Federal Student Aid) form confirming that:

You will only use the aid for educational purposes
You are not in default on a federal student loan
You do not owe a refund on a federal grant

Maintain good academic progress in college
How To Get Approved for Financial Aid—Residency Requirements
In addition to the above-mentioned requirements, you must also fulfill one of the following conditions:
Be a U.S. citizen or U.S. national
Have a green card proving you are a U.S. permanent resident
Own an arrival-departure record
Have battered immigrant status if you are a victim of abuse
Have a T-visa or a parent with a T-1 visa
What Do I Need To Apply for Financial Aid?
As a prospective college student who may be struggling financially, you should start researching options to lower future university expenses as soon as possible. Here's what the process generally looks like:
Steps To Take
Explanation
Planning and researching
It is essential to plan your college applications and ways to pay related expenses while you're still in high school. Ask for guidance from family members, your school's counselor, or search online for different types of available financial aid
Filling out the FAFSA form
This is the mandatory step because colleges use your information from this form to check your financial aid eligibility. Once you submit the form according to the deadline, you will receive the Student Aid Report (SAR) that you should inspect carefully. Universities will contact you directly with their offers
Reviewing the aid offer
The aid offer has the following details:

The type of financial aid
Your expected expenses for the year

If you get offers from several universities, you can compare costs and aid awards, choose the best one, and accept it

Getting financial aid
The financial aid office is responsible for applying the award to the amount you owe your college. Once that is paid, they will send the rest of the money to you to spend on school expenses.

Bear in mind that you must do the following to maintain your financial aid:

Fill and submit your FAFSA form every year
Maintain a good academic progress
Has Your College Rejected Your Financial Aid Application? Use DoNotPay To Appeal!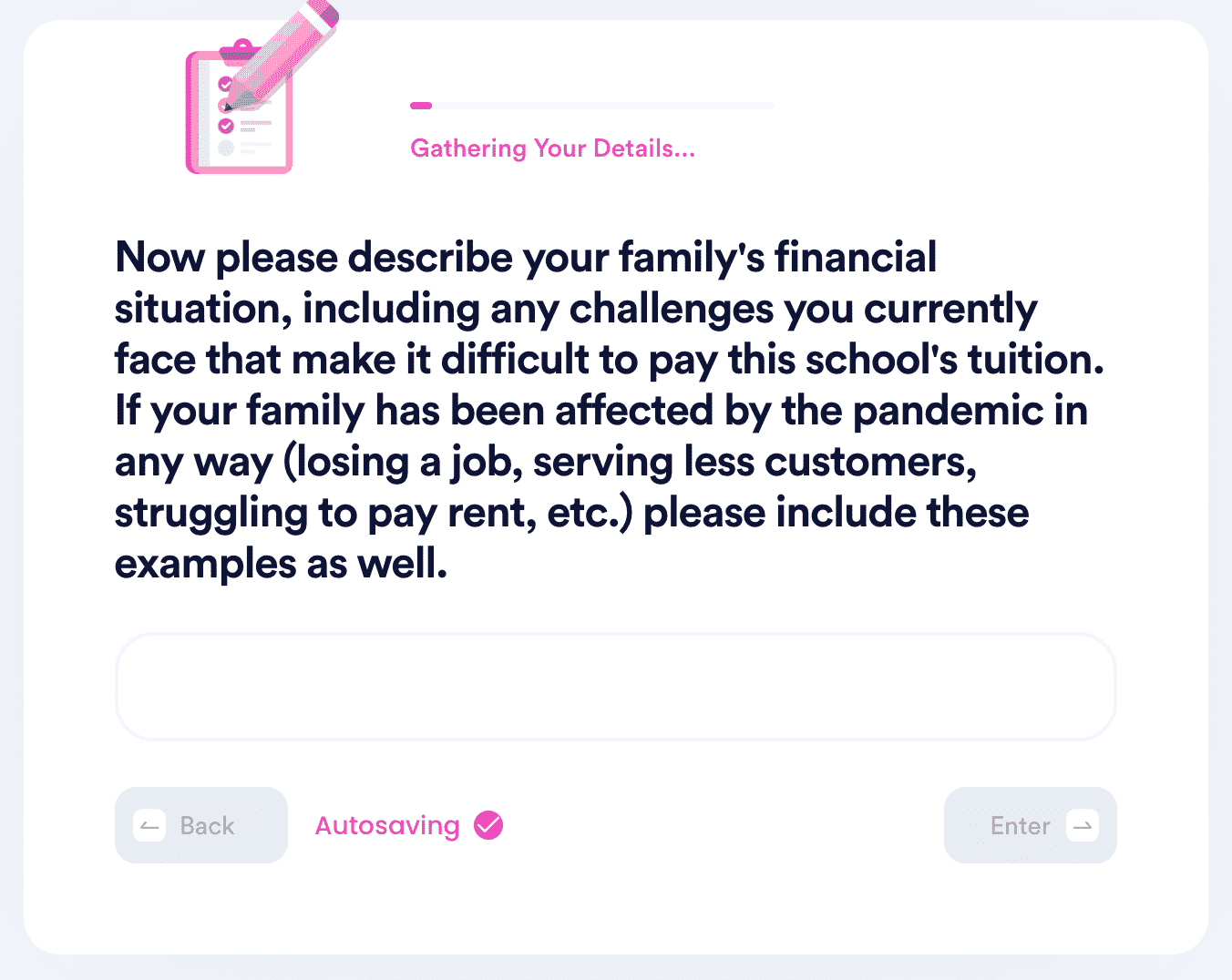 If the college you want to attend rejects your financial aid application or offers too little, you can send an appeal letter to ask them to reconsider their decision. In case writing official letters is not your strong suit or you don't want to waste your time and effort writing one, let DoNotPay do it for you! We can generate a strong, professional appeal letter for you in the blink of an eye!
Here's what you need to do:
from your web browser
Type Appeal for More Financial Aid in the search bar
Provide the amount of financial aid that other colleges have granted you if you have applied to more than one school
Enter information about your family's current financial status, including any financial difficulties you're facing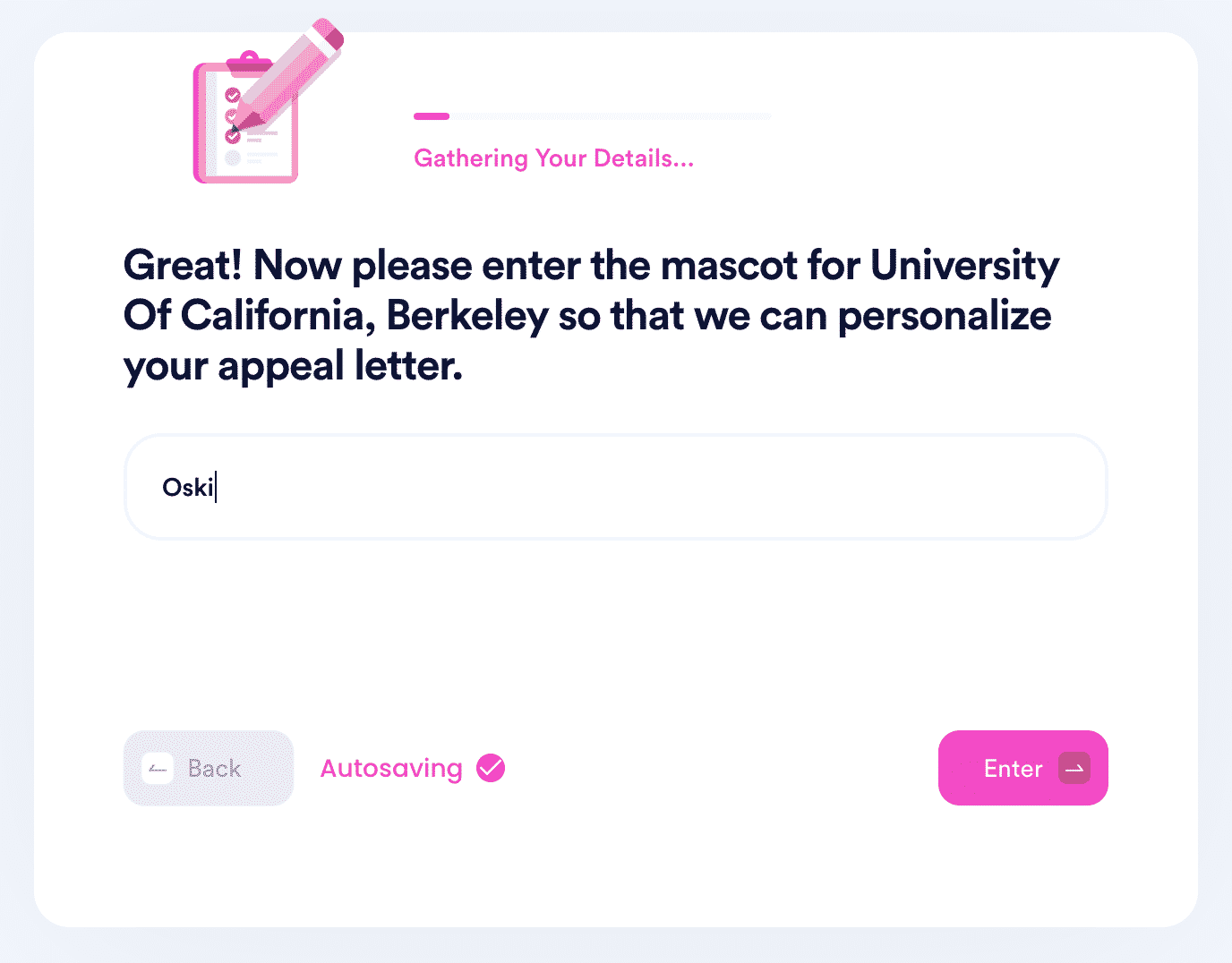 And you're done! We will draft your financial aid appeal letter and send it to your college's financial aid office on your behalf!
Don't put all your eggs in one basket—check out our articles about financial aid programs of the best U.S. universities, such as:
DoNotPay Is the Robot Lawyer You Need!
Dealing with the law and understanding legal protocols is difficult if you're not used to doing it on a daily basis. That's why DoNotPay comes to the rescue!
Assisting you in drafting legal documents, creating a neighbor complaint letter, and suing companies in small claims court is what we do best.
That's not all! With us, you can tackle any legal task head-on, no matter how big or small, including:
Deal With Companies Hassle-Free
If you love to shop and you want to make the experience as easy and enjoyable as possible, you're in the right place! DoNotPay provides you with various features that allow you to accomplish just that.
You don't have to struggle trying to reach customer support or figuring out how to claim a warranty or file an insurance claim by yourself. You can cancel any subscription, sign up for free trials, and discover how to use every last penny from your gift cards in minutes!
In case you made a purchase, but your package is missing, don't fret! Finding your missing parcel is only a few clicks away.