Everything You Need To Know About the UCSC Financial Aid in One Place
The University of California, Santa Cruz (UCSC or UC Santa Cruz) was founded in 1965 and is one of the University of California campuses. The UCSC has an excellent reputation that comes with whopping tuitions of $13,991 (in-state) and $43,745 (out-of-state).
Not many students are capable of financing their studies, and that is where financial aid comes in. DoNotPay will provide you with an extensive guide on the UCSC financial aid options.
Sign up and we'll help you file an appeal if the school refuses your application.
What Type of Financial Aid Does UCSC Offer?
The UCSC offers different types of financial aid to its students, including:
Emergency aid
Scholarships
Loans
Federal work-study programs
Grant programs
Emergency Aid at the UCSC
The UCSC offers financial aid for students who have found themselves in financial crises for various reasons. In such situations, the school can help with food and housing as well.
UC Santa Cruz can provide students with limited grants, loans, and scholarships reserved for financial emergencies. The school will decide who gets the funds after checking out the student's circumstances on a first-come, first-served basis.
Scholarships Available at the UCSC
Scholarships do not need to be repaid and are based on a combination of academic merit and financial need. Private outside agencies, UCSC Financial Aid, Scholarship Office, or different departments on campus award them to students.
At UC Santa Cruz, you can apply for:
UCSC Merit Scholarships
Outside Agency Scholarships
Non-California Resident Scholarships
UCSC Campus Scholarships
Dreamers
Student Loans You Can Apply for at the UCSC
You can apply for direct federal loans regardless of family income, but it is necessary that you repay this type of financial aid.
At the UCSC, the loan programs available are:
Federal Direct Subsidized and Unsubsidized Loans
Federal Parent Loans (PLUS)
UCSC Financial Aid Emergency Advance Program
University Loan Program
Private Loans
California Dream Loan Program
Federal Grad PLUS Loans
What You Should Know About Federal Work-Study Programs at the UCSC
The federal work-study program is based on financial need and is offered to students who submit a FAFSA application. Students can choose between multiple part-time jobs that can help them finance their studies at the UCSC.
Grant Programs Available at the UCSC
The University of California, Santa Cruz allows students to apply for different types of grants. Take a look at the table below to see what options are available and who qualifies:
Type of Grant
Explanation
UC Santa Cruz grants
The UCSC grants are meant for undergraduate students who are California residents and are awarded based on financial need. These are the available grant programs:

The Blue and Gold Opportunity Plan—for students with a total family income of less than $80,000
UC Health Insurance Grant—for undergraduate financial aid applicants to cover the cost of the University of California Student Health Insurance Plan

Federal grants
Students can apply for two federal grants:

Pell Grant—for undergraduates based on family contribution
Federal Supplemental Educational Opportunity Grant (SEOG)—for undergraduate students who show significant financial need

State grants
Undergrads can choose between two state grants:

Cal Grant A and Cal Grant B—only for the Golden State residents who show adequate academic achievement and demonstrate financial need
Middle Class Scholarship—for middle-class students of California State University or University of California
How To Receive and Accept Financial Aid at the UCSC
To successfully receive and accept financial aid at the UCSC, you will need to follow these steps:
Complete your verification documents
Accept your official financial aid offer
Calculate your bill
Complete your loan program requirements (for aid that requires repayment)
Sign up for a direct deposit
You may always seek more help from the UCSC financial aid advisors.
It is also mandatory to accept federal, state, and institutional aid within the deadlines specified for each award. You can check out the deadlines on the FAFSA Deadlines page.
What Happens if Your Application Gets Rejected by the UCSC?
If you file an application for financial aid and are denied, you can file an appeal. It could also happen that the amount of money offered by the school is not sufficient.
You can write an appeal letter to get more funds and pay for your education without worries. There is a simple way to handle this task—by using DoNotPay!
Use DoNotPay To Draft a Financial Aid Appeal Letter
DoNotPay is at your service when it comes to creating an airtight financial aid appeal letter for the UCSC. Our app will handle the entire task with ease. It will only take you a few minutes to complete our short questionnaire. Heed these instructions:
Search for the Appeal for More Financial Aid product
Add the amount of financial aid other schools offered you if you applied to more than one
Provide essential details about your family's current financial status
We will send the appeal letter to the University of California, Santa Cruz's financial aid office in your stead right away.
Check out the table below for detailed guides to the financial aid programs on different universities: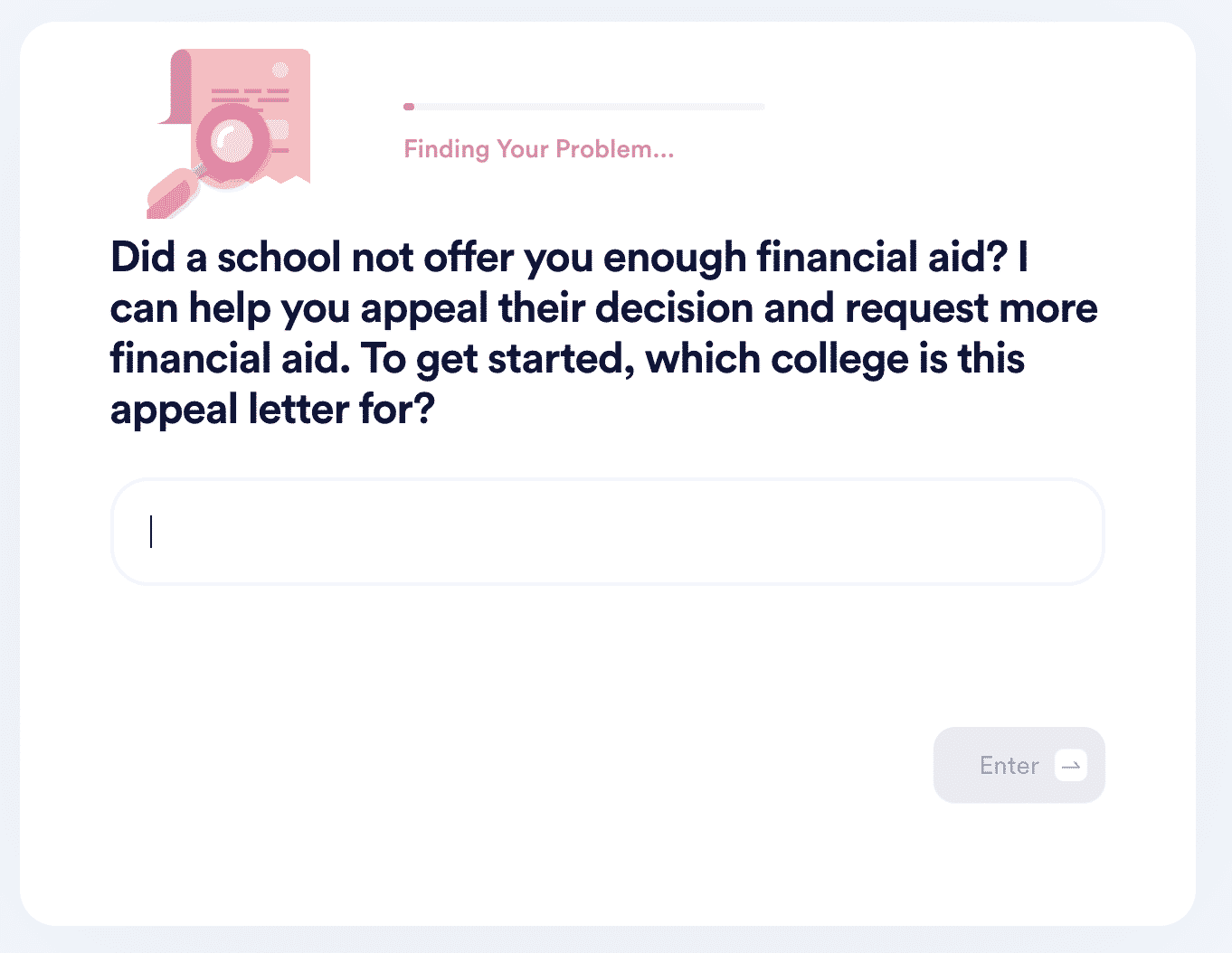 DoNotPay can also answer these questions:
Work Smarter, Not Harder!
Although there are certain tasks that are a pain but can't be avoided, such as paying your property taxes, you don't have to do them the hard way. There is always a way to make the overbearing bureaucratic procedures a bit easier. DoNotPay can find a loophole and help you cut through the red tape!
Reducing your property taxes is only one in the sea of tasks our app will make super easy to do! You can also use DoNotPay to:
Explore DoNotPay's Other Neat Features
DoNotPay offers a plethora of useful products to make your day-to-day life easier and enjoyable! Consult the list below to see what you can do using our app: