Learn Everything About the UCSD Financial Aid Program and Reduce Your Tuition Costs
With its fast-paced three-semester-per-year program, the University of California, San Diego (UCSD) is a place where you learn faster than in any other school. Still, the tuition—ranging from $33,195 for California residents to $62,949 for non-residents—can be too much for students to handle.
Are you not sure about whether you want to apply for UCSD? Use this guide to find out how UCSD's financial aid program works, how it can take some pressure off your budget, and how to if you receive a negative response!
What Types of Financial Aid Does UCSD Offer?
UCSD offers numerous types of financial aid, such as:
Grants
Loans
Scholarships
Work-study
The amount of financial aid you will get from UCSD depends on your financial needs, which is the difference between the tuition and attendance costs and your or your family's ability to pay.
UCSD Grants
UCSD offers and distributes the following grants:
Federal Pell Grant
Cal Grant
University of California Grants:

Federal Supplemental Educational Opportunity Grant (FSEOG)
Opportunity Grant (OG)
Grant-in-Aid (GIA)
Blue and Gold Opportunity Grant
Summer Aid
UCSD offers additional benefits to veteran families, such as college fee waivers and more.
UCSD Financial Aid—Loans
Check out this table to see which loaning options are available at UCSD:
Federal Loans
UC Loans
Private Loans

Federal Undergraduate Loans
Federal Graduate/ Professional School Loans
Federal Direct Loan Program
California Dream Loans

University Undergraduate and Quon Family Loans
Short-Term Emergency Loans

Any private loan programs you or your family opt for to fill any leftover financial gap after receiving every other type of financial aid
Scholarships at UCSD
UCSD divides scholarships by student status:
Entering first-year students
Entering transfer students
Continuing undergraduates
Enrolled transfer students
Check out these documents listing all scholarships that are:
Scholarships available at but not offered by UCSD include:
Hope Scholars Program for former foster youth (formerly Guardian Scholars)
Middle Class Scholarship
National Competitive Scholarships
Reserve Officer Training Corps (ROTC) Funds
The San Diego Foundation
Private and Foundation Scholarships
UCSD also offers undergraduate research scholarships during summer and additional financial aid for students applying for exchange and study-abroad programs.
UCSD's Work-Study Program
You can participate in UCSD's work-study program by:
Searching for jobs using Handshake—the UCSD database of:

Off-campus jobs
On-campus jobs
Internships
Volunteering opportunities

Visiting the UCSD Career Center page
Asking your employer at your part-time campus job to keep the job as a work-study employee
Consulting the Career Center about creating a new job on or off-campus
UCSD offers work-study awards valued from $600 to $2,800, depending on your job title and work hours.
When and How To Apply for UCSD's Financial Aid Program
To apply for financial aid from UCSD:
Complete your FAFSA and DREAM Act applications
Submit your forms before March 2 for priority financial aid
Complete the required tasks and submit additional documents by May 1 if you're a continuing student or June 15 if you're an entering student
After you complete all of the steps, it's time to wait for UCSD's Student Aid Report (SAR).
If you have any additional questions, you can always contact the UCSD Financial Aid Office by calling (858) 534-4480 or sending an email at finaid@ucsd.edu.
What Can I Do if UCSD Rejects My Application or Offers Little Financial Aid?
If you're dissatisfied with UCSD's decision regarding your application, you can appeal it by writing a financial aid appeal letter. It should explain why the University should reconsider your application and list the better offers you got from other schools to kick it up a notch and get you more financial aid.
Write Your Financial Aid Appeal Letter to UCSD the Simple Way—With DoNotPay!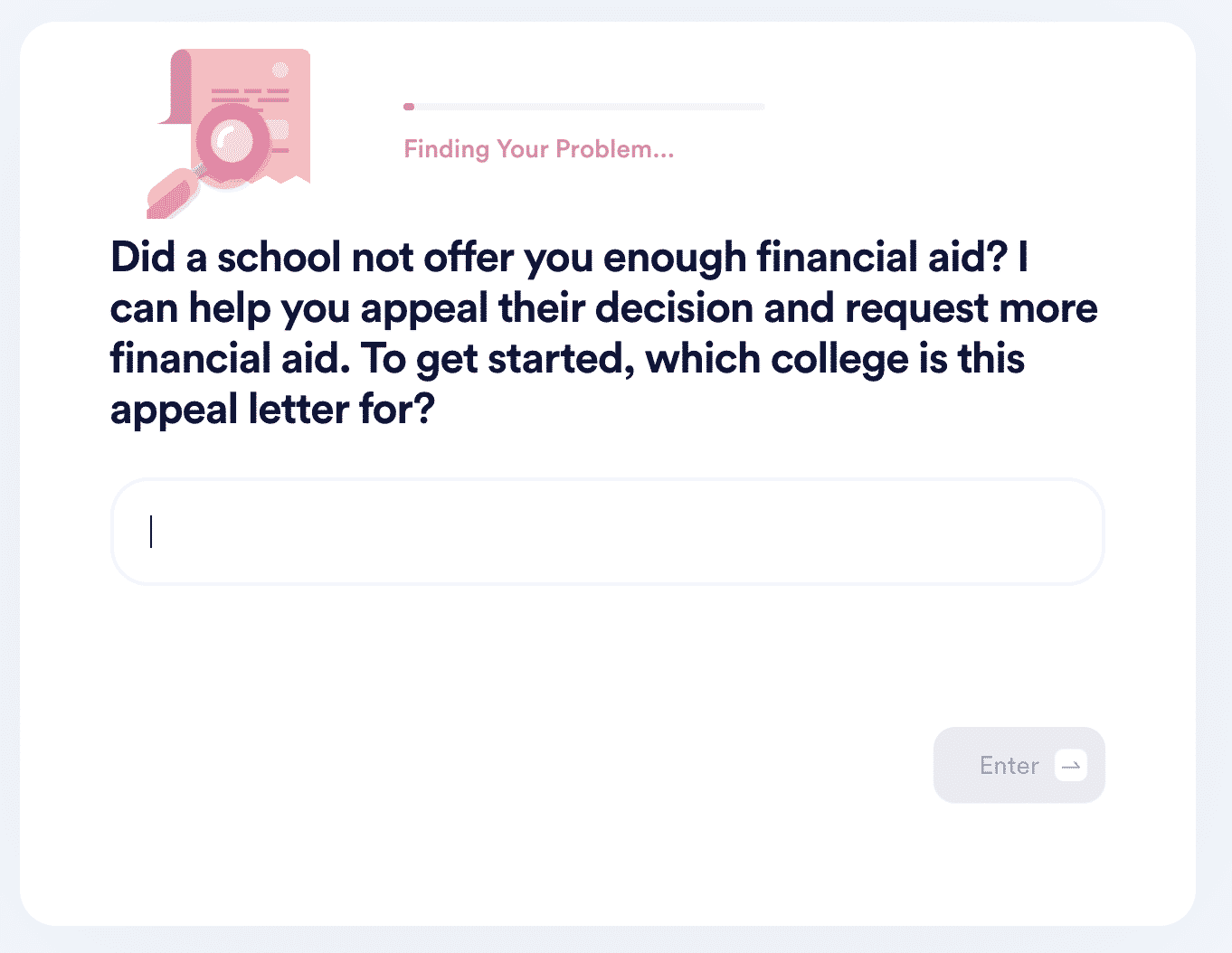 Writing and mailing a financial aid appeal letter to UCSD has never been easier with our nifty tool!
The process takes two minutes if you follow these steps:
Search for Appeal for More Financial Aid
Answer a few questions regarding your financial aid application and UCSD's reply
Upon completing the final step, we will generate your custom financial aid appeal letter, and you can choose whether you want us to mail it to UCSD or send it to you via email.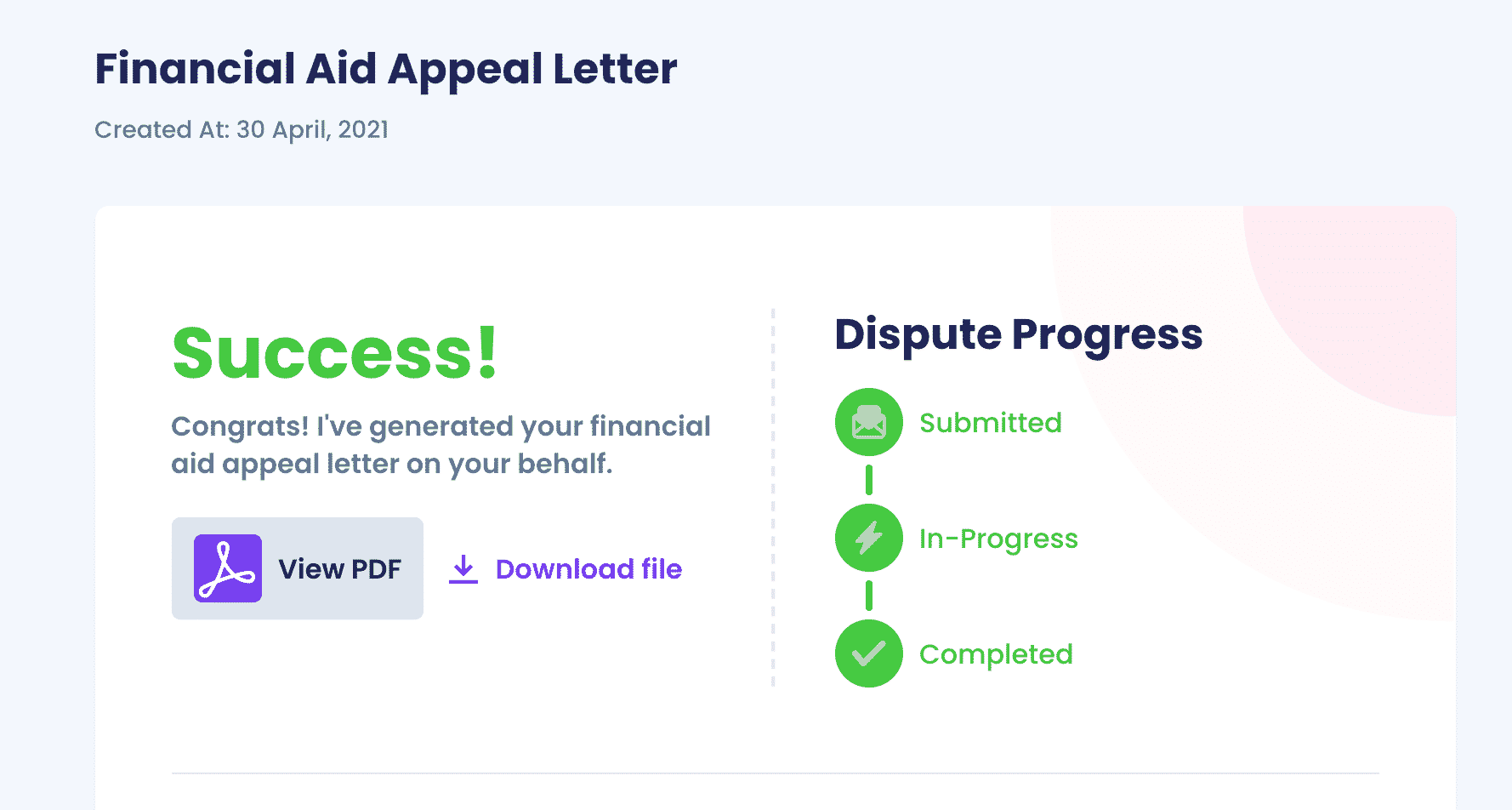 We Offer More Guides on Financial Aid Programs From Other Universities for You To Check Out
You should be aware of all the options at your disposal in case you receive a negative response from UCSD. We hand-picked some of them for you:
Our Guides Can Answer All of Your Financial-Aid-Related Questions
Wondering if you can get financial aid for graduate schools? Our learning center answers specific questions like that but also helps you understand the basics of financial aid, such as:
What is financial aid for college

?
DoNotPay Turns Your Everyday Hurdles Into a Piece of Cake
Did you receive a faulty or damaged item? Why not return it with your virtual assistant? We can also help you get a late delivery refund and jump the queue if the customer service phone keeps ringing to no avail. The list of handy DoNotPay features that make your everyday life easier goes on.
By subscribing to our platform, you won't have to worry about your tedious neighbors or parking tickets. We can do it all!
Want To Save Money on Lawyers? Use DoNotPay
Most people spend big bucks on expensive lawyers to overcome their bureaucratic obstacles. Don't waste your money on unnecessary fees—use DoNotPay and take care of any legal matter in a few easy clicks! Check out some of the issues the world's first robot lawyer can help you with: