All You Need To Know About Columbia's Financial Aid Program
Columbia University is an Ivy League school that's ranked fourth-best in the United States. Is Columbia University your dream school, but the total cost of tuition and attendance—that usually amounts to $80,000 plus travel fees—makes you question your choice?
Don't worry because this guide will teach you everything you need to know about Columbia's financial aid program and how to write a financial aid appeal letter if the school's reply doesn't work in your favor.
The Basics of Columbia's Financial Aid Program
Columbia University states that its approach to financial aid is:
Need-based—Columbia does not offer support based on merit but instead focuses on the ability of a student's parents to pay for the study expenses. Columbia does not award loans to applications based on financial need. If your parents are earning less than $60,000 annually, the University will not let them participate in paying the costs of attendance
Need-blind—The school approaches and processes your admission application without regard to your financial need if you're a U.S. citizen or eligible non-citizen
Full need—Columbia University offers a total of 100% financial aid for freshmen and transfer students pursuing their first degree
For students looking to participate in enrichment programs, Columbia offers stimulative funding opportunities. The University also provides substantial financial aid to international students.
Before you apply for Columbia University, get acquainted with the financial aid options the school offers:
Grants
Outside scholarships
Student employment
Loans
Grants
Federal grants that Columbia University offers include:
Pell Grants—Columbia University gives Pell Grants to students chasing their first degree
Federal Supplemental Educational Opportunity Grant (SEOG)—Undergraduate students showing exceptional financial need are eligible for SEOG
State grants included in Columbia's financial aid program are:
The Tuition Assistance Program (TAP)—You will need to complete both a TAP and FAFSA application for this type of financial aid
Aid for Part-Time Study (APTS)—Columbia University offers financial aid for students enrolled in part-time programs with exceptional financial need
New York State Veterans and Families Benefits—New York State residents who are veterans enjoy education benefits for themselves and their families
Outside Scholarships
Check out this list of outside scholarships and their financial aid funds per student that Columbia University attendees may be eligible for:
Thumbtack School-to-Skills Scholarship—Awards aspiring entrepreneurs with $5,000
Minorities In Government In Finance Scholarship—Offers $10,000 for students chasing a degree in finance
Frank L. Greathouse Gov. Accounting Scholarship—Provides $10,000 for students pursuing a career in government finance
UJA Federation Rose Biller Endowment Fund—Supports Jewish students with financial need by granting them $5,000
Jewish Foundation for Education of Women—Offers $10,000 to full-time students and $3,000 to part-time students
Community Foundation of Western Massachusetts—Awards students with up to $3,000
The Women's Forum Educational Award—Helps students with a scholarship worth $1,500
The Hispanic Scholarship Fund—Supports Hispanic students by granting them $500–$5,000
William Randolph Hearst Endowed Scholarship for Minority Students—Offers minority students a grant of up to $4,000
Gates Millennium Scholars—Rewards students based on their financial need, academic achievement, community service, and leadership potential
Ayn Rand Essay Contest—Offers more than $30,000 in prize money for fiction-writing students
Bell Labs Graduate Research Fellowship Program—Provides $17,000 annually for four years to female and minority students pursuing a Ph.D. in science, mathematics, engineering, and technology
Student Employment Program
Columbia students can opt for on-campus and off-campus jobs during terms or summer to contribute to their study funds.
The University offers on-campus jobs for its attendees in the following offices:
Columbia College Information Technology (CCIT)
CC/SEAS Tutoring Service
GS Academic Resource Center
Columbia University Department of Public Safety
Columbia University Libraries
Dodge Fitness Center
Columbia University Visitors Center
University Events Management
Loans
While Columbia does not offer loans to students as part of its financial aid package, parents can borrow federal or private loans to cover their family contributions.
Columbia Financial Aid—When To Apply
If you want to apply for financial aid, the deadline to submit your FAFSA and all accompanying documentation is February 15.
What Can I Do if Columbia Rejects My Financial Aid Application?
If Columbia rejects your application, you can appeal the University's decision with a financial aid appeal letter. If you don't have much time or don't know how to write an appeal letter, DoNotPay can help you write and mail one to Columbia University in a matter of moments!
Did Columbia University Offer Little-to-No Financial Aid? Write an Appeal Letter With DoNotPay!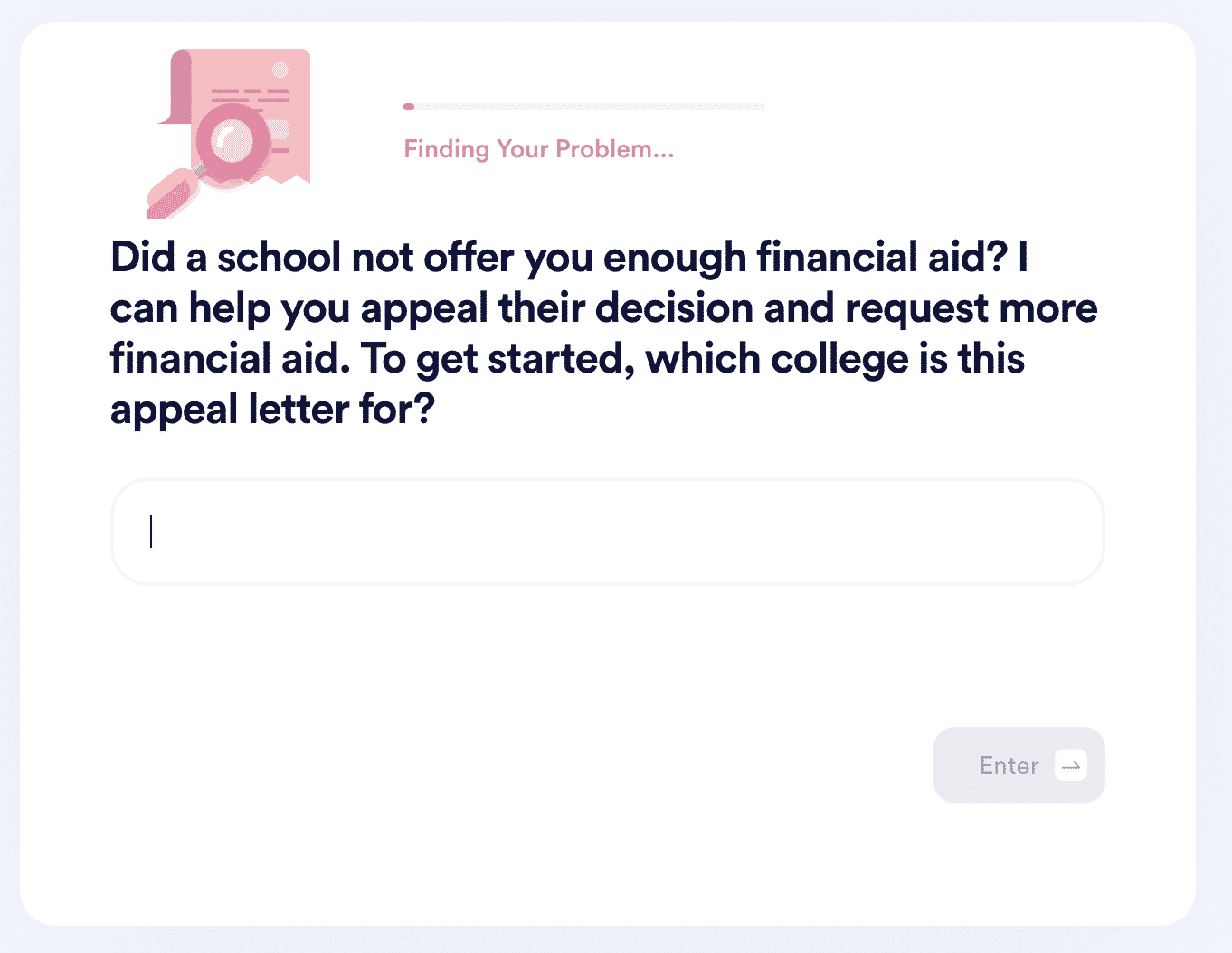 Education should be available to everyone—that's why DoNotPay created a tool that helps you get your financial aid appeal letter ready in no time! To appeal Columbia's decision:
Enter Appeal for More Financial Aid in the search bar
Answer some questions about your financial aid application and Columbia's response
After you complete the final step, we will generate and mail your appeal letter to Columbia University or send it to you via email to print and submit.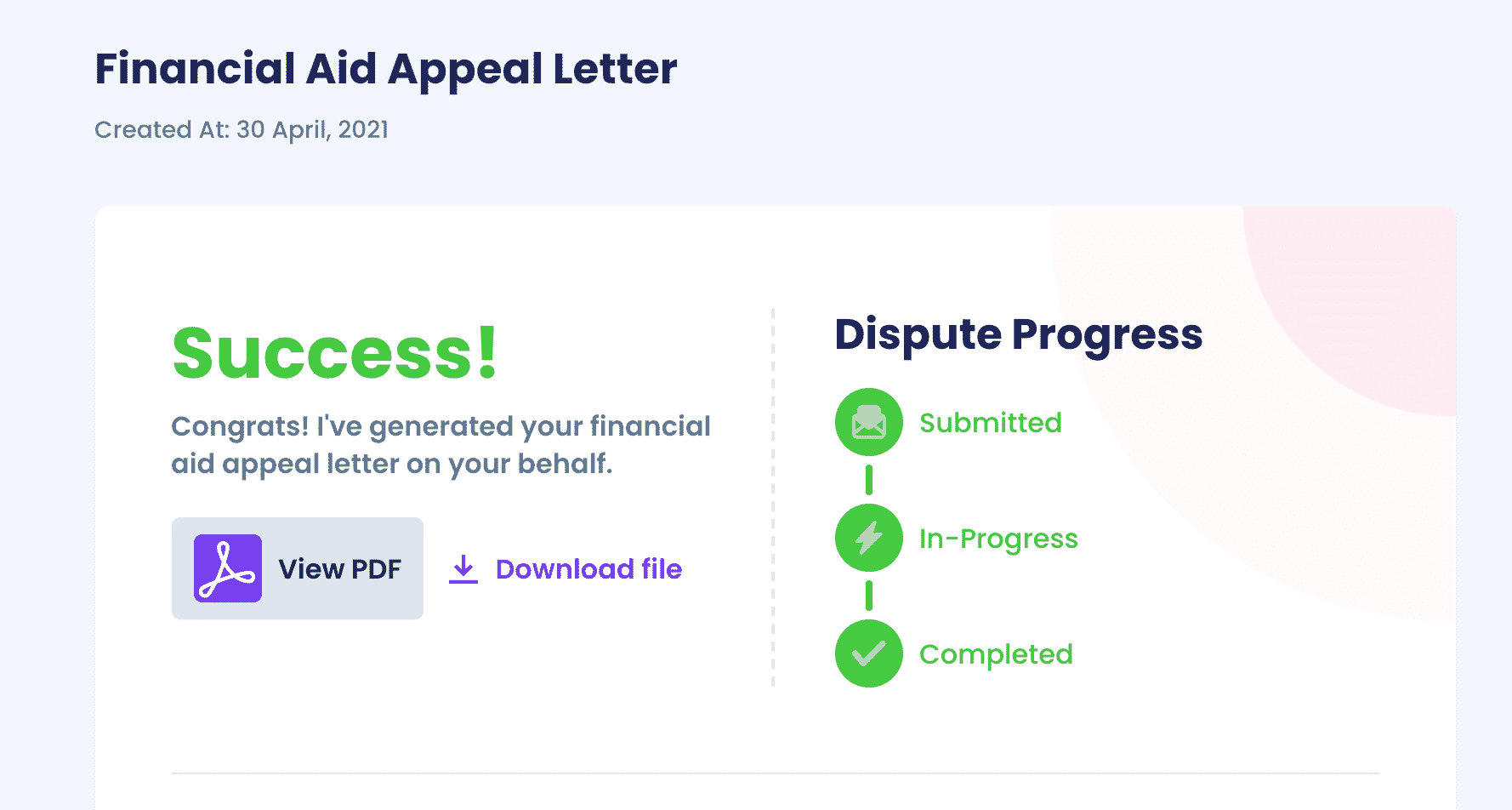 After you submit your financial aid appeal, check out more of our financial-aid-related guides:
Need More Options? Check Out More University Financial Aid Offers
We understand that you need to gather as much information as possible to make a good decision. That's why our knowledge base offers more guides on financial aid offers from all kinds of universities, such as:
DoNotPay Turns Your Everyday Hurdles Into a Piece of Cake
Did you receive a faulty or damaged item? Why not return it with your virtual assistant? We can also help you get a late delivery refund and jump the queue if the customer service phone keeps ringing to no avail. The list of handy DoNotPay features that make your everyday life easier goes on.
By subscribing to our platform, you won't have to worry about your tedious neighbors or parking tickets. We can do it all!
Want To Save Money on Lawyers? Use DoNotPay
Most people spend big bucks on expensive lawyers to overcome their bureaucratic obstacles. Don't waste your money on unnecessary fees—use DoNotPay and take care of any legal matter in a few easy clicks! Check out some of the issues the world's first robot lawyer can help you with: