Financial Aid Appeal Letter Sample—Maximum Time Frame Restrictions
Are you having trouble with your financial aid appeal letter sample due to maximum time frame restrictions? If the 150% Rule stops you from receiving financial aid, don't fret! We can show you how to file an appeal letter without breaking a sweat!
Follow our guide to understand what maximum time frame restrictions are and how to write financial aid appeal letters like a pro!
Financial Aid Maximum Time Frame—Appeal Letter
Composing your financial aid appeal letter due to maximum time frame rules can get confusing, especially if you're not familiar with the so-called 150% Rule. Don't worry—we're here to explain it in detail.
The maximum time frame is essentially 150% of the regular time frame for a certain program, for example:
If you're enrolled in a four-year degree program, you can keep getting aid for six years
If you're enrolled in a two-year program, you can keep receiving aid for three years
This rule was introduced in an attempt to help undergraduate and graduate students who make Satisfactory Academic Progress (SAP) get sufficient financial aid.
If students change majors repeatedly or exceed 150%, they can face the maximum time frame restrictions, which means they can be denied financial aid. Luckily, you can learn how to file a financial aid appeal letter if that happens to you!
Maximum Time Frame Restrictions—Extenuating Circumstances
Whether you'll be denied financial aid or not depends on the circumstances that prevented you from maintaining satisfactory academic progress. If you're wondering what circumstances are likely to be considered when filing an appeal, consult the table below:
Likely To Be Accepted
Not Likely To Be Accepted

Call to active military duty
Major medical emergency experienced by the student or a family member of the student
Death of an immediate family member
Domestic violence
Other extreme situations

Work conflicts
Not doing well in a class
Incarceration resulting from a guilty verdict
Not knowing the deadline or procedure
How To Write a Financial Aid Appeal Letter Due to Maximum Time Frame—Example
Writing a Satisfactory Academic Progress (SAP) appeal letter is no easy task. From knowing what to state in it to figuring out where to submit it—it's a struggle.
You can check your school's website to see whether they provide an appeal form that you can use or skip the frustration altogether by . You can forget about confusing sample letters and let our app create and send a customized appeal letter on your behalf!
If you decide to write an appeal letter by yourself, here's what your SAP letter should cover:
| Section | What To Include |
| --- | --- |
| School details | The name of your school, along with the address or other relevant details |
| Date | The date of writing the letter |
| Student's name and ID | Your full name and student ID |
| Explanation | A full description of what happened followed up with an explanation about how you're planning to change in the future to achieve satisfactory academic progress |
| Documentation | Any documents to support your claims about the unfortunate circumstances you explain in the section above |
If you find the above-explained process too confusing and time-consuming, go to DoNotPay, and let us take some burden off your back by creating the letter for you!
Maximum Time Frame—Creating Financial Aid Appeal Letters With DoNotPay in Three Steps
Since spending hours writing a financial aid appeal letter isn't most people's idea of a good time, we came up with a feature that helps you create one in minutes! The process is streamlined to a tee as well!
All we need from you is to answer a few simple questions, and we'll use the info you provide to compose an appeal letter in your stead.
Complete the following steps to get started:
Choose the Appeal for More Financial Aid feature
Provide the necessary info about the college where you're enrolled and your family's financial situation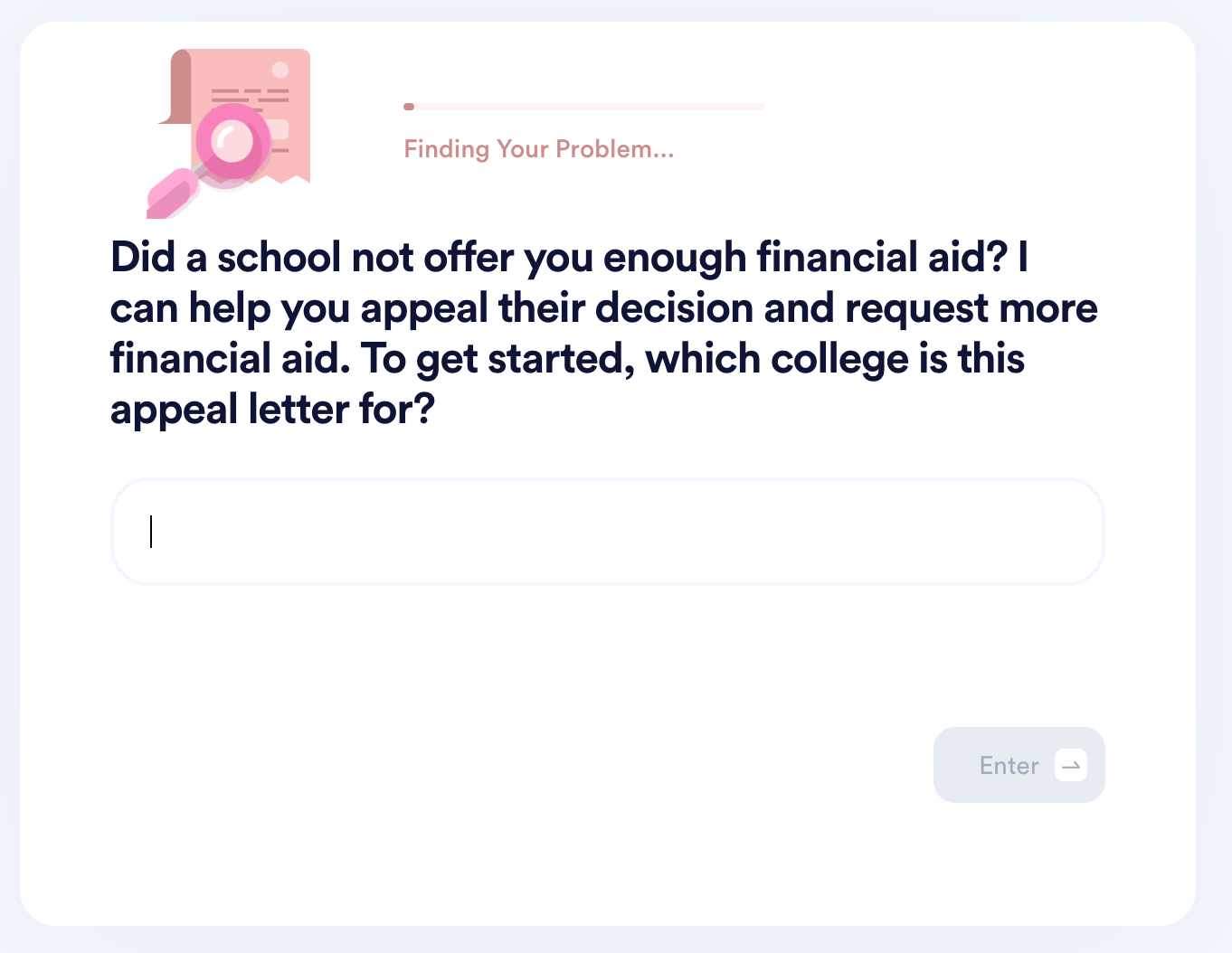 Not only will we create your financial aid appeal letter right away, but we'll also send it to the financial aid office of the college or university you want!
If you're a freshman and not happy with the financial aid amount a certain school offers you, you don't have to accept it! You can look for more financial aid support from other schools and see which offer suits your needs the best.
Check out our guides to applying for financial aid from the following schools:
Have additional aid-related questions? DoNotPay got you covered! Check out the list below to see some of the common questions regarding financial aid that we can answer:
Explore DoNotPay's Vast Database To Handle Administrative Issues Head-On
Dealing with administrative issues is never a fun experience, but you can save yourself from unnecessary hassle with our app! Once you sign up for DoNotPay, there is little you can't do. Aside from helping you deal with everyday tasks, such as reaching customer services, you can also use our app to:
Make Your Legal Troubles Disappear
Is a company giving you a hard time? Don't fret! DoNotPay can walk you through the process of suing it in small claims court and help you get the justice you deserve!
The best part is that assisting you take companies to court isn't all our app can do! We can also help you with:
Composing legal documents

Preparing divorce settlement agreements