The Nitty-Gritty of the Rice Financial Aid Program
The tuition and attendance costs necessary to attend Rice University can reach over $71,000. Still, the school's financial aid program allows even students that are coming from low-income families to enroll. Make the most of the University's offer and find out why it's ranked the 10th best in the United States and 1st in Texas for the amount of aid it offers.
This guide explains how the Rice financial aid program works, how much aid you can get, and how to apply for it the easy way!
The Basics of Rice University Financial Aid
The University treats admissions need-blind but strives to meet 100% of students' financial needs.
Students at Rice University can qualify for the following types of aid:
Grants
Student employment programs
Loans
Rice University Financial Aid—Grants and Scholarships
Check this table to find out which grants are available at Rice University:
| | | |
| --- | --- | --- |
| Category | Grant | Amount |
| Federal grants | Federal Pell Grant | $650–$6,345 |
| State grants | Tuition Equalization Grant (TEG) | Up to $5,130 |
| Institutional grants | Non-disclosed | N/A |
| Merit-based scholarships | Non-disclosed | N/A |
If you receive external aid, use the University's portal—ESTHER—to report your scholarship to the Rice University Financial Aid Office.
Student Employment Programs at Rice University
Rice University offers the following student employment programs:
Federal Work-Study—for students demonstrating financial need
Rice Work—for all students
Rice University students' average number of work hours is 15, and the maximum allowed is 20.
Students can use Handshake to find employment opportunities on- and off-campus.
Those who get an on-campus job offer must complete an Electronic Personnel Action Form (EPAF) through ESTHER. After accepting the offer, all newly hired students need to submit the following forms:
The Direct Deposit Authorization
Eligibility Verification Form (I-9)
W-4
Rice University Financial Aid—Loans
If you still have a substantial amount of student contribution left after all other types of aid, you can borrow the following federal loans from Rice University:
Direct Loans
Grad PLUS Loans
Parent PLUS Loans
You can also opt for private loans, but you need to complete and submit a self-certification form to the lender so the Rice University Office of Financial Aid can certify it and include it in your financial aid package. Keep in mind that the sum of the loan and other awards must not exceed the total cost of attendance.
How To Apply for Rice Financial Aid
To apply for Rice financial aid successfully, students should submit the following forms:
Students can use the IDOC platform to submit additional documentation, such as tax reports.
Make sure to check the official website for relevant application deadlines at Rice University.
If you're having trouble with the application process, contact the Rice University Office of Financial Aid by calling 713-348-4958 or sending an email with your questions to fina@rice.edu.
How Much Financial Aid Does Rice University Offer?
Rice University students received the following amounts of aid in the academic year 2020/2021:
Total financial aid packages averaging at $52,003 per student
Grants worth $5,358 on average
Scholarships averaging at $42,560 per student
What To Do if Rice University Offers Insufficient Aid
Rice University allows financial aid appeals for the following circumstances:
Natural disasters
Medical emergencies
Loss of employment
Income reductions
Urgent car or home repairs
If you received an unfavorable offer from Rice University, you should:
Submit a Special Circumstances form
Write an appeal letter that explains in detail what circumstances affected your family budget and financial need
Successful appeals require quick action to secure more aid because funds deplete quickly. You can increase your chances of getting more aid if you ! We will help you get your appeal letter ready for Rice University in a matter of moments!
Request More Financial Aid From Rice University With DoNotPay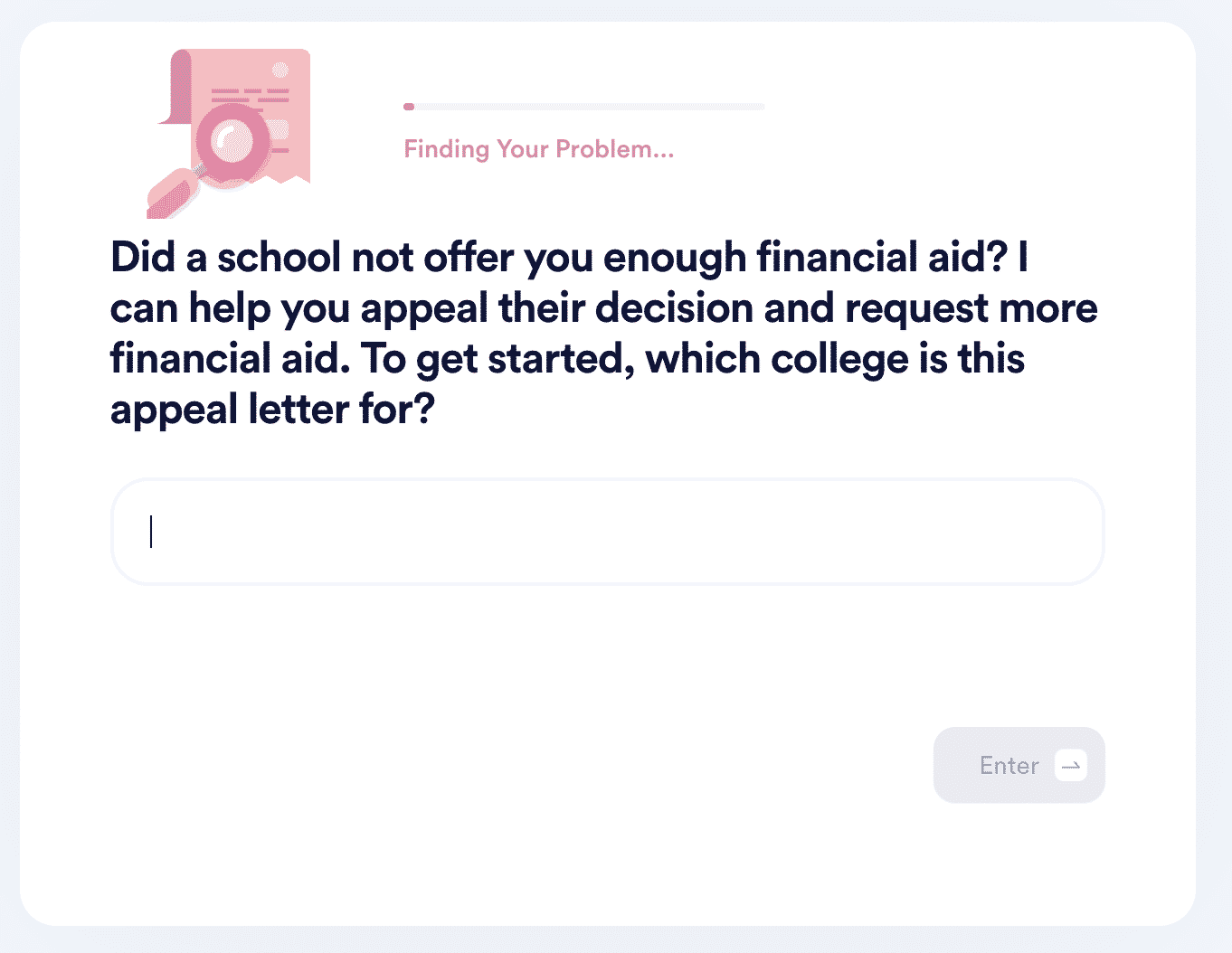 If you think that Rice University offered you insufficient aid, follow these steps to appeal its decision:
from any web browser
Search for Appeal for More Financial Aid
Answer a few brief questions about your application and the circumstances that increased your financial need
After you complete all steps, use your custom-made letter to request more aid from Rice University!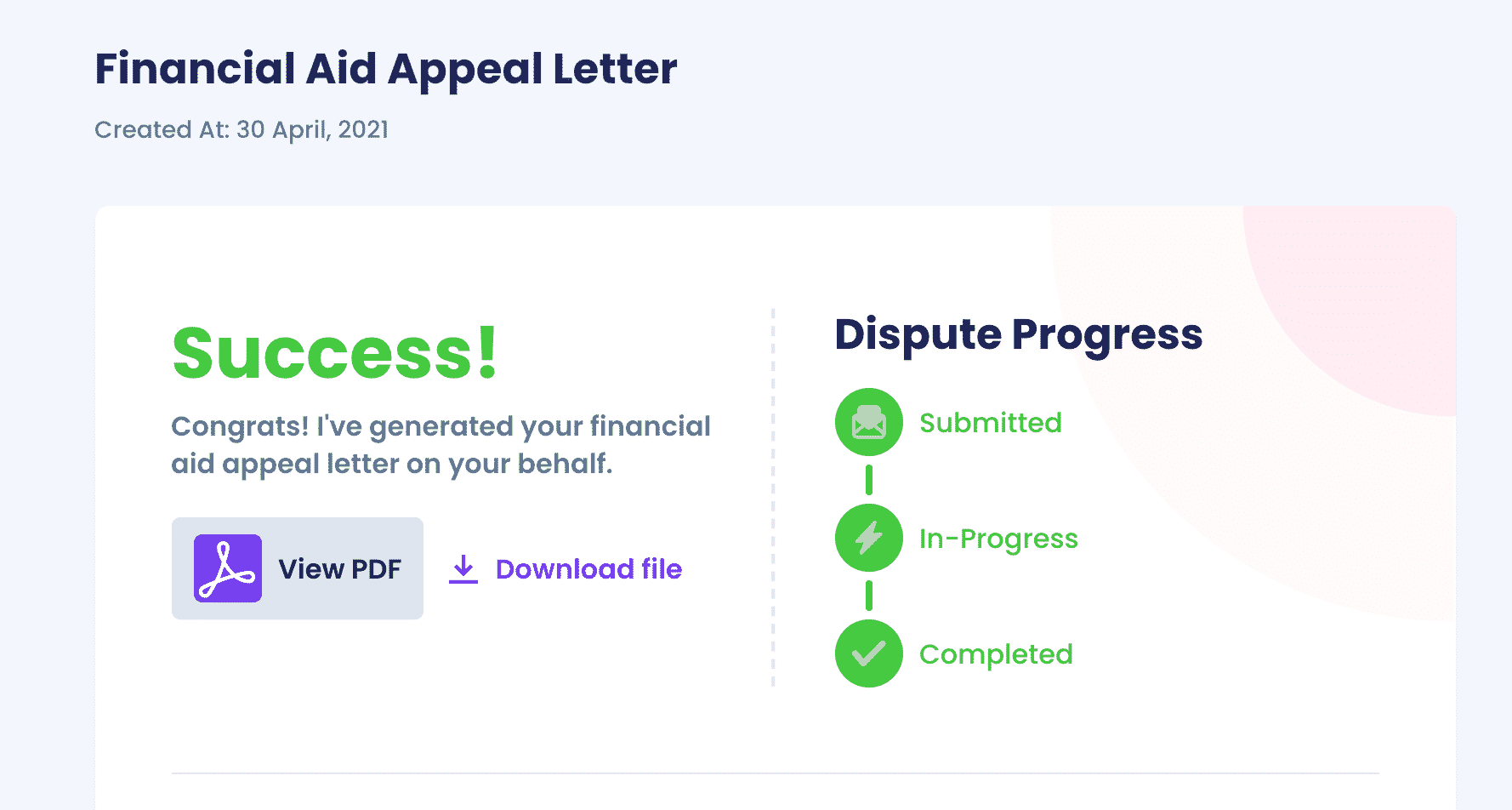 Check our learning center for more financial aid guides that explain:
Alternatives to Rice University
Did Rice University reject your aid application? Is it difficult for you to make ends meet regardless of the University's aid offer? Check out other reputable schools and their financial aid programs we explained in detail to find what suits you best:
DoNotPay Turns Your Everyday Hurdles Into a Piece of Cake
Did you receive a faulty or damaged item? Why not return it with your virtual assistant? We can also help you get a late delivery refund and jump the queue if the customer service phone keeps ringing to no avail. The list of handy DoNotPay features that make your everyday life easier goes on.
By subscribing to our platform, you won't have to worry about your tedious neighbors or parking tickets. We can do it all!
Want To Save Money on Lawyers? Use DoNotPay
Most people spend big bucks on expensive lawyers to overcome their bureaucratic obstacles. Don't waste your money on unnecessary fees—use DoNotPay and take care of any legal matter in a few easy clicks! Check out some of the issues the world's first robot lawyer can help you with: