An Extensive Guide to UC Davis Financial Aid
The University of California, Davis (UCD or UC Davis) is the seventh campus of the University of California since 1959. UC Davis, or simply Davis (for friends), has such a good reputation that it is known as Public Ivy. It is only to be expected that this school has sky-high tuition of $14,495 (in-state) and $44,249 (out-of-state).
If Davis is your dream school, but you can't afford to cash out that much money, you can always apply for UC Davis financial aid. DoNotPay will introduce you to your options!
. and let us show you how to file an appeal if you get rejected.
Factors That Determine Who Gets UC Davis Undergraduate Financial Aid
The first step of applying for any form of financial aid is completing a Free Application for Federal Student Aid (FAFSA). The information in this form will determine the type of funding you are eligible for. Your Expected Family Contribution (EFC) will also play a part in the amount the Davis financial office offers to you.
Other factors that affect your eligibility for financial aid include:
Income level
Enrollment status
Grade point average
What Type of Financial Aid Can You Get From UCD?
The financial aid you can apply for at Davis can be divided into four groups:
Work-study
Loans
Scholarships
Grants
What You Should Know About Work-Study Programs at UCD
Work-study is awarded to undergraduates based on need, but not all students can receive it—funding is limited. This type of financial aid is paid in the form of a payroll check for hours worked. You can find all job listings online at Handshake.
What Student Loans Can You Apply for at UC Davis?
Student loans are a type of financial aid that needs to be repaid with interest. You will have to give the money back when you graduate or:
Withdraw from college
Drop below half-time status (fewer than six units per quarter)
You can apply for the following loans:
Federal direct subsidized loan
University Student loan
Federal direct unsubsidized loan
Parent PLUS loan
California Dream loan
Federal Perkins loan
What Should You Know About Scholarships Available at UC Davis?
Scholarships are a type of financial aid that doesn't require repayment. They are usually based on academic success. If you meet the eligibility criteria, you can apply for any of the following types of scholarships:
Undergraduate scholarships
Prestigious scholarships
Outside scholarships
UC Davis scholarships
Middle Class scholarship
The Essential Information About Grants Available at UCD
Grants are another form of financial aid that does not need to be repaid, and they are need-based. Take a look at the table below to see more info about the available types of grants at the UCD:
| | |
| --- | --- |
| Grant | Essential Info |
| Orientation Grant | It is available for students with an Expected Family Contribution (EFC) below $5,846. How much money you will get depends on the current housing status and orientation fee charge |
| University Grants | Funds for University grants are limited and awarded to eligible students based on their FAFSA or Dream Act application filing date. This grant is awarded to undergraduate students who meet grant eligibility criteria according to the UC Education Financing Mode |
| Federal Pell Grant | This grant is available for undergraduates. Students can't receive Pell Grant funds from more than one school at the same time |
| Federal Supplemental Educational Opportunity Grant (SEOG) | This grant is reserved for undergraduate students who demonstrate significant financial need |
| Cal Grants A and B | Students who are California residents and demonstrate proper academic achievement can apply |
| California Chafee Grant | This grant is available for current or former foster youth |
| California Law Enforcement Personnel Dependents Grant (LEPD) | This program gives grants to spouses and dependents of California peace officers (Highway Patrol, sheriffs, marshalls, and police officers) |
| Students With Dependent Children Grant | This grant is given to students with children under 18 years old who they support more than 50%. The students must not have received full Cal Grant access for Students with Dependents |
What Happens if Your Financial Aid Application Gets Rejected?
You can count on three scenarios when filing your financial aid application. It is possible that you:
The first option is great, but what can you do if one of the other two occurs? You should not get discouraged—instead, file an appeal letter!
DoNotPay Can Help You File an Appeal Letter to UC Davis for Financial Aid
Our app can help you draft a financial aid appeal letter in minutes. You don't have to waste your time on writing the letter on your own—follow these simple steps instead:
Search for the Appeal for More Financial Aid product
Include the amount of financial aid other schools offered you if you applied to more than one
Give us the relevant info about your family's current financial status
DoNotPay will make sure the University of California, Davis gets your appeal letter as soon as possible.
Check out the table below for detailed guides to the financial aid programs on different universities: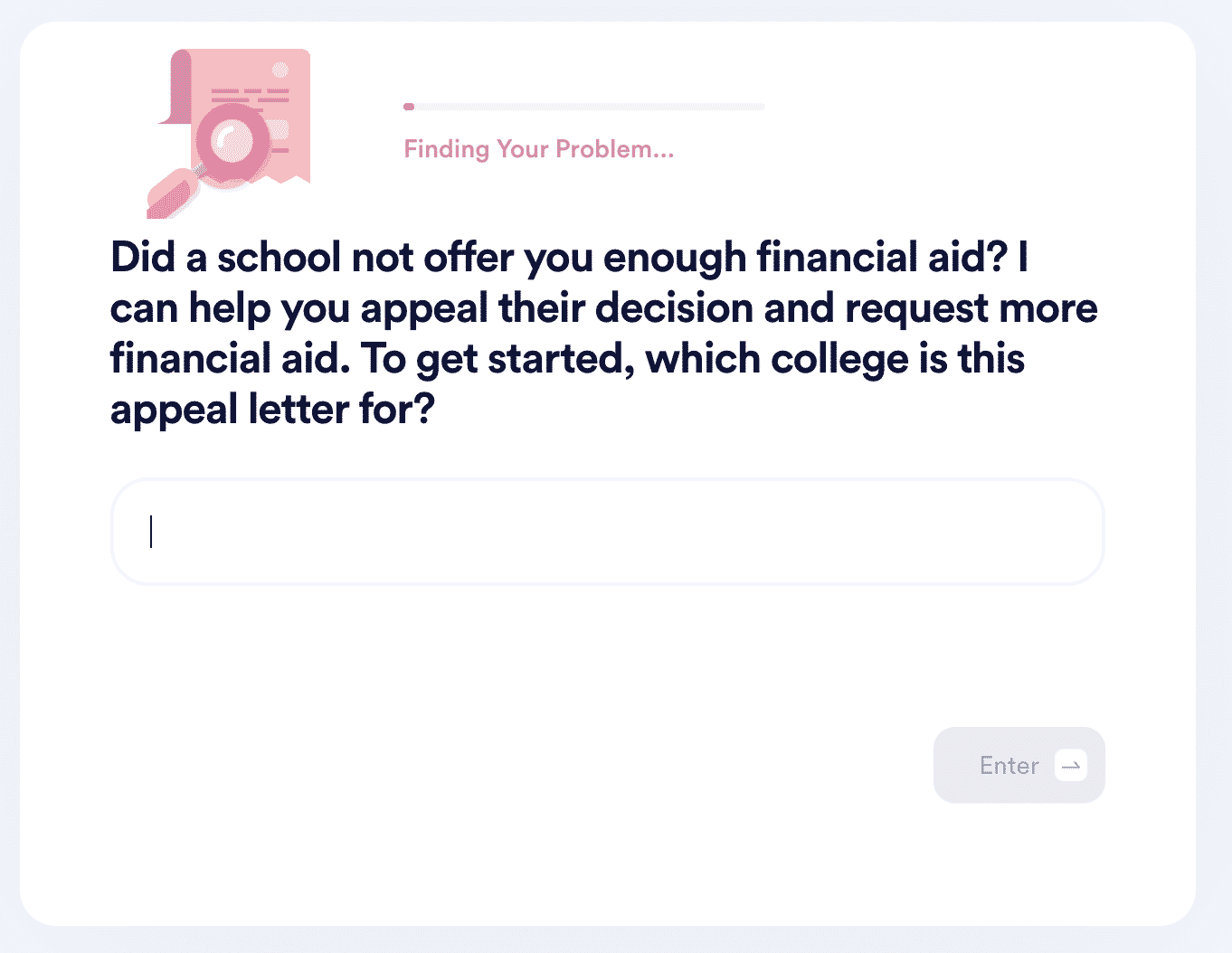 DoNotPay also has the following information about financial aid:
Do More With DoNotPay's Useful Features
DoNotPay offers a unique service when it comes to filing for divorce or drafting a divorce settlement agreement, but we don't stop there! Our app can also help you draft, fax, and get other legal documents notarized in a flash! From powers of attorney to child travel consent forms—we assist you every step of the way!
If you need to file an insurance claim, fight workplace discrimination, or sue a company in small claims court, you can use our app to get it done with ease.
Deal With Companies Stress-Free
If you like to shop and you often make purchases, you know that companies can cause all kinds of issues along the way. DoNotPay has a trick up its sleeve that helps you deal with any issue a company causes like a pro!
Wasting hours waiting for a customer support rep to pick up becomes a thing of the past once we get involved. We'll show you how to request a refund, cancel a subscription, apply for free trials, use a virtual credit card, and claim a warranty easy-peasy!
If your package is damaged or missing, we'll show you how to track it and file a missing package claim.