A Guide to Financial Aid for Online College Courses
Enrolling in online programs offered by colleges and universities can be as expensive as regular on-campus programs, if not more. Applying for financial aid is the best way to lessen the expenses, but is it possible to get financial aid for online college courses? is here to provide you with answers to all your financial aid questions!
What Is Financial Aid for Online College?
Financial aid for online colleges is federal, institutional, or state-funded aid provided to eligible students who attend classes online. Other than federal financial aid, the programs that are offered by schools to students who attend classes online are usually different from the ones provided to regular on-campus ones.
Can You Get Financial Aid for Online School?
Applying for financial aid requires every undergraduate and graduate student to meet certain eligibility criteria, no matter if a student is enrolled in an online or on-campus program. Without meeting these criteria, students can't get any financial aid.
The general eligibility requirements are as follows:
Being a U.S. citizen or an eligible non-citizen
Having a high school diploma
Enrolling in an eligible program as a regular student
Maintaining satisfactory academic progress (depending on the year of your studies)
Most schools provide specific financial aid types for online classes. The best way to check what types of financial aid for online classes your school offers is to contact its financial aid office. A financial aid counselor should provide you with all the details about the specific programs at your disposal.
What Federal Online College Financial Aid Can I Apply For?
While state and institutional financial aid programs depend on where you live and what college you're attending, federal aid programs are unified. You can choose from the following federal financial aid types:
Scholarships
Grants
Loans
Work-study programs
Check out the details in the table below:
Aid Type
Available Programs
Scholarships

Merit-based
Financial need-based

Grants

Federal Pell Grant
Federal Supplemental Educational Opportunity Grant (FSEOG)
Iraq and Afghanistan Service Grant
Teacher Education Assistance for College and Higher Education (TEACH) Grant

Loans

Direct Subsidized Loans
Direct Unsubsidized Loans
Direct PLUS Loans
Direct Consolidation Loans

Work-study programs

On-campus positions (such as work in the college library or dining hall)
Off-campus positions (including pulling data, researching, or compiling information)
How To Apply for Online College Financial Aid
To apply for online college financial aid, most schools require you to fill out and send the Free Application for Federal Student Aid (FAFSA). The university board of the school you want to get financial aid from will use FAFSA to determine how much financial aid you're eligible for.
It's not uncommon for schools to impose additional requirements (e.g., a CSS profile) for certain financial aid programs. To stay on the safe side, inquire about the specific forms you should fill out by contacting your school's financial aid office.
If you're curious about what popular online schools accept FAFSA, check out the list below:
Southern New Hampshire University
University of Florida
Penn State World Campus
Grand Canyon University
Baker College
Purdue University Global
When Should I Apply for Online College Financial Aid?
Not sure when to apply for financial aid? To avoid any complications and ensure you have enough time to deal with any (if they arise), you should apply for aid as soon as possible. If you can, try to apply way ahead of the term start or when applying for admission. Typically, the FAFSA application deadline is June 30th.
If you apply for aid after the set deadline, your application will likely get rejected.
Learn How To Appeal a Rejected Financial Aid Application With DoNotPay!
Schools can reject your financial aid application for various reasons or offer you a low financial aid offer. If this happens to you, don't worry! We'll show you how to resolve the issue without breaking a sweat!
DoNotPay can help you appeal a rejected financial aid application or insufficient aid amount in a few clicks! We'll ask you to provide us with some info and use it to create a financial aid appeal letter on your behalf. Here's how to get started:
Search for the Appeal for More Financial Aid feature
Provide the necessary info about the college you want to enroll at and your family's financial situation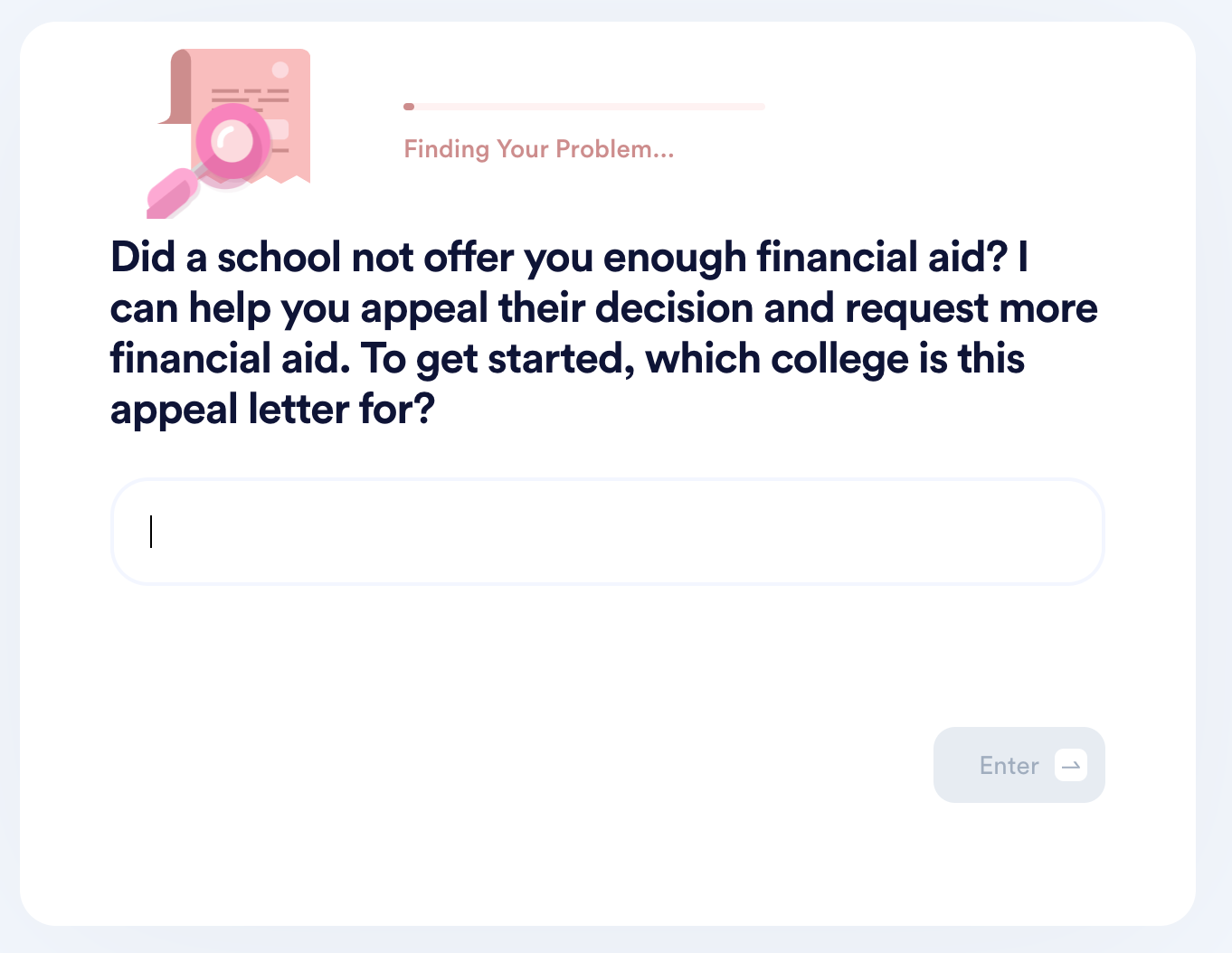 After you finish the steps, we'll create your appeal letter and send it to the financial aid office you choose right away!
Accepting or appealing a low financial aid offer aren't your only options. You can explore other schools as well and see which one offers you more financial aid support. DoNotPay helps you by providing helpful guides to getting more support money from the following universities:
DoNotPay's Features Are Here To Make Your Life Easier
To simplify confusing bureaucratic procedures, we developed a number of features you may find super useful. Sign up for our app and let us assist you in:
DoNotPay Doesn't Stop There!
Assisting you with bureaucratic tasks is only a fragment of what DoNotPay can do—we have a lot more nifty features to offer! We can show you how to:
Struggling to draw up a financial aid appeal letter, an HR complaint, or a child travel consent form? DoNotPay is here to do it in minutes!