A Comprehensive Guide to UT Austin Financial Aid
Like all U.S. colleges and grad schools, the University of Texas at Austin provides many financial aid options to help students pay for their academic education. Thanks to these programs, they can afford tuition, books, room and board, and other college necessities.
This guide will help you understand:
What types of UT Austin financial aid exist
How to appeal a rejected application or an insufficient financial aid sum by using DoNotPay
Available Types of Financial Aid at UT Austin
Here are the financial aid programs available through the University of Texas at Austin:
Federal grants

Federal Pell Grant
Federal TEACH Grant
Federal Supplemental Educational Opportunity Grant

State grants

TEXAS Grant
Texas Public Education Grant

Scholarships

Incoming Student Scholarships
Outside and Private Scholarships
Continuing & Transfer Student Scholarships
College, School, and Department Scholarships

Loans

Direct PLUS
Direct Graduate PLUS
Direct Subsidized or Unsubsidized
College Access Loan
Private loans
Emergency loans
Short-term loans

Teaching assistantships
Teaching fellowships
Work-study programs
How To Apply for the University of Texas Financial Aid
To request any available financial support type, you must:
Check if you are eligible for submitting a Free Application for Federal Student Aid (FAFSA) or Texas Application for State Financial Aid (TASFA)—There are some essential requirements you must meet, such as:

Being a U.S. citizen, permanent resident, or an eligible non-citizen
Registering with Selective Service—for males between 18 and 25
Maintaining a solid academic progress
Enrolling in one of the university's degree or certificate programs at least part time

Prepare the necessary documents—Whichever application you are filling out, you need numerous details from your ID, Social Security card, tax return documents, or bank statements. Have them with you when filing an application
Complete the FAFSA/TASFA form—Answer all the questions provided in the form correctly and submit them in one of the acceptable ways—online, by mail, or via the myStudentAid app. The applications must be submitted every year within the proposed deadlines if you want to keep using financial aid
Check your Student Aid Report (SAR)—This document should be sent to your home or email address a few days after the application submission. As it contains all your FAFSA info, you should take a look at each section and ensure there are no mistakes
How To Contact the UT Austin Financial Aid Office for More Info
The university's help center—Texas One Stop—should be at your service for any questions related to your financial aid application. You can get in touch with their support agents in the following ways:
Method
Details
Working Hours
Response Time
In person
MAI 1 (Ground Floor of UT Tower)

110 Inner Campus Dr.

Austin, TX 78712

Monday through Friday from 9 a.m. to 4 p.m.
Right away
Phone
(512) 232-6988
Monday through Friday from 8:30 a.m. to 5 p.m.
Right away, unless the lines are busy
Email
onestop@utexas.edu
No working hours
Three to five business days
How Does the University of Texas Financial Aid Office Calculate Your Financial Need?
The University of Texas at Austin determines your eligibility level by reviewing your FAFSA/TASFA application.
It will calculate your financial need amount by subtracting the Expected Family Contribution from the Cost of Attendance. Put more simply, the difference between the amount your family can pay and all the college-related expenses is the average financial aid you can get.
You have a chance to increase the total financial aid by:
Having satisfactory academic progress
Reporting changes that may affect your financial situation negatively, such as:

Income reduction
Additional expenses

Changing your dependency status
The institution can decline your application or provide you with a specific amount not far from your financial need sum.
DoNotPay Creates and Submits a Financial Aid Appeal Letter in Your Name
Even if the financial aid letter from the university offers an amount that isn't enough for your needs, there's an easy way to file an appeal and get more money. With DoNotPay, you can do it in a matter of minutes without composing an appeal letter on your own!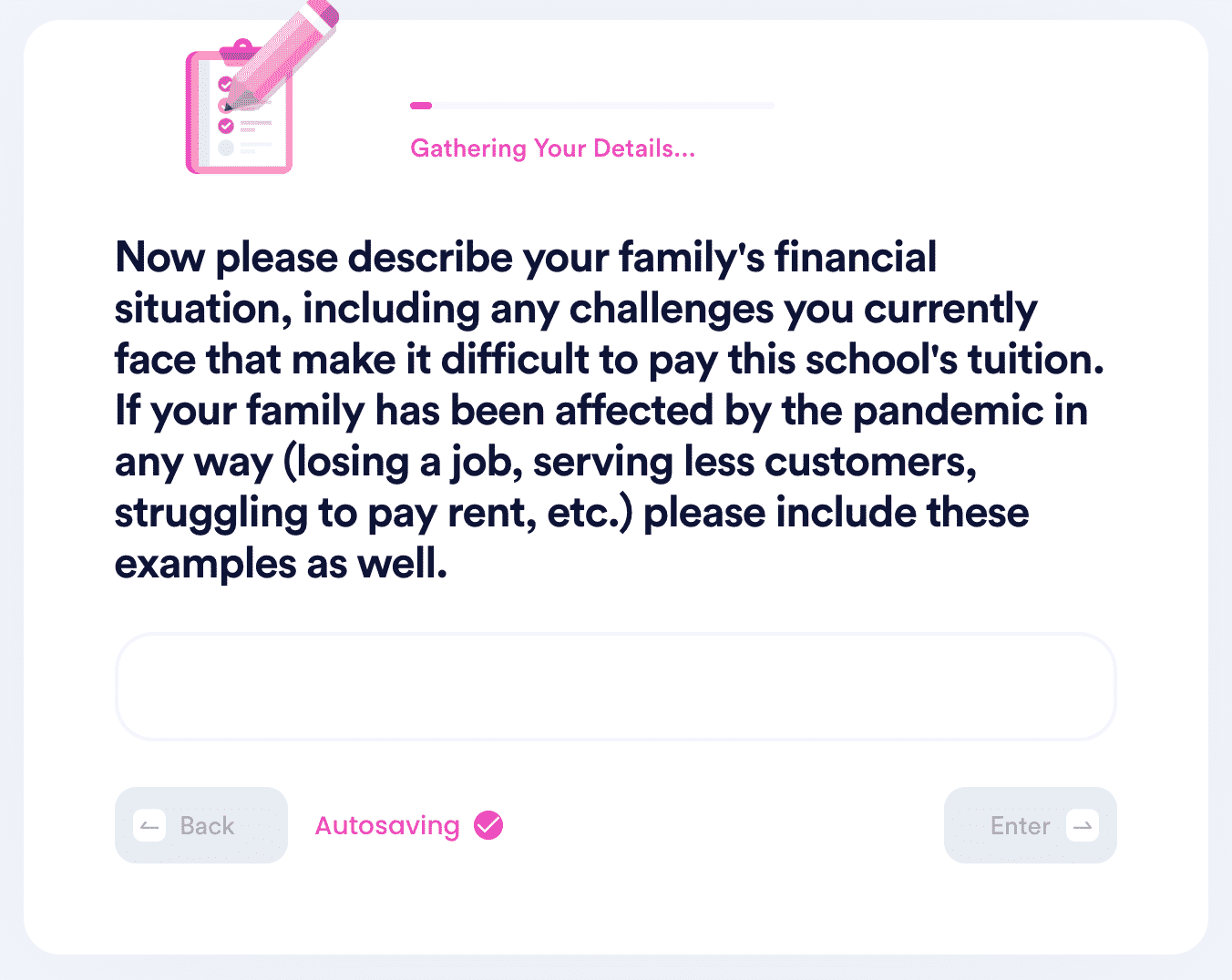 Thanks to our amazing AI-based tool that gathers information about you, your family, and household income through a batch of short questions, we will create a customized claim and direct it to the University of Texas at Austin.
Here's what you need to do:
Open DoNotPay in your web browser
Select Appeal for More Financial Aid
Choose The University of Texas at Austin as the preferred one and list other universities you request financial aid from and got better offers
Tell us more about your income, taxes, and family
That's it! No need to contact the financial aid office or explain your appeal reasons to the staff! We do all the grunt work and help you get another chance to finance your education the easier way.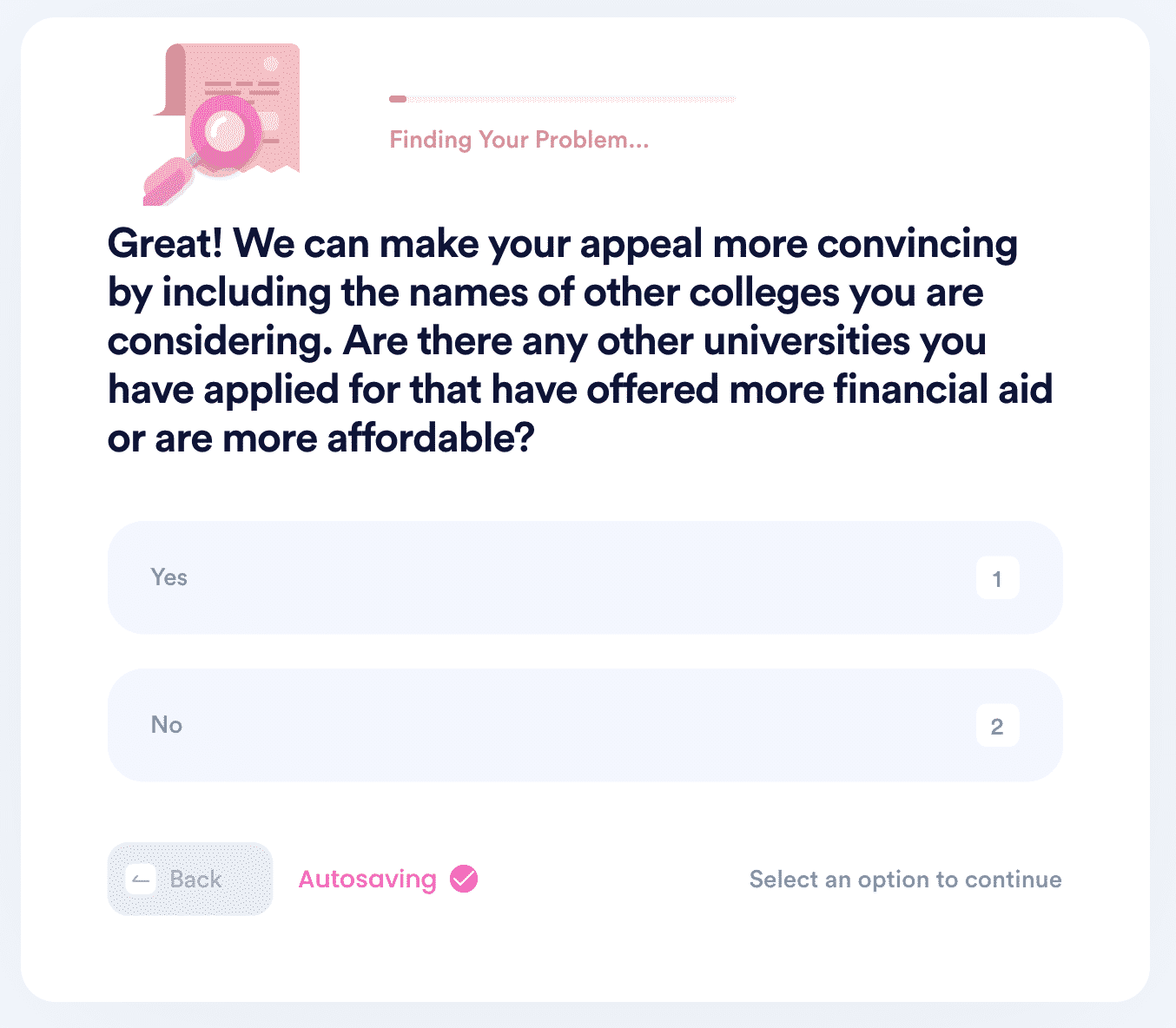 If you are interested in checking out the financial aid options other universities offer, explore our learning base and see how this type of support works at:
Is Bureaucracy Giving You a Headache? DoNotPay Can Help!
Bureaucracy is a big part of our lives that we can't escape. We understand the struggle over at DoNotPay—that's why we've created various features that can help you out! The world's first robot-lawyer app can assist you with:
DoNotPay's Arsenal of Features Doesn't Stop Growing
DoNotPay's number of handy features keeps growing by the day. Our platform can help you with various issues ranging from filing insurance claims to finding clinical trials. Want to save money on unused subscriptions? DoNotPay has got your back! We can help you cancel them and fight any subscription spam email that you get. Your AI assistant can also get you free raffle tickets or find any missing money in no time!
With DoNotPay, you'll have access to countless features that grow in numbers by the day! You'll be able to block robocalls, deal with tedious neighbors, and much more!