How To Get Princeton Financial Aid Effortlessly
Princeton is one of the oldest and most prestigious colleges in the U.S. Getting into this Ivy League school requires you to demonstrate significant academic achievements and spend a small fortune on tuition.
Luckily, Princeton can be available to students from low-income families as well. If you want to know all about the Princeton financial aid—including the eligibility criteria and application process—look no further! DoNotPay will give you the deets and help you get a generous financial award from this renowned college!
How Does Financial Aid at Princeton Work?
Princeton is estimated to have one of the most generous financial aid programs in the U.S. The Financial Aid office at Princeton evaluates the students' need for financial relief by using its own formula.
When calculating a student's ability to pay the tuition, Princeton takes into account the following:
Family contribution—It includes parents' and student's contributions. Parents' contribution is evaluated by income, assets, expenses, and household size. Student's contribution is an estimated amount they will spend on out-of-pocket expenses during one academic year
Student budget—It represents the total cost of attending Princeton during one term. The price of attendance includes direct costs (such as tuition, room, and board) and indirect costs (books, personal items, and travel allowance for students who live more than 200 miles from the university)
The student's financial need is presented as the difference between the family contribution and the student budget.
Princeton has removed loans from its financial aid package. It awards its eligible students grants instead (which they don't have to pay back), enabling them to graduate with little-to-no debt. Bear in mind that the university awards financial aid solely on the need-bases (merit-based grants are not available).
How To Apply for Princeton University Financial Aid
To apply for Princeton financial aid, you have to follow an established procedure. The first step is to apply for admission and wait 48 hours to get instructions for creating a Princeton Applicant Portal account. You will use the same credentials to access the Princeton Financial Aid Application (PFAA) form.
The table below contains a detailed description of the financial aid application process at Princeton University:
Steps
What You Should Know
Fill out the Princeton Financial Aid Application

Both U.S. and international students can use this when applying for financial aid
You can save your information and return to the application as many times as you want before submitting it
Any changes to the application have to be submitted via letter, email, or fax
You can access helpful tips for completing your application by visiting these web pages:

Submit a copy of your parent's tax documents

You can upload tax documents after completing your PFAA
The required documentation can be uploaded only one time
Tax return upload should contain:

Form 1040 federal income tax return
All schedules
W-2 tax statements

The Income Documentation page contains details of all required documentation

Complete the Free Application for Federal Student Aid (FAFSA)

U.S. citizens and permanent residents should fill out the FAFSA form as part of their application
Students should include Princeton's Federal School Code—002627—on the form

File noncustodial parent information

You should fill out the noncustodial parents' form if your parents are:

Unmarried
Separated
Divorced

The Family and Household Status page contains more information about this requirement
What if the Princeton Financial Aid Office Rejects My Application?
Once the Princeton Financial Aid office reviews your application, they might refuse to give you financial aid or award you with a smaller amount than you expected. If that happens, you can appeal the university's decision. You should do it by sending them a letter asking for higher financial relief.
While writing the appeal letter yourself is one option, researching to discover what to include in the letter can become a burdensome task. A far simpler solution is to and let us generate a comprehensive appeal letter in your stead. We will save your time and ensure the Financial Aid Office takes your plea seriously!
Get a More Suitable Princeton Financial Aid Package With DoNotPay
If the offer from your dream college isn't as high as you'd hoped, DoNotPay can help by creating and sending the appeal letter for you! Once you give us a few details about your financial situation, we will use them to present your case in an eloquent and concise manner!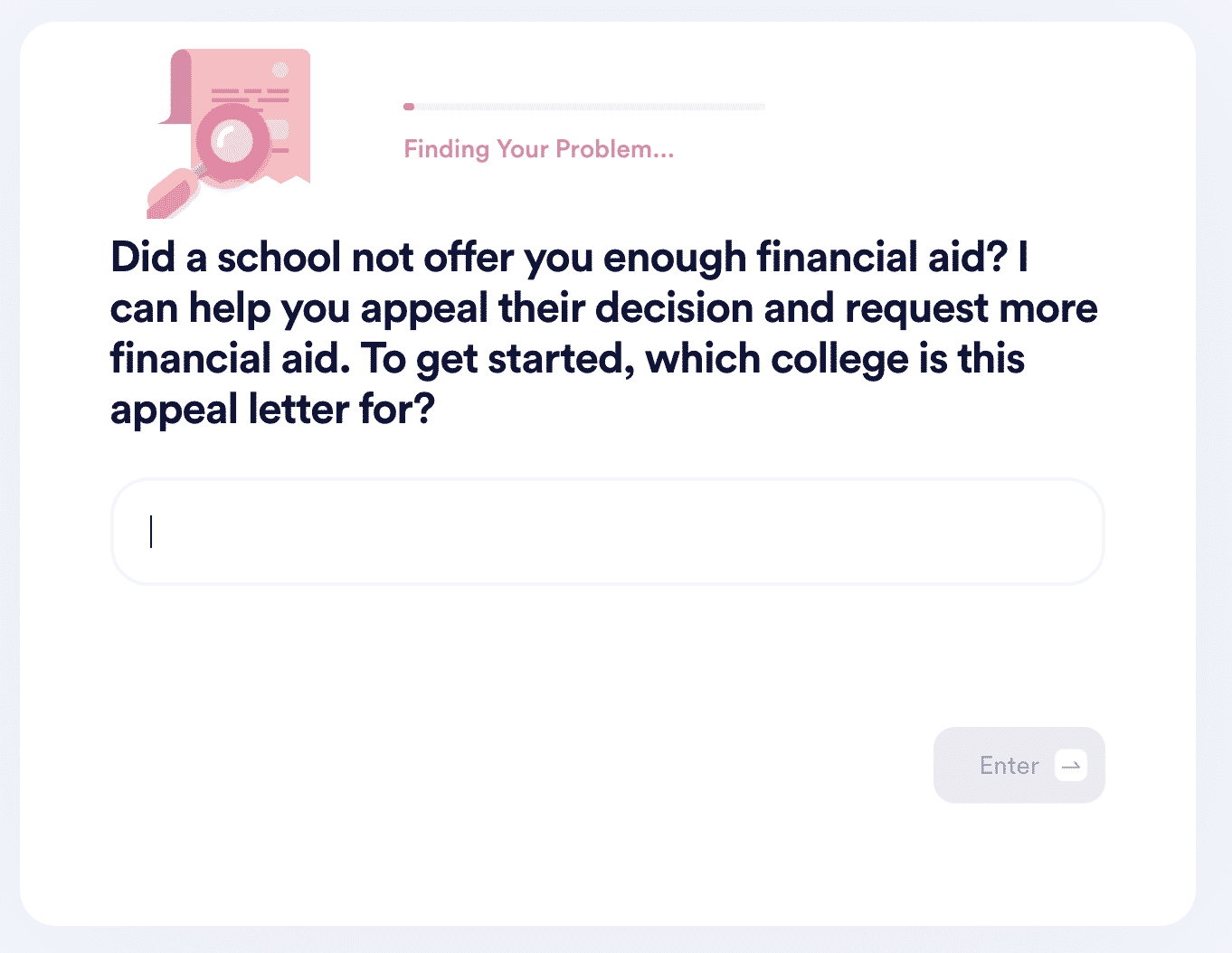 Here's what you need to do:
in your web browser
Find the Appeal for More Financial Aid tool
Provide the following details:

Name of the college you want to enroll
Possible changes to your financial situation since you originally applied
Other colleges that offered you a higher amount (if applicable)
Our app will take minutes to generate the letter and send it to Princeton or any other college you wish to get into!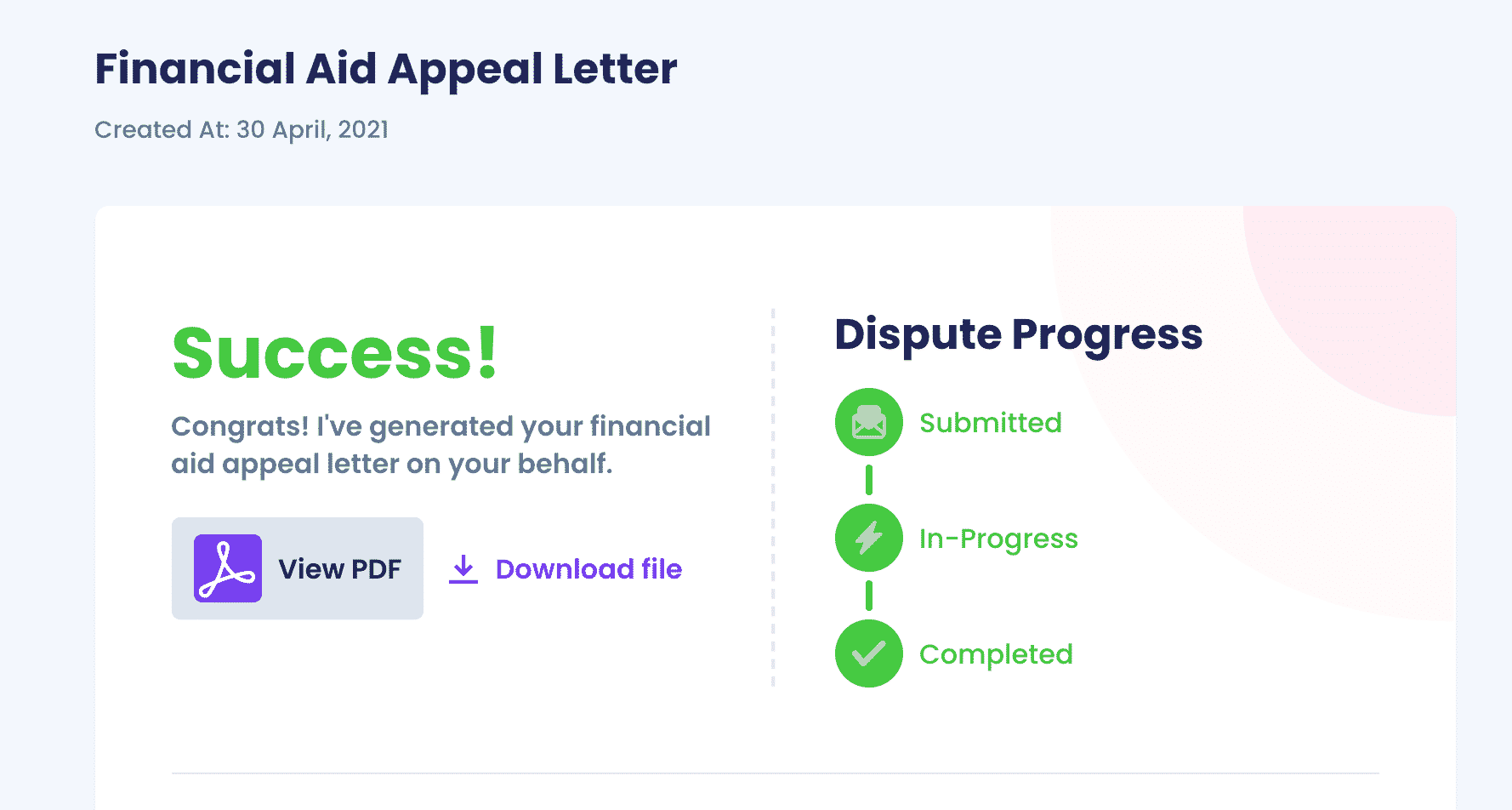 If you want to explore your options, check out our articles about financial aid at other renowned universities:
Our learning center can give you all the necessary information about financial aid, including:
DoNotPay Is an App for Everyone
Whether you need help with drafting paperwork, searching through government databases, or managing your bills, DoNotPay has a feature that'll make your life easier. The number of features keeps growing, and you can check out a table showcasing some of them:
Get More Done With Our Do-It-All Platform
DoNotPay can take care of any daily hurdle you come across. For a small yearly subscription fee, you get access to various features that you'll find handy on a daily basis. Besides everyday chores, signing up for DoNotPay will help get you:
The list could go on for days. You can even get in touch with an inmate or fight for discrimination at your workplace!