If You Lose Financial Aid at One School, Can You Get It at Another? Get the Right Answer!
Applying for financial aid is quite beneficial to both undergraduate and graduate students. Although obtaining it might feel like a big relief, you should keep in mind that financial aid is not unconditional. So, the big question is, if you lose financial aid at one school, can you get it at another? And if not, how can you start receiving aid again?
Use our straightforward guide to find answers to those questions, and learn how to appeal financial aid offers with ease!
If You Lose Financial Aid, Can You Get It Back?
To receive financial aid, every student has to meet certain eligibility criteria. The criteria aren't the same for every school, but the general rule is that a student has to:
Be a U.S. citizen or an eligible non-citizen
Have a high school diploma
Make Satisfactory Academic Progress (SAP)
Once you get financial aid, you have to keep working to maintain the eligibility status. That means you have to:
Keep at least a 2.0 GPA on a 4.0 scale
Pass enough classes with progress toward your degree
If you fail to maintain satisfactory academic progress and the above-explained GPA, you will lose the right to keep receiving financial aid. Luckily, there are ways to get it back!
How To Get Your Financial Aid Back
The best way to get your financial aid back after the suspension is to start working hard on improving your academic progress. Once you improve your grades and GPA, you'll be able to reapply for financial aid and start receiving it again.
If You Lose Financial Aid at Your School, Can You Get It at Another?
In case you lose the right to receive financial aid at your school due to an unsatisfactory GPA, you may be wondering whether requesting more aid from a different school will work. Unfortunately, the answer is no.
While getting financial aid from a different school is possible, you will first have to meet the eligibility criteria of the school in question. Most schools will look into your academic progress and won't find you eligible to receive aid if your progress isn't satisfactory.
You can either work on your SAP while enrolled at your school or enroll at a different one and get your grades high enough to become eligible for financial aid.
How To Keep Your Financial Aid—Exceptions to the Rule
You may be able to apply for a temporary waiver of the SAP rules if you failed to maintain satisfactory academic progress due to the following reasons:
| Reason | Explanation |
| --- | --- |
| Injury or illness | You were physically incapable of maintaining your SAP due to an injury or illness |
| Death of a close relative | You couldn't focus on maintaining your SAP because of the emotional state you were in due to the passing of a close relative |
| Other specific circumstances | Other extreme and special circumstances accepted by the school you're enrolled at |
You should contact your school's financial aid office and ask them to provide you with more information about the appeal process. They will tell you what circumstances count as valid and how to file your appeal in detail.
How To Get Financial Aid Reinstated
Once your academic progress is improved and you're eligible for financial aid again, you should reach out to your school's financial aid office and ask what documents you need to reapply. Most schools require filing the Free Application for Federal Student Aid (FAFSA) which they use to determine your eligibility.
Contact your school's financial aid counselor if you're wondering:
Use DoNotPay To Appeal Financial Aid Offers in a Flash!
It's not uncommon for universities and colleges to reject financial aid applications or offer insufficient financial aid amounts. In such cases, you can use DoNotPay to appeal the decision without breaking a sweat! We can create your financial appeal letter using the info you provide us with, and you can avoid spending hours composing it yourself! Everything you need to do is sign up for our app and complete these simple steps:
Open Appeal for More Financial Aid
Tell us which college or university you want to attend and which other schools you're considering
Supply us with info about your family's financial circumstances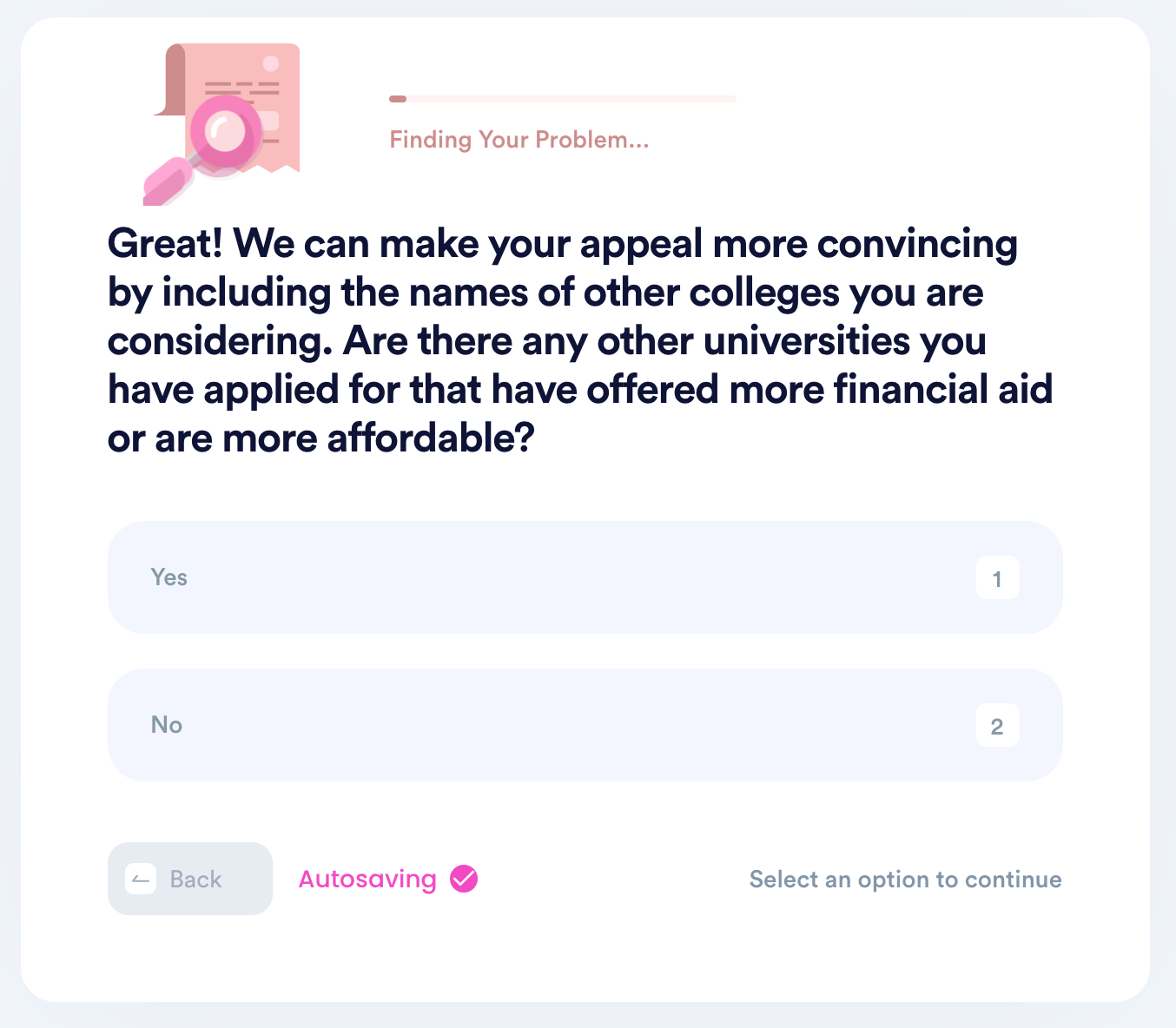 DoNotPay will get to creating your appeal letter instantly! We'll even send it to the financial aid office of the school you want!
In case you want to check out other schools and see what they have to offer, you can check out the table below and use DoNotPay's guides to applying for financial aid:
Explore DoNotPay's Vast Database To Handle Administrative Issues Head-On
Dealing with administrative issues is never a fun experience, but you can save yourself from unnecessary hassle with our app! Once you sign up for DoNotPay, there is little you can't do. Aside from helping you deal with everyday tasks, such as reaching customer services, you can also use our app to:
Make Your Legal Troubles Disappear
Is a company giving you a hard time? Don't fret! DoNotPay can walk you through the process of suing it in small claims court and help you get the justice you deserve!
The best part is that assisting you take companies to court isn't all our app can do! We can also help you with: