When Do I Get My Financial Aid Refund? Find Out With DoNotPay!
If you are an undergraduate or graduate student who applied for financial aid, you're probably anxiously expecting the money to arrive. Wondering, "When does financial aid get disbursed?" or "When do I get my financial aid refund?" is frustrating, and that is why we jump in to provide you with answers.
to find the necessary info and appeal denied aid applications if necessary!
When Does Financial Aid Get Disbursed?
To understand what financial aid refund is, you need to get acquainted with the financial aid application process. We'll walk you through the procedure quickly—here's how it works:
Make sure you meet all the financial aid eligibility requirements
Apply for financial aid by filing the Free Application for Federal Student Aid (FAFSA) and additional forms if applicable (inquire about the application deadlines beforehand)
Accept or decline the proposed offer
After you finish the above-listed steps, you have to wait for the financial aid money to be disbursed. The precise date when financial support gets distributed depends on the school—it's not always the same. Most schools, however, disburse the money between ten days before and 30 days after classes start.
What Is the Financial Aid Refund?
When financial aid is being disbursed, the money is first used to cover the main expenses of your studies, including:
Tuition
Fees
Room and board
Once those expenses are covered, you may have some leftover money to use. That leftover money is referred to as financial aid refund.
Whether or not you will have additional money once the main costs of your studies are covered depends on the type of financial aid you apply for and receive.
Based on your FAFSA, your school's board will decide how much money you're eligible for and disburse the amount accordingly. If the amount you're eligible for exceeds the main expenses of your studies, you can receive your financial aid refund.
When Will I Get My Financial Aid Refund?
The exact date financial aid refund checks are sent depends on your school's policy.
The disbursement usually takes place three or four weeks after the semester starts.
Students should also be able to choose how they want to receive their refunds. The common options are:
Receiving a check
Having the funds directly deposited into a student's personal bank account (or school account)
Sending the funds to the student's parent
Keep in mind that any excess money you have left after paying for your college necessities isn't a gift—it's a loan. That means that after you graduate, you will have to repay the full amount of what you borrowed.
Useful Tips on What To Do With Your Financial Aid Refund
While it's great that you'll have some extra money in your bank account, you should be careful what you do with it. You will eventually have to repay the entire financial aid sum with accrued interest, no matter how you choose to spend it. That's why it's important to think ahead and try to put the funds to good use.
Here are some helpful tips on how to use the money wisely:
| Tips | Explanation |
| --- | --- |
| Give the money back | You don't have to spend the money if you don't want to. If you want to avoid being tempted to spend the refund money and ensure you'll repay a smaller amount, return it |
| Accept only the amount you need | Accepting the entire amount that's offered to you isn't necessary. You get to decide how much money you want/need, so to stay on the safe side, determine the sum you truly need and accept only that much |
| Keep the money in your bank account | If you want to accept the offer, you can do so without spending the money right away. Keep the money as a safety net in case any unexpected college-related expenses arise during the years of your studies, and you need to cover them |
Appeal Low Financial Aid Offers With DoNotPay in Three Clicks!
Receiving more financial aid money than you need isn't the only possible scenario—sometimes, you can receive an insufficient financial aid offer as well. What's worse, your financial aid application can even be declined. There is no need to panic, though! Although these things happen and aren't pleasant, you can use our nifty app to appeal the decision easily!
Once you complete our quick guide, we'll create your financial aid appeal letter:
Choose the Appeal for More Financial Aid feature
Answer a few questions about the school you want to attend and your family's financial situation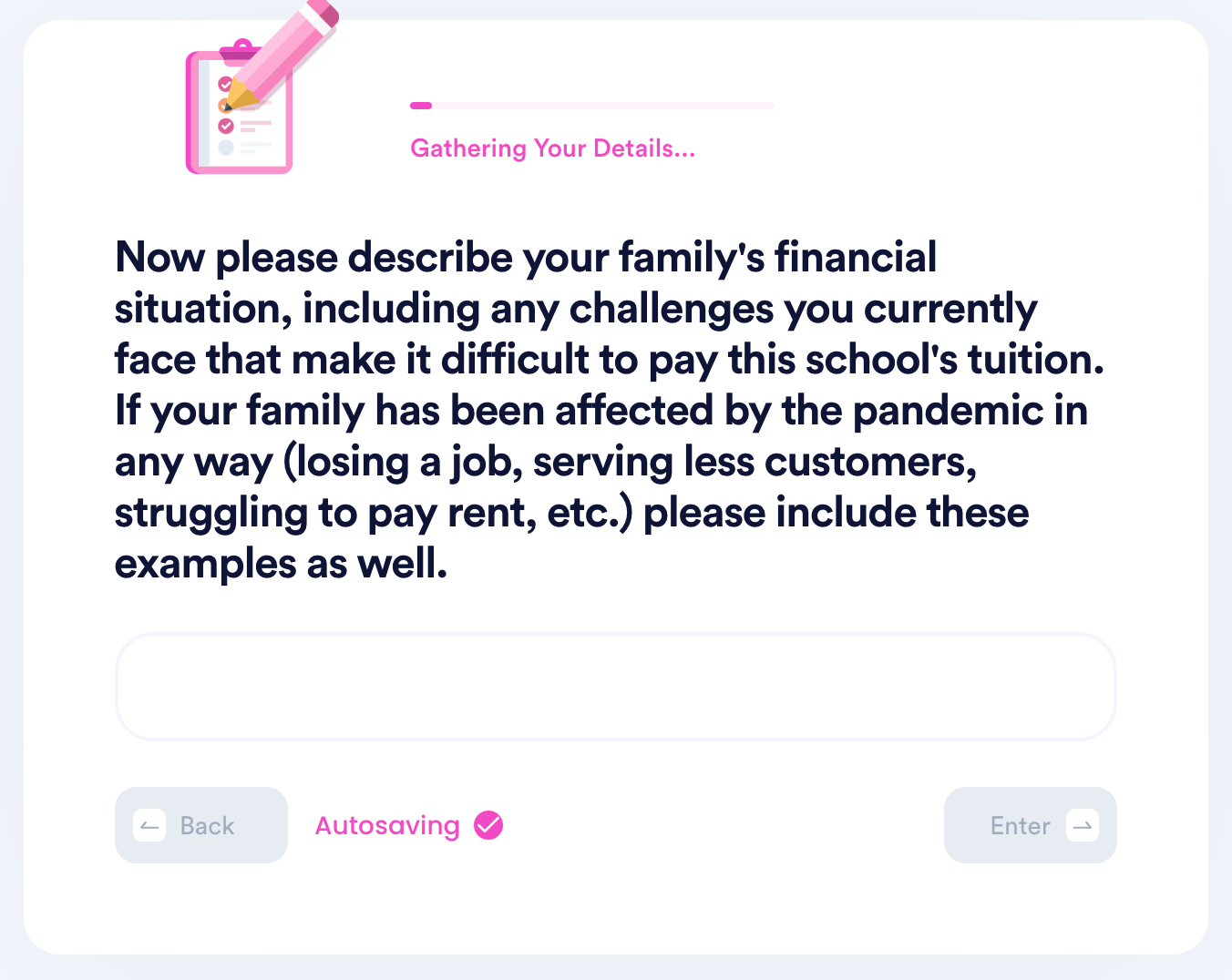 DoNotPay will generate your appeal letter quickly and send it to the financial aid office of your choice!
If you aren't interested in appealing the decision and you would rather apply for more financial aid from other schools, you can do so by checking out the table below:
Explore DoNotPay's Vast Database To Handle Administrative Issues Head-On
Dealing with administrative issues is never a fun experience, but you can save yourself from unnecessary hassle with our app! Once you sign up for DoNotPay, there is little you can't do. Aside from helping you deal with everyday tasks, such as reaching customer services, you can also use our app to:
Make Your Legal Troubles Disappear
Is a company giving you a hard time? Don't fret! DoNotPay can walk you through the process of suing it in small claims court and help you get the justice you deserve!
The best part is that assisting you take companies to court isn't all our app can do! We can also help you with:
Composing legal documents

Preparing divorce settlement agreements