Financial Aid for Graduate School—All You Need To Know
Many U.S. students wouldn't be able to attend college without the opportunity to apply for financial relief. While financial aid is available for both undergraduate and graduate students in the U.S, the rules for applying and getting financial assistance are somewhat different.
If you would like to know more about getting financial aid for graduate school, you're in the right place! DoNotPay will give you all the information you need to make your grad school program affordable. What's more—you can create an appeal letter using our app if offered aid is not enough!
How Does Financial Aid for Grad School Work?
Financial aid for grad schools is meant to cover a grad student's:
Tuition
Labs
Room and other living expenses
Students can apply for one of the following forms of financial relief:
Grants
Scholarships
Work-study programs
Federal student loans
While students don't need to pay back for the first three types of financial aid, they have to repay the loans.
To find out if they're eligible, students have to fill out a Free Application for Federal Student Aid (FAFSA) every year they're in grad school.
The two key differences between the FAFSA process for undergrad and grad students are the following:
Graduate students are considered independent—Unlike undergrad students who have to provide their parent's information, grad students will have to apply using only their own
Graduate students are only eligible for unsubsidized loans—Unsubsidized loans are not based on the student's financial need. Students are responsible for paying the interest (which they can do regularly or let it accumulate and be capitalized)
Which Information Is Required When Applying for Graduate School Financial Aid?
FAFSA has to be completed with utmost care. Apart from qualifying grad students for federally provided funds, the information on the form is used to grant them college-specific financial relief.
When filling out the form, students must gather and provide the following details:
Proof of the U.S. citizenship
Social Security Number
Details of their high school and college education
Information on any previous aid they received at the undergraduate or graduate level
Details of any potential conviction for drug use while on federal aid
Information about the school they wish to apply to
Income and tax status (tax returns, the 1040s, bank statements)
Details of parents' income (typically for independent students applying for medical or law school)
Besides completing the form correctly, students have to be aware of application deadlines. As of 2016, the application period has changed to mirror the school year. Students can typically apply for federal financial aid between October 1st and June 30th of the current year for the next term. Financial aid deadlines may still vary for different states and colleges.
How To Apply for Financial Aid for Graduate School
Using FAFSA involves a standardized procedure. Take a look at the step-by-step guide in the table below:
Steps
Description
Apply for a Federal Student Aid (FSA) ID
Visit the Federal Student Aid website and sign up for an FSA ID. The username and password combination can be used as a digital signature, allowing the applicant to sign the FAFSA form. If you're a traditionalist, you can visit a local library or an educational institution to pick up paper forms
Start the process
Select the appropriate application form based on the year when you plan to enroll and complete it with the information listed in the previous section of our article
Provide names of desired schools
List the details of schools you want to apply for, including:

Names
Locations
Federal school codes
Contact information

Upload financial information
If the program you're applying for demands it, you may have to provide information about your:
Provide dependency details, if applicable
Enter all financial information relevant for awarding financial aid. If you're filling out the form online, you can import the information using the IRS's Data Retrieval Tool. Those using paper forms will have to enter the details manually
Sign and submit
After reviewing the information you provided, sign the statement confirming the details are accurate and submit the form
What's Next?
Once the application is processed, the students receive their Student Aid Report (SAR), which they should revise and correct, if necessary. Their finalized SARs are then sent to the prospective universities.
Students should receive financial aid offers with acceptance letters from their chosen universities. If they applied for more colleges, they can also compare the offers and decide on the best one.
More often than not, the financial aid the universities provide is below students' expectations. If you're dissatisfied with the financial aid your desired college has awarded you, to draft an appeal letter!
DoNotPay Helps You Appeal Grad School Financial Aid Decisions
A professionally written appeal letter can make all the difference in getting a more generous grad school financial aid offer. Instead of wasting time writing the letter yourself, let DoNotPay create one for you in minutes!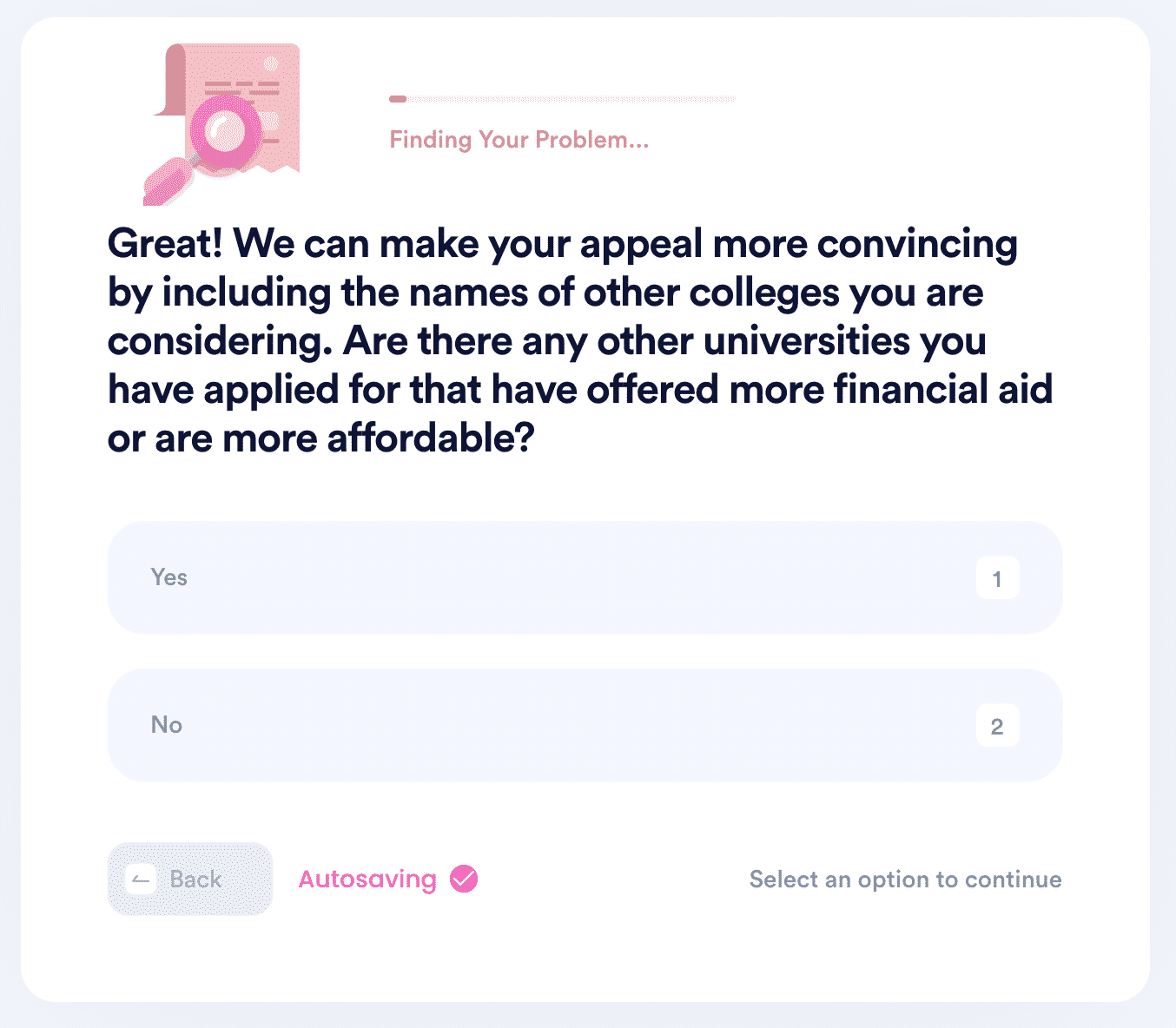 The steps you need to take are as follows:
Find the Appeal for More Financial Aid tool
Answer questions to help us personalize the letter
The provided details will enable us to draw up a letter that may make the financial aid board reconsider their decision. Not only that—we will send it to your desired college on your behalf!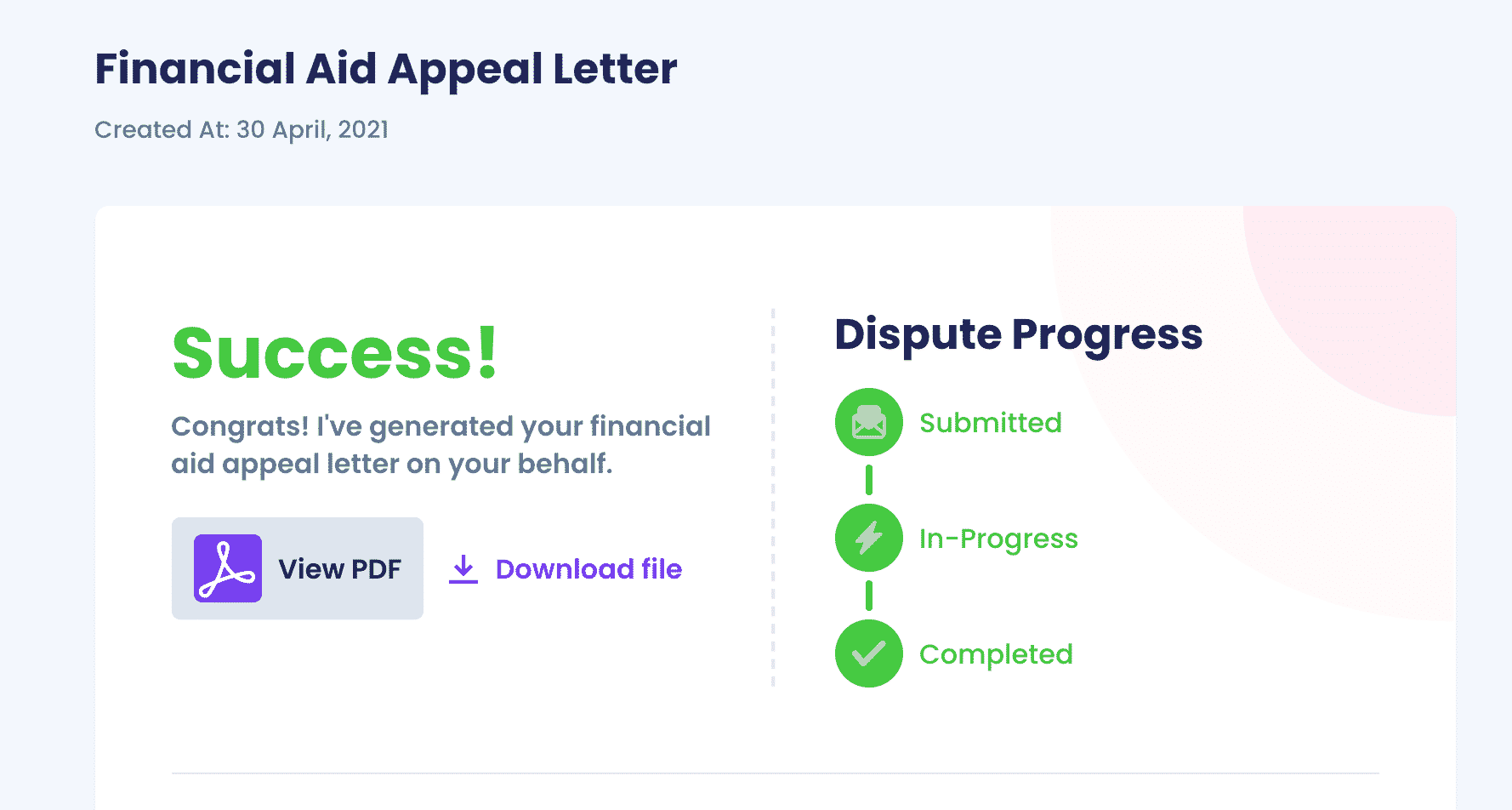 Check out the table below for detailed guides to the financial aid programs on different universities:
Get an Extra Buck or Two With DoNotPay
Besides being able to assist you with almost any legal issue, DoNotPay can also help you get some extra money! We can cancel any unused memberships and prevent you from being charged after free trial periods are over with our virtual credit card.
Can't claim a warranty or get cash back for a gift card? Subscribe for DoNotPay and consider it done! We can also help you return items to almost any company or even help you get a refund in a few clicks!
Helping you jump the customer service queues is also not a biggie for us, as well as taking the company that wronged you to small claims court!
No Problem Is Unsolvable for DoNotPay
By subscribing to our platform, you get access to a plethora of handy features that can help you with:
Drafting legal documents

Creating POA agreements

Reducing property taxes