Everything You Need To Know About Cornell's Financial Aid Program
Cornell University is an academically competitive school praised for its top-tier programs, but are its tuition fees that range from $20,800 to $60,286 a little too much for your budget?
In this guide, you will learn how Cornell's financial aid program works, how to apply, and how to appeal the University's decision in a few clicks!
To get started, get acquainted with the types of financial aid Cornell University offers:
Loans
Work-study
Grants
Alternative loans and financing
Combined financial aid programs for New York residents
Cornell Financial Aid—Loans
Cornell University has two categories of loans:
Federal loans
Alternative loans and financing
Federal Loans
You can apply for the following loans at Cornell University:
Undergraduate Student Loans

Federal Direct Subsidized Loan
Federal Direct Unsubsidized Loan
Cornell University (Gardner/Shoemaker) Loan

Graduate Student Loans

Federal Direct Unsubsidized Loan
Grad PLUS Loan

Parent Loans
Alternative Loans and Financing
Cornell offers alternative ways of financing, such as:
Cornell Installment Plan (CIP)—CIP allows students to pay for tuition and expenses in monthly installments
Private loans—Private lenders enable parents and students to cover tuition and expenses by lending money to them
Cornell's Financial Aid Program—Work-Study
Cornell University offers a variety of part-time jobs to help its students afford their education. The work-study options include:
Student employment—You're responsible for finding and choosing a job that fits your class schedule best
Federal work-study—Your employer gets funds from the government to cover part of your wage
Summer jobs and internships—You can work at Cornell University or find a job yourself. If you want to work at the University, you need to:

Prove your identity
Complete an I-9 Employment Eligibility Verification Form
Prove your eligibility to work in the United States
Cornell Financial Aid—Grants
Cornell University does not award grants based on merit or athletic performance but rather on financial needs. To be eligible for grants, you must complete a FAFSA form.
Cornell offers the following grants:
Cornell University grant
Endowed scholarships
Federal grants
State grants
Cornell University Grant
The Cornell University grant does not have limitations regarding the minimum and maximum financial aid a student can receive. The Financial Aid Office determines the eligibility of students for a Cornell University grant individually.
The University sources the funds for this grant from:
University endowments
Alumni gifts
The general fund
Keep in mind that the University determines the amount of this grant after establishing your non-university funds, work-study aid, and loans.
Endowed Scholarships at the Cornell University
Your qualification for a named endowed scholarship depends on whether you meet the criteria of the fund donor.
You should know that:
Receiving an endowed scholarship does not change the total amount of financial aid you will get
Applying for financial aid puts you through the candidate selection process for endowed scholarships automatically
Receiving an endowed scholarship means that those funds can replace any other Cornell grant, loan, or work-study program
Federal Grants
Cornell offers the following federal grants:
Grant Name
Who Is Eligible
Grant Amount
Federal Pell Grant

Students with a strong financial need
Students with disabilities
Students who lost their parents during a war in Iraq or Afghanistan

$650–$6,345
Federal Supplemental Educational Opportunity Grant (FSEOG)
Undergraduate students who:

Have exceptional financial need
Are Pell Grant recipients
Don't have a degree yet

Up to $4,000 per year
Children of Fallen Heroes Scholarship
Pell-eligible students who lost their parent or guardian in line of duty while serving:

Law enforcement
Firefighters
Chaplain corps

The students must have been less than 24 years old or enrolled at higher education institutions when they lost their parents or guardians

Maximum Pell Grant amount for their enrollment status and attendance costs
Iraq and Afghanistan Service Grant
Students who lost their parent or guardian who served the U.S. military in a war in Iraq or Afghanistan after 9/11
Up to $6,125
State-Specific Grants
Check out this table to find out what state-specific grants Cornell University offers:
| | | |
| --- | --- | --- |
| Grant Name | Who Is Eligible | Grant Amount |
| New York State Tuition Assistance Program (TAP) | Full-time undergraduate students who are not late with loan repayments | Up to $5,165 per year |
| NYS Excelsior Program | Students applying to a SUNY or CUNY college from families who earn less than $125,000 annually | Covers tuitions up to $5,500 |
| New York State Enhanced Tuition Award Program (ETA) | Students pursuing an undergraduate degree at a private school with less than $125,000 federal gross income | Up to $6,000 per year for 2–5 years, depending on the program of study |
| Senator José Peralta New York State DREAM Act | Undocumented and other students | A maximum of $12,630 per year for up to four years |
| NYS Science, Technology, Engineering, and Mathematics Incentive Program (STEM) | NYS resident students who are attending an undergraduate program at the State University of New York | The reward equals the full-time study annual tuition or actual tuition charged, whichever is less |
| Empire State Diversity Honors Scholarship | Students with a broad range of backgrounds who show a strong financial need | One half of the student's cost of attendance or $3,000, whichever is less, and the campus must provide the other half |
Cornell's Combined Financial Aid Programs for New York Residents
The Financial Aid Office uses all financial aid forms to develop a solution that enables New York-based families to pay the minimum tuition amount possible. These programs are made for each family individually since they consider all financial factors, such as your family's savings, income, expenses, etc.
How To Apply for Cornell's Financial Aid
To apply for Cornell's financial aid, you must complete your FAFSA and submit all application materials by the following deadlines:
January 2—for international students
February 15—for U.S. citizens and eligible non-citizens
Are You Unhappy With the Financial Aid Proposal From Cornell? Write an Appeal Letter With DoNotPay!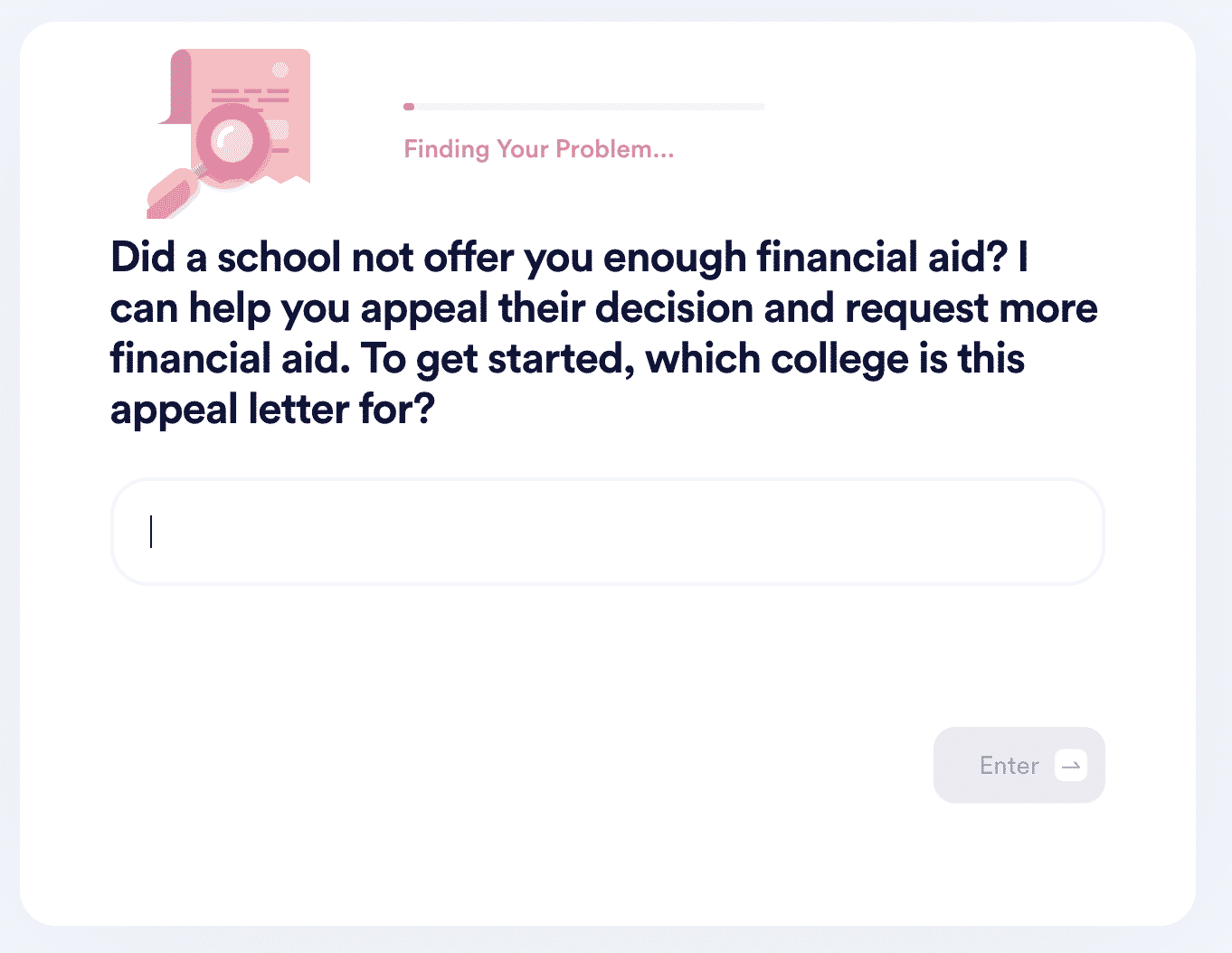 Suppose Cornell University rejects your financial aid application or doesn't offer enough money to ease your financial hurdles—in that case, you can appeal the decision with a financial aid appeal letter and request more funds. To get started:
Type Appeal for More Financial Aid in the search bar
Answer a few questions about your financial aid application
We can mail the letter to Cornell University or send it to you via email to print out and hand it over yourself.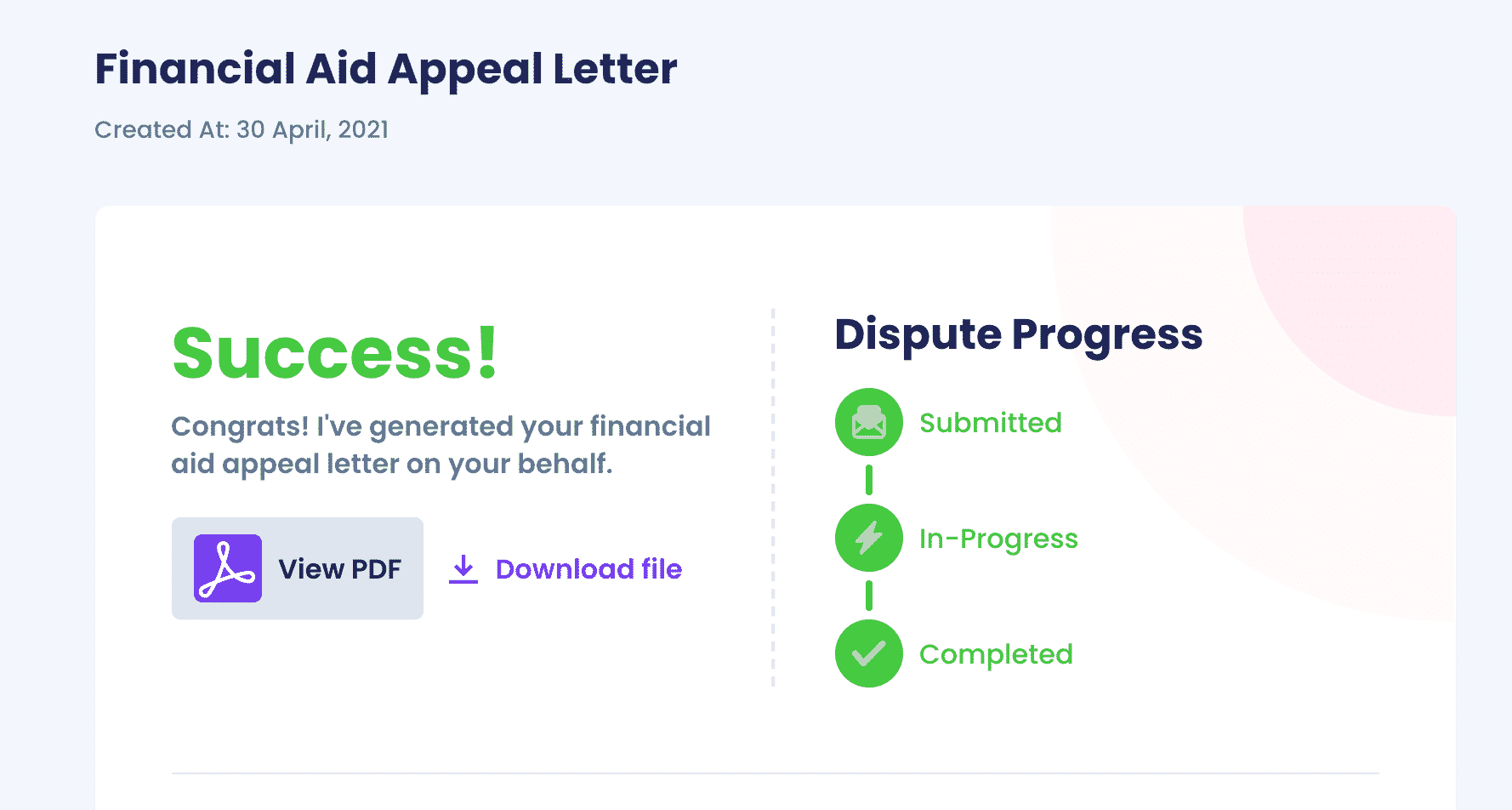 Explore our learning center to find answers to the following questions:
Check Out Our Guides to Financial Aid Offers of Other Universities
If you're still unsure about what university you want to apply for, here are some of our guides to financial aid offers of other universities to help you with that choice:
DoNotPay Helps You Deal With Any Administrative Issue Effortlessly
Tedious administrative tasks are always headache-inducing, but they don't have to be if you use DoNotPay. With our AI-powered app, you will be able to:
Solve Any Issues Like a Pro With DoNotPay
DoNotPay is an AI assistant that is able to solve almost all issues you're facing. Whether that be your noisy neighbors, the annoying text and email spam you're receiving, or the frustrating robocalls that won't leave you alone. We'll even cancel your unneeded subscriptions and get you a few extra bucks you've been cheated out of.
The world's first robot lawyer app can help you get: