Want To Attend an Ivy League School? Apply for Yale Financial Aid To Make It Possible
Yale University is a private research university established back in 1701. This Ivy League school has around 12,000 students and a great reputation. If you want to wear a Yale sweater around the house and brag about it to your kids in the future, you'll need to set aside around $57,700 for tuition per year.
Not many people can afford to spend that money on education. If you are among the majority, make sure to apply for Yale financial aid. DoNotPay will introduce you to the application process and the types of aid available. If the school makes you a poor offer (or none at all), our app will help you file an appeal!
How To Get in Touch With Yale's Office of Financial Aid
The Financial Aid Office staff at Yale are currently working remotely due to the COVID-19 pandemic. You can still contact the office and ask any financial aid questions in the following ways:
Via email
Over the phone
Via virtual meeting
How To Contact the Yale Financial Aid Office via Email
You can't send a typical email to Yale's Financial Aid Office. Instead, follow these steps:
Use Yale's online Contact Us form to submit your message
Enter your contact info—name, email address, Student ID Number (SID)
Select your school from the drop-down list
Choose the topic that describes your email
Write your message in the provided field
Click on Send
How To Contact Yale's Financial Aid Office Over the Phone
If you prefer asking your financial aid questions on the phone, proceed as follows:
Call 203-432-2700
Tell the staff member why you are calling
Provide them with the info they ask for
The Financial Aid Office staff is available Monday through Friday between 9 a.m. and 4 p.m. ET.
How To Schedule a Virtual Meeting With Yale's Financial Aid Office Staff Member
Since you can't visit the Financial Aid Office in person at the moment, Yale has come up with the virtual appointment option. Here is what you should do to schedule a meeting:
Open the Schedule an Appointment page
Complete the form with your personal info
Choose a time and date that fits your schedule
You can join the meeting on a PC, Mac, iOS, Linux, or Android devices.
Yale University Financial Aid Types Available
The form of aid you apply for will determine the amount of financial assistance you get and the period you can keep receiving it. The table below contains the info on financial aid types available at Yale:
Type of Aid
Brief Explanation
You Can Apply For
Grants and scholarships
Grants and scholarships are called gift aid because they do not need to be repaid. They can come from federal, state, and college sources

Yale Scholarship—Based solely on financial need and funded from University's funds
Merit-based scholarships—Awarded based on a student's performance in academics, sports, music; not funded by Yale
Entitlement grants—Offered based on federal need, state of residence, etc. Sources are not affiliated with Yale

Student loans
This is a type of aid that needs to be repaid

Federal Direct subsidized loan
Federal Direct unsubsidized loan
Yale Student loan
Alternative loans

Term-time jobs
Term-time jobs include Federal Work-Study and other types of student employment opportunities. This allows students to work part-time and help pay for their education
Employment in:

Academic departments
Research laboratories
Residential colleges Administrative offices
Athletic facilities
How To Apply for Financial Aid at Yale
If you want to receive financial aid from Yale, you need to follow the set application process. Here are the steps you need to take:
Fill out the Free Application for Federal Student Aid (FAFSA)—This is an online application used to determine your eligibility for federal and state grants and for the low-interest Federal Direct Loan program. Yale's FAFSA school code is 001426
Complete the CSS Profile—This form will gather in-depth info that some colleges and scholarship programs use to award institutional aid funds. Yale's CSS code is 3987
Use the College Board's IDOC Service to submit signed copies of federal tax returns (schedules and W-2s included)
Application Deadlines To Keep in Mind
In addition to completing the required forms, you also have to know when to submit them. Make sure to send your applications by the established deadlines, which are usually:
November—Early Action
March—Regular Decision
Didn't Get the Offer You Expected From Yale? Use DoNotPay To File an Appeal
If Yale rejects your application or offers an insufficient amount and you need more money, you should file an appeal. DoNotPay can generate a financial aid appeal letter for you and send it to Yale on your behalf. You only need to:
Find the Appeal for More Financial Aid product
Provide the info related to financial aid offers from all the schools you applied to
Inform us about your family's income and financial status
DoNotPay knows everything about graduate school financial aid as well.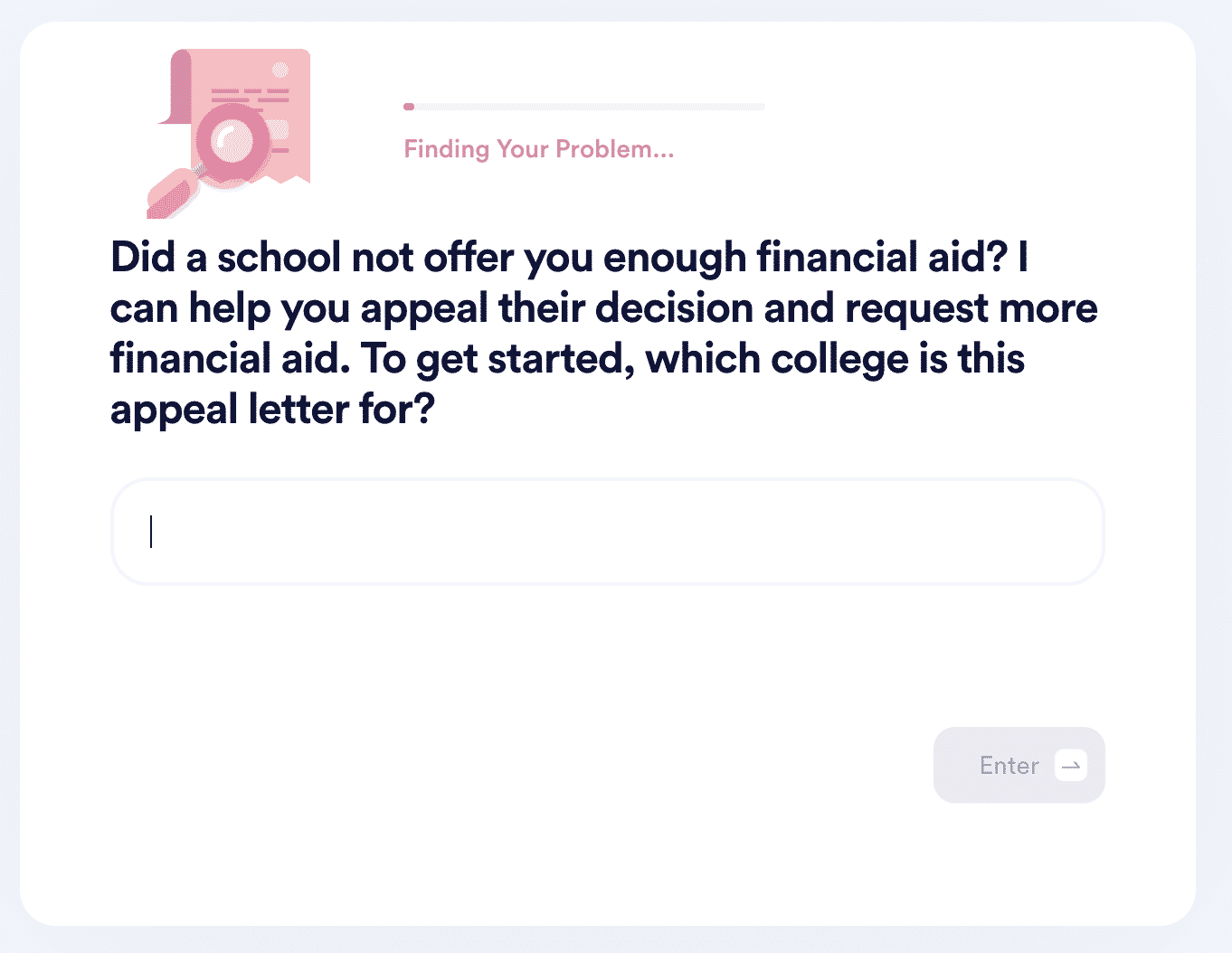 Financial Aid Options at Other Universities
Yale should not be your only option, and you should check out financial aid offered at other schools. Take a look at the table below to see DoNotPay's guides for other popular universities:
Work Smarter, Not Harder!
Although there are certain tasks that are a pain but can't be avoided, such as paying your property taxes, you don't have to do them the hard way. There is always a way to make the overbearing bureaucratic procedures a bit easier. DoNotPay can find a loophole and help you cut through the red tape!
Reducing your property taxes is only one in the sea of tasks our app will make super easy to do! You can also use DoNotPay to:
Explore DoNotPay's Other Neat Features
DoNotPay offers a plethora of useful products to make your day-to-day life easier and enjoyable! Consult the list below to see what you can do using our app: