When To Apply for Financial Aid—A Detailed Explanation
College tuition presents a significant expense for plenty of families in the U.S. While some schools are more affordable than others, most prestigious colleges—such as Dartmouth, Brown, or Virginia Tech—charge an arm and a leg for attendance. Luckily, you can reduce the tuition expenses by applying for financial aid.
Since the aid isn't unlimited, you should know the official deadline for submitting your application. In this article, DoNotPay will give you the necessary information on when to apply for financial aid. We will also help you create an appeal letter if you're dissatisfied with the college's decision!
Key Points of Applying for Financial Aid
The financial aid for colleges offers eligible students the possibility of reducing the expenses of university education with grants, scholarships, and loans.
Before submitting your application, you should know how the procedure works. The essential points to have in mind when applying for financial aid are:
Checking if you're eligible
Using the appropriate means to apply
Knowing how to appeal the college's decision, if necessary
Are You Eligible for Financial Aid?
Basic eligibility requirements for college financial aid include:
Demonstrating financial difficulties
Being a U.S. citizen or an eligible non-citizen (a U.S. national, permanent resident, or the person having an arrival-departure record with the appropriate designation)
Showing you're eligible for a college education (e.g., owning a valid high school diploma)
Maintaining a good status with other student loans you might have
Being enrolled or accepted for an eligible degree or certificate program
Sustaining a suitable academic progress
Additional requirements may be necessary for students who are non-U.S. citizens, have a criminal conviction, or demonstrate intellectual disability.
What Do You Need To Apply for Financial Aid?
To apply for college financial aid, you should fill out a free application for financial student aid (FAFSA). You can complete the application form in one of two ways:
Online—Creating an FSA ID account will also enable you to track the status of your application online
By mail—If you decide to use a paper form and send it by mail, you don't need an FSA ID account
Among other information, a FAFSA form should contain the following:
Your Social Security Number
Tax records for a requested year
Records of any untaxed income and other assets
Lists of schools you're interested in attending
You should also know that you can correct and update the information on your application form in case of a mistake.
How Can You Appeal the College's Decision?
If you are dissatisfied with the financial aid offer a particular university gave you, you can write an appeal letter, asking them for additional help. This option may come in handy if:
Your family's situation has changed since you sent the application
You make an error on the FAFSA that might affect your award
Other colleges you applied for grant you more aid, and you want a particular college to match their offer
When Can You Apply for Financial Aid?
Applying for financial aid requires you to meet the federal, state-specific, or college deadlines. Take a look at the table below for more details:
Type of FAFSA
Deadline
Federal deadline to apply for financial aid
The federal deadline is your last chance to submit a financial aid request each year. To be considered for student aid for 2020-2021, you should:

Submit your application by June 30th, 2021, 11:59 p.m., CST
Update the form by September 11, 2021, 11:59 p.m., CST

If you want to apply for the 2021-2022 school year, you must:

File your financial aid application by June 30th, 2022, 11:59 p.m., CST
Submit corrections by September 10, 2022, 11:59 p.m., CST

State deadlines for financial aid
Every state imposes specific deadlines for applying for financial aid. They generally remain the same each year. Most states recommend that all students apply as soon as possible after October 1st. From then on, the aid is awarded until the funds are depleted
College financial aid deadlines
All colleges have their own deadlines. Your best bet is to contact the desired college and ask the following:

What the deadlines are for the particular school year
How the college in question defines the application deadline (from the moment the application is processed or the moment they receive the processed application)
Bear in mind that applying for financial aid soon after October 1st will increase your chances of getting the highest possible financial relief.
If you get a dissatisfying offer, you don't have to write the appeal letter yourself. , and we will create a personalized letter for you in minutes!
DoNotPay Paves the Way to a Better College Financial Aid Package
Most of the time, the financial aid colleges offer is not nearly enough to enable the student's attendance. DoNotPay's product will help you draft a professional appeal letter and make universities reconsider their offer!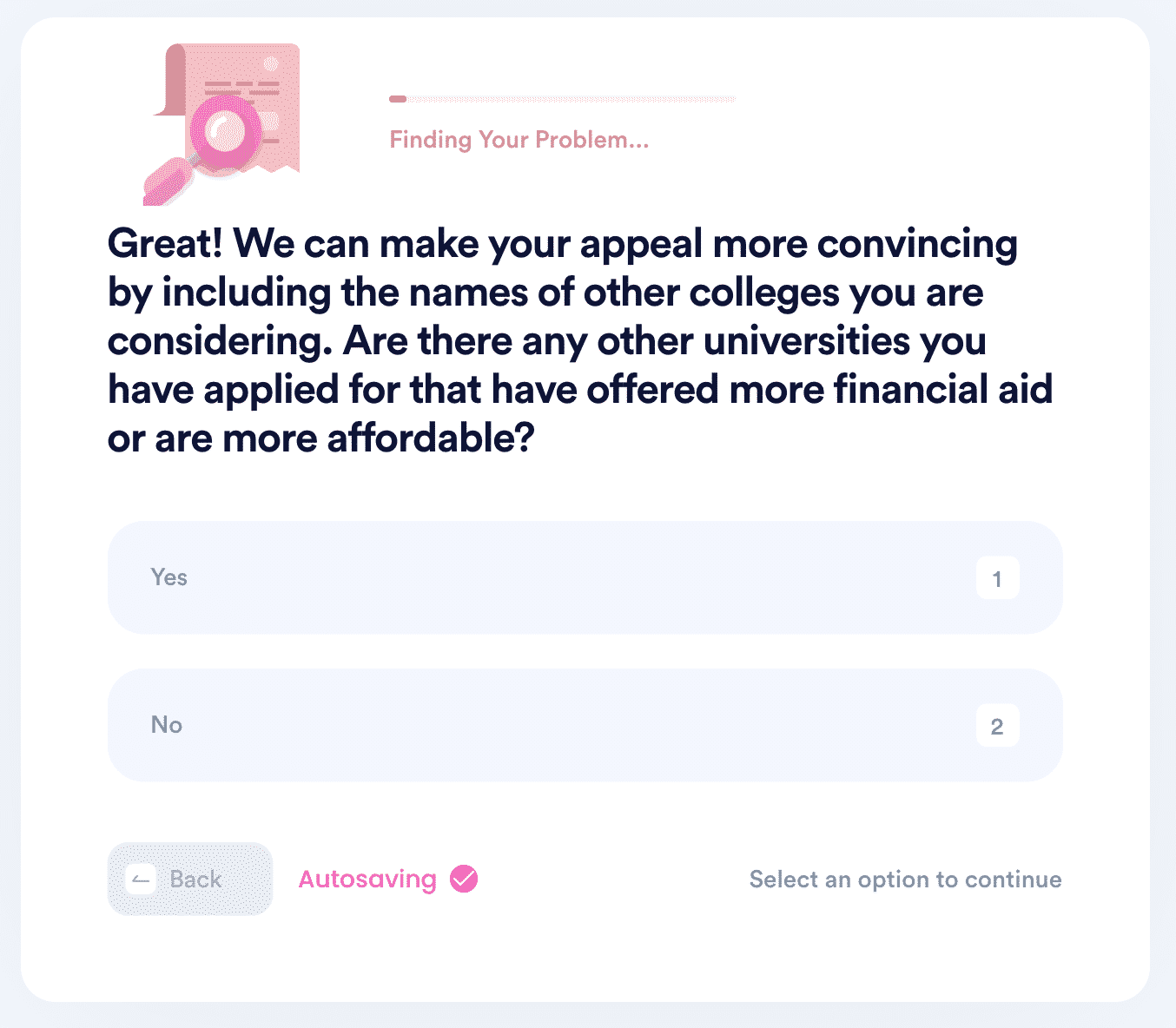 All you have to do is from your web browser and:
Search for Appeal for More Financial Aid product
Indicate which college you plan to attend
Specify your reasons for requesting higher financial relief
We will generate the letter according to the information you provided and send it to your desired college quickly!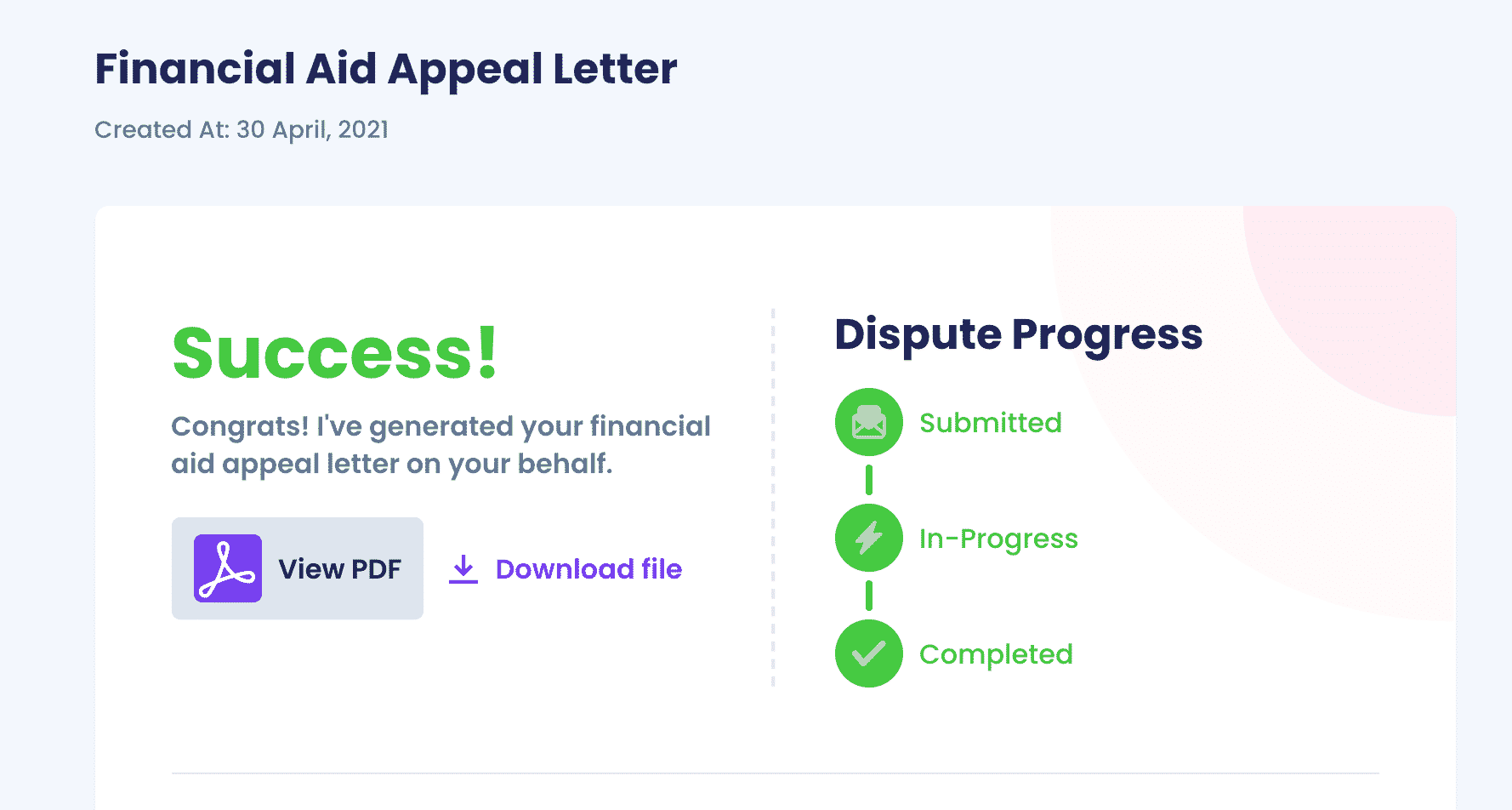 If the college you applied for is too expensive, it doesn't hurt to check out other school's financial aid offers. You can even use our app to create multiple appeal letters and save a ton of time! Take your pick from the table below:
Consult our knowledge base for the information on whether graduate students can get financial aid and for how long you can use it.
DoNotPay Makes Your Troubles Go Away
If you want an app that gets the job done, subscribe to DoNotPay! We have various features that can help you with almost anything—from canceling subscriptions and filing insurance claims to getting in touch with inmates!
It doesn't matter if you need help with bureaucracy issues or with everyday struggles because DoNotPay is your go-to app! We can help you:
Protect Your Customer Rights With DoNotPay
Have you been wronged by a company? Why not sue it in small claims court with our AI-based app? We can also help you claim any warranty or file an item return request in a few clicks! Trying to reach customer service representatives, but the phone keeps ringing? Your virtual assistant can help you jump the queue for any company in the blink of an eye!