All You Need To Know About the MIT Financial Aid Program
Is the Massachusetts Institute of Technology (MIT) your dream school, but the tuition and attendance costs, which reach a whopping $77,020, prevent you from applying to it?
You can solve your financial hurdles by applying for MIT financial aid, and this guide will show you when and how to do it!
The Basics of MIT Financial Aid
MIT considers the following factors in your financial need assessment:
Factors MIT Includes in the Financial Aid Calculation
Factors MIT Does Not Include in the Financial Aid Calculation But Still Considers

Number of family members
Number of current undergraduates in the family
Total assets
Taxes paid
Permanent residence
Total income of your parents
Unreimbursed medical expenses
Private school tuition fees for younger siblings

Parents' retirement plan and preparation progress so far
Primary residence equity
Monthly mortgage or rent bill
Financial support to family members
Other financial obligations—one-time and recurring
At MIT, you can get the following types of financial aid:
Scholarships
Grants
Student employment
Loans
Scholarships at MIT
MIT students can be eligible for the following school-specific scholarships:
MIT Scholarship
First Year Grant
You can apply for private scholarships to reduce the financial burden. Here are some valuable resources to help you find and apply for more awards:
If you receive a private scholarship, you need to submit an Outside Award Reply Form to the MIT Student Financial Services Office.
MIT Financial Aid—Grants
Prospective MIT students can qualify for the following grants:
Federal Pell Grant
Iraq and Afghanistan Service Grant
Federal Supplemental Educational Opportunity Grant
Teacher Education Assistance for College and Higher Education Grant
If you're an out-of-state student, you may also qualify for grants from your home state.
Student Employment at MIT
Here are some important MIT statistics about student employment:
91% of students did at least one semester of paid research
3–4 is the average number of semesters of paid research students do during their studies at MIT
$13.50 per hour is the minimum wage for on-campus work
$1,700 is the average amount students earn per semester
Other than paid research, students can also get part-time positions in the following departments:
Office of Experiential Learning (OEL)
Office of Graduation Education (OGE)
Career Advising & Professional Development (CAPD)
Resources you can use to search for jobs include:
MIT Financial Aid—Loans
Check the following table for loaning options that are available at MIT:
Loan Category
Loans
Federal

Federal Direct Loans

Direct Subsidized Loan (for U.S. students)
Direct Unsubsidized Loan (for U.S. students)

Direct Parent PLUS Loan (for U.S. domestic parents only)

Institutional

MIT Technology Loan (for international undergraduate students only)
If you opt for a private loan, the MIT Student Financial Services Office needs to certify it but cannot do so until you complete and submit a Private Education Loan Applicant Self-Certification form to your lender.
How To Apply for MIT Financial Aid
To apply for MIT financial aid, the deadline to complete your FAFSA and CSS Profile depends on your student status:
Prospective students

Early decision—November 30
Regular decision—February 15

Continuing students—April 15
If you have any issues or require assistance with your application, contact the Student Financial Services Office by:
What Can I Do if MIT Hardly Offers Any Financial Aid?
The most effective way to address the problem without risking being on bad terms with MIT is to write a financial aid appeal letter.
To successfully appeal the Institute's decision and increase your chances of getting more aid, you should write a letter that includes:
Reasons why MIT is your first choice
Financial issues you and your family have endured since you submitted your application
Offers that you got from other schools, especially if they're higher
to get a custom appeal letter for MIT in a matter of minutes!
Get More Financial Aid From MIT Using DoNotPay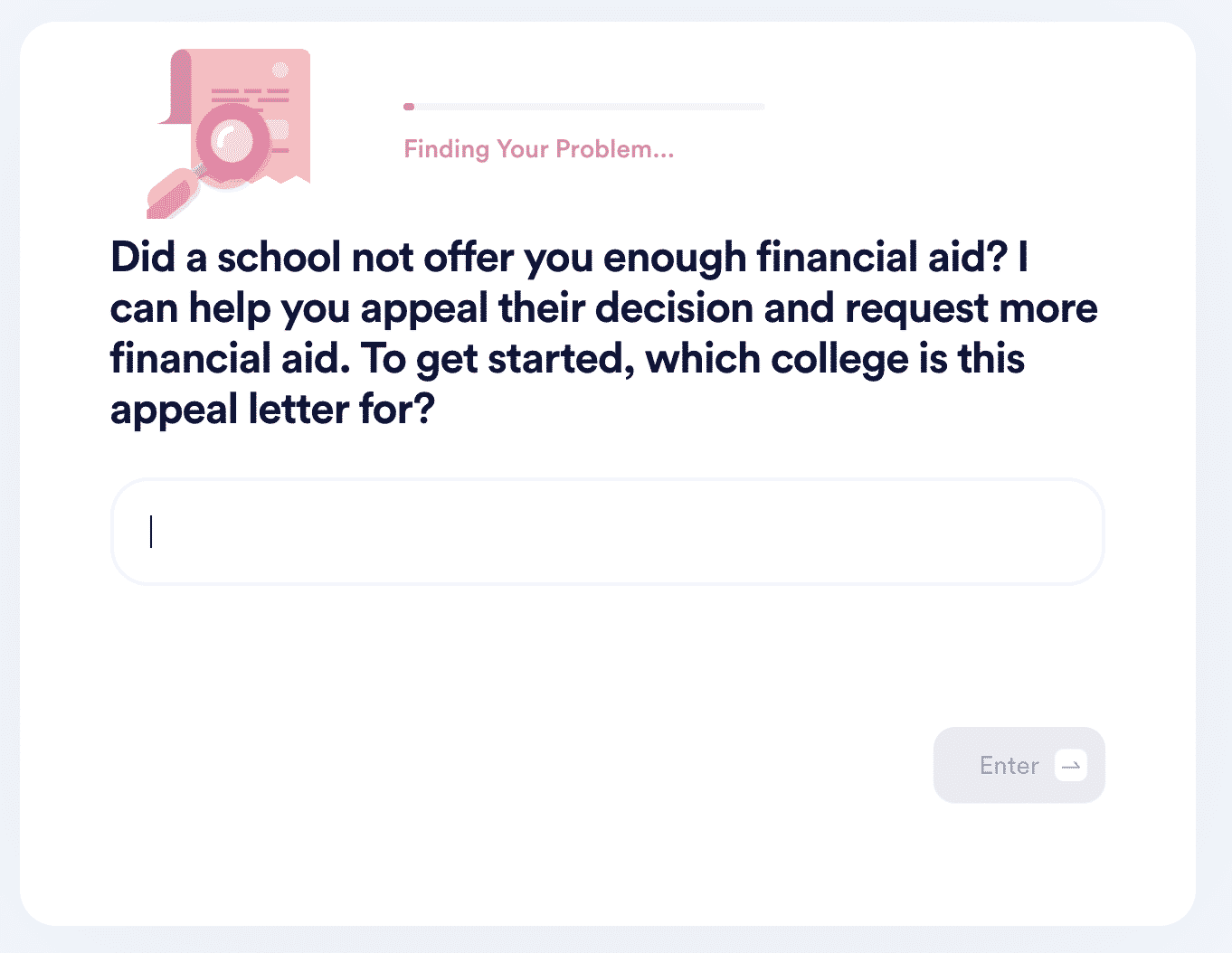 If you think that MIT miscalculated your financial need, you can appeal its decision in three steps:
in any web browser
Search for Appeal for More Financial Aid
Answer a few short questions regarding why you need more aid
After you complete these steps, all you need to do is decide whether you want us to send it directly to MIT or receive the letter via email so you can do it yourself.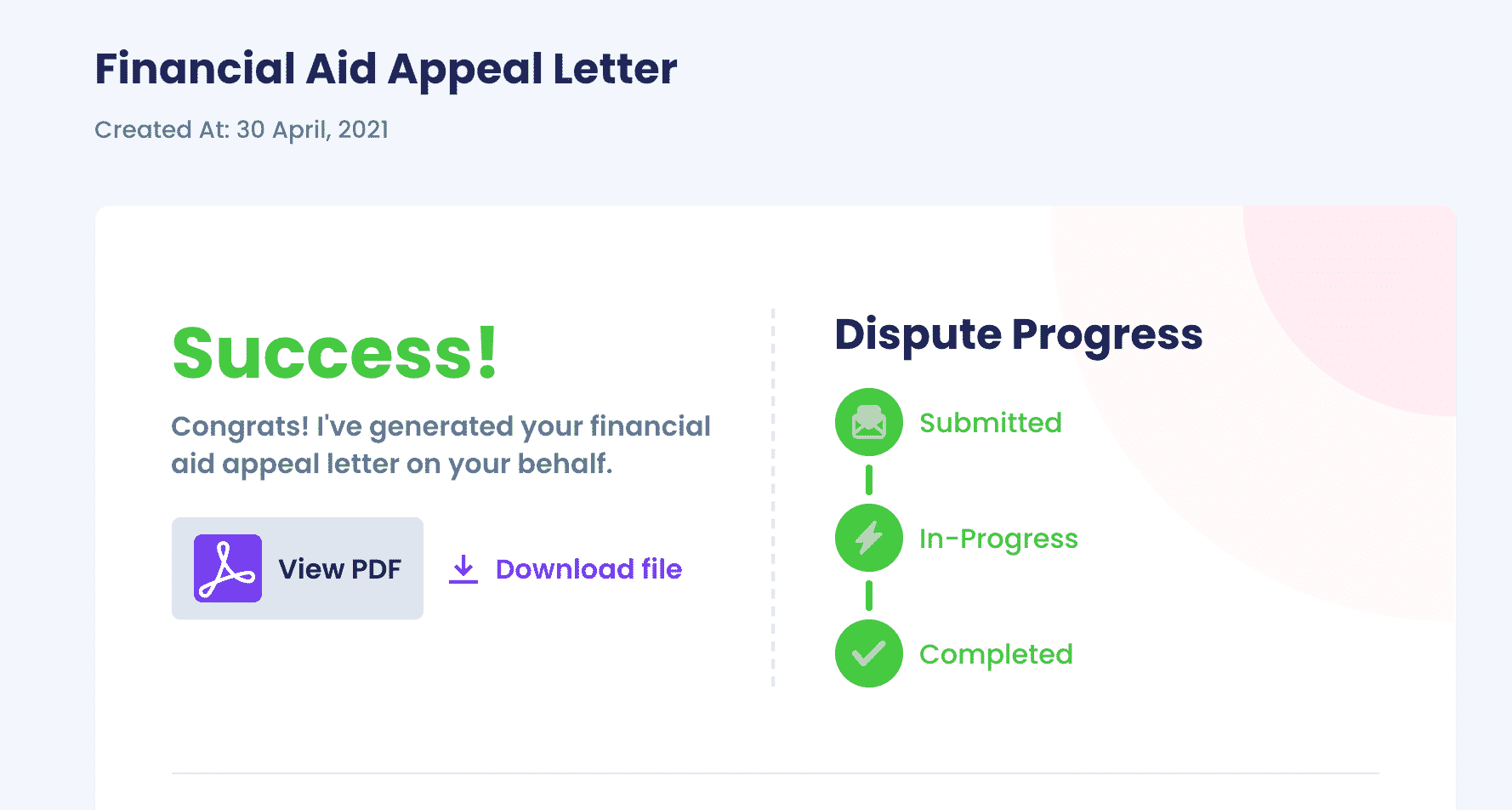 While your appeal is on its way to MIT, find out:
What Are Good Alternatives to MIT?
If you decide that the MIT financial aid program is a dealbreaker for you, our learning center offers many more guides to other schools' programs, such as:
Solve All of Your Bureaucratic Issues With DoNotPay
Do you need to file an insurance or warranty claim? Need help with setting up DMV appointments or appealing parking tickets around the U.S.? Don't worry because your AI-based helper can step in!
We can help you get professional powers of attorney and divorce agreements, so you don't have to waste money on expensive lawyers! Once we draw up these documents for you, we'll set you up with an online notary, and you can get them notarized in no time!
Subscribe to Various Services Hassle-Free With DoNotPay
Did you ever get charged by a subscription service after using their free trial? DoNotPay can put a stop to that once and for all! We can get you a virtual credit card or a burner phone number, which you can then use to subscribe to any service stress-free! When you want to cancel a subscription, turn to your virtual assistant for help, and we'll do it for you in seconds!
If the company is giving you a headache, we'll hook you up with their customer support or even sue them in small claims court. Possibilities with DoNotPay are endless!
DoNotPay can also turn mailing into a piece of cake and save your inbox from email and text spam!