All You Should Know Before Applying for the UC Berkeley Financial Aid
Getting into UC Berkeley is a dream come true for many, but hefty tuition fees may be a real challenge. The good news is that, despite high costs, the university awards more than $750,000 of financial aid to its students per year.
If you are thinking about enrolling in a program offered by this institution, we can help you find out more about getting student support. Get familiar with all the UC Berkeley financial aid terms and learn how to appeal the rejected application or a low offer by subscribing to DoNotPay!
What Types of Financial Aid Does Berkeley Provide?
UC Berkeley has a wide financial aid offer categorized into four groups:
Grants
Loans
Scholarships
Work-study support
Check out the table below for more information on each category:
Type of Aid
Explanation
Available Programs
Grants
Financial help that doesn't need to be repaid. It's a need-based type of support that comes from federal, state, or college funds

Cal Grant
Parent Grant
Chafee Grant
Federal Pell Grant
Department Awards
Federal Supplemental Educational Opportunity Grant (SEOG)

Loans
College financial aid that usually must be repaid unless you get loan forgiveness benefits. It's available for most students and features favorable repayment plans

Berkeley Loan
DREAM Loan
Subsidized loans
Unsubsidized loans
Parent PLUS Loan
Graduate PLUS Loan
Short-Term Emergency Loan
Summer Sessions Loan
Health Professions Student Loan (HPSL)
Private Alternative Loan

Scholarships
A special type of financial support that is awarded to students mostly based on their academic success, but they can also be given based on personal income or financial circumstances. It doesn't need to be repaid

Fiat Lux Scholarship
Berkeley Undergraduate Scholarship
Middle-Class Scholarship
Regents' and Chancellor's Scholarship

Work-study aid
An opportunity to get a part-time job to earn for college financing
Who Qualifies for Receiving the UC Berkeley Financial Aid?
To apply for any of the four available types of college financial aid from Berkeley, you must meet certain requirements provided by the institution. You qualify for the support if you:
Reside in the U.S. or belong to one of the following categories of eligible non-citizens:

U.S. permanent residents
Conditional permanent residents
Indefinite parole
Asylum granted
Humanitarian parole
Refugees
Citizens of the Republic of Palau, the Federated States of Micronesia, or the Republic of the Marshall Islands

Possess a valid Social Security Number
Have:

A high-school degree
A General Education Development

Are a regular student of a particular degree within UC Berkeley
Maintain a solid academic success (depending on the particular year of studies)
Pay all your previous student loan debts
Are a Selective Service registree—only for male persons between the ages of 18 and 25
Have no drug convictions or offense records
Some types of aid may have slightly different or modified eligibility criteria. For the most accurate info, visit the official website of the university and check if there are any specific updates. Application deadlines and other additional financial aid information are also available on the institution's web page.
How To Apply for the Financial Aid for UC Berkeley
Once you confirm that you meet all the initial requirements, you must file a California Dream Act Application or a Free Application for Federal Student Aid (FAFSA). These are the forms that UC Berkeley uses to collect information about your income and financial situation and decide if you are eligible for the support.
After submitting the form to the Federal Student Aid online, by mail, or via the myStudentAid app, a Student Aid Report (SAR) is sent to your email or home address. It contains all the details you disclosed in your FAFSA and serves to help you check the information provided and detect potential errors.
If your application gets accepted, the financial aid amount will be disbursed ten days before the school year starts. Should UC Berkeley reject your FAFSA application or offer an amount that doesn't cover your expenses, you can submit an appeal letter to the institution. In the letter, you should:
Describe the financial issues you are having
Inform the institution about the better offers you got from other colleges
State the amount that would cover all the college-related costs
Not happy with the solutions offered by UC Berkeley? Discover other guides from our learning base explaining how you can get more support money on various colleges, such as:
Get a Better Offer by Appealing the College's Decision With DoNotPay
Writing appeal letters can take too much time, especially if you want to submit one to each college you are considering. Use DoNotPay and create an unlimited number of personalized claims based on your tax, income, and other financial info in only a few clicks!
The procedure can't be simpler. Make sure to:
Visit DoNotPay in your preferred web browser
Choose the Appeal for More Financial Aid option
Tell us which college you want to attend and enter the names of the universities that offer higher support amounts
Answer a few brief questions about your finances and household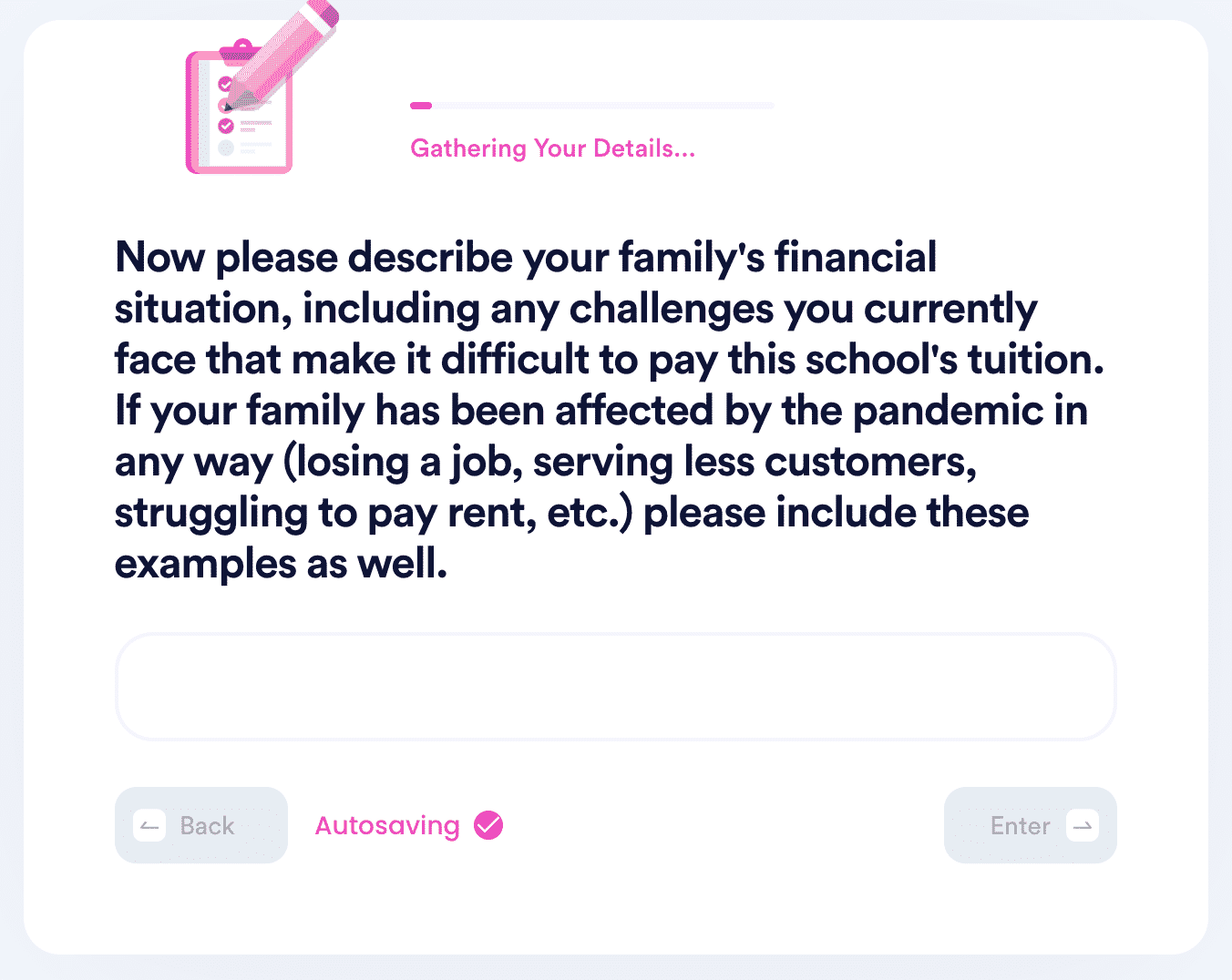 As soon as we process the disclosed details, we will generate a fully customized appeal letter for you! The best part is that you don't need to do anything else—we will mail the claim to the financial aid office of the college or graduate school you choose.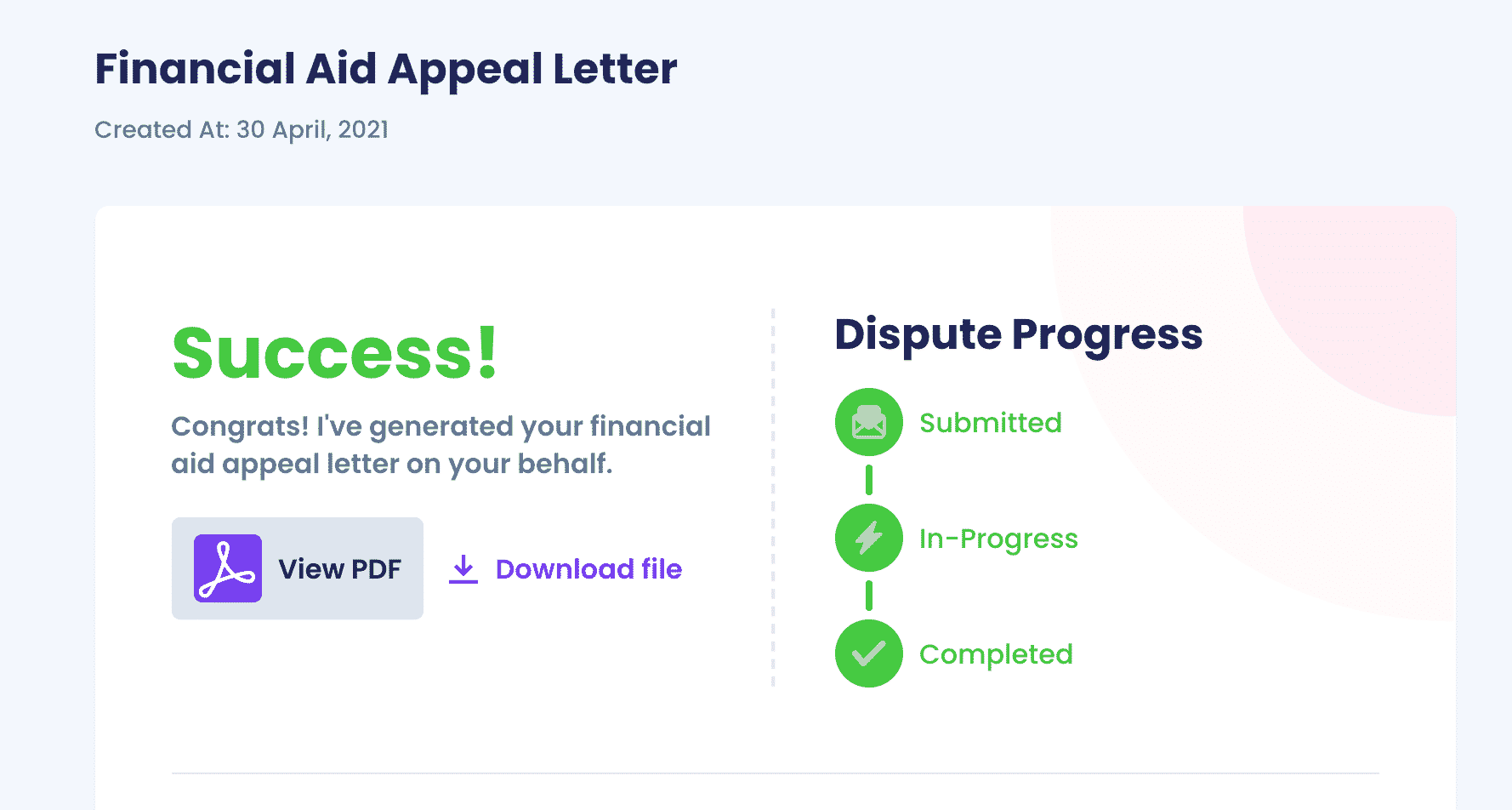 Only the Sky Is the Limit for DoNotPay
DoNotPay has an insane number of features that keeps growing. Our platform can help you:
Say Goodbye to Spam Mail With DoNotPay
DoNotPay has designed a feature that will put a stop to the flood of junk and spam mail into your inbox! We can help you join a class action against a spammer or take any person or company that's wronged you to small claims court!
Need a virtual credit card number or a fake phone number to protect yourself from scammers? We've got you covered! We can help you fight text spam or even assist you in sending mail without any chance of error.
Our users' safety is our number one concern, so we've developed a feature that will protect you from cyber stalking or harassment!