The Ultimate Guide on How a Financial Aid Appeal Works
If you didn't get enough financial aid for graduate school or college, you should send an appeal letter to ask the college administration to reconsider their decision. How can you write a letter that increases your chances of getting more financial aid? DoNotPay has the answers.
In this article, DoNotPay will show you how a financial aid appeal works and how to write a letter asking for more financial support. If you want to skip the hassle, subscribe to our app and get an official appeal letter to send to your college of choice to get adequate financial help.
How To Apply for Financial Aid by Submitting FAFSA
FAFSA—or the Free Application for Federal Student Aid—is a specific application form that students fill out and submit to apply for financial aid. It is a document containing questions about:
You
Your parents
Your family's financial status
Your parent's tax details
The list of colleges you are applying to
It also requires information from your ID, Social Security Card, or financial statements.
To apply for college financial aid, you need to fill out the FAFSA form and submit it before the federal, college, or state deadline. You can submit your form in the following ways:
Online, using your FSA account
By mailing a completed form to the college of your choice
Through the myStudentAid app for Android or iOS
To receive recurring financial aid, you need to repeat this process every year.
Shortly after you submit your FAFSA form, you will receive a Student Aid Report (SAR). This report lists all the details mentioned in your application to confirm that everything that you entered in the form is correct. If there are any errors or mistakes, this is the time to correct them because the universities on your wishlist will use this information to make decisions about prospective financial support.
If the offered amount doesn't come close to your expected university expenses, it's time to consider submitting an appeal.
Can You Appeal for More Financial Aid?
Almost all colleges allow you to appeal for more financial aid if you are unsatisfied with their current offer, but you need to provide a valid reason for doing this. Some reasons can include:
Reason for Appealing Financial Aid Awards
Description
Recent unemployment
Most students rely on part-time jobs to pay for their education. If they lose their income, it affects their financial status significantly
Homelessness
If a student has become homeless, they will require additional financial aid because the federal government does not categorize them as dependents
Income change
Students may require additional financial aid if they're:

Switching jobs
Working fewer hours

Medical expenses
Students can qualify for additional financial aid if they have medical debts
Childcare costs
If a student has childcare costs they need to take care of, they will need to appeal for more financial aid
How To Appeal the Financial Aid Decision
If your college has offered a financial aid amount that cannot cover the cost of your education, you can send an appeal letter to ask them to reconsider.
This is what the process generally looks like:
Assess your circumstances—Check if you still need to apply for additional aid if you work part-time or apply for additional scholarships
Contact your college's financial aid office—Ask the financial aid advisors any questions and concerns you might have. You can even ask them how to proceed with an appeal
Gather all required documentation—You might need to submit the following along with your appeal letter:

Tax forms
Letter from an employer, if applicable
W-2 form or other documentation

Write the appeal letter—Address the financial aid office and explain the need for more aid. Try to be as polite and direct as possible
Submit your appeal—Follow the rules required to submit your letter and make sure you meet the submission deadline
Your appeal letter should include the following information:
Financial difficulties you are facing
Offers from other colleges that are providing a better financial aid program
The exact amount that could help cover your college expenses
If you want to send an appeal letter to multiple colleges, make sure that all of them are customized according to the respective college's requirements. This can quickly become a time-consuming and burdening task because you have to keep an eye out for minor details. A small mistake can risk your appeal getting rejected.
How can you make sure that you send a suitable appeal letter then? Sign up for DoNotPay and generate a professional-looking appeal letter in the blink of an eye!
Use DoNotPay To Appeal Your Financial Aid Award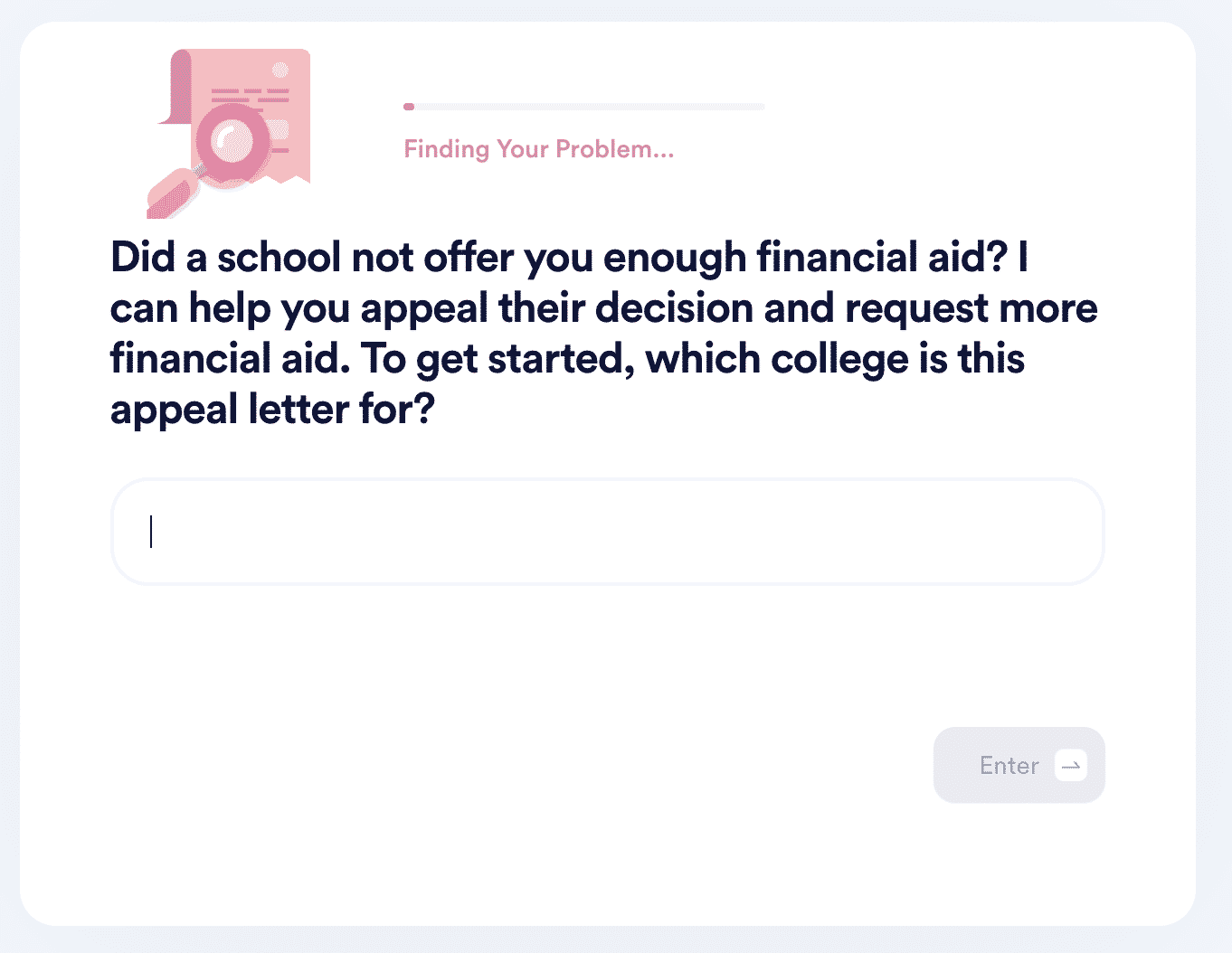 Why waste time and effort writing letters to multiple colleges when DoNotPay can create a personalized appeal letter within minutes? Whether your financial aid application was rejected or you are unsatisfied with the amount, use our app to get out of that tricky situation.
All you need to do is follow these instructions:
Open DoNotPay in your web browser
Select the Appeal for More Financial Aid tool
Enter the name of the college you want to attend and provide a list of other colleges that have offered better financial aid
Give us more details about your family's financial status and explain the difficulties you are facing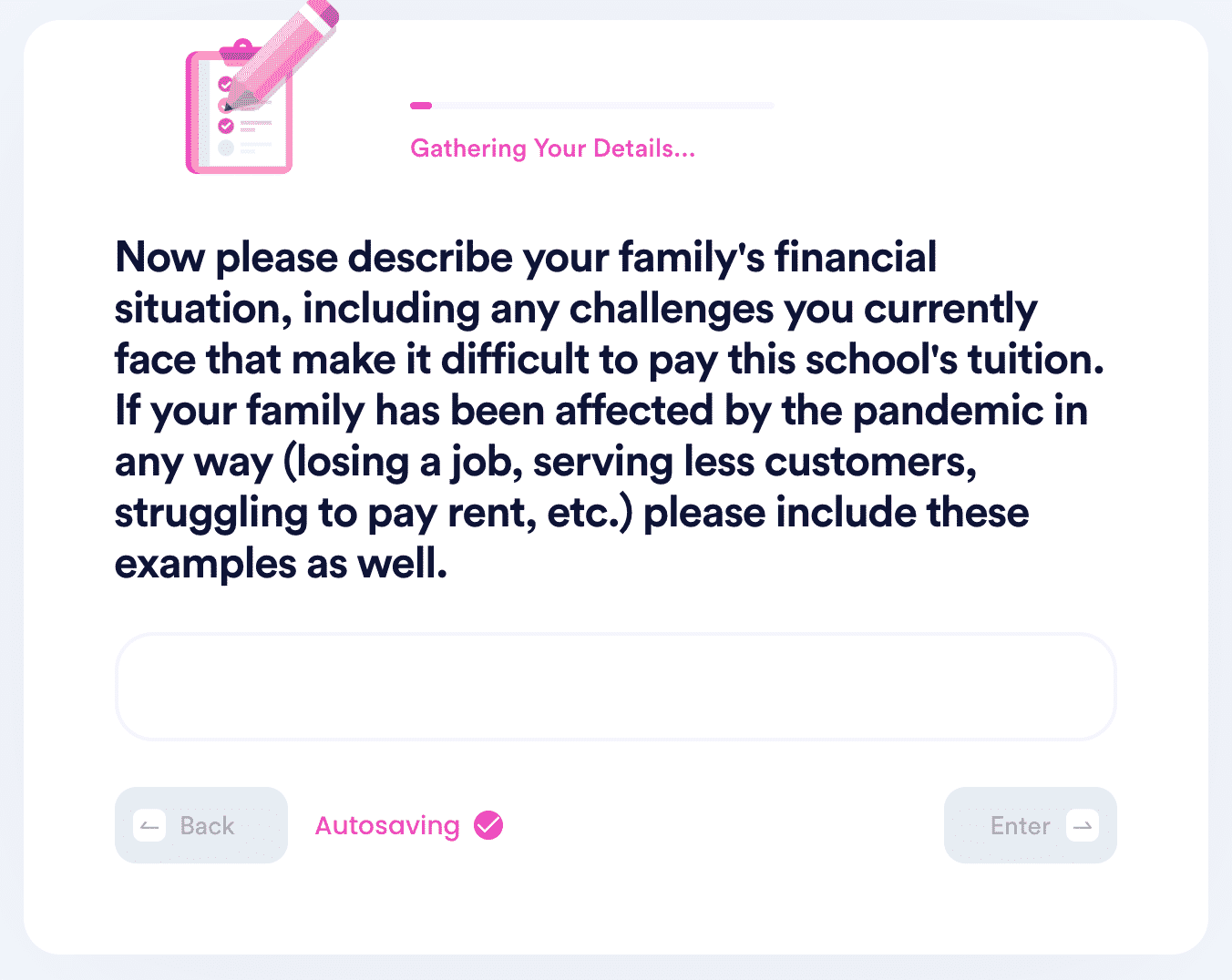 DoNotPay will generate a personalized appeal letter, taking your details into account. Once we have completed the process, we will send it to the respective college's financial aid office in your stead, saving you time and effort!
Want to know when to apply for financial aid and how much aid to expect? DoNotPay can help! You can also use our learning center as a great starting point for researching financial aid available for these popular U.S. universities:
Tackle Any Legal Task With Our Lawyer App Like a Pro!
Why bother with tedious legal tasks on your own when you can let DoNotPay cut your work in half? No more worrying about how to draft legal documents or sue a company in small claims court—we'll guide you through it effortlessly!
There is no shortage of tasks our Al-powered app can help you with. Once you sign up, you'll learn how to:
Fight Scammers in a Few Clicks!
Is your phone buzzing incessantly, and you can't take it any longer? Use DoNotPay to stop annoying robocalls and fight scammers with ease!
Having a company spam you with unwanted emails about their products isn't uncommon, but that doesn't mean you have to put up with it. DoNotPay helps you create a burner phone number, fight email spam, and stop spam text messages in a snap!
You can also find our features super useful when requesting a refund, filing insurance claims, and locating your missing USPS, UPS, or other parcels.