Create a Compelling Financial Aid Appeal Letter
Applying for financial aid is one way to cover costly college attendance. Unfortunately, not all applicants will get the award or the exact amount necessary to pay for their education.
If that's the case with you, don't despair—by appealing the college's decision, you have a realistic shot at getting the aid you need.
In most cases, a well-written appeal letter is the way to get your financial needs met. DoNotPay will give you the instructions on what a financial aid appeal letter should contain and even write one for you if needed!
Financial Aid—Key Points
Financial aid is the money from federal, state, or institutional sources aimed at helping prospective college students pay for their education. Both undergrad and grad students can typically choose between the following options:
Grants
Scholarships
Loans
Employment programs
The first two options are the most practical and sought-after forms of financial aid since they don't have to be repaid. Students who take out a loan have to repay it after graduation, typically with low-interest rates and a repayment grace period following graduation. Work-study programs offer students part-time jobs to help them pay for attending college.
Most schools require their students to fill out the Free Application for Federal Student Aid (FAFSA) form to determine their eligibility for financial aid. If you've been denied financial aid altogether or have received a smaller amount than expected, you should:
Explore the reasons why that happened
Define the cause for needing (higher) award
When Should You Write an Appeal Letter for Financial Aid?
There are numerous reasons why you should consider writing an appeal letter and ask for more (or any) financial aid. The most common are:
Changes in your circumstances—An unexpected change in your economic situation since you first filed your FAFSA can be a cause for needing higher financial aid. Possible reasons include:

Unemployment
Death of a caregiver
Medical emergency
Divorce

Mistake on your FAFSA form—You might have made an error on your FAFSA that has possibly affected your award. The inaccurate data can also be the consequence of a sudden change in circumstances
Higher award offer from another college—If you've been offered a higher award from a backup college, you can ask another school to match their offer
One of the eligibility requirements for getting financial aid is maintaining suitable academic progress. Students who have been denied the award due to poor grades can appeal if they have experienced a traumatic event, such as:
Death of a family member
Homelessness
Difficult pregnancy
Newly diagnosed illness
How To Write a Financial Aid Appeal Letter
To write a professional appeal letter, you have to follow specific guidelines. A detailed description of what to include in your financial aid appeal letter is in the table below:
| | |
| --- | --- |
| Instructions | Details |
| Address the letter to a particular person | Contact the financial aid office to find out to whom you should address the letter. If you don't know, you can address it with "Dear Sir/Madam" |
| Be specific about the reasons you need (more) financial aid | Ask the office to reconsider the offer and clearly state the reason you need more money |
| Provide details of any special circumstances | Explain the changes in your circumstances in a clear and honest way and ask the office to take them into consideration |
| Add appropriate documentation | Provide any documents that support your claim and refer to them in the letter. If the financial aid office asks for additional forms, provide those as well |
| State the exact amount | Include a realistic amount that will help you cover the costs of college. If you need help to pay for specific items (such as travel costs or supplies), name them |
| Add a competing offer (if applicable) | If another college offered you more aid, include the offer in your letter and ask the school to match it |
| Aks for further instructions | Request instructions on how to approach the following stages of the appeal process |
| State your gratitude | Make sure to start and end the letter with a thank you |
Letter of Appeal for Financial Aid—Expert Tips
While there's no guarantee your appeal will bear fruit, you can use certified tricks to elevate your chances of getting the desired results. When creating an appeal letter, you should make sure to:
Write in first person—having your parent write the letter on your behalf will not be well received
Use the appropriate tone—you should find the perfect middle ground between humble and assertive. Also, be careful about your word choices
Be concise—the letter shouldn't be longer than one page
Check for errors—you can ask somebody you trust to read the letter before submission and point to potential grammar and spelling errors
Note that the success of your appeal depends on how well you present your case. If you don't feel confident enough to write it yourself, and let us create the letter for you!
Need a Bullet-Proof Financial Aid Appeal Letter? DoNotPay Is the Way to Go!
Getting a grant is the best way to finish your studies debt-free. If you got rejected the first time, you shouldn't risk getting denied once again.
Our app can provide a top-notch appeal letter according to all the guidelines we described above. All you have to do is provide specific details about your situation—we will use them to generate a letter bound to bring results!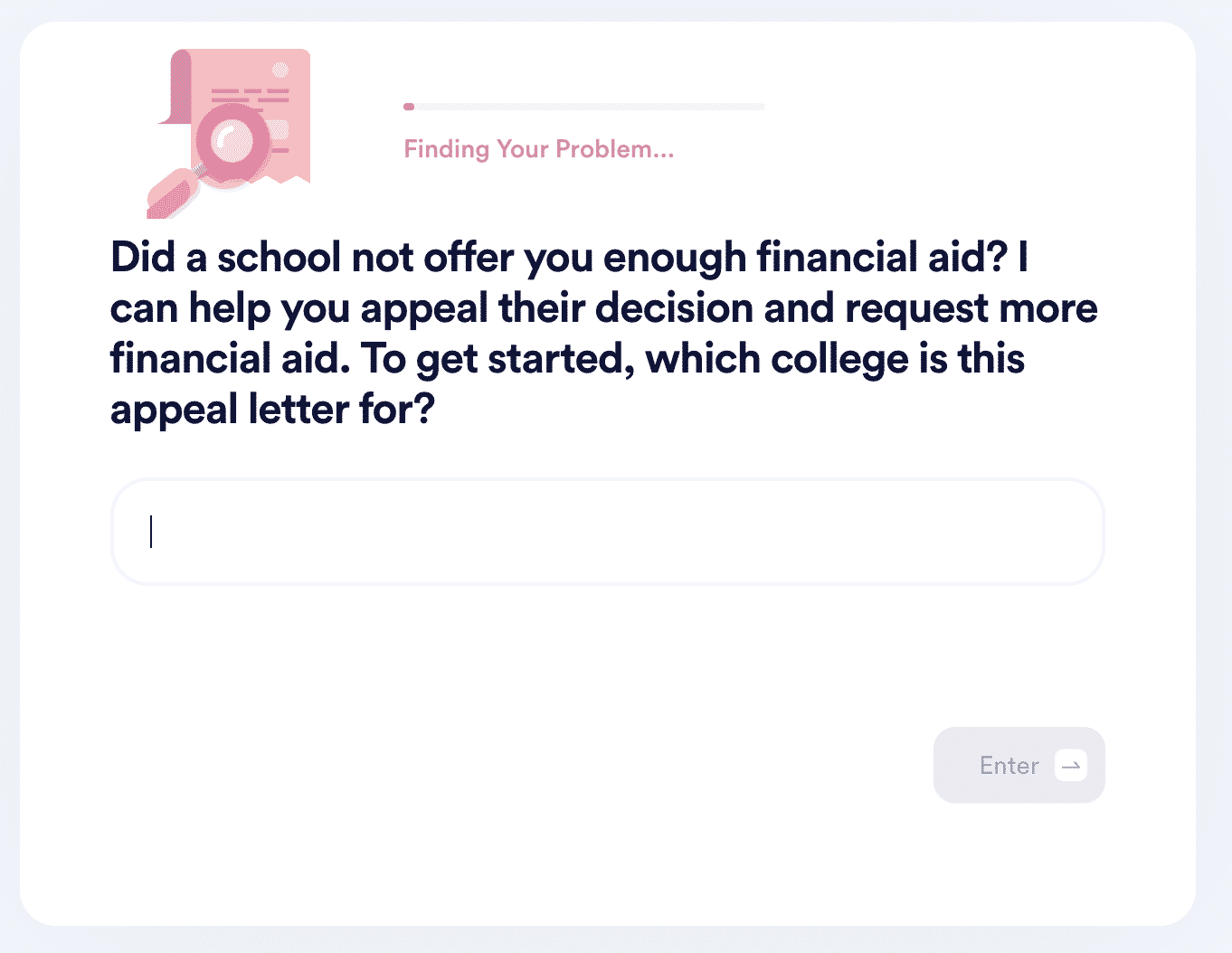 You won't have to wait more than a few minutes to get the letter if you from any web browser and:
Click on our Appeal for More Financial Aid product
Answer questions that will help us customize the letter
We will not only draw up but also send the letter to your desired college!
If you access our learning center, you will discover more useful info about financial aid, such as when it is best to apply and for how many years you can get financial aid.
As additional help, the table below presents details about financial aid packages in the most renowned U.S. colleges:
Get an Extra Buck or Two With DoNotPay
Besides being able to assist you with almost any legal issue, DoNotPay can also help you get some extra money! We can cancel any unused memberships and prevent you from being charged after free trial periods are over with our virtual credit card.
Can't claim a warranty or get cash back for a gift card? Subscribe for DoNotPay and consider it done! We can also help you return items to almost any company or even help you get a refund in a few clicks!
Helping you jump the customer service queues is also not a biggie for us, as well as taking the company that wronged you to small claims court!
No Problem Is Unsolvable for DoNotPay
By subscribing to our platform, you get access to a plethora of handy features that can help you with:
Drafting legal documents

Creating POA agreements

Reducing property taxes