Essential Info When Applying for Texas Tech Financial Aid
Texas Tech University (Tech, TTU, or Texas Tech) was established in 1923 and has around 40,000 students. This public research university requires its students to pay tuition of $9,300 (in-state) or $19,260 (out-of-state).
In case you don't have the funds to pay for your education at TTU, you can apply for any of the Texas Tech financial aid options. DoNotPay will introduce the available choices and help you send an appeal letter if necessary.
How To Get in Touch With the Texas Tech Financial Aid Office
Texas Tech Student Financial Aid & Scholarships office will offer face-to-face instructions again in fall 2021. Until then, you can contact the financial aid advisors in any of the following ways:
Phone—806-742-3681
Fax—806-742-0880
Email—finaid.advisor@ttu.edu
Mail—Texas Tech University, Student Financial Aid & Scholarships, West Hall 301, P.O. Box 45011, Lubbock, TX 79409
You can call the financial aid advisors Monday through Friday from 8:30 a.m. to 4:00 p.m.
Essential Info About FAFSA and TASFA When Applying for TTU Financial Aid
Texas Tech offers financial aid to students based on household and financial info found on financial aid applications. Students at TTU need to complete one of the following applications:
Texas Tech Financial Aid Deadlines
You need to submit the applications for financial aid on time to be considered. Mark these dates in your calendar:
The FAFSA priority date is January 15, but the application opens October 1 for the following school year
The TASFA priority date is January 15
How To Apply for Texas Tech University Financial Aid
To successfully apply for financial aid at Texas Tech, you should follow the predetermined procedure. Here are the steps you need to take:
Complete and submit the financial aid application (FAFSA or TASFA)
Check for any additional requirements
View and accept the aid offer
Look for additional funding (if you need more)
Financial Aid Types You Can Apply for at Texas Tech
Financial aid comes in different forms at Texas Tech, and you can apply for any if you meet the required criteria. How much financial aid you get will also depend on the type of aid you receive. Check out the table below to see your options:
Type of Aid
Explanation
Grants
This aid doesn't need to be repaid. You can apply for:

Federal Pell Grant
Federal Supplemental Education Opportunity Grant (SEOG)
TEXAS Grant
TTU Grant
Federal TEACH Grant
Iraq and Afghanistan Service Grant (IASG)
Texas Public Education Grant (TPEG)
Children of Fallen Heroes Scholarship

Scholarships
Scholarships can be both need- and merit-based. Incoming freshmen can apply for:

General Scholarships
Presidential Merit Scholarships

Additional scholarship options are available for transfer, continuing, graduate, and law students

Loans
If you apply for a loan, bear in mind that you will need to repay it with interest. These are your options:

Federal Direct Loan
Federal Direct PLUS Loan for Graduate/Professional Students
Texas B-On-Time Loan
Private Education Loan
Federal Direct PLUS Loan for Parents
College Access Loan

Student employment
Student employment allows students to work part-time while studying. There are different job options available both on- and off-campus
Financial aid for student athletes
TTU puts a lot of effort into supporting student athletes. Different aid options are available for individuals who do sports while studying. It is important that you and your team remain compliant with NCAA, Big 12 Conference, and Texas Tech University rules
The type of aid you receive will also determine how long your education can be funded this way.
Didn't Get the Financial Aid Offer You Expected? File an Appeal With DoNotPay!
DoNotPay can generate a financial aid appeal letter for you in case:
Your application gets rejected
You don't get the expected offer and need more money
Whatever the case, you can count on our app to draft a rock-solid appeal letter and send it to TTU on your behalf. You only need to:
Choose our Appeal for More Financial Aid product
Tell us the amount of financial aid other schools offered you (if you applied to more than one)
Provide the required info related to your family's income and financial status
DoNotPay also has the scoop on financial aid for graduate schools.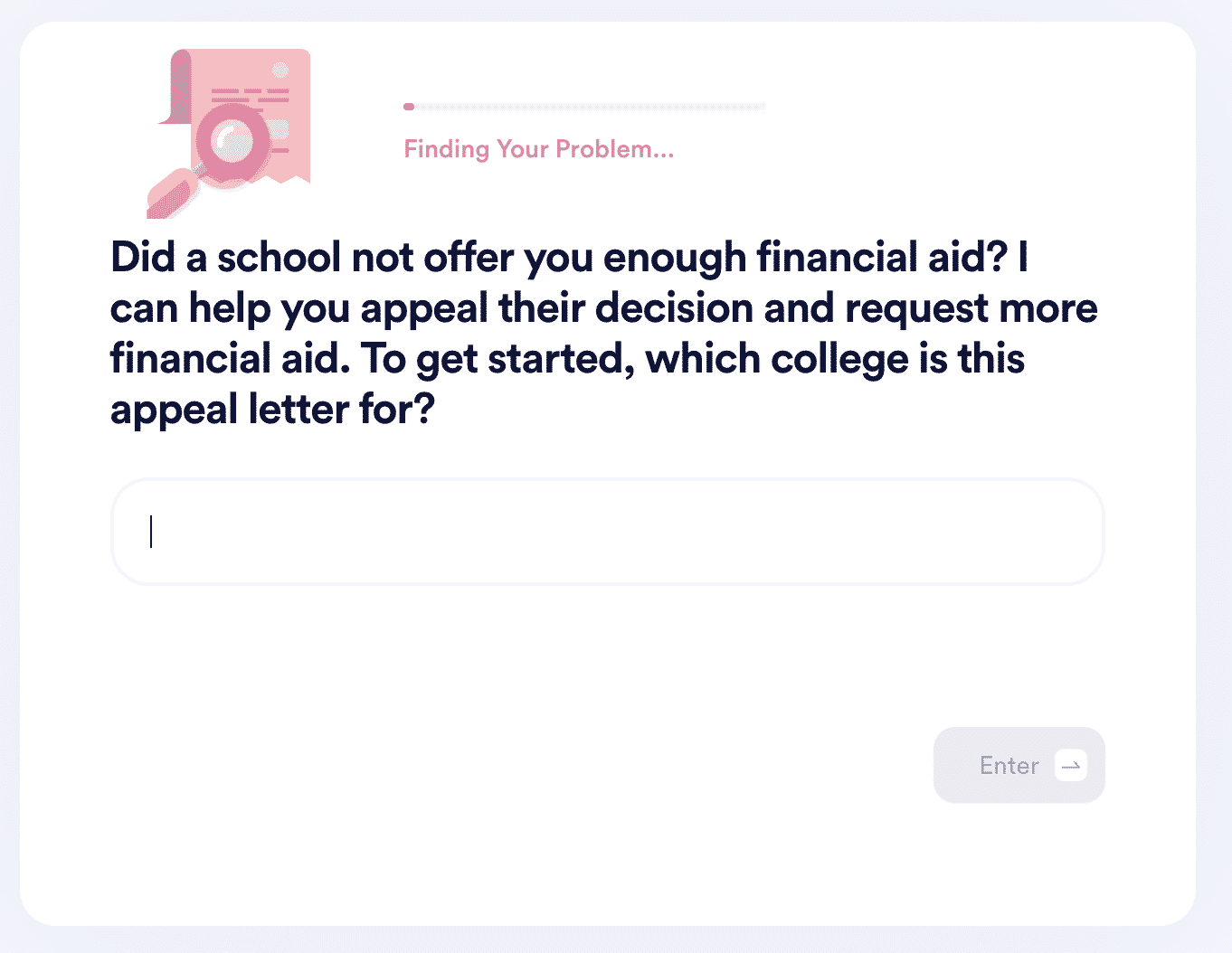 DoNotPay's Guides on Financial Aid Available at Other Universities
You can always use DoNotPay to check out financial aid options available at other schools and see if they fit your needs better. Take a look at the table below to see some of the popular choices:
Let DoNotPay Be Your Virtual Assistant!
Why bother with deciphering legal terminology or figuring out how to write a legal document when you can let us do it for you? You don't have to waste your time any longer. Once you sign up for DoNotPay, we'll do much more than draft your legal documents or help get them notarized!
DoNotPay will show you how to perform a number of tasks with ease, including suing any company in small claims court, filing insurance claims, claiming warranties, creating passport photos, and sending your neighbor a complaint letter!
Should you need assistance with requesting a refund for a delayed flight or fighting workplace discrimination, our virtual assistant shows you how it's done.
There's More We Can Do!
Tired of dealing with mundane tasks and spending hours running dull errands? We offer the perfect solution!
DoNotPay can assist you in completing tedious tasks with ease! The best part is that you will spend significantly less time on them, and you can get them done from the comfort of your home!
Paying bills, getting a free trial, canceling subscriptions, getting revenge on robocalls, requesting refunds, or making a DMV appointment is only a few clicks away!