All You Should Know About the University of Florida Financial Aid
Spending thousands of dollars on tuition is one of the biggest issues when applying to your dream school. Is there a way you could make this experience less expensive? Applying for financial aid will help you cover the enrollment expenses and more, and we'll walk you through the entire process!
Other than showing you how to apply for the University of Florida financial aid, we'll also help you appeal a low offer in case you need to.
What Are the Available University of Florida Financial Aid Types?
Financial aid available to the University of Florida (UF) students can come from federal, state, and institutional sources. UF provides the following financial aid types for its undergraduate and graduate students:
Grants
Loans
Scholarships
Part-time employment
Grants
Grants are a type of financial aid that doesn't have to be repaid. The available programs at the University of Florida that you can apply for are:
Federal Pell Grant
Federal Supplemental Educational Opportunity Grants
Florida Student Assistance Grants
I. Douglas Turner Grant
UF Graduate Grant
Federal Iraq & Afghanistan Service Grant
Teacher Education Assistance for College and Higher Education Grant ("TEACH" Grant)
Completion Grant
Grad-A-Gator Grant
Loans
Loans, unlike grants, have to be paid back, usually after you graduate. Here are the available programs:
UF Long-Term Loans
UF Short-Term Loans
Alternative Loans
Federal Direct Subsidized Stafford Loan
Federal Direct Unsubsidized Stafford Loan
Federal Direct Grad PLUS Loan
Federal Direct Parent PLUS Loan
Scholarships
Scholarships are given to students based on their academic success or financial situation, and they don't have to be repaid. The University of Florida awards the following scholarships:
Machen Florida Opportunity Scholarships
Non-Endowed Scholarships
Endowed Scholarships & Fellowships
Benacquisto Scholarship
Part-Time Employment
Part-time employment and federal work-study programs allow students to find and work part-time jobs. That way, they can earn money to cover the expenses of their studies.
The available job positions can be:
University of Florida Financial Aid Eligibility
If you're wondering what financial aid requirements you should meet to be eligible for aid, check out the list below:
Making satisfactory academic progress
Being a U. S. citizen, national, or permanent resident alien
Registering with the Selective Services, if necessary
Not being in default on a federal or institutional loan or owe a repayment on previous financial aid awards
Since some of the programs offered by the University of Florida require additional paperwork, you should visit its official website and look for more details once you decide on a program.
The University of Florida Financial Aid Application Process
Applying for financial aid can get confusing, especially if it's the first time you're doing it. We'll break down the process step by step to make it easier to understand how it works. Here's what you should do:
Complete the Free Application for Federal Student Aid (FAFSA)
Verify the information
Use the ONE.UF tool to check your application status
Accept or decline your financial aid offer
Keep in mind that you can accept or decline loans and employment only—grants and scholarships are considered automatically accepted.
Get in Touch With the University of Florida Financial Aid Office
In case you have any questions regarding financial aid, such as when to apply or how long you can keep getting financial aid, you can contact the UF financial aid office and inquire about it. Here are the available contact methods:
Contact the UF Financial Aid Office Via
Instructions
Phone

Dial 352-392-1275
Ask the financial aid counselor to provide you with the necessary information

Mail

Write a letter explaining your request
Send it to the following address: S-107 Criser Hall, P.O. Box 114025, Gainesville, FL 32611
DoNotPay Helps You Appeal Low University of Florida Financial Aid Offers!
If the University of Florida rejects your application or offers an insufficient financial aid amount, you don't have to worry! You can use our neat feature to appeal the decision in a few taps!
The process is super quick—all you need to do is answer a few questions. DoNotPay uses the info you provide to compose a financial aid appeal letter in your stead.
Here's how to get started once you :
Pick our Appeal for More Financial Aid tool
Enter University of Florida and other schools that offered you more aid
Provide some info about your family's financial situation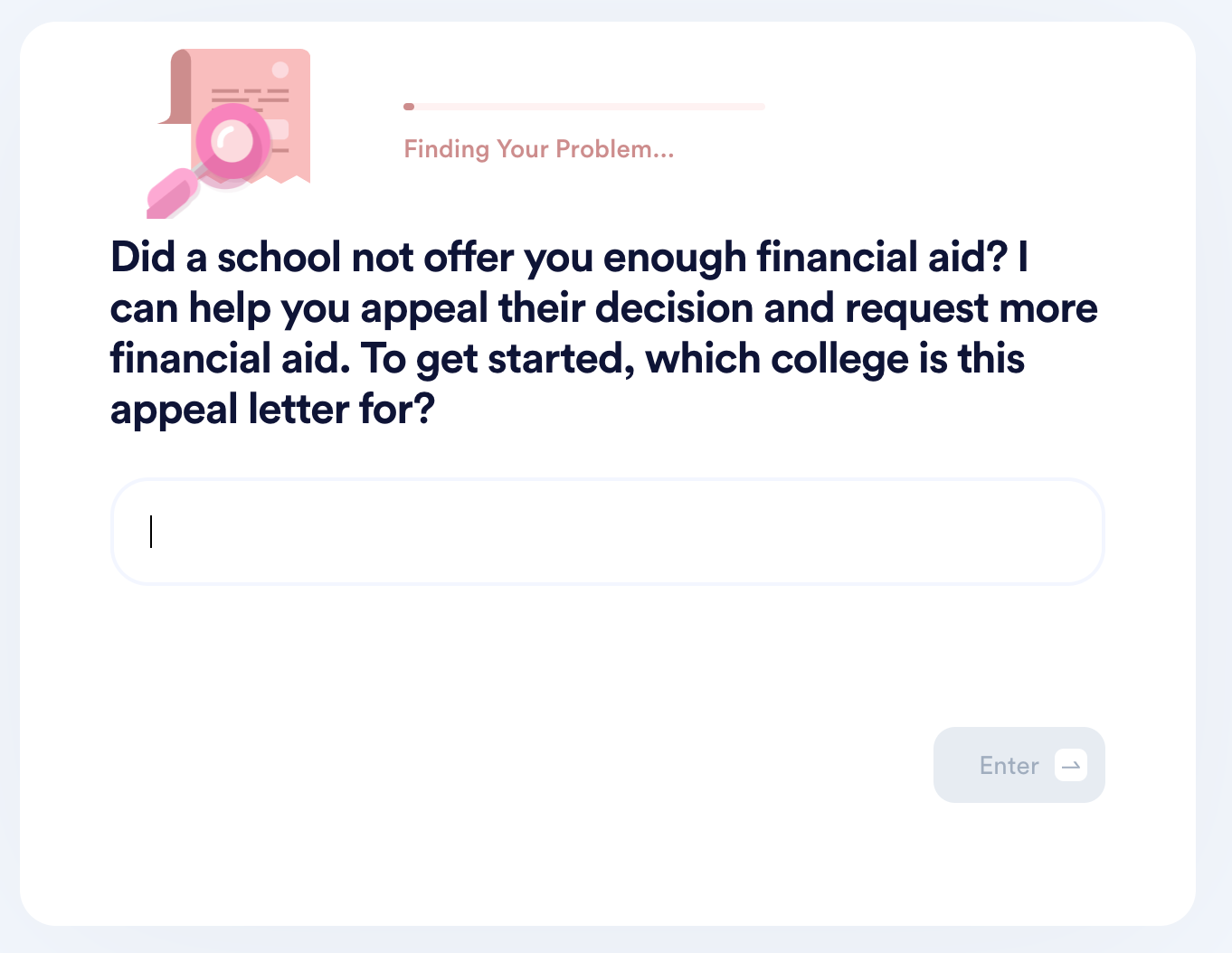 Our app will create your appeal letter in a few minutes and send it to the University of Florida financial aid office on your behalf.
If you don't want to appeal or accept the UF financial aid, you don't have to. You can check out other schools and potentially apply for financial aid from a university that offers more! can provide you with guides to applying for more aid from the following schools and many more:
Explore DoNotPay's Vast Database To Handle Administrative Issues Head-On
Dealing with administrative issues is never a fun experience, but you can save yourself from unnecessary hassle with our app! Once you sign up for DoNotPay, there is little you can't do. Aside from helping you deal with everyday tasks, such as reaching customer services, you can also use our app to:
Make Your Legal Troubles Disappear
Is a company giving you a hard time? Don't fret! DoNotPay can walk you through the process of suing it in small claims court and help you get the justice you deserve!
The best part is that assisting you take companies to court isn't all our app can do! We can also help you with:
Composing legal documents

Preparing divorce settlement agreements