ShopRunner Return Policy—Don't Let Them Run Away With It!
Online shopping can be risky as you're more likely to be unhappy with the purchased product once it reaches your doorstep. That's why everyone should be able to return their purchase as effortlessly as possible, which isn't always the case. Generally, retailers make their return policies and processes overcomplicated to discourage customers from returning their items.
In this article, DoNotPay will talk about the ShopRunner return policy and the process you need to go through to receive a refund.
We'll also introduce you to our Item Return Request product that you can use to with ShopRunner in no time.
We don't deal with ShopRunner only—you can use our app to speed up return processes with many other companies, including Google Store, Kroger, and Eastbay.
How Does the ShopRunner Return Policy Work?
As ShopRunner is a middleman between you and their network of stores, they don't have a unified return policy to which you can refer. For instance, the deadline for filing a return request depends on the policy of a particular retailer. The same goes for items considered non-refundable, ways to request refunds, and other details.
If you want to know what you can expect from your return request, you should take a look at the policy of the retailer in question.
You can check out return policies of some of the stores ShopRunner works with in the list below:
ShopRunner does have a policy for return shipping fees. When you pay the membership fee, the company promises the following:
Free two-day shipping on orders
Free return shipping
ShopRunner guarantees free return shipping only for orders you've placed using their website. If you've bought a product at their member's store without ShopRunner or before you made a ShopRunner account, you won't be eligible for their prepaid shipping label.
How To Request for ShopRunner Free Returns
Regardless of the retailer whose product you wish to return, you can file the return request using two methods:
Online
DoNotPay's app
To file a request using ShopRunner's website, you need to complete the following steps:
Sign in to your ShopRunner account
Click on the My Account link
Choose Orders from the menu
Tap Print Return Label
Select the reason for returning your item
Confirm by clicking Print Return Label again
Bear in mind that ShopRunner offers free labels only for stores that don't have free shipping policies of their own. If there's no Print Return Label button, that means that the store in question covers the shipping fee, and there's no need to use ShopRunner.
In that case, you don't have to go through the process of downloading and printing the prepaid return label. Instead, use the store's return label that's in your package.
Once you have the return label, pack the items according to the store's policy and affix the label to the outside of the box.
ShopRunner Return Policy—Use DoNotPay To File a Request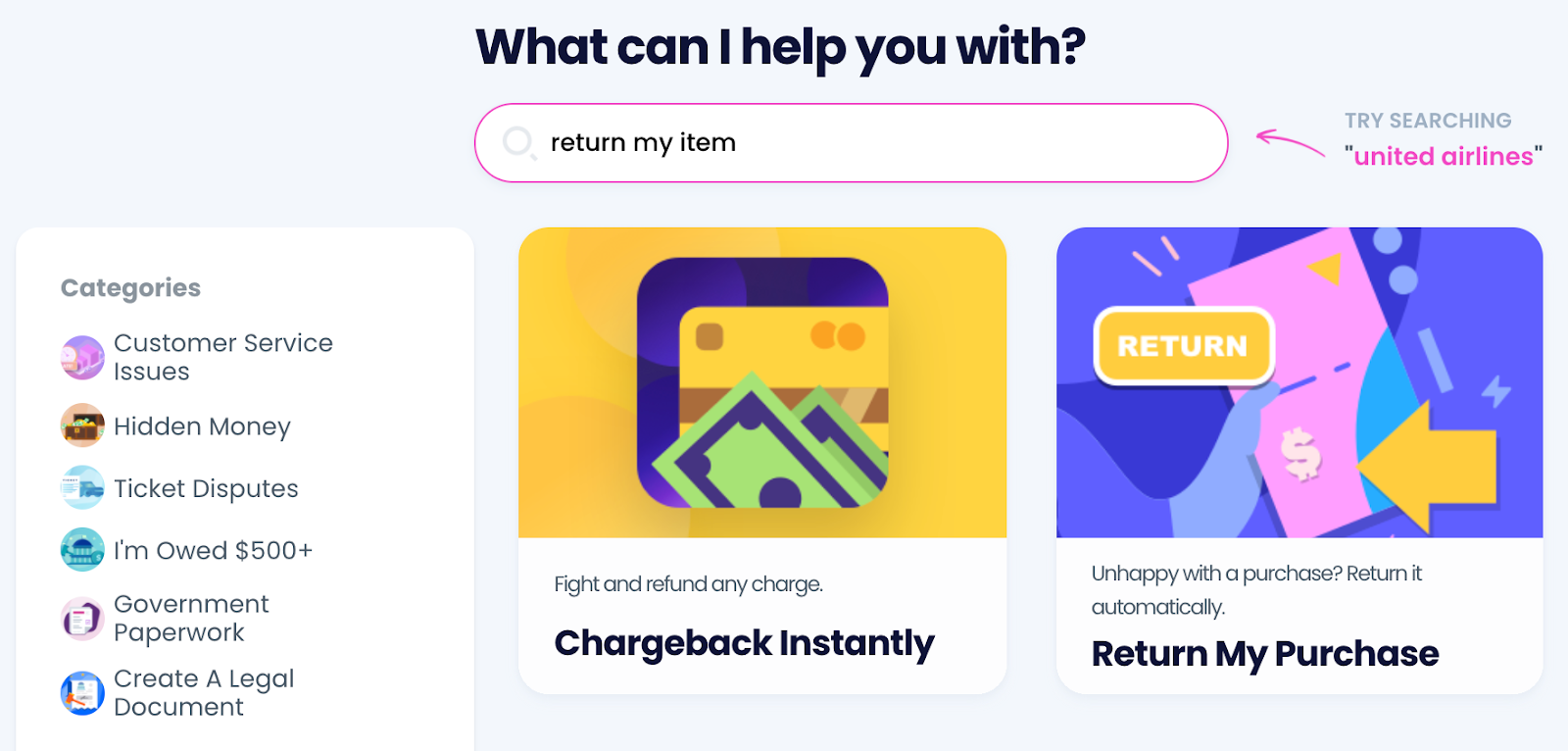 Filing a return request with ShopRunner can be quite a complicated affair as you have to follow the rules of two different return policies. You have to waste time trying to understand how they work before you even get to filing the request.
If you want to avoid this unnecessary hassle, you can rely on DoNotPay. With our app, you can file a return request in no time and let us deal with ShopRunner.
You can do so by completing the following steps:
via a browser
Go to the Item Return Request feature
Answer a few questions
Send the request
Once you ship the product to the address we give you, you can relax and let us handle the business. We will take care of all the details and contact the retailer on your behalf.
How Long Until You Receive Your Refund?
ShopRunner is not responsible for how much time stores take to review return requests, and the period of processing varies depending on individual policies. Once the store does accept your request for a refund, they will send money to the original form of payment. It usually takes five to ten business days for the funds to show up on your account.
If you're not satisfied with the waiting time, DoNotPay can help you with that! While filling out your request on our app, we will ask you for a date by which you want your issue to be resolved and include a deadline in your request.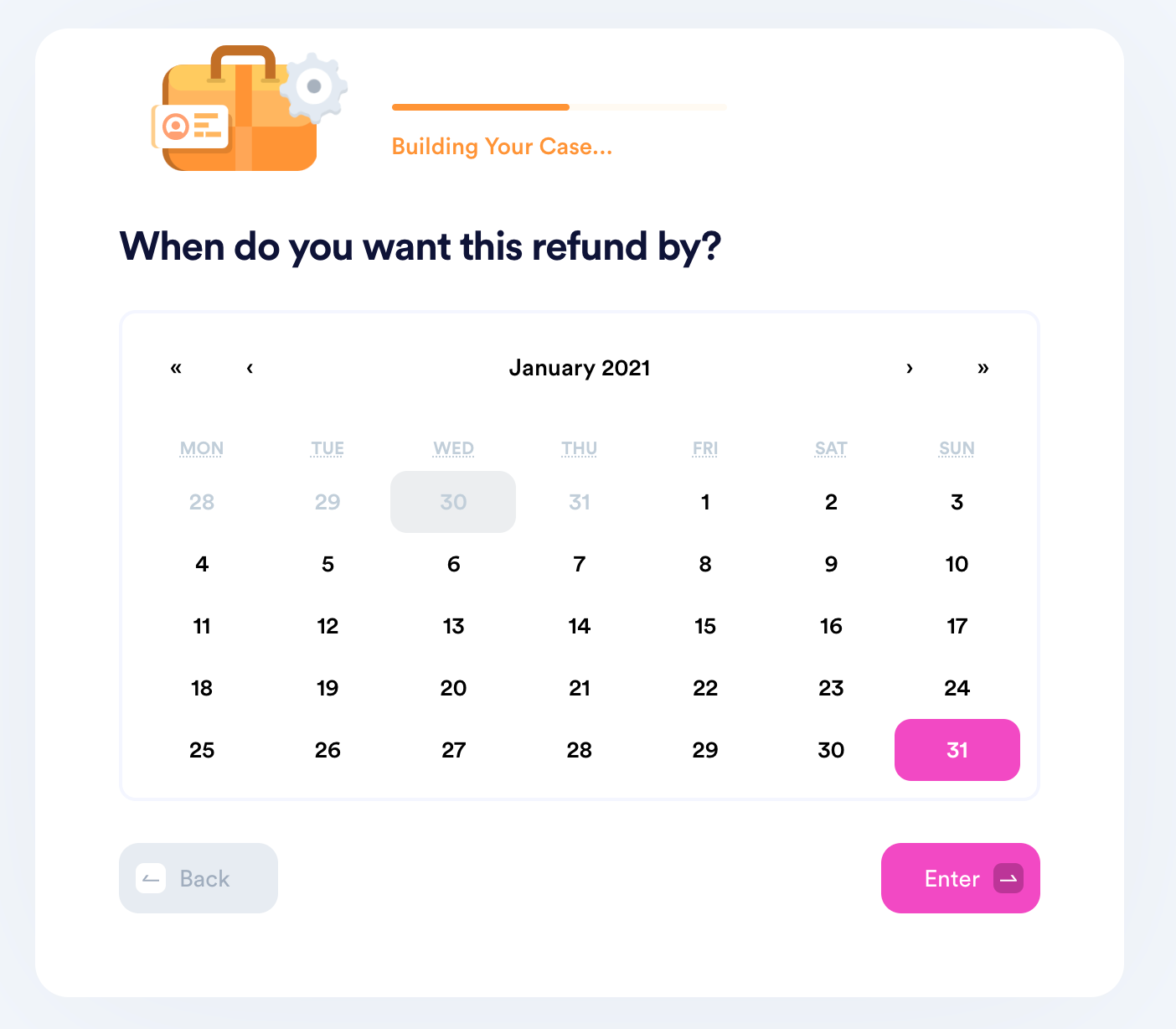 Getting DoNotPay's Help To File a Return Request With Other Companies
Tired of having to mess around with different return policies? You can use DoNotPay to file return requests with a plethora of companies, including:
Sick of Dealing With Companies? We'll Take Over
Companies that don't respect your consumer rights are the reason why DoNotPay exists—our range of AI-powered products is here to help you fight for justice.
If you want to demand a refund for a rescheduled flight, cancel your free trial using our virtual credit card, sue any company or individual in small claims court, appeal your parking tickets, protect your work from copycats, claim warranty and insurance, rely on your AI-driven personal assistant.
Don't want to pay sky-high lawyer fees for simple legal tasks? You shouldn't—use DoNotPay to draw up any legal document, including a child travel consent form, divorce settlement agreement, power of attorney, and many more.
Complete All Tasks From the Comfort of Your Home
As soon as you subscribe to our versatile app, you'll be able to do all of the following without leaving your home: