A Detailed Guide to the Kroger Return Policy and Best Return Methods
Did you shop at Kroger and mistakenly bought some items? Don't worry! You can return them, but first, you should read our Kroger return policy guide. If starting the return process is too difficult, you can let us pitch in.
When you , we can help you send a return request letter that comes with many benefits. That's not the only thing we do! We can also help you check your Kroger gift card balance and more!
What Is Kroger's Return Policy?
Kroger allows returns of items to all store locations within 30 days of purchase. Besides items from Kroger, you can return products from any Kroger company store family, including:
Ralphs
Fry's
Food 4 Less
Pay-Less Super Markets
Gerbes
City Market
King Soopers
Harris Teeter
Baker's
Jay C Food Store
QFC
Foods Co
Smith's Food and Drug
Dillons
Note that each of the mentioned stores accepts eligible returns from any other Kroger family store. You can return virtually any item, but the following products have restricted returns:
Alcohol and tobacco returns are governed by local law
Baby formula returns are only acceptable if you have a receipt
Items purchased with Women, Infants, and Children (WIC) food packages can only be exchanged for the same item. You cannot get a refund for such products
What Is the Kroger Return Policy With a Receipt?
There are two types of receipts at Kroger stores—digital and paper. If you have any type of receipt for the products you're returning, you will be refunded to the original payment method you used for the purchase except for checks, which are refunded in cash.
What Is the Kroger Return Policy Without a Receipt?
If you return $10.00 or less worth of Kroger products, you'll receive cash for your return. Items worth more than that can be exchanged for a store credit gift card of the same value. When returning items to Kroger worth over $10.00, you need to sign a return slip.
You don't need to provide your ID for returns without a receipt, although this is a common practice in many stores.
How To Make Returns to Kroger
You can only return items to Kroger stores in person. Returns via mail are not available, even when you shop online. If you wish to return products, bring them over to the nearest Kroger, and don't forget the receipt if you have it. You can find local Kroger shops by using the Store Locator tool.
If you have any questions regarding returns, you can call Kroger customer service at 1-800-576-4377 from 7 a.m. to 12 a.m. EST during workdays and from 7 a.m. to 9:30 p.m. EST during the weekends.
You can also use the live chat feature to reach online customer support. To do so, open the Kroger Contact page and click on Launch Live Chat.
DoNotPay Can Help You Start the Return Process With Kroger
Making returns can be stressful and complicated. We're here to make the process easier for you. Our Item Return Request feature lets you send a formal return request that won't be ignored because it gives the company a deadline. It will also help you down the line if there are any arguments with the company.
Using our feature is easy if you follow the three-step instructions below:
and click on the Item Return Request feature
Provide us with several details about the purchase and photos if you have them
Click on Submit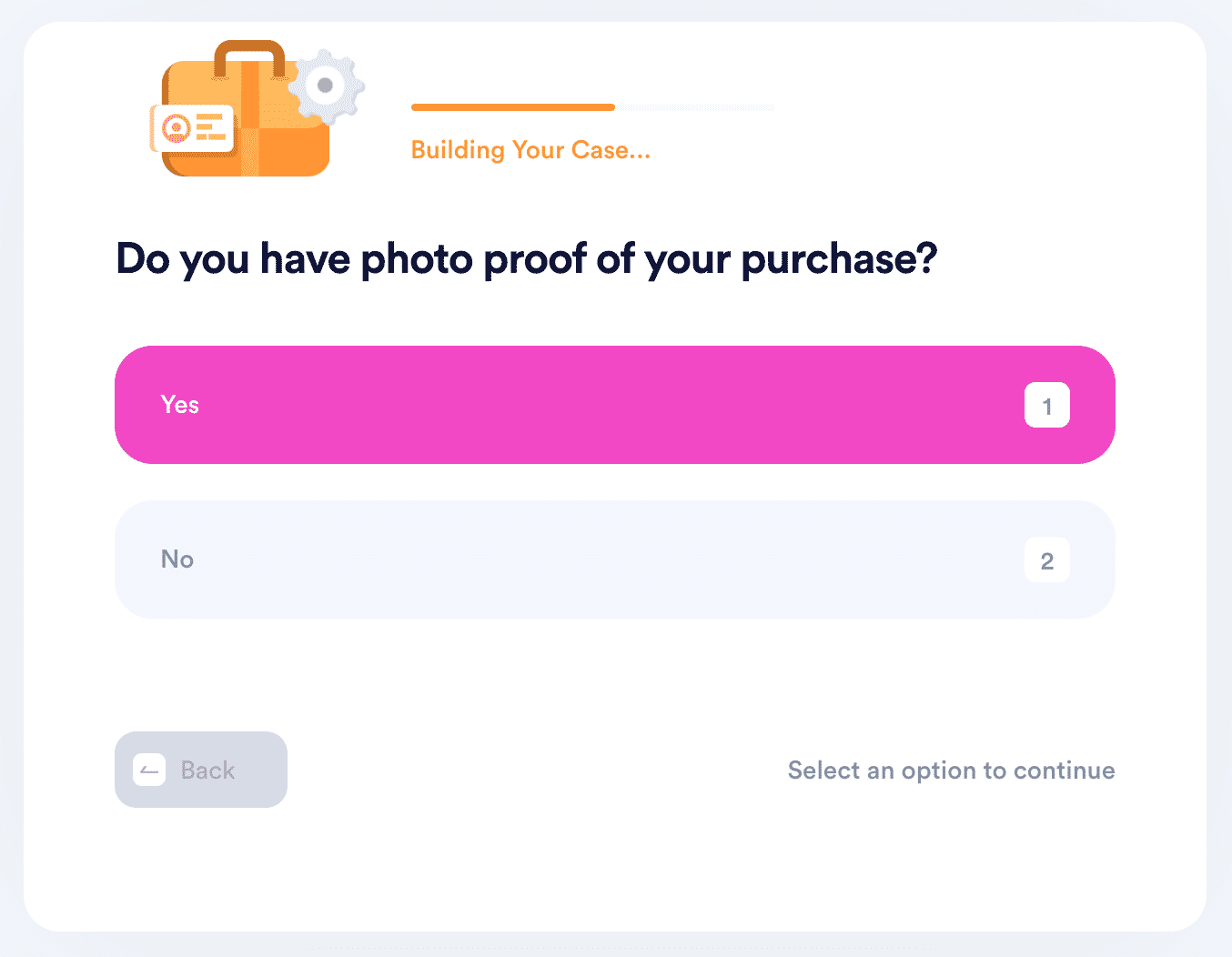 Is another big retailer causing you trouble? We can initiate returns with them as well! Here are some of our most popular return guides: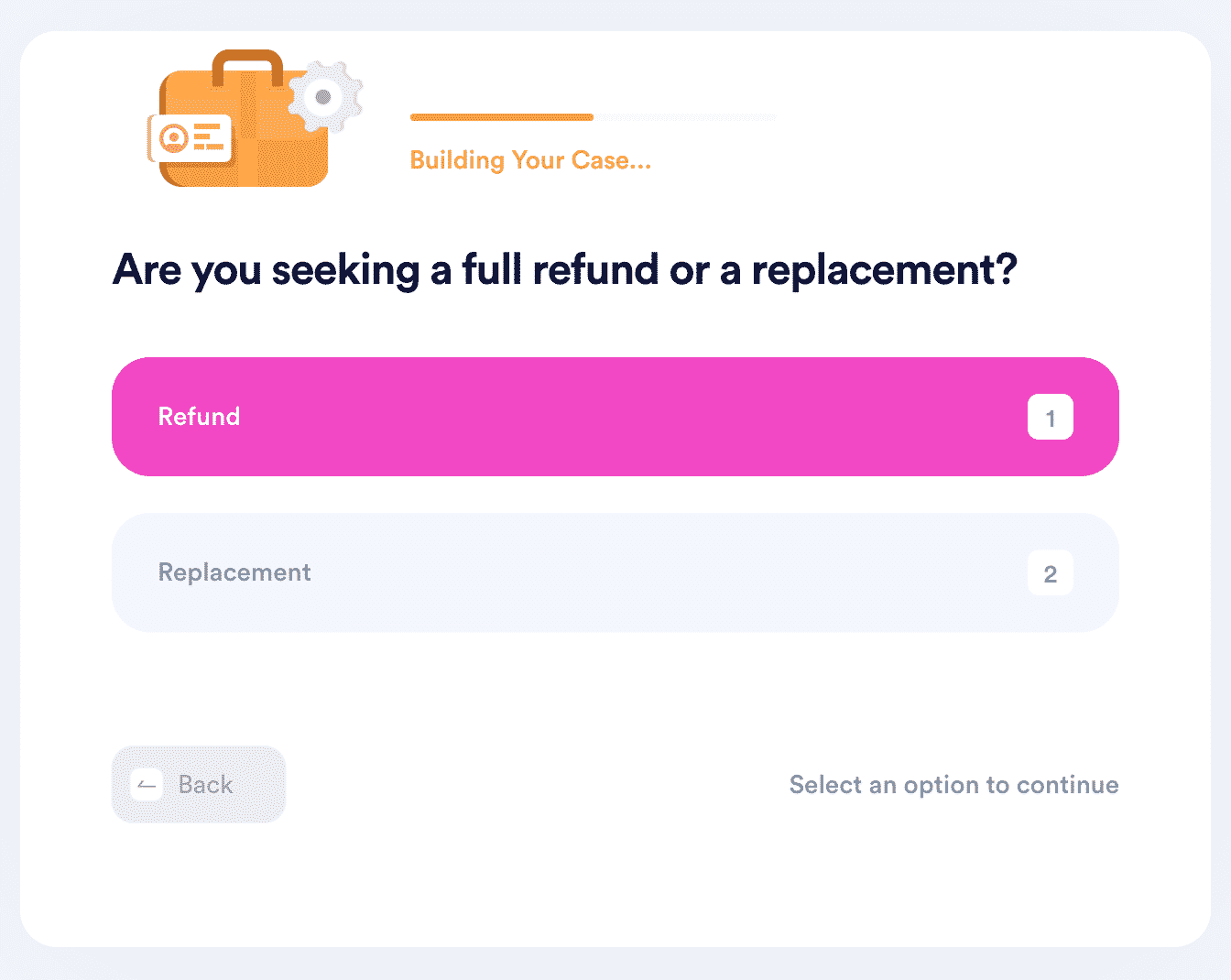 Let DoNotPay Handle Your Kroger Refunds
Returning an item and then waiting for a refund can take ages. You can let DoNotPay request a refund for you fast. It only takes four steps, as you can see below:
Access DoNotPay
Click on the File a Chargeback feature, followed by Get Protected
Answer the questions regarding your refund
Sign the form and click on Submit
DoNotPay Can Help You Sue Kroger in Small Claims Court!
If Kroger has wronged you, DoNotPay can assist you in suing them in small claims court. Our app is the world's first robot lawyer recognized by the American Bar Association, so you can count on our expertise. You only need to provide us with the details about your case, and we'll give you instructions and strategies for the court and provide you with court forms, a demand letter, and everything else you need.
Anything Else We Can Do for You?
Our AI-powered app is versatile—you can complete many tiresome, daunting tasks that you wouldn't want to tackle by yourself. You can use DoNotPay to:
If you want to get access to all of our nifty products, sign up now!
Is the Company Refusing To Cooperate? We Can Help You Get Justice
Is whatever company you're dealing with not being a good sport? Don't worry—the world's first robot lawyer is here to help. Our app can prepare all the necessary paperwork and provide guidance if you want to sue the company in small claims court.
We can also help you draw up any legal document you need for the case, have it notarized by an online notary, and fax it to anyone in a matter of minutes.
If you want to get revenge on tiresome robocalls or report a stalker or harasser, you can rely on DoNotPay.