T-Mobile Return Policy Hacked—Shortcut to Getting a Refund
Have you come to realize that T-Mobile is not what you expected? Whether you want to return a phone, coverage device, or tablet, you have to play by the company's rules to qualify for a refund. If following the T-Mobile Return policy sounds like too big of a hassle, streamlines the return process for you!
Everything You Need To Know About T-Mobile Return Policy
T-Mobile's return policy varies depending on how you made your purchase. When it comes to getting devices, accessories, or services from T-Mobile, you can:
Buy them in stores
Place an order over the phone
Order online
Return Policy for Devices Bought In Stores
If you bought a device or an accessory at any T-Mobile retail location or from an authorized third-party dealer, you have 14 days after the purchase or lease date to return it. Make sure to:
Bring the receipt and the product's original packaging
Include all contents from the original package, undamaged, and in proper working condition
Retrain from any alterations to the device's hardware or software
For purchases made at T-Mobile stores, any rebates and shipping costs will be deducted from the refund. There's a chance you'll have to pay a restocking fee based on the FPR (Full Retail Price) of the device:
$70 if the FPR is $600 or more
$40 for items priced $300–$599
$20 for devices costing less than $300
The restocking fee applies to returns made in all states and Puerto Rico, except Hawaii.
For purchases made at authorized third-party dealers, consult that merchant's return policy.
Return Policy for Devices Ordered Over the Phone or Online
You have a 20-day return window to exchange or return any device and accessory or cancel service activation if you placed your order over the phone or online. To initiate and complete the process, you'll have to:
Contact T-Mobile at 1-877-401-2215 and explain whether you want to cancel a service or return/exchange a device
Fill out a Return Form and include proof of purchase in the return package
Pay any service charges (if you're canceling a service) such as roaming, long-distance calls, control charges, regulatory program fees, and taxes
Cover the FPR charges
Note that you have to meet the following criteria to qualify for a refund:
The device must be in its original packaging with all original contents, undamaged, with no alterations to its hardware or software, and in good working condition
All additional accessories or items you received as part of a promotional offer must also be returned with the device
If you don't meet these terms, T-Mobile may:
Decline the return or service cancellation
Ask you to cover the repair cost for a damaged or altered device
Charge you the full price of the destroyed device or the canceled service (plus shipping and handling charges)
Limited edition devices, prepaid services, e-coupons, and gift cards are not refundable.
T-Mobile Phone Return Policy
T-Mobile allows up to 14 days to return a phone purchased at a store and 20 days if it was purchased online or over the phone. You must return everything that came with the device, except SIM cards. Before returning, make sure to clear out all personal data from the phone. T-Mobile won't refund you if the phone is damaged or you haven't completed the return process properly.
Retail Store Returns
Phones bought in a store must be returned to a T-Mobile location. You can go to any T-Mobile store and bring proof of purchase with you. Explain the reason for your visit, and the employees will assist you further. When returning phones to a store, you may be charged a restocking fee.
Returning Online or Phone Purchases by Mail
If you're returning a phone you bought online or over the phone, you will need a return label. To get a return label and complete the process, follow these steps:
Call 1-800-937-8997 and ask for a return label
Securely pack the phone to ensure it doesn't get damaged during shipment
Attach the return label that has been emailed to you to the parcel
T-Mobile Phone Return Policy—Additional Information
If you're returning only one phone, tablet, or wearable, all you have to do is securely pack the product and seal the box. Print the UPS shipping label and attach it to the outside of the return package. Customers using the original box to mail their return have to cover the existing labels and stickers.
For bulk returns, you'll need multiple packages. If you're returning more than 12 phones, let the customer service representative know when you call them for the return label.
Mainland U.S. Returns
To return an unwanted phone, you have to print the UPS shipping label emailed to you and attach it to the box. If you're using the original box, don't cover any stickers, except the original shipping label. In case you're shipping in a different box, you have to print the UN3481 packaging code in color. Be aware that you shouldn't alter or scale the color image of the code!
Alaska, Hawaii, and Pacific Island Returns
Instead of the ground shipping label used for mainland U.S. returns, you'll have to print a second-day air label that a T-Mobile customer service representative will provide. For returns in the original box, make sure not to cover anything except the original shipping label. If you're using a different container, print the UN3481 and PI packaging code in color without shrinking or scaling the color image.
Returning a T-Mobile Coverage Device
You can return a coverage device either to a T-Mobile store or by mail.
To return to a store, find a T-Mobile location near you and bring the device and all accessories from the original package.
In-store returns are possible only if you haven't started the procedure with Customer Care.
To begin the return process by mail, you have to:
Contact T-Mobile to have them email you a prepaid return label
Pack up the device securely
Print the label and attach it to the shipping box
Drop the parcel in the mail or take it to a UPS store
Request a Return From T-Mobile in a Minute With DoNotPay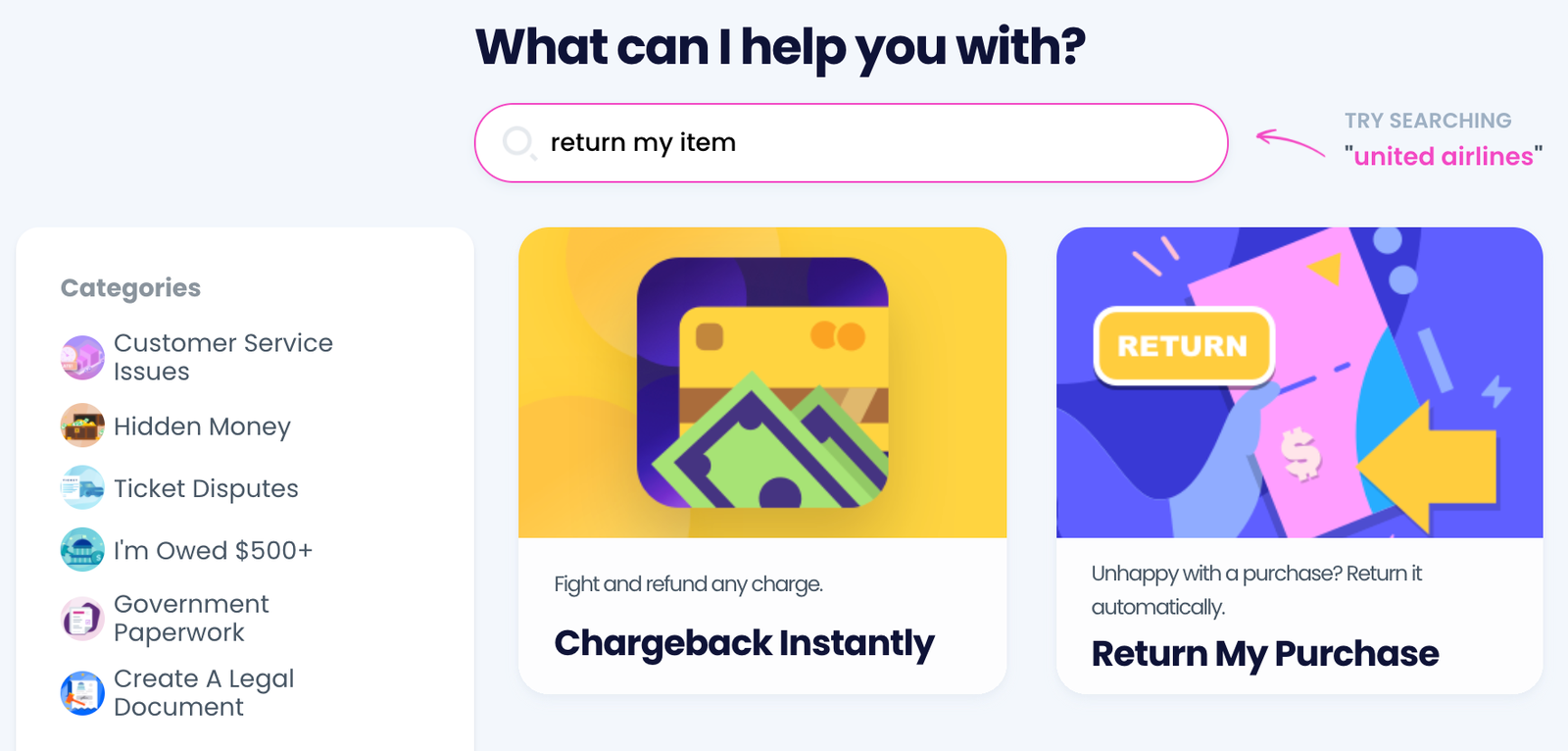 To help you handle returns with ease, our AI-powered app is enhanced with a cool feature—Item Return Request! If you want to avoid all the tedious steps to complete a return with T-Mobile, you should::
Select the Item Return Request product
Answer several questions related to your purchase
Attach photos if needed
In less than five minutes, we will send a customized return request letter to the merchant informing them about the return reason and whether you'd like a refund or exchange.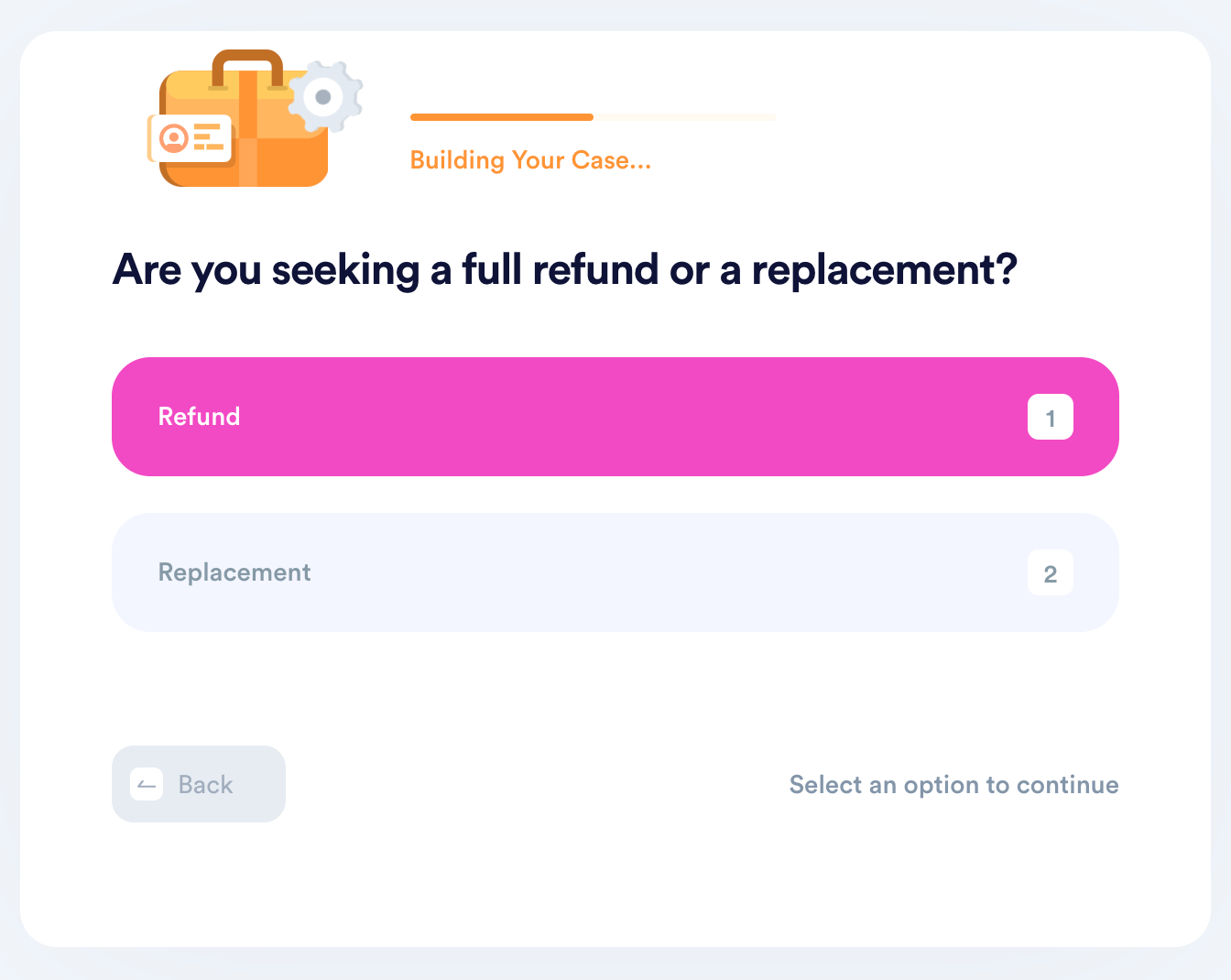 Our app will add a deadline to make sure T-Mobile reviews your request promptly. To ensure the process runs as smoothly as possible, we will get you a return label at no extra charge!
We have helped many T-Mobile customers with other issues, such as:
Follow our guides to effortlessly return items to other companies, including:
Don't Tolerate Corporate Attitudes—Request What's Rightfully Yours
DoNotPay is known for being the champion of customer advocacy because we help our users claim what's rightfully theirs, and we don't tolerate big corporations taking people's hard-earned money.
No matter if you want to request a refund, insurance, extended warranty, or compensation from airlines, our AI-powered lawyer will fight for your right.
If you feel like you're overpaying certain subscription services, we can help you cancel them. Also, if you want to test a subscription before you start paying money for it, don't connect your credit card to the free trial page! You can sign up for free trials using our virtual credit card. That way, companies won't be able to charge you auto-renewal fees because the card has no funds.
Wait! DoNotPay Can Help You in Many Other Ways
DoNotPay has many different areas of expertise—helping you return your faulty items is only one of them.
Check out how our app can assist you in: