AutoZone Return Policy Explained
There is always a possibility of buying a faulty product. If this happens to you after purchasing auto parts or accessories from AutoZone, you may return them for a refund by following the company's terms and conditions.
Returns can be stressful when you don't understand the company's procedures. We will explain the AutoZone return policy to help you understand the steps you should take to return faulty merchandise successfully.
We can also help you start the process correctly and avoid the back-and-forth with AutoZone's customer support team. All you have to do is .
Besides AutoZone, our app can help you return items to other sellers:
AutoZone Return Policy in Summary
AutoZone's return policy allows returns of eligible products within 90 days of the purchase date. You will need the original packaging for the product, the receipt, and in most cases, a government-issued photo ID.
For AutoZone returns without a receipt, you need to call their customer support at 800-288-6966. They will give you the information about your purchase and instruct you on how to return the merchandise.
Non-Returnable Products
Before returning a product, be aware that some products are not eligible according to the AutoZone return policy. These include:
Gift cards
Customized products, like floor mats with logos or trims
Products marked as 'final sale' at the time of purchase
How To Return AutoZone Items Bought at a Store
Products bought in an AutoZone store should be returned in their original packaging, and you will need to show your receipt. If you used a credit card for the purchase, bring it with you for immediate processing.
You may also need to present your government-issued ID for their return activity database. Here are the IDs they accept for returns:
U.S. or Canadian Driver's License
U.S. State ID
Canadian Province ID
U.S. Military ID
Mexican Voter Registration Card
Passport
U.S. Laser Visa
How To Return Items Bought Online
Products bought online can be returned in two ways:
Take them to an AutoZone store
Ship them to an AutoZone.com's Fulfillment Center
Returns to an AutoZone Store
To return merchandise bought online to an AutoZone store, follow these steps:
Drain all fluids from the product (if applicable)
Pack the product in its original packaging
Take the product along with the receipt to the nearest AutoZone store
AutoZone will refund shipping costs only if they made a shipping mistake or shipped a defective product.
Returns by Mail to an AutoZone.com's Fulfillment Center
To return merchandise bought online by mail, follow this simple procedure:
Drain any fluids from the product (if applicable)
Complete the return form—part B of your shipping invoice
Pack the product in its original packaging and include the return form
Stick the return shipping label on the outside of the package and ship it
In case AutoZone made a shipping error or delivered a faulty product, here's what you can do about the shipping charges for your return:
| | | |
| --- | --- | --- |
| Shipping From | Your Initial Step | What To Do Next |
| United States | Call their customer support at 800-288-6966 to request a return shipping label | Upon receiving the free shipping label, follow the standard return procedure |
| Overseas or a U.S. territory | Ship items using the cheapest carrier and include a copy of the receipt of your shipping costs | Wait for reimbursement—AutoZone will process your return and refund the shipping charges as a check |
Even though you should look for the cheapest carrier, AutoZone encourages choosing one that offers package tracking for safe delivery.
Returning AutoZone Cores
The AutoZone core returns (without a receipt or with proof of purchase) are similar to the returns of any other products. Use the standard procedures to return these items to a store or ship them to the AutoZone.com Fulfillment Center, but note the following:
The core return shipping costs are not refundable
The amount reimbursed for the core will be equivalent to its value after inspection—if it passes the inspection
Returning merchandise to AutoZone can be considered transfer of ownership, and the company may not return the core to you
The parts must be free of any flammable and hazardous fluids before shipment
Return an AutoZone Item Using DoNotPay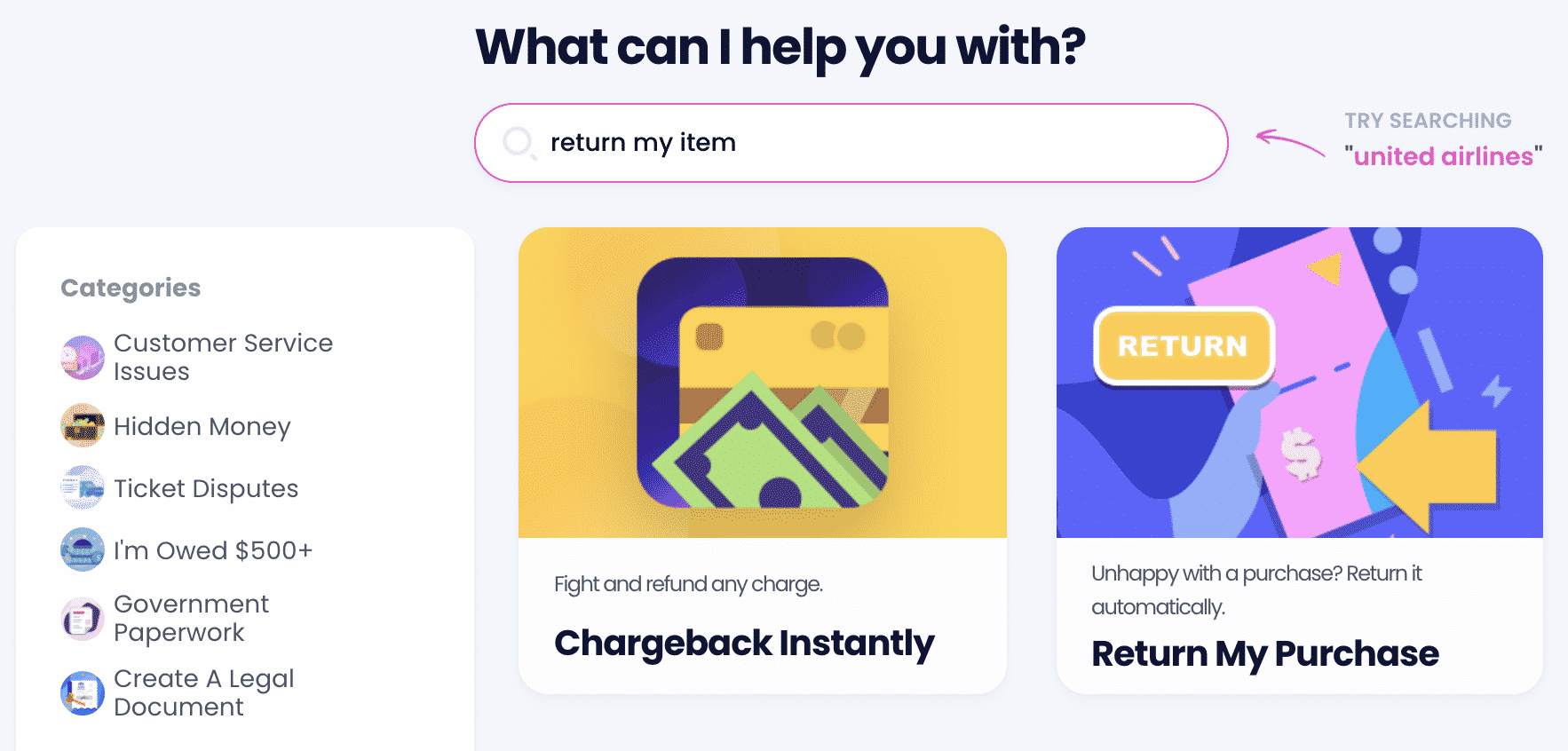 If you would like to ensure a smooth return process, DoNotPay is what you need. Our app will create a return request letter, stating your reason for return, and send it to AutoZone. A written return request can be handy if any disputes occur later.
All you need to do is:
Locate the Item Return Request feature
Answer a few questions about your purchase and provide photos (if required)
Submit your Autozone return request
DoNotPay will set a deadline for AutoZone to respond to your request. We will also provide you with shipping labels so that you can ship your returns free of charge.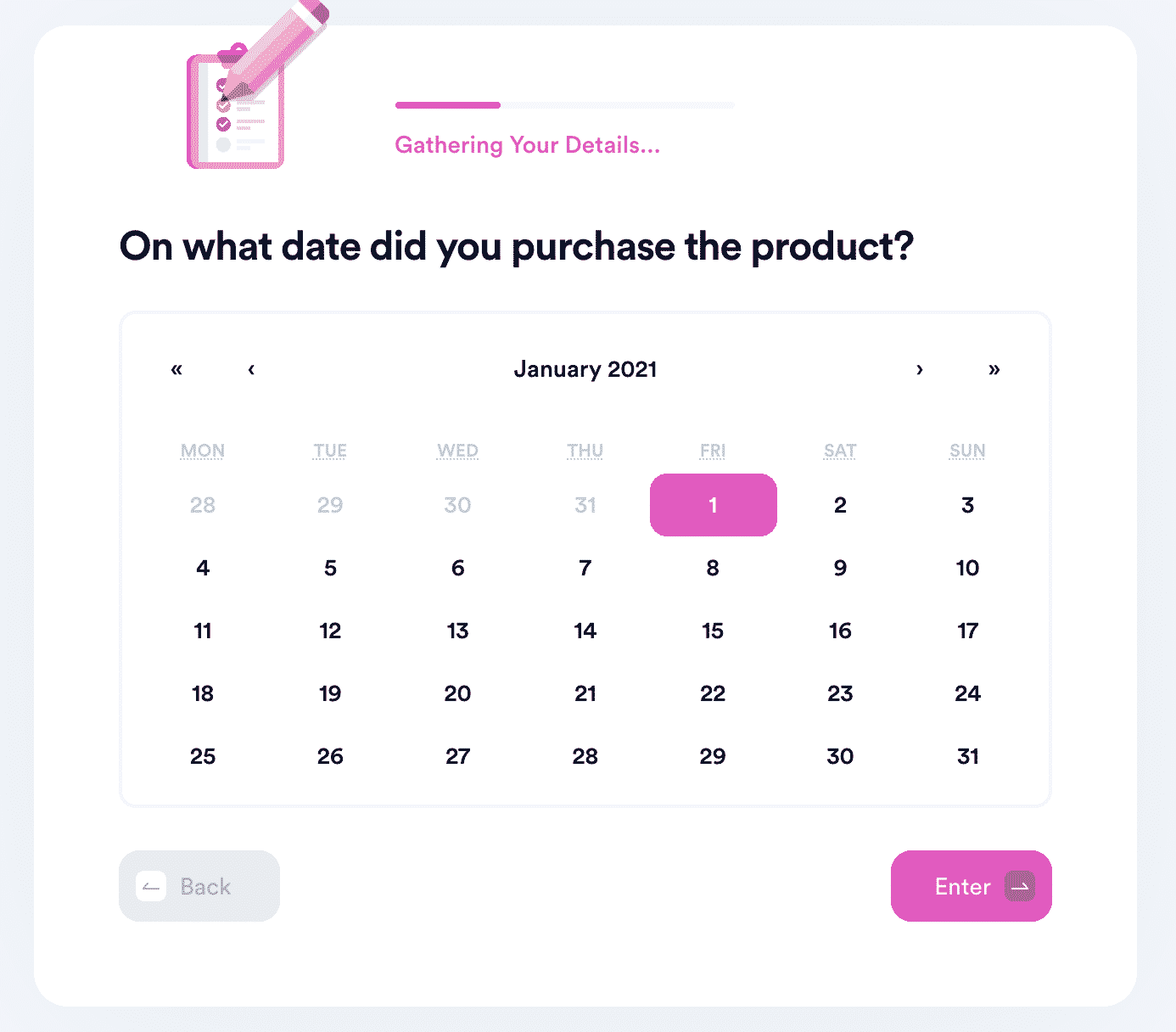 Our app can also help you create return request letters for other companies. All you need to do is sign up using the same steps, and we will assist you with returning unsatisfactory items to the following retailers and more:
Use DoNotPay To Demand a Refund From AutoZone
If AutoZone ignores your refund request, it doesn't have to mean you need to give up on your money. All you have to do is open DoNotPay and follow these steps:
Find the File a Chargeback tool
Select Get Protected
Respond to a few questions
Tap Sign and Submit
Get Your Money Back in an Instant
If you want to both return your item and get a refund for it, you can count on your personal AI-powered assistant. These two products aren't the only tricks DoNotPay has up its sleeve, though!
With our app, you can also claim insurance, get an extended warranty, find your missing assets, request refunds from airlines, reduce your property taxes, lower your utility bills, sign up for free trials without getting charged, get free raffle tickets, and a lot more.
If you want to avoid wasting your money, DoNotPay can cancel any subscription or membership in your stead and provide you with a virtual credit card that will prevent auto-renewal charges once your free trials expire!
With DoNotPay, You Can Also Say Goodbye to Waiting in Lines
Are you sick of waiting in lines? So are most of our app's users! You can say no to endless lines at the DMV if you sign up for a DoNotPay account. Our app can also help you jump the phone queue when you need to get in touch with a customer service representative.
If any company refuses to cooperate with you, our app will prepare all of the necessary legal paperwork and help you sue it in small claims court. Need to have any of your documents notarized? No worries—DoNotPay will employ an online notary and help you schedule your appointment. You can also e-sign and send the document to anyone using our Online Fax product.