Keen Return Policy—Getting a Refund Is Easy and Quick With DoNotPay
You found and bought a pair of shoes from Keen only to realize that they are far from a perfect match. You started browsing the official website searching for the Keen return policy to get a refund or a replacement but ended up somewhat confused.
Few things are more painful for a shopper than a product that failed to meet their expectations. Scouring the company website while looking for the solution is as bad as placing salt on a fresh wound. If you feel that way, DoNotPay is your way out of a complicated return procedure and a road to a quick refund.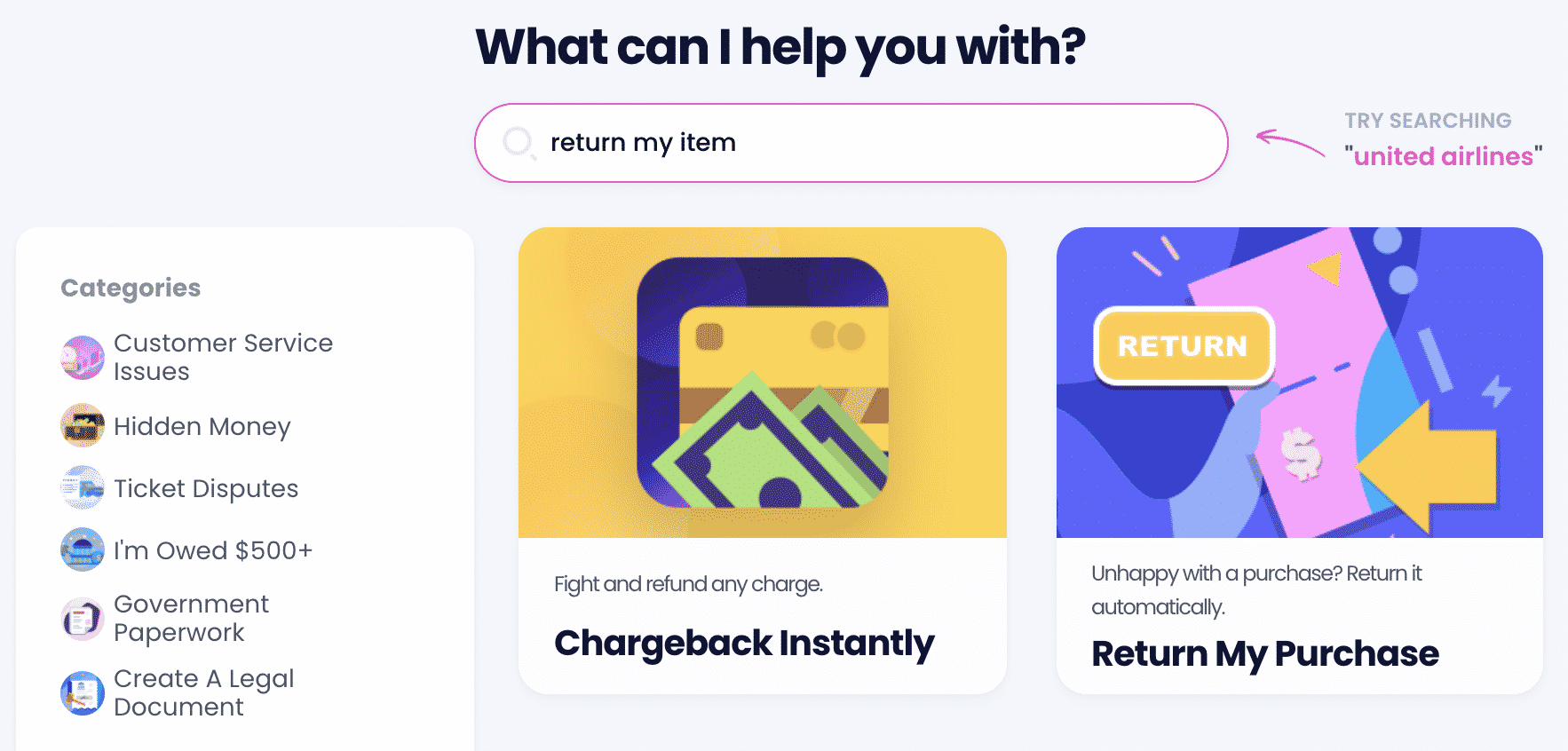 Keen Return Policy—Everything You Need To Know To Get a Refund
To qualify for a refund, Keen requires you to send the request within 30 days from the date of purchase. For practical reasons, you should initiate the return sooner rather than later. It would be best to do so the moment you realize the delivered merchandise doesn't fit you.
Note that personalized items tailored to specific measures aren't eligible for return. To qualify for it, products on Pro discount or warranty code have to be:
For online purchases, make sure to request the return via the company's Returns page. Keen Footwear doesn't process the returns of items bought at retail stores or from online retailers—such as Facebook, Instagram, and eBay. If you purchased from these providers, initiate the return there.
Keen issues refunds to the original payment method. In case you start the procedure before the 30-day deadline, you don't have to send the product in its original packaging. Feel free to put it in a different box or bag.
Ensure that the alternative package doesn't have the hazardous material marking on it. Otherwise, the procedure may take longer.
Note that direct replacements aren't an option with Keen Footwear. Make a new order as a separate transaction.
Can I Send Items Back After the Deadline?
If the problem shows its ugly face after the specified return time, send an email to info@keenfootwear.com. Present your case and follow the instructions you receive.
Does the Keen Return Policy Allow Gift Return?
In case you received a gift purchased with a gift card via the Keen online store, you are eligible for a one-time product replacement. To initiate an exchange, call 866.676.KEEN(5336).
How Long Do I Have To Wait To Receive a Refund
When you will get your money back depends on two factors:
Shipping time to the company warehouse
The time the warehouse needs to process the return
In most cases, processing the return takes between seven and ten days. If you make the request during a holiday season, the procedure tends to be longer because of the increased volume of returns. Keen Footwear doesn't process return requests on the following days:
Christmas Eve
Christmas Day
New Year
Once the procedure is complete, the business sends funds to your account and notifies you via email.
How To Send Products Back to Keen Footwear
According to the Keen return policy, you can return the merchandise that doesn't meet your expectations only by mail. When you land on the Returns page, do the following:
Specify your order number—if you are unsure about it, sign in to consult the order history
Type the order email
Enter the shipping ZIP code
Click the Check Status button
Choose RETURN MY ORDER
Pick the product you wish to return and proceed to Select a Reason for Return
Hit RETURN ITEM(S)
Choose CONFIRM RETURN
Print the prepaid return label
Drop the parcel off at the nearest UPS location. Note that the free return label is available for shoppers from the mainland U.S. Contact Keen for a return authorization if you live in:
Puerto Rico
Hawaii
Guam
The U.S. Virgin Islands
Alaska
American Samoa
Note that you pay shipping costs for products purchased under:
Warranty code
Pro discount
DoNotPay—Have a Pro Do the Hard Work for You
DoNotPay is your solution for avoiding lengthy return procedures. You are only a few steps away from making this happen:
Select the Item Return Request feature
Answer our chatbot's questions and include photos, if needed
Click the Submit button
DoNotPay generates a custom letter informing Keen why you wish to return their merchandise. Expect their response in a short time because of the specific deadline we set in the letter.
In case you don't qualify for a free return, DoNotPay generates a prepaid shipping label for you.
Can I Return Products to Other Merchants via DoNotPay?
You can send products back to any seller with DoNotPay. Check our guides to the return policies of popular merchants in the table below and to get a refund or an exchange in a snap:
Want To Save Money and Avoid Bad Purchases? Look No Further!
Aside from helping you send a return request to any company, DoNotPay can also assist you in getting a refund in a flash! We can also help you request a refund for any late, missing, or damaged delivery.
Do you want to stop wasting your money on useless services? Our app can help you cancel them and provide you with a virtual credit card that terminates free trials before companies get to charge you!
If you want to discover some forgotten assets you may have, we can help you find them in just a couple of minutes. With DoNotPay, you can both save money and earn it!
Once you sign up, you can report text and email spammers, annoying robocalls, and real-life stalkers and harassers and earn off them. We can also help you sue any company or individual in small claims court if you feel like they did you dirty.
Getting Rid of Bureaucratic Procedures Has Never Been Easier
The process of composing a return request letter is tiring, which is why you should turn to DoNotPay for help. Our app will assist you if you want to avoid similar bureaucratic hassles, such as:
Sign up for DoNotPay to utilize all of our nifty products!