Is a Notary in Simi Valley Available From Any Alley?
Having documents notarized can be a super fast and convenient activity. You should pick a suitable notary in Simi Valley depending on your preferences and the document you need to get notarized.
There is no need for time-consuming traditional notary services. DoNotPay offers explanations and practical tips about your notary-related and other administrative matters.
Where To Look for a Notary in Simi Valley
If you choose to walk the notarization path alone, you will have to start by identifying a notary public. Apart from asking your friends or colleagues for a recommendation, you can also explore the following options:
Visit some places in your vicinity

Use the internet to your advantage
Is There a Notary in Simi Valley in Your Area?
Notaries work in some companies or institutions that have branches or offices in different locations. You can set up an appointment with a notary by looking if some of the following businesses keep a notary public on their staff:
A practical side of locating a notary in some of these organizations is that you might be able to get a free notary service if you are their customer.
Run an Online Search for a Notary in Simi Valley
If you prefer visiting virtual to real places, you could find a notary on one of the following websites:
Website

What You Should Do

123notary.com

Type in Simi Valley, Ventura County, or the ZIP code in the search box at the top

Click on the

Search

button

Explore the provided list of names

Get in touch with a notary using the available contact information

California Secretary of State

Download the compressed file

Decompress and open it

Import the file into a database if you would like to read and sort the data more easily

American Society of Notaries

Enter the ZIP code

Press

Go

Browse through the list of notaries

Click on a link if you would like to access more details about a notary in Simi Valley

Yelp

Enter one of the following in the

Find

box:

Notary Near Me

Notary Public

Notaries

Notary Service

Type in Simi Valley, CA, in the

Near

box

Click on the notary you find suitable to obtain the necessary contact information and reviews
What Documents Can a Notary Notarize?
A notary public can notarize different legal documents, issue an acknowledgment, and place the notary signature and stamp on:
Trusts

Real estate transfers

Contracts

and agreements
How To Pick a Notary in Simi Valley
If you are among those people who are not aware that there are different notary types, we are here to provide the information. To make a correct decision, take a look at the following types you can choose from:
Notary Type
What You Should Know

To meet with a traditional or regular notary public, you will need to invest some time and effort as you need to complete the following steps:

Look for the contact information

Get ahold of the notary

Inquire about the

notary fees

Make an appointment

Prepare the necessary documents

Provide a current ID document

Head to the notary's office at the scheduled time

Mobile notary

While mobile notaries provide the same notary services as their abovementioned colleagues, they can notarize your documents at a location of your choice. It means you could meet them at, for instance:

Your home

Hospital

Jail

A restaurant

Your business

This type of notarization is practical because of a convenient meeting place. However, as you need to settle mobile notary fees, you might end up paying a hefty sum for the performed service

Online notary

Online notaries conduct

remote online notarization

(RON):

Via a live audio-video call

For clients all over the USA

Swiftly and safely in both regular and

pandemic

times
While you cannot find an online notary in Simi Valley as the state of California does not allow RON, you can to:
Connect with an out-of-state online notary automatically
Use DoNotPay Any Day
DoNotPay is at your disposal for lots of nerve-wracking bureaucratic issues. One of the matters we can help you with is connecting with an online notary quickly.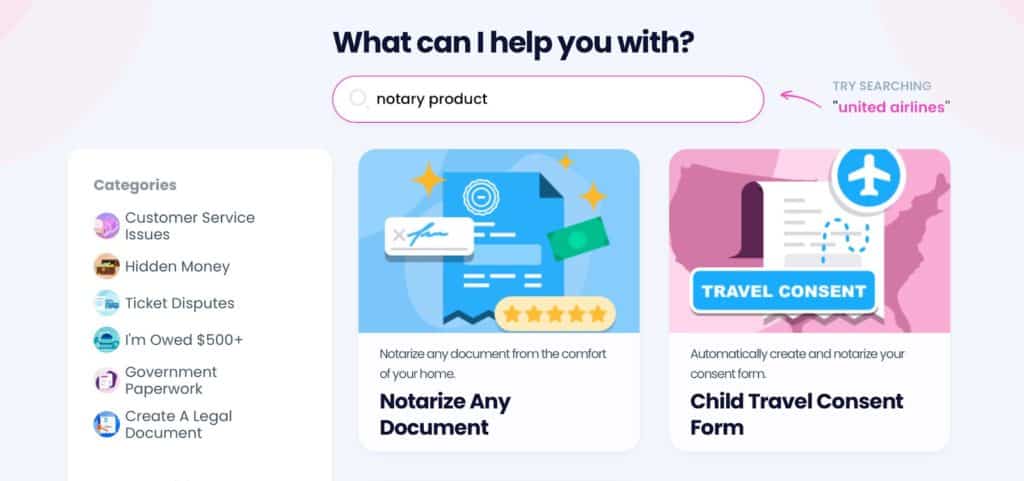 Prepare any document you would like to get notarized, , and take these simple steps:
Choose the

Notarize Any Document

product

Upload the document

Go to your inbox

Click on the provided link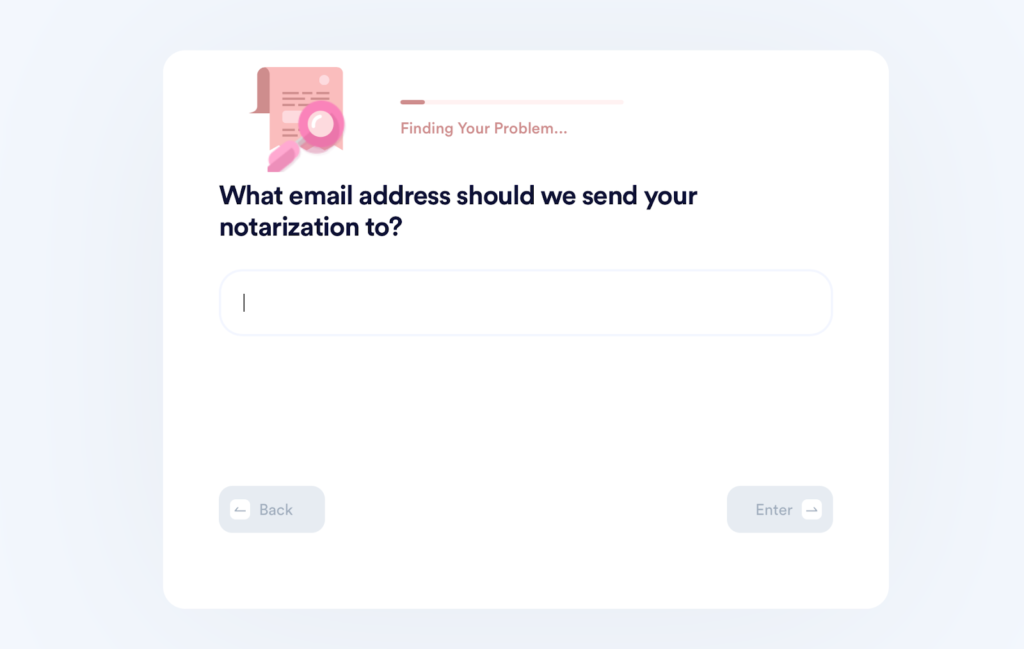 The link will lead you to an online notary's schedule where you can select a suitable time for a call you can have 24/7.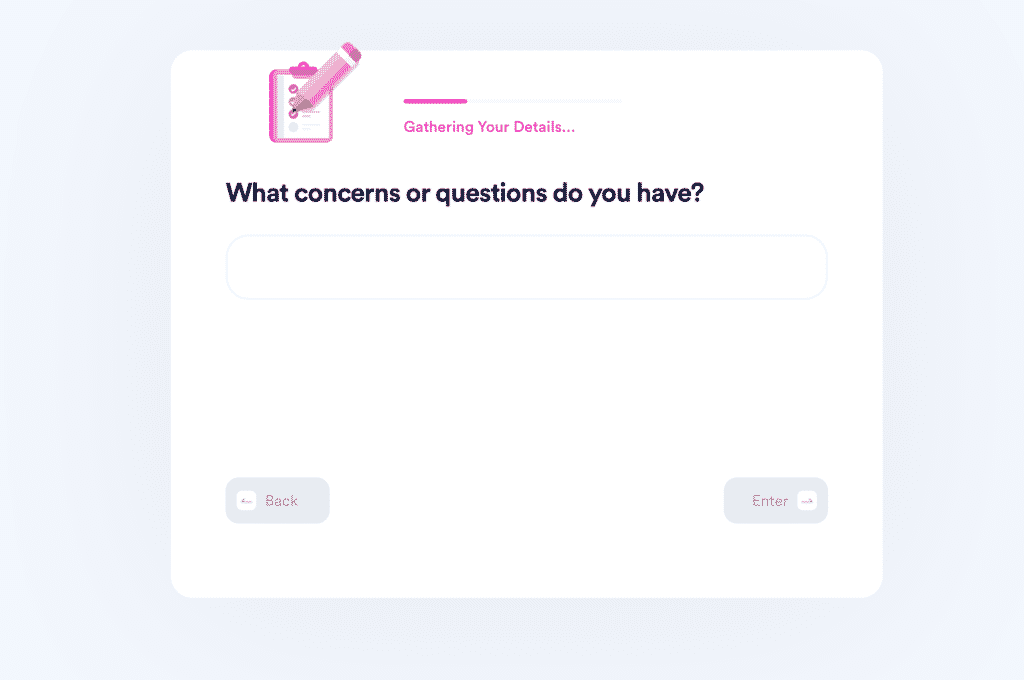 Access our app to get your documents notarized from any city or state, including:
DoNotPay—The Quickest Way To Deal With Greedy Companies
Spending hours on the phone with customer care reps struggling to get a refund or cancel certain services due to complicated procedures can be tiresome.
If you sign up for DoNotPay, we can help you:
Unsubscribe from all unused subscriptions in a few clicks

Get a refund for faulty products

Request

compensation from any airline

because of canceled flights, poor Wi-Fi, and similar
Has a company refused to accept your warranty claim even though it was valid or wronged you in any other way? Make sure to serve them justice by bringing them to small claims court with DoNotPay's help!
Use Our App To Resolve Any Issue
DoNotPay has numerous products you can use. We can help you resolve any problem in a few clicks.
Do you want to find unclaimed money? Would you like to know how to protect your work from copyright infringement? Are you wondering how to apply for a college fee waiver because the application fee is too expensive for you? If you rely on us, you will solve all of these and many more issues stress-free!
Even victims of violent crimes—such as stalking—can use DoNotPay to solve their problems. Having a stalker is traumatic and potentially dangerous. We can tell you how to deal with the situation and apply for crime victims compensation in your state if you need help covering counseling expenses.
We can simplify the document notarization process and help you send online faxes and mail letters from the comfort of your home in less than five minutes.