Should You Get a Notarized Bill of Sale?
Getting a document notarized can be a time-consuming and knotty problem. You need to do lots of research to obtain the specifics you need for the process.
If you're wondering whether you need to get a notarized bill of sale, DoNotPay provides an explanation together with information on diverse notary services you can opt for. We can help you get your documents notarized in a few clicks.
What Is a Bill of Sale?
A bill of sale is a legal document used to certify the transfer of ownership from a seller to a buyer. In some states, it's required to record the transfer of valuable items, including the following:
Jewelry

Animals

Aircraft

Equipment

Firearms and hunting gear

Motor vehicles and trailers

Electric appliances and gadgets

Boats, ships, and other watercraft
Does a Bill of Sale Have To Be Notarized?
A bill of sale has to be notarized in the following U.S. states:
Montana

West Virginia

Nebraska

New Hampshire
Most states don't require a notarized bill of sale, but it's highly recommended to get this done anyway.
Why Is It Important To Have a Notarized Bill of Sale?
Even if not required by lots of states, you should get your bill of sale notarized because it's:
Reasons for Notarization
Further Information

Useful for fraud prevention

A notarized bill of sale protects the seller and buyer from a fraudulent sale. A

notary public

will:

Witness the transaction

Place their

signature

and official stamp on the bill of sale

Keep a record of the notarization of the document in the office

Having an official witness might be beneficial in case of misconduct or fraud

Required for some private sales

Some local or state governments require notarization for certain sales transactions between individuals, including the sales of:

Firearms

Airplanes

Motor vehicles

Heavy machinery

As this varies from state to state, you should check the laws and regulations of your state

Necessary for the transfer of titles and registration

Certain public agencies and offices require a notarized bill of sale for some relevant paperwork, e.g., when you need to:

Complete registration papers
from any location and at any time to get your bill of sale notarized in the blink of an eye.
DoNotPay Helps You Get a Notarized Bill of Sale Like Clockwork!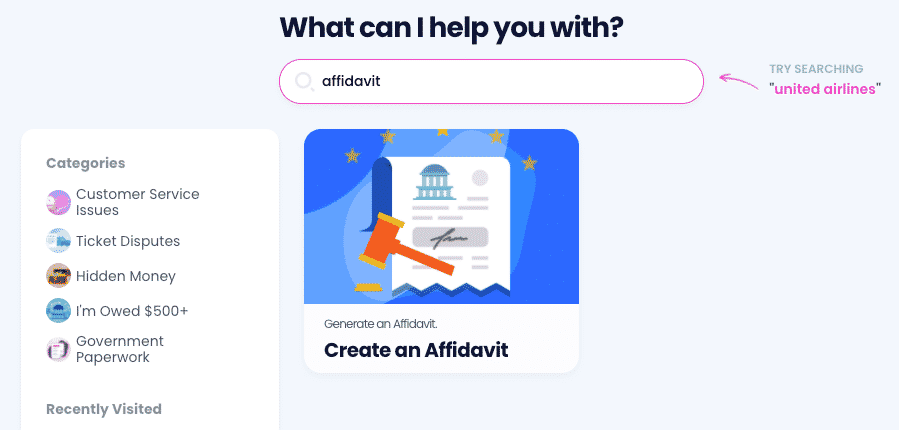 Stay safe and comfortable—use DoNotPay's remote online notary services. We collect relevant information on notaries public and can connect you with one easily.
What do you need to do? and:
Select the

Notarize Any Document

feature

Upload your bill of sale or any other document you'd like to have notarized

Enter your email address
Upon finishing these simple steps, you should go to your inbox and click on the link we sent you. The link will direct you to a location where you can schedule an appointment with one of our notaries.
If you'd like to get your document notarized quickly, we can also provide this service for an extra charge.
A Notarized Bill of Sale Form
A bill of sale commonly includes the following sections:
Purchase date

Seller's and buyer's names and addresses

Sold item's description

Total purchase price

Representations or warranties

A guarantee that the seller has the legal authority to sell the item and that the transferred property is free from any claims

A provision stating that the buyer inspected the item before the purchase

A statement that the buyer agrees to receive the item in its current condition

Identification of the state whose laws govern the transaction

Signatures of the buyer and seller
Depending on the type of the transferred item, you might need to add additional data. For a car, extra information would include its make, model, year, and vehicle identification number. You can access bill of sale forms for motor vehicles on the websites of the division of motor vehicles of some states, such as Utah.
How To Get a Notarized Bill of Sale
To get a notarized bill of sale, you can choose one of the various notary services, such as:
Traditional notaries

Electronic notaries

Mobile notaries

Online notaries
Traditional Notary Services
Most people have heard of traditional, in-person notary services that are performed in notary's offices. You'll need to take the following steps to get this type of service:
Get in touch with a notary

Inquire about the

fees

Set up an appointment

Gather the necessary documents

Bring a valid photo ID document

Visit the notary's office
Electronic Notary Services
Electronic notaries perform the same type of service as the traditional or paper-based notaries, i.e., in their office. The only difference is that electronic notaries notarize documents in electronic format, e.g., a PDF or Microsoft Word document.
Mobile Notary Services
Mobile notaries can visit you at any location that suits you, including your home, office, hospital, etc. Although this type of notary service is handy, it can be costly since these notaries charge extra for their time and travel.
Online Notary Services
Online notaries can notarize wills, trusts, affidavits, real estate deeds, or any legal document remotely via a live video call. This is a good mixture of a traditional and mobile notary service as you get all your documents notarized without having to:
Visit a notary's office

Pay additional fees for a mobile notary
Another advantage is that this service is safe since the notary and the signer aren't in close proximity, which is especially important in situations like the COVID-19 pandemic.
DoNotPay Is Your Shortcut Through Bureaucracy
With our app, you don't have to spend hours figuring out how to request a refund, cancel a service, or book a DMV appointment.
We take over all the hard work! Forget about waiting in a phone queue for hours in hopes of reaching a customer service rep. Our AI-powered app will call any company for you and ping you when a human appears on the other end of the line.
DoNotPay also speeds up the process of filing insurance claims, claiming warranties, reducing property tax, and drafting various legal docs.
Keep the Communication Lines Clear With DoNotPay
Do you know how powerful DoNotPay's virtual credit card is?
This super-smart feature can not only sign you up for no-risk free trials but can provide you with an alternative email address. You can test any service without giving out your real email, which will keep your inbox clean from spam!
If you have family or friends within the U.S. prison system, our app helps you get in touch with them quickly.
We can also make sure you don't become a target of text and robocall scammers! Keep your phone number private and avoid this type of harassment by using our Burner Phone feature!
In case you need to fax a document, there is no need to search for the instruction manual on how to operate a fax machine. DoNotPay makes it simple to send online faxes anywhere!