All You Need To Know About the 24-Hour Notary Service
Are you looking for a way to notarize your documents, but the notary offices nearby are already closed, and you're unsure what to do? If you need a notary that is open late, we can connect you with one in minutes!
DoNotPay has found a way for you to get your important documents signed and notarized virtually through a single app from the comfort of your own home or office!
to get the scoop on the 24-hour notary service and the notarization of your legal documents—such as affidavits, wills, and car titles—worry-free! We'll show you how to use our 24-hour notary service to schedule your appointment with a notary quickly!
Understanding the
24-Hour Notary Service
If you need to schedule an appointment to notarize your document at a late hour, you need to find a 24-hour notary service. You can search the internet for different 24-hour notaries near you and use the contact numbers you find to make your appointment.
Being able to call a notary at any given time is a certain benefit of the 24-hour notary service, but that doesn't mean you can have your documents notarized 24/7. This service provides you with an option to schedule your meeting with a notary at any time, but the time of your document notarization depends on the notary public's working hours and the agreement you reach with him or her.
Many 24-hour notaries are mobile or traveling notaries. A mobile notary will come to the location you agreed on at the scheduled time and handle the notarization process, which includes the notary:
Witnessing you signing the documents

Using an official stamp for notarization
The Downsides of the
24/7 Notary
Service
Using the 24/7 notary service to handle your documents comes with certain disadvantages. For example:
Once you make an appointment, you have to go to a notary office in person

The process takes more time than it should for a simple task like getting signatures verified

It isn't the most affordable option
How Much Does a
24-Hour Notary Public
Charge for the Service?
If the notary is office-based, their services will cost the same, whether they are available 24h a day or not. Mobile notaries are more expensive.
While the fee for a mobile notary's service can depend on the state and the notary, the usual cost of a notary coming to visit you and notarize your document is from $25 to $75, plus the cost of additional signatures. This can range from $5 to $25.
Keep in mind that if you opt for a mobile notary, you'll have to cover their travel expenses on top of the standard notarization fee.
Get Your Docs Notarized With DoNotPay at Any Time!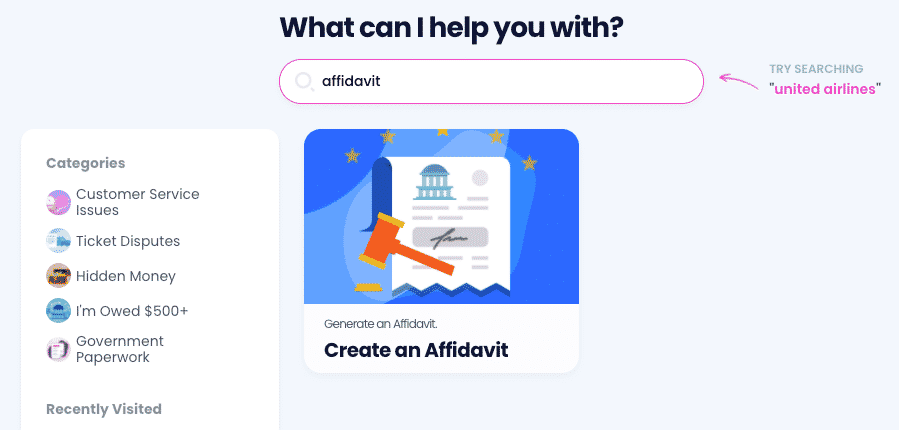 Getting your documents notarized doesn't have to be a struggle or a blow to your budget! By using DoNotPay, you'll get simplified and easy-to-follow instructions on how to schedule a meeting with a remote notary and get your documents notarized in a flash!
All you need to do is follow the simple guide we provided below and get in touch with a notary public at any time and any place. Here's how it works:
Locate and select the

Notarize Any Document

product

Attach the document that you want to notarize

Type in your email address
We will send you an email with a link that you should use to schedule your virtual appointment with a notary.
DoNotPay Draws Up Various Legal Documents on Your Behalf!
Helping you make an appointment with a remote notary isn't all our app can do for you! We give you the option to both draft and notarize a legal document using the same app!
Below, you will find some of the legal documents and agreements that DoNotPay can draw up in your stead:
LLC Operating Rules Documents

Non-Disclosure Agreements

General Business Contracts

Non-Compete Agreements

Intents To Purchase Real Estate

Independent Contractor Agreements

Estoppel Certificates

Quitclaim Deeds

General Affidavits

Promissory Notes

Prenuptial Agreements

Parenting Plans (Child Custody)

Residential Lease Agreement

Bill of Sale
DoNotPay Provides You With Additional Notary Assistance
We explained how you can get your document notarized by using DoNotPay, but that is not everything we can do for you. There is no shortage of notary-related information that we can provide you with:
Notary Services in Different States
Notary-Related Info

Ohio notary

Missouri notary
Enjoy Services Worry-Free With DoNotPay
Do you want to try out a new service but are worried about being charged if you forget to cancel it before it ends?
With DoNotPay, you can sign up for free trials without worrying about auto-charges. Our virtual credit card makes sure you enjoy your trial run of the service and prevents any company from taking money out of your real account.
This free-trial card also protects you from email spam because it generates an alternate email address for the free trial sign-up.
If you want to keep your phone number private and deter robocallers and text spammers, use DoNotPay's Burner Phone feature when subscribing to services.
In case the company does charge you, initiate a chargeback on your credit card transactions quickly with our app.
Discover DoNotPay's Amazing Features
DoNotPay is a virtual lawyer app that can take over annoying bureaucratic tasks from you.
We can cover anything you may need help with—dealing with customer service reps, booking appointments with the DMV, securing refunds and compensation from airlines, disputing your parking tickets, or getting you an extension on bill payments.
Our app can help you draft any legal document in minutes or access public records from state and federal databases.