Does a Power of Attorney Need To Be Notarized in California? 
It is not easy to understand what legal documents need notarization. Some, including affidavits, trusts, or wills, have to be notarized. Others might need only signatures in some U.S. states.
Does a power of attorney need to be notarized in California? We provide you with the answer!
What Is a Power of Attorney?
A power of attorney (POA) is a document you use to appoint a person to act on your behalf. There are two parties in a POA document:
The principal—you or someone else who appoints another person to represent them 

The person who acts on your behalf and is called an:
The latter party has fiduciary duties. It means that an attorney-in-fact or agent has legal obligations under California law to:
Act in the interest of the principal

Avoid conflicts of interest
Types of Power of Attorney in California
Here are some available types of power of attorney in California:
Power of Attorney Type
What Is It?

Durable

This is a financial POA that remains in effect if the principal is:

Incompetent

Incapacitated

General

A general POA—also called a nondurable one—becomes void if the principal becomes incapacitated either:

Mentally or

Physically

Guardianship

A guardianship—also called a parental power of attorney—is usually a short-term POA that covers minor children's:

Health

Education

Everyday care

Medical

A medical POA—also known as an

advance directive

—gives an agent the power of decision-making when someone cannot represent themselves

Limited

A limited POA—also called a specific POA—allows an attorney-in-fact to handle certain financial matters, including:

Purchasing a new vehicle

Selling or buying real estate

Vehicle

A vehicle POA—also known as

DMV form REG-260

—allows an agent to deal with a transfer of ownership of a:

Tax

Tax POAs allow the agent—usually an accountant—to deal with income tax filing on behalf of another person
Does a Power of Attorney Need To Be Notarized in California?
Here are the steps you will need to take when preparing a power of attorney:
Find suitable POA forms

—Depending on your specific needs, you need to find the right type of these forms. You can find the appropriate one for California on the

Power of Attorney

website

Complete the required paperwork

—You need to fill out the forms, but you should not sign them as a notary public needs to witness the signing process

Set up an appointment with a notary public

—Look for a

California notary

or

choose DoNotPay

as one of the most reliable remote online notary service providers

File the POA

—Once you have signed and notarized a POA, you need to file it with the legal entity that validates the form, e.g., a law office or bank
As you can see from the third step above, a power of attorney needs to be notarized in the state of California.
When To Create and Revoke a Power of Attorney 
You will prepare a power of attorney if you are not able to deal with certain affairs—for example, if you cannot:
Pay bills on your own

Sign your name on some documents

Make decisions regarding your health treatments and care
If you believe a POA is no longer necessary, you can revoke it. For this purpose, you will need to prepare a Revocation of a Power of Attorney document that needs to get notarized as well. 
Pick a Suitable Notary Service 
When you need to get a notary signature and acknowledgment for your power of attorney, car title, or real estate deed, you should choose a notary service that meets your requirements. You should consider the following:
Notary Service 

Information

Regular notary

You have to go to a notary's office once you have scheduled an appointment

Mobile notary

Mobile notaries public can notarize your documents at a convenient location of your choice, e.g., your home, workplace, restaurant, hospital, jail, or airport. Make sure to check the

notary fees

with this type of notary in California as they charge extra travel fees

Online notary

Online notaries perform

remote online notary services

quickly and efficiently 
Why Should You Choose a Remote Online Notary?
You should opt for a remote online notary since you will not need to spend:
Additional money to get your documents notarized—as is the case with a mobile notary

Your energy or time:

Traveling to a notary's office
While the state of California does not permit its notaries to perform remote online notarization (RON), you can use an out-of-state online notary. Here are some states that provide RON:
Access DoNotPay to connect with an online notary in an instant.
DoNotPay's Remote Online Notarization Saves Time and Energy
Traditional in-office notarization can be wearisome since it requires lots of time to find a notary, schedule a meeting, and visit his or her office. You do not have to go through this process by yourself!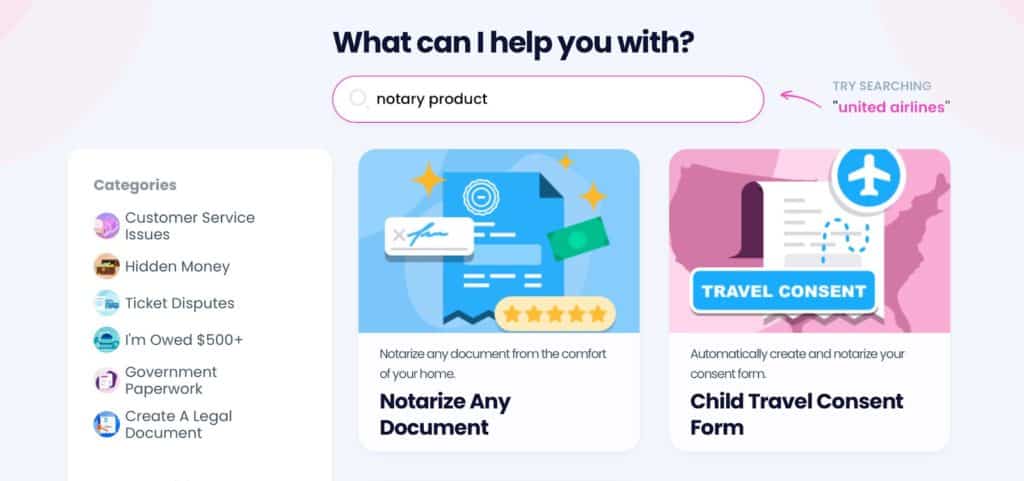 DoNotPay has designed the Notarize Any Document product to ensure your documents get notarized:
In a matter of minutes

Safely from the comfort of your home, which is especially significant in

pandemic times
Get Your Documents Notarized in Three Steps
To access a practical and fast remote online notarization, sign up for DoNotPay and follow these short steps:
Select our

Notarize Any Document

feature

Upload the document you would like to have notarized

Enter your email address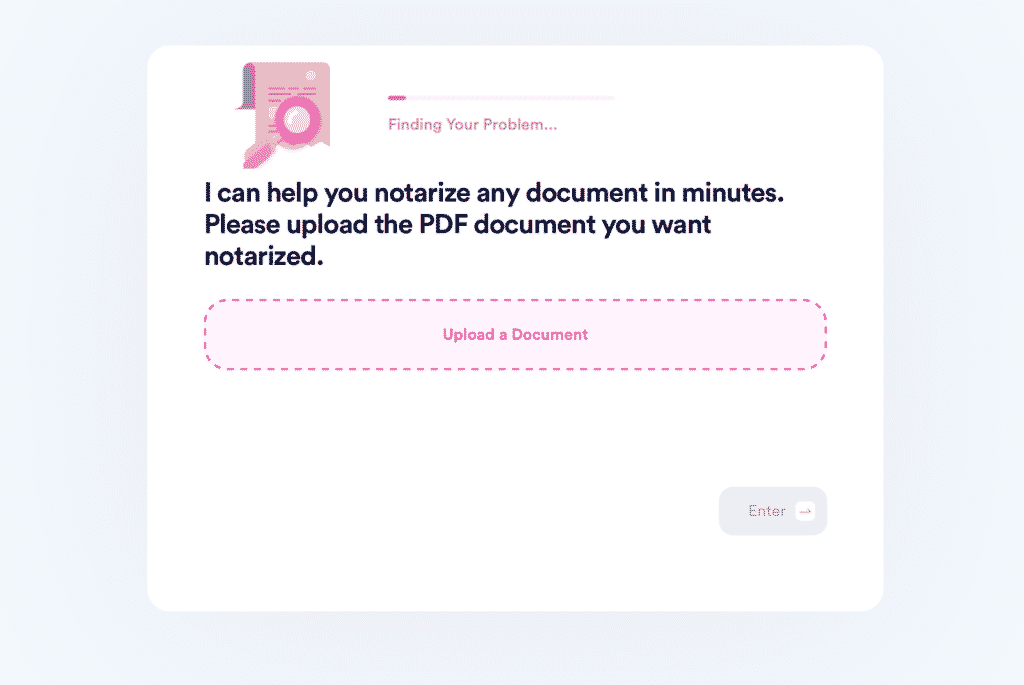 When you get our email, click on the provided link to choose a suitable time for your upcoming meeting with a notary public. 
DoNotPay Is Your Shortcut Through Bureaucracy
With our app, you don't have to spend hours figuring out how to request a refund, cancel a service, or book a DMV appointment. 
We take over all the hard work! Forget about waiting in a phone queue for hours in hopes of reaching a customer service rep. Our AI-powered app will call any company for you and ping you when a human appears on the other end of the line. 
DoNotPay also speeds up the process of filing insurance claims, claiming warranties, reducing property tax, and drafting various legal docs. 
Keep the Communication Lines Clear With DoNotPay
Do you know how powerful DoNotPay's virtual credit card is?
This super-smart feature can not only sign you up for no-risk free trials but can provide you with an alternative email address. You can test any service without giving out your real email, which will keep your inbox clean from spam!
If you have family or friends within the U.S. prison system, our app helps you get in touch with them quickly. 
We can also make sure you don't become a target of text and robocall scammers! Keep your phone number private and avoid this type of harassment by using our Burner Phone feature!
In case you need to fax a document, there is no need to search for the instruction manual on how to operate a fax machine. DoNotPay makes it simple to send online faxes anywhere!