Finding a
California Notary
With Ease
Notarizing documents is important to prove their validity, whether it's a will, affidavit, or power of attorney. Finding an affordable notary on your own can be difficult, which is why we're here to help. Our guide will assist you in getting any document notarized by a California notary in no time.
What Does a
Notary Public
in
California
Do?
A notary public is responsible for notarizing legal documents, and notarization makes a document legitimate. To notarize a document, a notary must:
Check the signer's identity by examining their photo ID and asking a few questions

Establish the signer is willingly signing a document and that they are of sound mind

Witness the signing

Sign

and stamp the document once everything is in order
What Types of
CA Notary
Services Are Available?
In-person notarization is the most common type of notary service. If you want to notarize a document, you have to visit the notary and bring your document and your ID with you. This process requires a lot of time and effort, so a lot of people opt for mobile and online notaries.
In the state of California, it's currently not allowed to perform online notary service. CA suggests choosing one of the following options instead:
Finding a mobile notary—They visit their clients and perform the notarization

Scheduling an out-of-state remote online notarization—You can find a notary from another state to notarize your document online. Some states, such as Nevada, allow notaries to notarize for citizens of different states, but not all U.S. states do, so you should check
Requirements for Online Notarization
As online notarization is the most convenient option, you may decide to notarize your document this way—by choosing an online notary service, such as DoNotPay. For an online notarization to be valid, it should meet the following criteria:
It should happen during an audio-video call

The notary should authenticate the signer

The audio-video call should be recorded
How Much Does a
State of CA Notary
Charge?
CA notaries can charge up to $15 for notarial acts. They could also charge extra fees for travel if they are mobile notaries. If you use DoNotPay for notarization, you'll get a much better deal. Our inexpensive monthly membership lets you notarize documents and have access to all other features.
Where Can I Find a
Notary in California?
To find a notary, you can search for one online or check whether certain public places in your area offer notary services. Here are some places where you can look for a notary:
Websites
Public Places

AAA

stores

Banks

(e.g.,

Wells Fargo

and

Bank of America

)

Public libraries

Courthouses

Accountant offices

Real estate agents

Insurance agents

Credit unions

Hotels

Law offices

Office supply stores

Police departments

Money transfer stores

Tax preparation firms
Online Notarization Is Easy With DoNotPay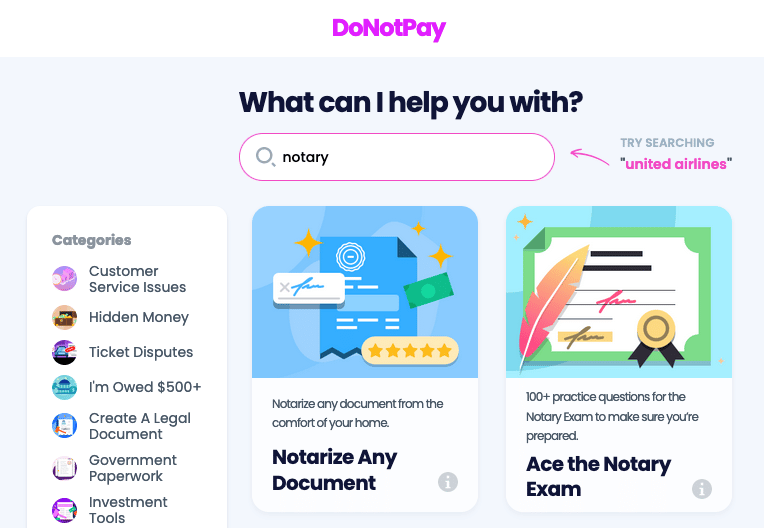 Looking for a notary on your own and visiting them in person is a hassle. With DoNotPay, you won't have to lift a finger—except to click a few times. Online notarization is here to stay, and our app makes it possible to notarize documents with no effort.
Once you access DoNotPay from any web browser, here's all you need to do:
Search for our

Notarize Any Document

feature

Upload your document

Type in your email address

Follow the link we send you via email
We'll find a notary for you within minutes and help you set up your appointment.
Why Should I Use DoNotPay To Get Documents Notarized?
Aside from being an effortless option that also lets you stay home, online notarization with DoNotPay comes with all the nifty perks our app has to offer, such as:
Drawing up legal documents

Faxing paperwork
With feature integration, it's easy to complete multiple tasks one after the other using the same AI assistant.
Can a Notary Refuse To Notarize My Document?
Notarizing is a serious process. Everything has to meet the state requirements so that your document is considered legitimate. A notary could reject notarizing your document if:
You and the witnesses (if necessary) are not present

Your ID isn't valid, or you don't have it with you

The document doesn't have a notarial certificate

Your document contains blank spaces or isn't complete at the time of signing
All Your Notary Questions Answered
Notarization can be confusing, and state laws regarding it keep changing. If you want to be in the loop, you can turn to DoNotPay and take advantage of our learning center. We can provide answers for notarization in different states and also help you understand general notarial details:
| | |
| --- | --- |
| Notarization in Various U.S. States | General Questions |
| | |
Admin Issues Giving You a Headache? Resolve Them With DoNotPay!
Scheduling a DMV appointment, applying for clinical trials, requesting refunds from companies, and getting in touch with your loved ones in prison are all difficult and time-consuming tasks. You have to take many steps before you can get any of these over with, and that's why our robot lawyer app is here to help.
No matter if you need assistance with appealing parking tickets, signing up for free trials, canceling various subscription services, or maybe preparing for government tests, DoNotPay will provide you with easy solutions.
Having Financial Struggles? Rely on the World's First Robot Lawyer
Many Americans struggle to make their ends meet at the end of each month. With that in mind, we've created plenty of features that will save you both time and money in the most efficient way. 
Using our AI-driven app, you can get help with bills, get refunds from airlines, find unclaimed money in any state, or earn off annoying robocalls or stalkers and harassers. If you want to fight for your right, DoNotPay will also assist you in suing any person or company in small claims court.
No matter the admin task at hand, our robot lawyer will provide swift and effective assistance.