Can You Get Your Documents Notarized Without Visiting an Illinois Notary?
Are you looking for an Illinois notary to notarize your will, affidavit, car title, or any other document? Visiting a notary's office isn't the only way to have your agreements notarized. Learn how to notarize any document stress-free without having to leave your home or office!
What Notarial Acts Is a Notary Public in Illinois Authorized To Perform?
Notaries in Illinois can perform these notarial acts:
Witness the singing of the contracts

Take

acknowledgments

Administer oaths and affirmations

Take verifications upon oaths and affirmations
The duty of every notary public is to identify the signing parties by asking for their IDs. Once all parties sign the document, the notary needs to write a notarial statement, sign the document, and mark it with a stamp.
If the signers don't appear before the notary or they don't bring identification documents, the notary should reject notarizing the contract.
Illinois Notary Search—Where To Find an Illinois Notary
To find an available Illinois notary, you can:
Whichever option you choose, you should schedule an appointment with a notary in advance.
Ways To Have Your Documents Notarized in Illinois
If you need to get your documents notarized in Illinois, you can do so by choosing one of the following methods:
Have Your Contracts Notarized By

Description

What To Keep in Mind

Visiting a Notary's Office

To have your documents notarized the traditional way, you need to follow these steps:

Find a notary

and schedule a meeting

Bring all the documents to the notary's office

Provide your ID

Pay the notary fees

Wait until the notary identifies you, writes a certificate, and seals it

Most people dislike the traditional notarization process because it is usually tedious. In most cases, you'll spend days getting your contracts notarized. If you make even the smallest mistake, you will have to schedule another appointment and repeat the process

Hiring a Mobile Notary

Mobile notaries go from one place to another to perform notarial acts. You can choose to get your documents notarized in your home, office, or any other place

If you choose to hire a mobile notary, you will have to cover not only the standard

notary service costs

but also their traveling expenses

Registering for Online Notary Service

Online notary platforms provide the convenience of having your contracts

notarized remotely

from any device or location

Platforms usually charge up to $25 per document. This can be expensive when getting multiple documents notarized
How Much Is a Notary Public in Illinois?
The state law allows Illinois notaries to charge $1 for every notarial act. The law doesn't specify how much money mobile notaries can charge for the travel fee—the notary and the client should agree upon the amount.
The notary should tell you the exact price you have to pay for the notary services before you schedule an appointment.
DoNotPay—A Wallet-Friendly Online Notary App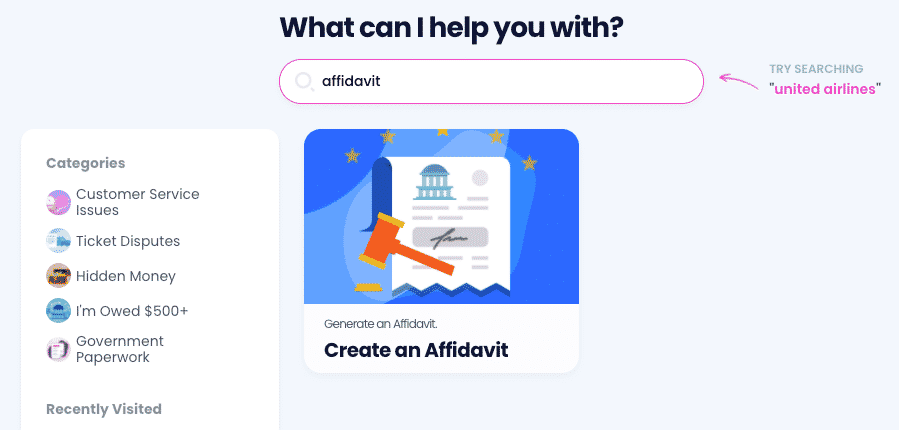 Since all of the above-described options aren't ideal, DoNotPay has decided to create the most convenient solution—the Notarize Any Document feature.
If you like the convenience of online notary apps, but you can't afford to pay $25 for each document you get notarized, you'll love DoNotPay's feature.
We will help you get any document notarized virtually in under five minutes, and here's how:
Access the

app

Select our

Notarize Any Document

feature

Upload your contract

Provide your email address

Click on the link that we email you and schedule a meeting
DoNotPay's feature will connect you with online notaries that are available 24/7 so that you can get your documents notarized any day of the week. The notary will witness the signing of the document via a video call and verify your signature accordingly.
Besides helping you get your contracts notarized in Illinois, we can also assist you in other states, including Florida, Colorado, Arizona, Pennsylvania, and New York.
Learn How To Create Legal Documents in a Flash With DoNotPay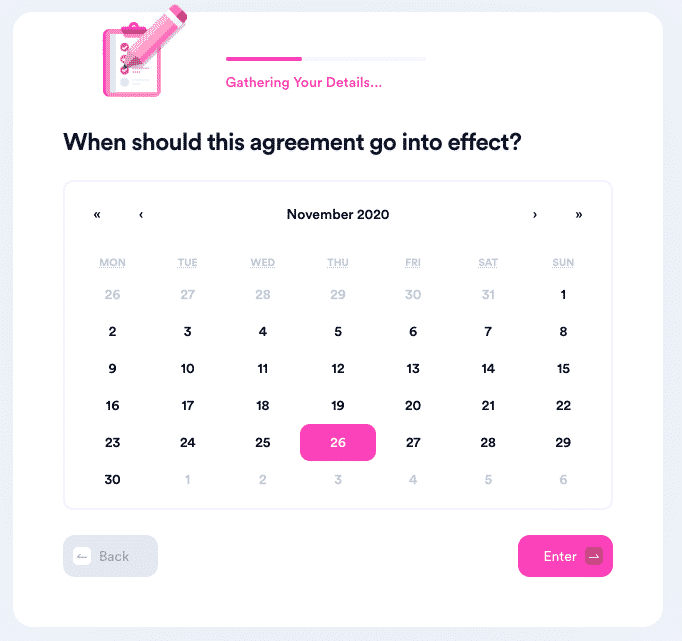 has created various features to make your administrative issues easier to solve. If you're looking for the simplest way to create legal documents without breaking the bank, you're in the right place. Our Legal Documents feature will assist you in drawing up documents in a snap.
To make the process even more efficient, we have integrated the Notary and Legal Documents features. This means that you'll be able to write and get the contracts notarized by using the same app.
Here are some of the agreements you can write with our help:
Estoppel Certificate

Residential Lease Agreement

Non-Compete Agreement

General Affidavit

Prenuptial Agreement

Bill of Sale

Child Custody

Non-Disclosure Agreement

Quitclaim Deed

Intent To Purchase Real Estate

LLC Operating Rules Document

Promissory Note

General Business Contract

Child Care Authorization Form

Independent Contractor Agreement
DoNotPay Can Do Your Paperwork for You!
Feeling like you're in bureaucratic hell? Our app will draft the paperwork you need and get you out of any hurdle before you know it!
We can compose most of the documents that you require for any administrative purpose in your jurisdiction, most notably:
More of What We Can Do for You
Our multifaceted app can call and record the conversation with the customer service of the company that just won't let you go! If you are having trouble canceling an unwanted service via the traditional channels, use DoNotPay to get it over and done with!
We can help you stop the persistent robocalls and robo texts from the nagging company and request a refund for unused services in a matter of minutes.
We'll also lend a helping hand in stopping spam mail—whether it's electronic or paper. Our Spam Collector product unsubscribes you from unwanted emails and cleans up your physical mailbox too!