How To Get Your Documents Notarized Without Visiting a Notary Public in CT
Heading to the office of a notary public in CT to have your document notarized can be a hassle. To take care of their residents' health, plenty of U.S. states, including Connecticut, have introduced remote online notarization. 
DoNotPay provides valuable information on how to notarize documents and offers the most efficient remote online notary services. 
What Is a Notary Public in CT?
A notary public in CT is a person who:
Is a Connecticut resident

Has completed a

CT notary application

Is more than 18 years old 

Has passed a

notary test
Notaries public perform the following activities: 
Notary Steps

Explanation

Verify the identity of the signers

A notary public in CT will check the ID documents of all signers, so make sure to prepare a current photo ID document

Check that you are willing to sign the document

A notary will refuse to continue and complete the

notary service

if he or she believes that:

Someone is forcing you to sign the document

You are under the influence of some substances

Ensure the understanding of the document

A CT notary will determine that you are familiar with the contents of the document you are signing 

Prevent potential fraud

If notaries suspect of fraud, they will:

Stop the process

Not provide their

signature

and stamp 
What Documents Can You Get Notarized by a CT Notary?
A CT notary can notarize any legal document, including:
Where To Look for a Notary Public in CT?
If you are wondering where to find a notary public in CT, here are some helpful options:
Check with your bank

—Notaries work in lots of big banks, including

Wells Fargo

and

Bank of America

. If you are an existing customer of such a bank, you will likely avoid paying

notary fees

 

Get in touch with a local UPS store

—Many UPS branches provide notary services during their business hours

Contact a nearby law office, library, real estate company, college

—These institutions may employ notaries public 

Head to a nearby AAA store

—Make sure to check if their notaries can notarize all documents

Go online

—As some websites provide information on notaries public, you could visit one of these:
Once you locate a notary's office, you should get in touch with a notary to set up an appointment and inquire about the fees. 
How Much Does a CT Notary Charge?
The state of Connecticut sets the amount a notary public can charge for the notary service. The notary fee is $5 for any notarial act.
If you want to get your documents notarized by a mobile notary public in CT, you will need to cover extra costs for:
The travel ($0.35 per mile)

Gas surcharge 

Photocopying

Courier service

Night appointments
To avoid unpleasant surprises, you should determine the total amount before setting up an appointment. 
Pick a Notary Public in CT That Suits Your Needs
You can choose from a variety of available notaries public, including:
Notary Public in CT

Notarization Process

Traditional notary

Locate a notary's office in Connecticut

Contact a notary public

Schedule an appointment

Collect the required documents

Bring a valid ID document 

Go to the notary's office at the agreed time

Mobile notary

Find a mobile notary 

Get in touch with a mobile notary public

Find out the notary fees

Agree on the location

Set up an appointment 

Prepare all documents you would like to get notarized

Keep an ID document at hand

Wait for a mobile notary public to come at the agreed place and time

Online notary

Subscribe to DoNotPay

or use an alternative online notary platform

Confirm an appointment

Get your documents notarized instantly 
A traditional in-office notarization is a lengthy process. You will need to spend lots of time finding, contacting, and visiting a notary.
You may opt for a mobile notary to avoid a drive to a notary's office but can end up paying more to get your documents notarized.
A remote online notarization simplifies and shortens the whole process. A notary will perform the service via a live audio-video call without you having to meet physically. This is what makes it super convenient and safe, especially during the COVID-19 pandemic. 
An additional benefit is that you do not need to look for an online notary by yourself—DoNotPay will connect you with one in just a few clicks!
Use DoNotPay's Practical Notarization Service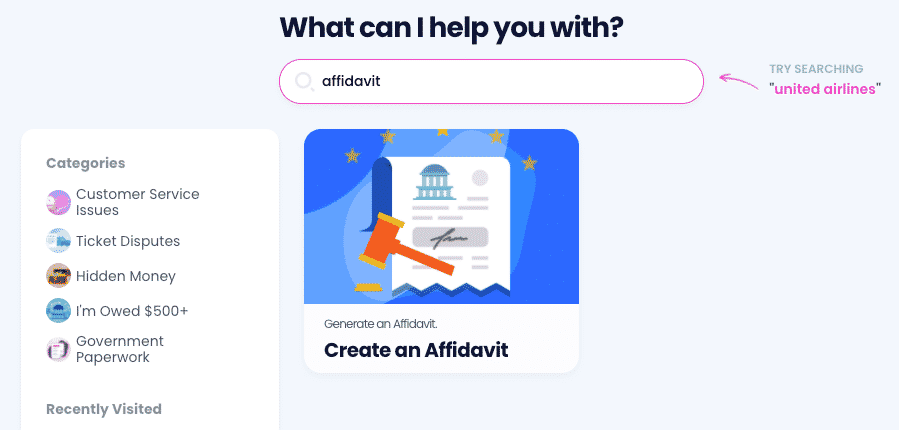 DoNotPay has created the Notarize Any Document feature because we understand how frustrating administration can be. We keep designing new features and upgrading the current ones to help you handle the exhausting bureaucracy. 
To use our AI-driven app for remote online notary services, sign up for DoNotPay and:
Choose our

Notarize Any Document

feature

Upload the document you want to get notarized

Enter your email address
You will get an email with a link that directs you to a notary's schedule where you can set up an appointment. The only thing left for you to do is show up for the arranged live video call. 
Regardless of your state, county, town, or village, we can connect you to an online notary in a matter of minutes. Here is a list of some U.S. states that use remote online notarization:
DoNotPay Is Your Shortcut Through Bureaucracy
With our app, you don't have to spend hours figuring out how to request a refund, cancel a service, or book a DMV appointment. 
We take over all the hard work! Forget about waiting in a phone queue for hours in hopes of reaching a customer service rep. Our AI-powered app will call any company for you and ping you when a human appears on the other end of the line. 
DoNotPay also speeds up the process of filing insurance claims, claiming warranties, reducing property tax, and drafting various legal docs. 
Keep the Communication Lines Clear With DoNotPay
Do you know how powerful DoNotPay's virtual credit card is?
This super-smart feature can not only sign you up for no-risk free trials but can provide you with an alternative email address. You can test any service without giving out your real email, which will keep your inbox clean from spam!
If you have family or friends within the U.S. prison system, our app helps you get in touch with them quickly. 
We can also make sure you don't become a target of text and robocall scammers! Keep your phone number private and avoid this type of harassment by using our Burner Phone feature!
In case you need to fax a document, there is no need to search for the instruction manual on how to operate a fax machine. DoNotPay makes it simple to send online faxes anywhere!