A Step-by-Step Guide to Getting a Notarized Copy of a Document
Are you traveling outside America or applying for a job, university, or grad school? You'll probably have to get a notarized copy of your ID or diploma. DoNotPay's guide will help you learn how to notarize any document, whether it's an original or a copy of an affidavit, will, or any other contract.
What Is a Notarized Copy?
A notarized—or certified—copy is a copy of a document marked with a notary's signature and seal. The notary's duty isn't to verify the original document's authenticity but to state that the certified copy is a real copy of the original document.
People usually need notarization services for copies of documents such as:
IDs

Passports

Driver's licenses

Diplomas

Report cards
Can I Get a Notarized Copy of a Birth Certificate?
Copies of publicly recorded documents—such as birth certificates, death records, and marriage and divorce certificates—shouldn't be notarized as it is neither necessary nor legal.
The originals of these documents need to stay on file at vital records agencies. Whenever you need to obtain a birth certificate for official purposes, you will get a certified copy and not the original document. Since the copy is already legally valid, notarization isn't necessary.
How To Get a Notarized Copy of a Passport or Any Other Document
Documents that aren't publicly recorded can be notarized in some American states. You should check your state's laws to see if the notary or any other public official has the right to notarize copies of identification documents.
How To Get a Notarized Copy in States That Allow Copy Certification
If you live in a state where copy certification is allowed, the notary will:
Verify your identity

Check if the document is a true copy of the original ID or passport

Mark the copy with the notarial seal and

signature
How To Get a Notarized Copy in States That Don't Allow Copy Certification
In states that don't allow copy certification, the process requires additional steps. Since the notary can't seal the copy of the document, you will need to write a statement confirming that the document is the exact copy of your ID or passport.
The notary will then mark the statement (not the copy) with a signature and seal.
Online Notary Services—The Convenient Way To Get Your Copies Certified
Most people dislike the current notarization process because it's usually exhausting. It requires you to:
Set up a meeting

Bring your documents to the notary

Wait for the notary to verify your identity

Acknowledge

that you're signing the document willingly

Pay

notary fees

Wait while the notary is writing the statement
While mobile notaries are a more convenient solution, they can be super expensive because you'll have to cover their travel costs.
Online notary services are the most practical way to get your documents notarized, whether you need signature notarization or copy certification. Since most platforms charge high fees for a single document, you should find a wallet-friendly option.
DoNotPay Is One of the Most Affordable Online Notary Apps!
DoNotPay is one step ahead of other online notary apps because it enables convenient notarization services while charging a modest monthly fee. Our Notarize Any Document feature allows you to get your contracts of document copies notarized remotely from the comfort of your office or home.
You can use our app on any device, and here's how:
Log in to

Select the

Notarize Any Document

feature

Upload your contract

Type in your email address
Once you receive an email from DoNotPay, click on the link to schedule an appointment with a remote notary public. Our feature will connect you with one of the notaries who are available 24/7. The notary will witness your signature via video call and provide his or her certificate virtually.
You can use our feature in any state of the U.S., including:
Draw Up Various Contracts Quickly With DoNotPay
Creating lease agreements, business contracts, and other legal documents doesn't have to be expensive or time-consuming. DoNotPay's Legal Documents feature will assist you in creating numerous contracts in a few clicks. To do so, you should follow these steps:
Sign in to

Enter the name of the document you wish to write

Answer our chatbot's questions

Download and print the contract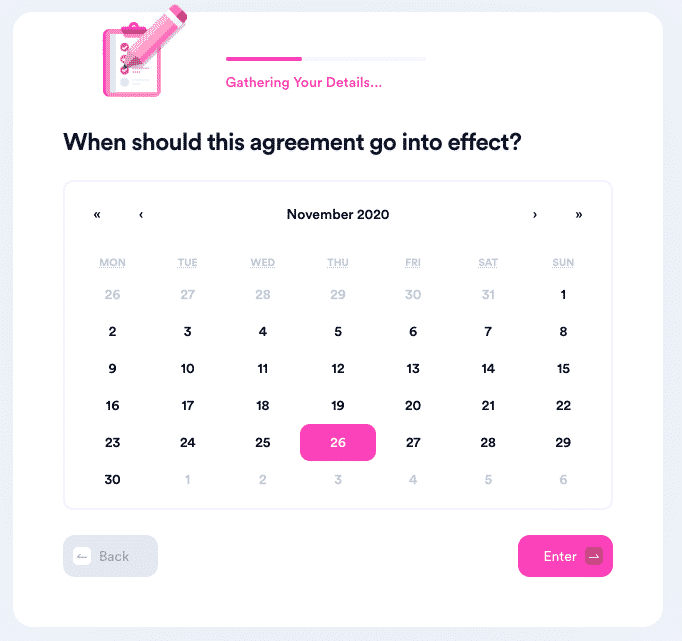 We have integrated the notarization feature with the Legal Documents one to allow you to write the document you need and get it notarized through the same app. and create an unlimited number of various documents, including:
Business Contracts
Real Estate Documents
Other Agreements

General Business Contract

Bill of Sale

Non-Compete Agreement

Independent Contractor Agreement

LLC Operating Rules Document

Non-Disclosure Agreement

Estoppel Certificate

Intent To Purchase Real Estate

Quitclaim Deed

Residential Lease Agreement

Prenuptial Agreement

Promissory Note

Child Care Authorization Form

General Affidavit

Parenting Plan (Child Custody)
What Else Can Our Award-Winning App Do for You?
If you think that's impressive, wait until you've heard about other features we boast!
Our powerful app can draft paperwork for you, locate unclaimed funds under your name, cancel subscriptions, sue robocallers, and protect you from stalkers and harassers—all in one nifty browser app!
Our services have been recognized by the esteemed ABA Brown award, serving as a testament to our abilities to assist you with your small claims issues, free trial auto-renewals, college fee waivers, public records, copyright protection, and much more!
More Benefits of DoNotPay
DoNotPay is a useful tool for handling many otherwise annoying life's trifles, including: