Florida Notary—A Guide to Document Notarization in Florida
Are you in need of a Florida notary who will certify the authenticity of the signatures on your contracts? While document notarization is important, the current process can be bothersome and time-consuming. 
If you want to learn how to notarize a document in Florida efficiently, DoNotPay is here to provide a solution. Our feature will help you draw up and notarize any legal document in the blink of an eye.
Why Should You Notarize Documents?
In some cases, it's legally required to notarize documents that specify significant monetary transactions or confer legal rights. Some of the documents that should get notarized are:
Real estate deeds

Wills

Car ownership transfers

Power of attorney change forms
Even if you're not legally obligated to have the document in question notarized, you should consider doing it. Notarization is the best way to ensure that everyone trusts the authenticity of the signatures on legal documents.
Notarization is performed by a notary public—an official authorized by the government to be a neutral, third-party witness while someone is signing a document. A notary's main purpose is to deter fraud. During the notarization of your document, a Florida notary public has to:
Identify the signing parties

Ensure there is no coercion 

Determine whether both parties are aware of what they are signing

Witness the signing of the document in question—you must bring an unsigned document

Authenticate the document by

signing

it and marking it with a stamp
Besides authenticating the signatures, notaries in Florida can also perform a wedding ceremony. Maine and South Carolina are two other states where notaries can perform the ceremony. You can find a notary in a variety of places, including:
Banks

and other financial institutions

Money transfer stores

Law offices

Car dealers

Separate notary offices
How To Get Your Contracts Notarized by a Notary Public in Florida? 
To get your documents notarized the traditional way, you have to do the following:
Find a notary in Florida

Schedule an appointment

Prepare all of the documents and your ID

Go to the notary's office
You can also use one of the online notary services to notarize documents in Florida remotely. 
The current notarization process is outdated, and it can take a few days or even weeks. If you make a mistake, you will have to schedule another appointment, making the process even longer. 
While online notary services might seem like a better option, not all documents can be notarized virtually. Another drawback is that those platforms are usually expensive. 
DoNotPay Can Help You Notarize Any Contract in Under Five Minutes!
If you'd like to save both time and money when getting your documents notarized, DoNotPay has the best solution. Thanks to our feature, you won't have to waste time trying to schedule an appointment with a notary in Florida or worry about making a mistake. 
As opposed to other online notary services, DoNotPay doesn't charge an arm and a leg for the notarization. You can use all of our features for a small monthly fee. To have your legal documents notarized from the comfort of your home, do the following:
Sign in to

DoNotPay

Select our

Notarize Any Document

feature

Upload the contract in question

Type in your email address
You'll receive an email from DoNotPay with a link you should open to set up an online appointment with the notary. He or she will witness the signing virtually and verify it. We can make the notarization process efficient and effortless whether you're in Florida or any other American state, including:
Rely on DoNotPay and Draw Up Any Document in a Snap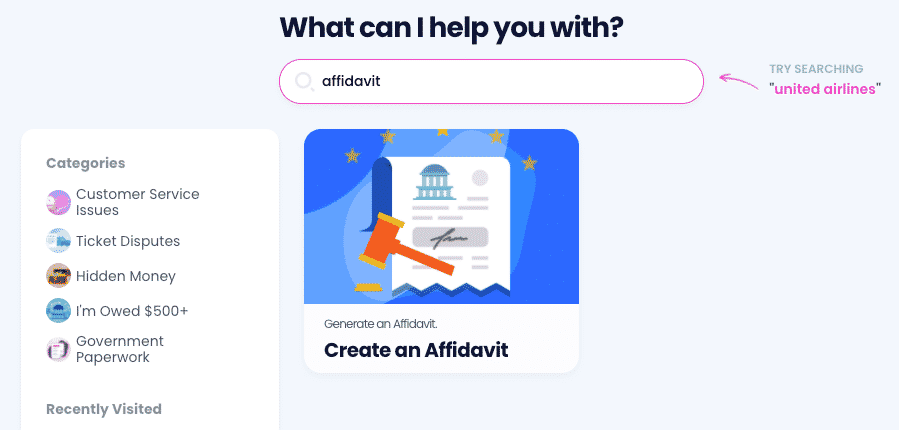 Before you notarize a document, you should learn how to write it without hiring a lawyer or searching for contract templates online. DoNotPay can help you draw up any type of agreement in less than five minutes. 
We have integrated the Notarize Any Document service with the Legal Documents feature to enable you to both create and notarize the contracts in one place.
We can help you write a myriad of contracts, including:
Real Estate

Estoppel Certificate

Intent to Purchase Real Estate

Quitclaim Deed

Business Documents

General Business Contract

Other

General Affidavit

Child Care Authorization Form

Promissory Note
How Much Do I Have To Pay To Get My Documents Notarized in Florida?
Notaries in every state have to charge a fee for their services because the government doesn't pay them a salary. The fee varies from one notary to another, but each state has established a maximum fee that a notary can charge. 
A notary in Florida can charge up to $10 for notary services and $30 for wedding ceremonies. Notaries who charge more than what's prescribed by the law risk being suspended. Most states don't have rules when it comes to travel fees. Notaries who decide to charge a travel fee need to inform the signing parties before coming over.
DoNotPay Can Do Your Paperwork for You! 
Feeling like you're in bureaucratic hell? Our app will draft the paperwork you need and get you out of any hurdle before you know it! 
We can compose most of the documents that you require for any administrative purpose in your jurisdiction, most notably:
More of What We Can Do for You 
Our multifaceted app can call and record the conversation with the customer service of the company that just won't let you go! If you are having trouble canceling an unwanted service via the traditional channels, use DoNotPay to get it over and done with!
We can help you stop the persistent robocalls and robo texts from the nagging company and request a refund for unused services in a matter of minutes.
We'll also lend a helping hand in stopping spam mail—whether it's electronic or paper. Our Spam Collector product unsubscribes you from unwanted emails and cleans up your physical mailbox too!