The Crucial Info About the Huntington Bank Notary
Finding a place where you can get your documents notarized can be tiring. There are various options available, and you may not know how to pick the right one. Is notarizing documents in banks a good idea? can help you with that question by sharing more info on the Huntington Bank notary services and the alternative options you should consider.
Where Can You Find a
Huntington Bank Notary
?
The first step in using Huntington notary services is finding a branch that offers this option. You first need to locate a bank in your vicinity and check whether they have a notary. To do so, you will need to follow these steps:
Visit the

Huntington Bank

website

Click on

Find a Branch

in the top right corner of the page

Type in an address, zip code, or intersection in the provided field

Click on

Go

See what bank is closest to you and open that link
Now that you've found a branch, you need to check whether it provides notary services. You will see that listed under the More Information section.
Info on Huntington Bank Notary Services You Should Know
You can't just walk into a branch and expect to get your document notarized. You will first need to set up an appointment with the notary by getting in touch with the bank's customer service. You can do so by calling (800) 480-2265 every day from 7:00 a.m. to 7:00 p.m. ET.
The same phone number is used to find out about notary fees in the specific branch.
What Documents Can You Notarize in Huntington Bank?
Bank notaries offer the same services as any other notary, so you can bring along the legal documents that need that signature and stamp. These are the documents you should consider getting notarized:
What Does the Notarization Procedure Look Like at Huntington?
You will need to take your document to the Huntington notary in person. Here is what the procedure looks like during the meeting:
The notary also needs to record the notarization in their journal. This process of getting documents notarized is outdated and inconvenient, and new and better methods exist.
What Alternative Notarization Options Are Available?
You should forget about the ancient way of getting documents notarized in person. This process requires you to find a perfect time of the day during the week to visit the notary, which is hard when you have a job.
Huntington notaries have inconvenient work hours—Thursdays from 9:00 to 5:00, Fridays from 9:00 to 6:00, and Saturdays from 9:00 to 2:00. You don't have to adapt your schedule to the notary. Instead, you can opt for one of these options:
More About Mobile Notarization
Mobile notarization used to be the choice for people who couldn't go to the notary's office, usually due to some disability, but now everyone uses it. It is more convenient than traditional in-person notarization because the notary is the one traveling.
The downside of mobile notaries is the notary fees you need to pay for their travel expenses. Luckily, you can have the best of both worlds and opt for online notarization!
More About Online Notarization
Online notarization is the state-of-the-art method of getting documents notarized. It is the fastest way of getting a notary signature, and it doesn't require you to leave your house. Every part of the meeting is handled virtually.
Online notarization has become extremely popular and necessary due to the COVID-19 global pandemic. Many states have recognized the importance of dealing with the process virtually and protecting people's health. Some of those states include:
DoNotPay can help you find an online notary in a breeze!
Get a Document Notarized With DoNotPay Stress-Free
DoNotPay can help you get a document notarized easily and without leaving your home. We will match you with an online notary in no time, and you will have a meeting with them virtually.
To get to use this neat feature, you only need to follow these directions:
in any web browser

Open the

Notarize Any Document

product

Attach the document you wish to get notarized

Write your email address in the provided field
You only need to confirm the meeting via the link in the email we'll send to you.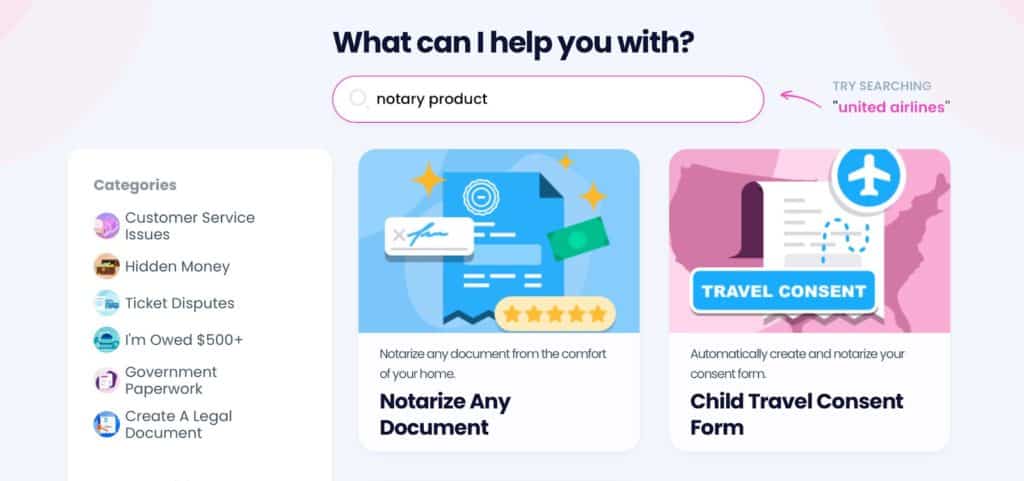 Create Legal Documents With DoNotPay
You can use DoNotPay to make legal documents in a few easy steps. Here are your options:
Business Agreements
Real Estate
Other

Bill of Sale

LLC Operating Agreement

Independent Contractor Agreement

Non-Disclosure Agreement

General Business Contract

Non-Compete Agreement

Quitclaim Deed

Intent To Purchase Real Estate

Estoppel Certificate

Residential Lease Agreement

General Affidavit

Parenting Plan (Child Custody Agreement)

Promissory Note

Prenuptial Agreement
Use DoNotPay's Features to Your Advantage!
DoNotPay offers a myriad of helpful services you can use to resolve your everyday hurdles.
Do you need help paying bills or finding and claiming missing money? Are you interested in applying for clinical trials in your area? We can help you solve these and many more issues in no time!
Here are some other problems you can handle effortlessly with our help:
Hiring a Lawyer Can Cost a Small Fortune—Rely on DoNotPay Instead
If you're on a tight budget and can't pay a lawyer to help you create legal documents, file a claim in small claims court, or handle stalking and harassment, DoNotPay has a solution for you.
Our app will help you create various documents, including child travel consent forms and complaint letters for a problematic neighbor.
Are you a victim of a crime and need help applying for reimbursement of your crime-related expenses? You can sign up for DoNotPay and allow us to handle your crime victims compensation on your behalf.
DoNotPay can also connect you with an online notary and enable you to get your documents notarized from the comfort of your home.