Signed, Sealed, and Witnessed—
NYS Notary
Services Explained
Getting a document notarized in NYS and anywhere else can be a hassle, which may leave you wondering why you need to notarize a document in the first place. Apart from making it legitimate, a document with a notary signature has proof that the signers entered into it willingly. A notary should check for any signs of fraud and witness the signing.
Besides the regular in-person notary service, there are different types of notaries available in New York. We'll break down all your options and help you get the most affordable and convenient NYS notary service.
What Types of Notary Services Do
New York Notary Laws
Allow?
Different types of notaries in New York include the following:
Until 2020, remote or online notarizations were not permitted in NYS. In response to the pandemic, you can now get your documents legally notarized online with certain requirements.
Online Notarization in New York Explained
Before you opt for remote notarization, consider the following requirements:
Online Notarization Requirements From March 2020
Additional Requirements for Wills, Trusts, Powers of Attorney, and Health Care Proxies

Having a valid photo ID during the video conference

Interacting with the notary, which means pre-recorded videos are not allowed

Stating that you are physically situated in NYS

Sending or faxing a copy of the signed document to the notary on the same date you sign it

Interacting with the notary, the witness(es), and the supervising attorney, if applicable

Sending or faxing a legible copy of the signature page(s) to the witnesses
How Much Does a
New York State Notary
Charge?
The notary cost in New York varies depending on what you need to notarize. Here's the price range you can expect:
Jurats—$2.00 each

Oaths & affirmations—$2.00 each 

Protests—$0.75 and $0.10 per notice

Proofs—$2.00 and $2.00 for each sworn witness 

Acknowledgments—$2.00 and $2.00 for each witness
NYS Notary Lookup
on Your Own
If you want to find a notary in NYS by yourself, you can check the phonebook, google, or use one of these websites:
This process may take a long time as you need to:
Adjust the filters to look for a notary in your location

Find one

Contact them to book an appointment

Visit them if they don't offer remote notarization

Go with the other signing parties bringing the documents and your IDs
Using DoNotPay to notarize your affidavit or any contract is much easier because we do all the work!
Use DoNotPay To Get Documents
Notarized
in
New York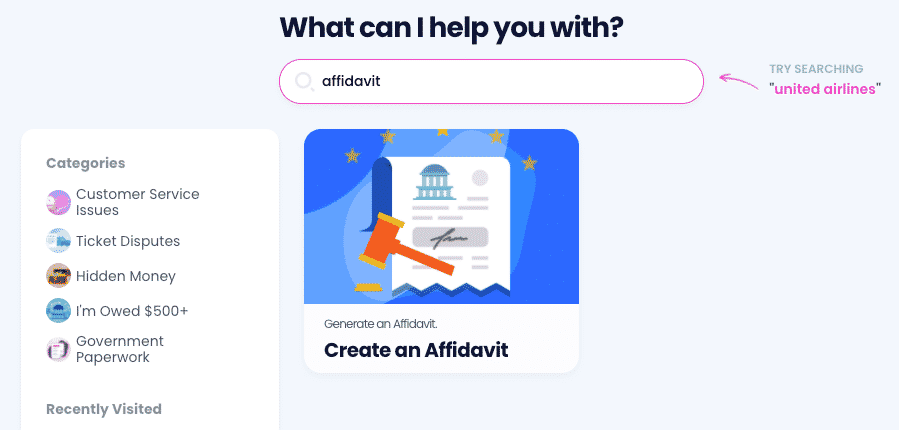 When you need a notary, DoNotPay can swoop in and take care of everything! We'll find a notary who can perform virtual notarization so that you don't have to leave your home. You don't even have to worry about varying notary prices. With our low monthly fee, you can notarize documents multiple times and have access to other features of our app.
Once you open DoNotPay in a web browser, do the following to get your document notarized:
Type in

Notarize Any Document

in the search field

Upload your document

Enter your email address

Check your email for a link
We'll send you a link that will let you set up an online notary appointment whenever it's convenient for you.
Kill Two Birds With One Stone—Draw Up and Notarize Documents With DoNotPay
Besides having a virtual assistant who will locate a notary and help you schedule an appointment, DoNotPay can draft numerous legal documents in your stead. All you have to do is answer a few questions to customize it, and your document will be ready for notarizing.
Our app can help you write the following legal documents:
Document Type
List of Documents

Business

Real estate

Quitclaim Deed

Intent To Purchase Real Estate

Residential

Lease Agreement

Estoppel Certificate

Miscellaneous

General Affidavit

Promissory Note
More Notary Questions? We Can Help!
Our learning center is a vast knowledge base helping you find answers to numerous questions, such as:
We can also guide you on notarizing in other U.S. states, including Ohio, Maryland, California, and Pennsylvania.
Fighting Administration Is Easier With DoNotPay 
Bureaucracy is a disease of the modern world, and we finally have a cure. Thanks to artificial intelligence, DoNotPay knows how to handle numerous rules and regulations and make your life so much easier. 
Our bots ask you a few questions, gather the necessary info, and off they go! Filing warranty and insurance claims, requesting property tax reductions, getting access to public records, or claiming unclaimed funds under your name—you can deal with these bothersome tasks from the comfort of your home and within minutes!
If you need to get in touch with customer service representatives to ask for refunds or contact airline companies regarding compensation, our platform will make the process painless and care-free.
Don't hesitate to put our app into service if you need to contest parking tickets or avoid long lines at your local DMV!
How Else Can We Help?
Not only does DoNotPay handle bureaucracy, but it also saves you money in the process. Whether you're looking for the best learning materials for government tests or planning to comb through and cancel streaming subscriptions you don't use, DoNotPay can give a helping hand.
Our platform grows every day and comes with user-friendly features that will help you manage unpaid bills, stop copyright violation, or solve problems with credit cards faster than ever!